Fire Hose Logger Jeans Review Summary
Fire Hose Logger Jeans Image Gallery
Another pair of working men's pants moonlighting as motorcycle gear.
Back in May of this year, webBikeWorld presented a review and comparison of two different approaches to jeans for motorcycling: Cortech DSX Jeans vs. Carhartt Double-Front Work Dungarees.
The Cortech DSX jeans were designed from the ground up for for motorcycle riding, while the Carhartt jeans were called to duty from outside their normal realm, the world of hard working, physically demanding jobs.
The article received lots of feedback, including suggestions to compare another brand of "working" pants: the Duluth Trading Company Fire Hose Loggers.
So the Editor asked if I would like to try a pair of the Fire Hose Loggers and write a follow-up comparison, and I readily agreed.
As it turns out, I'll be making several references to the Cortech DSX Jeans vs. Carhartt Double-Front Work Dungarees article, so you might want to take a look if you haven't yet.
When I wrote that article, I had not even heard of Duluth Trading Company, but I was eager to discover what the fuss was all about.
In fact, they have been in business in since 1989, starting with products for "improving and expanding on methods of tool storage, organization and transport".
In 1993 they expanded the range of offerings and became known as Duluth Trading Company.
Looking over their products and their interesting, sometimes humorous descriptions, I'm reminded a bit of company that caters to the motorcycling community in a similar fashion. Indeed I feel that Duluth Trading is to tradesmen as Aerostitch is to motorcyclists, but enough about their history; back to the present.
I thought it would be easy enough to find a pair of Fire Hose Loggers on the Duluth Trading Company website, but my search turned up nothing short of seven different types of "Fire Hose" branded pants.
After a quick discussion with the Editor, we decided on the Fire Hose Loggers. This choice was driven by the parity in features and design these pants shared with the Carhartt Double-Front Work Dungarees, reviewed in the article that started this quest.
So it was settled, and I set about ordering the Fire Hose Loggers (in dark brown), only to find out that they were out of stock in my size. In fact, there were none available in my size in any color and it would be more than a month before they had more. So I set a reminder on my calendar, and patiently waited…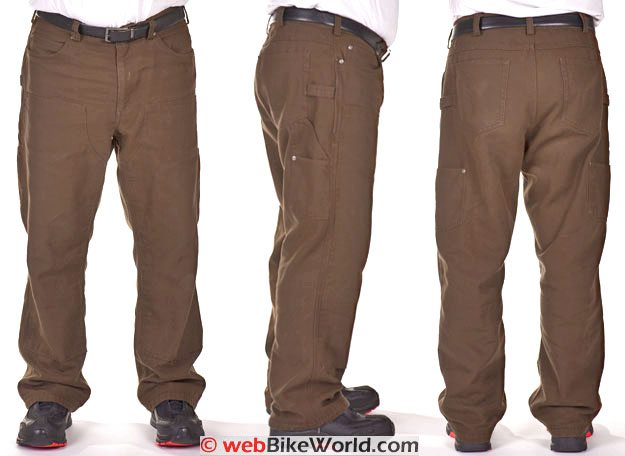 The Arrival
Eventually, Duluth Trading received more of the Fire Hose Loggers and a pair of dark brown 38×30's arrived in short order. Now in the illustrations and pictures viewed on the website, these pants look very similar to the Carhartt Double Front Dungarees, but it was evident that the material, though still heavy duty, was quite different from the cotton duck used in the Carhartt product.
But let me back up for a moment… When I first read the feedback suggesting that we take a look at the Fire Hose Loggers, I didn't really understand what was meant by the "Fire Hose" reference. I thought perhaps it was suggesting that firefighters wore pants like these; pants that were specifically designed for the type of punishment that firefighters might put them through.
Another look at the Duluth Trading Company website, however, indicated that the material used for construction of the pants is in fact canvas, much like the type used in making fire hoses. It never really dawned on me that those hoses were made of canvas (rubber lined as I understand it) but there was the connection.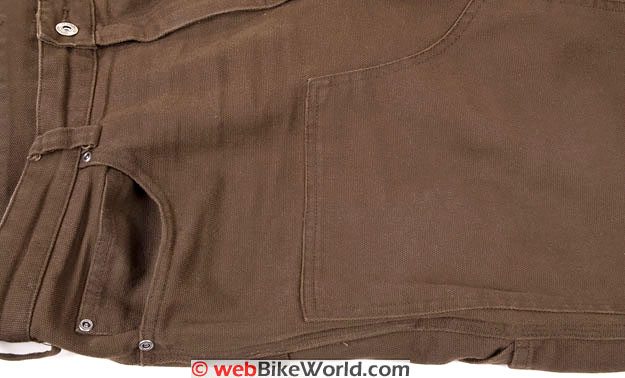 Fit and Comfort
When first removed from their packaging, the pants immediately felt different from the Carhartt Double Front Dungarees.
Where the Carhartt pants felt stiff, the Fire Hose Loggers feel very supple, like jeans that have been washed dozens of times. This supple canvas also seems to have a bit of stretch to it — not much, but it's there. This again is in contrast to the Carhartt jeans, which have barely any give.
Duluth Trading offers the Fire Hose Loggers in standard sizes from 30″ to 48″ waist, with a choice of three lengths for each waist size. This offers a good variety of sizing options. Colors for the Fire hose Loggers are your choice of brown — light brown and a dark brown, and the latter was procured for this review.
The pants are close to their labeled size of 38×30 but they're slightly on the generous side in the waist. Actual measurements turned out to be 39″ for the waist and 30″ for the inseam, so do keep this in mind if you are considering a purchase. These measurements haven't changed after being washed a few times so don't expect them to shrink much after the initial laundering.
The Fire Hose Loggers have a 20″ leg opening, which should easily accommodate most riding boots. Those who wear MX style knee guards should likewise have little problem fitting them in the legs of these pants without sacrificing comfort. The pants are also "relaxed" enough to allow the owner to easily attach a knee guard by just rolling up the leg.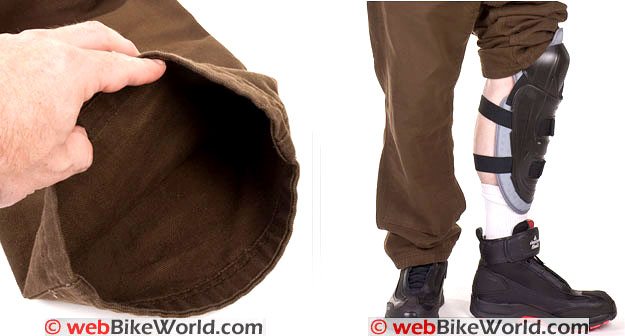 When riding, or if you're wearing them around the office, the Fire hose Loggers are rather comfortable and they don't bind. Part of this is certainly the supple nature and stretch of the material, but another contributing factor is a gusset in the crotch.
This small piece of material meets up with the major seams of the pants and keeps them at a distance from each other. This prevents bunching of material right where it could be most uncomfortable, especially for the motorcycle rider.
Additionally, the gusset allows a bit more freedom of movement, and for motorcyclists, it can make it a little easier to put your feet down on the pavement. In comparison to jeans and other pants I have, the normal tightness on the outside of the thigh as I put my feet down is diminished, if not entirely absent, when wearing the Fire Hose loggers. A small thing really since we don't often spend much time with our feet down (hopefully), but definitely a plus.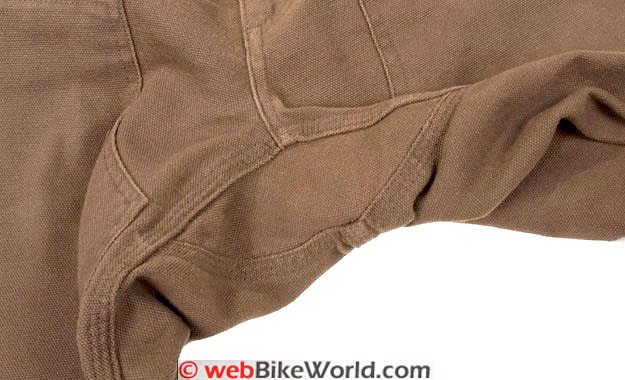 Riding in both hot weather and recently in cooler weather (during my morning rides to work), I've discovered that the Fire Hose Loggers don't breathe quite as well as denim or the cotton duck in the Carhartt pants.
While not a major difference, it is there, and there may be a good reason; according to the manufacturer's description, the pants are treated to repel stains with something similar to the 3M Scotchguard product, and this treatment may be affecting breathability.
The only issue I've noticed so far with comfort in wearing the Fire Hose Loggers — whether riding on a motorcycle or just in general wear — is that despite the suppleness of the canvas, the texture of the material feels a little rough. It's not uncomfortable or distracting really, but noticeable after wearing the pants for a while. This is a small price to pay for the overall comfort and flexibility the Fire Hose Loggers provide.
Construction and Protective Features
At first glance, it appears that the the Fire Hose Loggers are designed very much like the Carhartt Double-Front Work Dungarees reviewed previously.
The "double fronts" on the legs of the Fire Hose Loggers are one of the factors that initially drew us to selecting these pants for comparison to the Carhartt pants. A closer look however, reveals a few subtle but welcome differences.
Similarities start with the triple stitching on the major seams and double stitching in most other areas such as the pockets. The triple stitching should help to keep the pants together under rough usage and abuse (such as sliding on pavement). The triple stitching is used on the legs and the rear seam, as well as the the gusset in the crotch.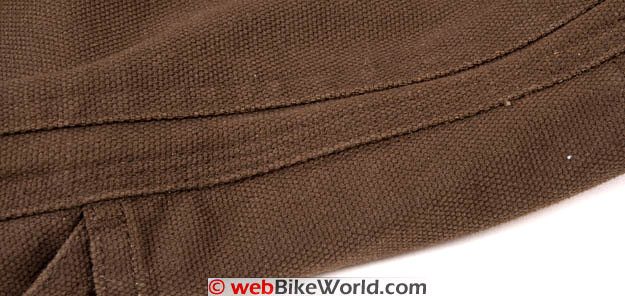 The Fire Hose Loggers also have utility pockets for carrying tools, located on the outside of each leg, like the Carhartt pants. They also share a YKK zipper up front. Utility loops (one on each leg) are also present. Although I'm not sure they benefit the rider when riding, they may be useful during bike maintenance.
Like the Carhartt pants, the Fire Hose Loggers have a second panel of material on the front of each leg for abrasion resistance. Also similar to the previously reviewed pants, the Fire Hose Loggers contain a small opening at the bottom of the extra knee covering called a "clean out" for letting loose dirt and grit out if it somehow gets trapped between the layers.
Unfortunately, the extra panel of knee abrasion material on both the Fire Hose Loggers and Carhartt pants are not big enough to allow knee armor to be fitted, or at least any armor I could find. Even if armor could be placed in the double front area, it is doubtful it would stay in place offer any level of protection.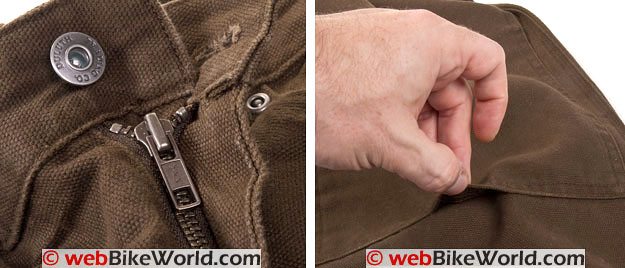 The similarities end with an appreciated absence of rivets on the front and inside of the double front area on the legs of the Fire Hose Loggers. Anyone who wants to keep their tank scratch free will be pleased they will not have to remove any of these little round "finish menaces" from their clothing as I had to do with the Carhartt pants.
This is one of the disadvantages of wearing a pair of pants not made specifically for motorcycling. While there are some rivets in other places on the Fire Hose Loggers (i.e., on the pockets and other areas), none seem to be in a position to threaten paint.
Construction of the Fire Hose Loggers seems on par with their competitors and the 10.9 oz. Fire Hose canvas, though lighter than the 12.0 oz. cotton duck of the Carhartt pants, should still offer reasonable abrasion resistance in the event of a slide.
In fact, Duluth Trading mentions in the description that they use "Double the threads in both directions" to double the material's strength. Take a feel of both materials side by side and one does not find either wanting in terms of toughness.
Miscellaneous Features
Duluth Trading Company offers what seems to be an open-ended lifetime guarantee on the Fire Hose Logger pants. It reads: "100% Satisfaction Guarantee. If you're not completely satisfied with any item you purchase from Duluth Trading, return it to us at any time for an exchange or refund of its purchase price."
Also, the Fire Hose Loggers have two rear patch pockets, three side utility pockets and 12″ deep "Fire Hose-lined" front pockets.
Conclusion
Just when I thought I had a single, clear cut (for me) alternative for riding pants that could pull double duty on the bike and office chair with equal aplomb, along came this upstart. Pants that offer a smattering of advantages and disadvantages in small enough doses make my choice difficult when adding to that online shopping cart.
I like the suppleness of the material used in the Fire Hose Loggers and the stretch that it has. At the same time, the canvas is slightly rougher against the skin and overall they are little larger than their indicated size.
I think they are also just a little bit better suited to cooler weather, as they don't breathe quite as well as the Carhartt pants. However, the stain resistance of the Fire Hose Loggers is good and I have a recent diet soda experience from the local lunch shop to prove it.
As the weather where I live is just now starting to cool off, the cooler air plus possible attacks by additional uncoordinated waitstaff (they're out there) makes the Fire Hose Loggers even more desirable.
Finally, the gusset. I would say that this has sewn it up for me (pun completely intended). It seems that this small, diamond shaped piece of material can significantly increase fit and comfort in ways (and places) where motorcyclists can greatly benefit (Editor's Note: This feature was detailed also in the Diamond Gusset jeans review).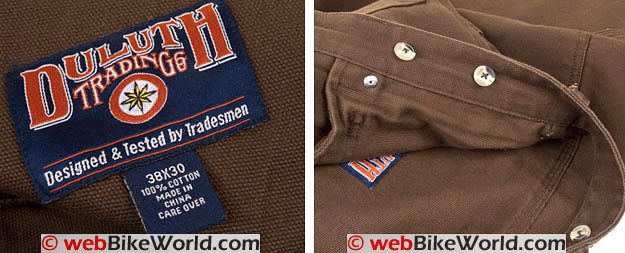 So are the Fire Hose Loggers better than the competition? Yes and no. They are better in some ways, worse in others and the details have all just been described.
It may sound like an indecisive or evasive way of not taking sides, but in fact it's quite the opposite. I genuinely wanted to find some glaring difference, an anomaly in the armor so to speak that would clearly reveal a strength or weakness that would seal the deal. To be fair though, it wasn't meant to be this time.
The Fire Hose Loggers and the Carhartt Double Front Dungarees are tough competitors and great examples of the "breed". The quality, design, and even price are so similar that one truly has to dig into the minute details to find meaningful differences (except perhaps for the suspender wearing, two fisted hammering types out there).
More wBW Motorcycle Jeans Reviews  |  Motorcycle Clothing Reviews
w

BW

 Review: Duluth Trading Company Fire Hose Loggers
List Price (2009): $49.50 USD
Review Date: September 2009
Note:
 For informational use only. All material and photographs are Copyright © webWorld International, LLC since 2000. All rights reserved. See the webBikeWorld® 
Site Info page
. Product specifications, features and details may change or differ from our descriptions. Always check before purchasing. Read the
Terms and Conditions
!
Owner Comments and Feedback
---
From "J.W." (March 2014): "I bought a pair of the five pocket version 6 years ago or so. I knew from research that any form of cotton wouldn't provide serious abrasion protection but had limited means for buying gear and used these around town.
Four years ago I was making a turn from a stop at a light in some drizzle (which is why i was wearing these rather than my cheap, unarmored leather jeans), when the back end broke loose and I low-sided doing probably 10-15 MPH. Having been in a number of bicycle accidents around the same speed, I would say the difference between wearing Lycra shorts and Firehose jeans was negligible to the bloody 50-cent pieces that showed up on my knee. I guess two layers of 11.5 oz. fabric would theoretically provide more protection than one layer of 13 oz., but double nothing is still nothing by my math.
These are nice pants overall and the gusset makes a huge difference in comfort. The stain/water resistance is nice also, but I don't think they are twice as tough or durable as the Levis I used to buy for half the price, so are an overall value wash to me.
After the accident I wrote to Duluth TC about it. I'm not someone to harp about ATGATT, but feel it is in the best interests of all motorcyclist to at least make each other aware of safety issues, not to mention just a good thing to do as a human. As much as some people may prefer to cry about rights after the fact, regulations are imposed upon populations that exhibit careless behavior, more so when they incur real costs to society (i.e. EMT operations).
I mentioned something to the effect that I thought it was a bad idea to relay anecdotes about these pants protecting someone from motorcycle crashes alongside a picture of a rider hanging the back end out at 45° around a corner when there must be ample evidence that their product does not protect that well.
To their credit they honored the guarantee and sent me a replacement pair (notably asking for the old pair to be returned). The next issue of their catalog also included a blurb by the pants along the lines of how some lawer-ly types may want to shut them down, but DTC still stood for freedom and the little guy or somesuch.
Uh, yeah. I want to like these guys because they are in my backyard and make decent stuff, but to hype up the 'Americana' angle and then outsource most of your production to China is kind of sleazy in my book.
The kicker is I noticed a few months ago one of the knees on the new pair has developed a hole in it from normal wear. Given that I still have 2 pair of Levis that are twice as old but fully intact, I'm particularly unimpressed. Looking at the reviews here it seems the durability of the Firehose material is more a matter of perception than performance.
BTW, my solution to casual riding pants ended up being the BMW Summer 2 pants. About triple the cost, but they have top-notch CE armor in the knees and hips, zip into my jackets, feel pretty comfortable in general and have zip off knees to feel totally comfortable when off the bike for a while.
I also wear them in extreme heat zipped off but with Thor knee armor, an arrangement that left me scratch free in a lowside 10 MPH faster than that mentioned above. The Cordura isn't leather, but it offers measurable protection compared to cotton Firehose and at least as much water resistance. I have around 4 years riding in them and a couple crashes, but still feel confident wearing them when not pushing the higher-speed envelope.
Not sure how important this is, but just noticed that I failed to mention that in the crash the Firehose pants actually tore a large hole in the fabric, hence the reason to replace them. By comparison I crashed under similar circumstances in the unarmored, thin fashion leathers and enough abrasion went through the leather to scrape my knee slightly, but the leather remained intact."
---
From "J.R." (December 2013): "Great article — I'll be trying a set out. "Soft Knees" by Working Concepts makes a rubber pad that goes between the double front(s) of these jeans. You have to roll them up and put them in from the bottom "drain" slot. They should fit in the Duluth pants. … Not the hard CE type armor, but better than just canvas!"
---
From "J.Z." (September 2011):  "I've been wearing two different types of the Duluth Fire Hose pants for several years now, the Fire Hose 5-pocket Jeans in the 13 oz. fabric, and Fire Hose Work Pants with the cargo-style utility pockets in the 11.5 oz. fabric.
I have two pair of each style, and these are my everyday riding pants except for one pair of blue jeans I bought many years ago from Duluth that supposedly had Kevlar thread woven into the fabric (these are no longer available).
I ride almost daily to work and I rotate between these 5 pairs of pants, so I have plenty of experience with them. With several years of wearing I've noted the following:
1) I've had no trouble with the gusset tearing on any of the 4 pairs (nor the jeans, which also featured this gusset), so perhaps the reported hole problem is unique to the Logger pants?
2) The crotch gussets are indeed a wonderful thing, and in fact for an older (and short) guy like me they make it a bit easier to swing my leg over my tallish Suzuki 1250 bandit, which isn't some low little cruiser.
3) The real beauty of these pants is that they are cut for a "real man's body" (i.e. not for skinny little guys, but for those of us who have "expanded" a bit since our younger days) – they are nice & roomy, yet fitted, and they extremely comfortable during all-day riding.
4) They don't stretch out and get all loose and baggy during a ride like regular blue jeans (or my riding blue jeans) do – at days end they fit like they did when you first put them on, unlike regular or my riding blue jeans which are almost ready to fall off my butt.
5) They shed dirt and stains like they were never there, and whatever the waterproofing is that they apply hasn't washed out after years of regular laundry – dribble some liquid on them and it just beads up and rolls off.
6) For whatever reason and despite being much heavier fabric they seem to feel much cooler than the blue jeans in hot weather, yet they are a bit warmer than the blue jeans in cooler weather.
7) The hook & loop used to close the cargo pocket flap in the one style is very durable and still closes very securely. For sheer comfort I had slightly preferred the 5-pocket jeans, they just fit my body a tiny bit better in the waist than the Work Pants with cargo pocket did (in the same size the waist seems to be just slightly bigger in the 5-pocket jeans).
But I should note that the latest pair of the Work Pants with cargo pocket that I got seem to be sized the same as the 5-pocket, so this makes them even in the comfort department.
For utility the Work Pants with the cargo packet are great – I carry my wallet in the cargo pocket and its easily in reach when I pull up to a gas pump and need to get out the credit card (handy because I usually don't dismount from the bike when filling it).
I haven't had the "opportunity" to crash test any of them, but I just gotta think that they will hold up a little better than plain old blue jeans will if I do go down, and unless that magic Kevlar thread woven into the old Duluth blue jeans I have is really good stuff they feel like they would hold up better than that pair of jeans would too.
All in all, if you aren't going to wear dedicated riding pants I feel these probably offer a bit better level of protection (compared to blue jeans) and definitely great durability and comfort."
---
From "A.H." (10/09):  "I ordered a pair of these hoping to avoid the cost of motorcycle specific jeans. I wore them on a trip to Deal's Gap last week and on the first day a hole formed above the gusset area.
The pants are made of very tough material but apparently the seams are a problem. I read several reviews on Duluth's website citing problems with the seams in the gusset area tearing after minimal use. This should've been enough warning for me but I ordered them anyway hoping for a good pair.
I really wanted these to be good pants but I'm going to return them for a refund. No use in getting another pair as it seems the problem isn't an isolated one."
Update from A.H. (4/10):  "Just wanted send an update on the Fire hose logger jeans from Duluth Trading. I returned the pants intending to get a refund but Duluth mistakenly sent me another pair. I emailed them and told them I didn't want an exchange but a refund. They promptly sent me a postage paid return label. Upon receiving the label I threw it aside and lost track of it.
A few weeks passed and I decided to keep the pants and give them a 2nd chance. I wore them on 3 or 4 rides and on a day long ride this past weekend another hole appeared in the same spot above the crotch/gusset area. These pants are nowhere near worth the approximately $50 they cost. I will be returning these for a refund….again."
---
From "J.R.C." (9/09):  "I own a pair of the Fire Hose Loggers (double front) as well as the regular Fire Hose pants.
I wear them riding and like them very much. However my favorite riding pant are my Arborwear pants from Aerostich. They are the most comfortable pant I own for riding. They have a huge crotch gusset and have available knee armor. I've worn them for 2 years and many miles of riding with no appreciable wear."
---
From "L.E." (9/09):  "I'm very pleased to see you have evaluated the (Fire Hose Loggers) pants Duluth markets. More bikers need to be aware of this option, as they are economical, of excellent quality and comfortable.
I have a couple pair (one is the very model you evaluated) and I can't say enough good things about them. The gusset in the crotch is wonderful. When I switch off to pants without that, I'm reminded of it (constantly) after about the third hour in the saddle.
You've done a good job of testing them, however I do not agree that the material is rough against the skin. Quite the opposite, I would say. Given a choice of textile pants, I'll go with the Duluth fire hose every time. When the last of my faithful Carhartt pants gives out, they'll be replaced by another pair of fire hose pants from this fine company."
---
From "G.A.M." (9/09):  "I have a pair of these jeans as well as the Cortech jeans (see my G A M comments in that article). First of all, the quality of the Duluth jeans is top notch, and the pants are noticeably heavy and of stout material.
Even though these pants are made from tough material (the canvas used to cover fire hoses and designed for abrasion resistance) they are very comfortable, and I used them for riding until I got my Cortech pants with the knee armor inside.
These would be perfect for riding with the shin and knee armor depicted in the article, or without for those who accept the risk. Check out Duluth's site where a reader wrote in and reported a slide on his motorcycle that did not damage the jeans (nor as a result, his epidermis).
Perhaps a helpful side effect of your review will be to introduce others to Duluth Trading, a great company. Be sure to sign up for their catalogue on line, you won't regret it. I have purchased many items from them over the years, all high quality and long lasting, and have several more on my "wish list". Their Crack Spackle long tail T shirts are, well, what they say they are (these guys do have a sense of humor). These guys sell very good quality clothing items for the rough and ready among us, and for the rest of us wannabees.
Check out their winter wear, too, they have some great down items, some including fire hose material. I use a thin but very warm vest from Duluth under my winter jacket.
Bottom line, how many of your riding buds are wearing pants made of fire hose material?  Let's face it, they all either look like techno riders, or they look like they bought themselves an outfit so they could be a cowboy, too. These pants offer an opportunity to be unique, as well as well protected in the event of a slide."
---
From "S.S." (9/09):  "I have a pair of the lighter-weight fire jeans without the double knee from Duluth that I use for work pants. The gusset does help when you are crouching, and they have worn very well. I also have two different styles of blue jeans from Duluth, and these are also holding up very well. Their quality is very good, and they have some interesting designs.
I would like to toss one more alternative into the mix, however. Dickies makes a double front carpenter's jean that I bought online for less than $20 per pair, and I have seen them at a local work wear store for the same price. I wear Bohn armor underneath, and these pants have been great for summer when it is too warm for my leather pants.
They have a very handy side pocket to hold the cell phone and my normal size of 38-30 fit over the Bohn pants with no problem. These are not as heavy as either of the canvas pants you have reviewed, but have worked very well over the Bohn pants for summer riding.
As always, thanks for the great magazine!"
Other WebBikeWorld Motorcycle Pants Reviews
wBW Motorcycle Pants Info