After Harley-Davidson was fined a total of $US15m last week by US authorities for selling aftermarket tuners that affect emissions levels, we can expect more fines.
It seems the US Justice Department and Environmental Protection Agency has simply targeted Harley first because it represents half of the US "heavy motorcycle" market and they want to make a prominent example.
In fact, Assistant Attorney General John C. Cruden, head of the Justice Department's Environment and Natural Resources Division says: "Given Harley-Davidson's prominence in the industry, this is a very significant step toward our goal of stopping the sale of illegal aftermarket defeat devices that cause harmful pollution on our roads and in our communities."
And he issued this warning: "Anyone else who manufactures, sells, or installs these types of illegal products should take heed of Harley-Davidson's corrective actions and immediately stop violating the law."
While the US fines are not relevant outside that nation, it is part of a worldwide crackdown on motorcycle emissions which will subsequently affect noise levels.
Since July 1, Paris has banned pre-1999 motorcycles from 8am-8pm to reduce their pollution levels, some Asian cities also have motorcycle bans in their inner-city areas and California now has the Motorcycle Anti-Tampering Act. This law says that motorcycles whose exhaust systems do not display approved EPA approval stickers or stampings can earn their owners a $50-$100 fine for the first offence and $100-$250 for subsequent offences.
Meanwhile, tough new European emissions standards started this year for new models and extend to all existing models from 2017. Already some air-cooled models have been axed because they could not comply.
Even though manufacturers are doing their best to comply with emissions on their new bikes, owners are still ready, willing and able to modify them.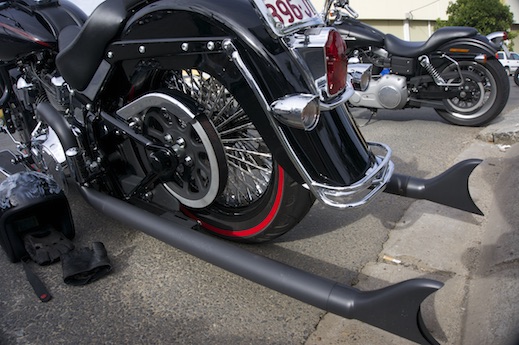 In fact, motorcyclists are far more likely than drivers to modify their vehicle with aftermarket tuners, exhausts and mufflers to increase performance which can also lead to increased fuel consumption, noise and emissions.
There is hardly a motorcycle on our streets that doesn't have some aftermarket performance modification.
In Harley's case, they own Screamin' Eagle whose tuners have sparked the EPA fines, even though Harley claims they were intended for "off-road or racing use only".
But many other motorcycle companies own or partner with performance parts companies, usually exhaust manufacturers such as Akropovic, Arrow, GYTR, Yoshimura, etc. Many of these products feature similar warnings about road use.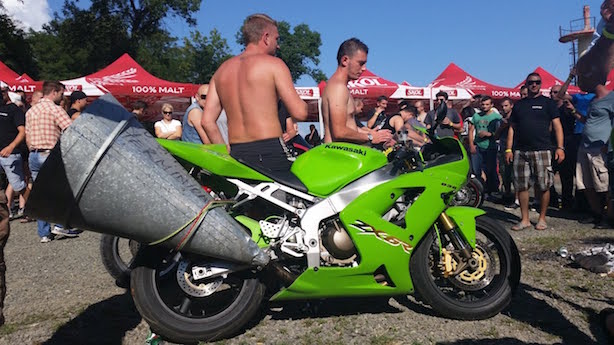 Given the EPA's comments about "illegal" products, we can expect more fines to be handed out to over coming months while more cities will join Paris in banning some motorcycles and scooters.
This comes as the oft-quoted claim that motorcycles are a "solution to pollution" has been questioned by the popular Mythbusters TV program.
Motorcycles weigh a lot less than cars, have smaller engines and use fewer raw materials to make, so they should be more economical, cleaner and greener. Right?
Busted! MythBusters put the claim to the test by comparing the emissions of three bikes and cars from the past three decades. It found motorcycles are more fuel efficient and emitted less carbon dioxide, but had higher levels of hydrocarbons, carbon monoxide, and nitrogen oxides.
They didn't even take into account aftermarket modifications!