When you think of going for a road trip, Maryborough in South East Queensland isn't your first choice. It's not even your second or third choice. In fact, there are no suggested bike routes in the whole Fraser Coast region listed in that venerable tome from Hema, "Australia Motorcycle Atlas". So it came as somewhat of a surprise that the 2013 annual Ulysses knees-up was held at Maryborough and Hervey Bay.
To coincide with the AGM and rally, Honda launched its new 500cc LAMS bike and stripped-down Gold Wing, the F6B. One motorcycle journo who attended the launch commented on Facebook: "Good to be home after a ride in what must be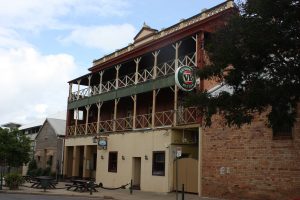 Australia's worst motorcycling area, up Hervey Bay way! 450km of straight heavily trafficked roads and road work! My butt is killing me!!!!" Despite all the exclamation marks, the Fraser Coast still has its attractions for bikers, stunning scenery and a few interesting roads if you know where to look.
The main lesson is to stay off the Bruce Highway, especially between Gympie and Bundaberg. Much of this area is single lane, 90km/h, double white lines and plagued by lollipop ladies and laddies at roadworks. The "highway" is in such bad repair and so sadly outdated that it claims about 40 lives a year and while it represents only 7.5% of the national highway network, accounts for 17% of fatalities. But staying clear of the Bruce can be difficult because most roads to the east are dead ends to the coast. That means you have to go inland, up and over the Great Dividing Range where there are some exceptional roads through places such as Kilkivan, Biggenden and Brooweena. However, there's no escaping that final boring stretch into Maryborough.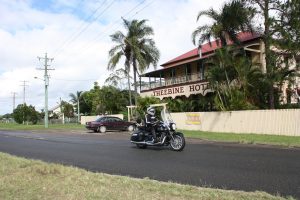 Yet it isn't all bad; there is a pleasant aroma of molasses on the heavy humid air as you ride past the canefields and you can take a short detour into the historic Theebine or Tiaro pubs for a solid steak sanger lunch. If you don't mind some dirt there are some great adventure rides through Wongi Forest and around Paradise Dam to the west. Rolling into the historic town of Maryborough it's evident that there is a healthy bike culture here from the many bikes on the road – even when the Ulysses rally isn't in town – and the bike shops. In fact, their strong bike culture stretches back 100 years. To find out about those biking origins, park your machine under a shady tree in the Lennox St carpark behind the council building and go for a free walking tour around the CBD. They leave at 9am from Tuesday to Sunday and take a couple of hours, yet only cover a few CBD blocks.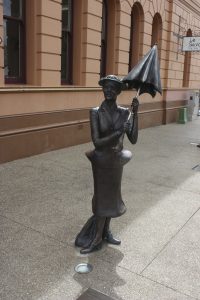 You'll hear fascinating stories from back in the early days when it was the second largest immigration centre in Australia, processing gold workers for the Gympie gold rush and kanaka labourers for the cane fields. One story I enjoyed was about the last case heard in the old court house involving two men on attempted murder. They were sentenced to hang and the execution, held behind the court, was well attended by townsfolk, according to our guide.
Maryborough is a working class town and the CBD used to have 25 pubs. At 4pm the whistle would blow at the railway engineering yards and 500 workers would ride down the main street on their bicycles to get in as much drinking as they could before the pubs shut at 5pm. At one stage the city had 9000 bikes and a population of 20,000. Later, workers graduated to motorcycles after local Bill Tarrant brought the first bike to town – a three wheeler where two passengers sat in front of the rider. He set up a motorbike dealership and later sold cars. It is now the oldest Ford dealership in the one location. Post-war, local bikers would assemble at the town hall on Friday and Saturday nights to do what bikers do – wheelies, burnouts and riding up and down the town hall steps. The cops across the road would watch the fun until they'd had enough, then close it down.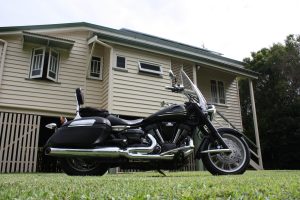 Being a working class town and not having a thriving tourist industry, accommodation is cheap in Maryborough. Much cheaper than at the tourist-oriented Hervey Bay, just 30 minutes down the road. There are many hotels and motels, or you could try a bed and breakfast such as Eco Queenslander, a sustainable tourism home stay. The quaint old-style house has two bedrooms and can sleep up to six with a lock-up garage underneath that will secure up to a dozen bikes. It started in 2009 and has won several eco-tourism awards as it uses solar electricity, rainwater tanks, energy efficient lighting and appliances, and even biodegradable toilet paper. French owners Cecile's and Stephen Espigole can organise tours for you to Fraser Island, the Great Barrier Reef, whale watching and even teach you some French.
From here you can walk into town and catch a show at the Brolga Theatre, dine at one of the CBD pubs or restaurants, or catch Music in the Coutyard at Janets Art Space where local musicians entertain over weekend lunches. Maryborough's CBD is also worth a wander for its many restored historic buildings and museums such as the Military and Colonial Museum. The region hosts a lot of festivals and special events like the Ulysses rally. There's the Relish Food and Wine Festival in June, PubFest in June, Love Mary Day (a celebration of the fact that the author of Mary Poppins, P. L. Travers, was born here) in May, Seafood Festival in August in Hervey Bay and Picnic Races in October in Torbanlea.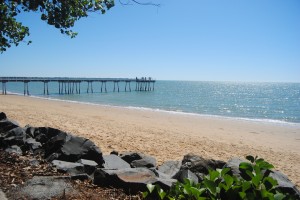 After the Ulysses rally last year, the good folk of Maryborough seem to welcome any biker with open arms, and isn't it always nice to find a town that does that? The ride down to Hervey Bay is uneventful with straight roads and little rise and fall, but it's worth going down for a promenade on your cruiser along the 18km esplanade, taking in the views of Fraser Island. You can stop off and dine at the many restaurants or coffee shops and wander along the 800m Urangan Pier.
If you're into nature, visit the Fraser Coast Discovery Sphere in the Fraser Coast Cultural Centre to view the aquatic life, cruise the calm waters of Hervey Bay to experience playful humpback whales during their mating season in late winter and spring, or take a trip over to Fraser, the world's largest sand island. The Fraser Coast's diverse natural attractions are officially recognised in the same class as the Galapagos Islands and Central Amazon.
From Hervey Bay, head north along the coast to the sleepy little seaside towns of Toogam and Burrum Heads where the pace of life is only interrupted by the tug on the end of a fishing line. From there it is back on to the Bruce for a short trip up to Childers where you must try the local Mammino ice-cream. You can also check out the local wildlife park, Snakes Downunder, to see crocodiles, lizards, monitors, dragons, turtles, frogs, kangaroos and 45 different reptiles.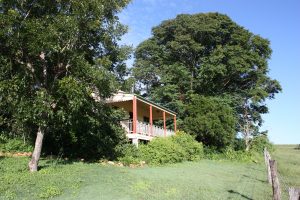 It is also worthwhile visiting the sobering Childers Backpackers Memorial in the Palace Building where 15 backpackers – 12 from overseas – died in a fire on June 23, 2000. Miraculously 70 escaped the timber hostel which had no smoke detectors or fire alarms.
We stayed just out of town at the Mango Hill B&B and Hill of Promise Winery. It has two quaint little cottages where you can shake off the road dust and relax while sampling the wines made by Terry and Mary Byrne. Terry's grandparents came from Sicily and he started making pineapple wine at the age of 10.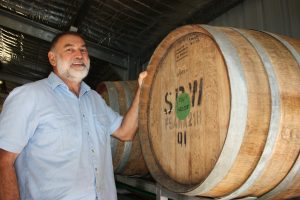 He seriously started making wine in 2000, but in recent years the business has been set back by a series of floods and massive highway roadworks.  Terry says they still get a lot of bikers passing through on their way north.
It's a great place to stop and recharge the batteries, but it's 4.5km from town so Mary can prepare a wholesome home-cooked meal to save you riding to dinner. That should allow you to sample their award-winning organic wines which have no chemicals so you won't wake up with a headache in the morning when you continue on your northern adventure.
WHERE TO STAY
Eco Queenslander, 15 Treasure Street, Maryboroough
Phone: 0438 195443
Cost: $140 a couple/night + $20 for extra guest
Email: info@ecoqueenslander.com
Web: Www.ecoqueenslander.com
Mango Hill B&B and Hill of Promise Winery
Phone: 1800 81 60 20
Email: mangohillcottagebb@bigpond.com
Web: www.hillofpromise.com; www.mangohillcottages.com
TOURIST INFO
Fraser Coast Tourism, 229 Maryborough Road, Hervey Bay
Phone: (07) 4191 2600. Fax: (07) 4191 2699. Mob: 0427 587 048
Web: www.visitfrasercoast.com; tourismfrasercoast.com.au