Motorcycling hacks are those inventive things you do to avoid or remedy problems and make your riding life a little easier.
Necessity is the mother of invention and when you are out riding and you suddenly need something you didn't bring, necessity can make you improvise with some strange things.
For example, I didn't realise that my jacket sleeves didn't meet my short summer gloves until the sun had climbed high in the sky on a long trip. I knew I'd end up with badly burnt wrists if I didn't do something about it.
So I called into McDonald's and picked up two cardboard chip packets – no chips. I offered to pay, but they gave them to me for free. Thanks Maccas!
I cut them down, slipped my gloved hands through and voila! They became temporary gauntlets that protected my wrists from the sun. (See photo at the top on the page.)
Riding hack number one!
However, I should have just worn a set of Ventz which fit in your jacket sleeves and allow cooling air to flow up your sleeve without leaving a gap where you get sunburnt!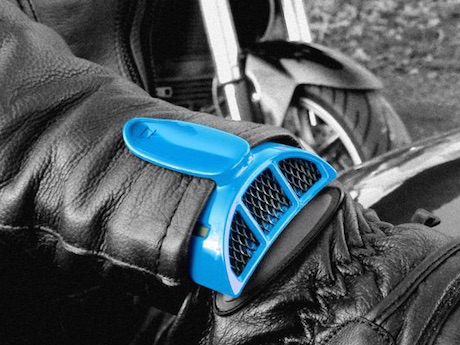 So we've put together 10 more motorcycling hacks and tips that should help you. Some you can do on the run and others require you to take some provisions with you.
We'd also like to hear from you about your hacks and tips.
MOTORCYCLE HACKS
Always carry cable ties, gaffe tape, microfibre cloth and wet ones. You never know what will come loose or need cleaning or fixing on your bike, luggage or your riding gear. These can all fit in your jacket pockets. Small cable ties are fine because you can link them for bigger jobs.

Cable ties, tape and microfibre cloth

Tape for running repairs

If you park on wet grass, gravel, mud or soft sand where your side stand might dig in and your bike eventually topple over, go and get a can of soft drink, drink it, then crush it under your foot. The result makes a great "foot" for your stand so you don't get that sinking feeling! You can also use a jar lid or buy a specialised parking "puck" and carry it with you.

That sinking feeling

Crushed can

Can prevents the sinking feeling

Motorcycle jackets can be very hot and the vents don't always suck in as much air as you need. One of my friends overcame this by stitching velcro in strategic places such as on the chest so he can pin back the jacket and allow the air to flow in.
If you're caught in the rain, you can buy large dishwashing gloves at any supermarket to put over the top of your gloves. You can also use tight-fitting dishwashing gloves under your gloves as a temporary barrier against the cold.
Use electrical tape as a sun visor. Place a thin strip across the top of your visor, or at the bottom of the visor if you ride with the visor open, such as on a bike with a big windscreen.

Electrical tape sun visor

Tape for open visor

Carry big garbage bag liners and small ziplock sandwich bags. Garbage bags will not only protect luggage from getting wet, but if you poke your head and arms through it and then put your jacket over the top, it will stop your body getting wet and/or cold. Even some "waterproof" jackets can let water into their pockets so ziplock sandwich bags will protect your phone and wallet.

garbage bag wet liner

After riding in the wet, stuff your motorcycle boots with dry newspaper (remember newspapers?) and it will soak up the moisture. It may take a couple of days and you should replace the newspaper when it gets wet.
Put your garage door remote in a small plastic bag and put it inside a nice pouch which you can place on your handlebars. Mine fits neatly on the triple clamp of my Bonneville. Place a dot on the outside where the button is located and then you can open the garage door as you ride up your street.

Garage remote in plastic inside pouch

Garage remote in pouch on handlebars

Carry a carabiner in your pocket to attach your helmet to your bike. Some bikes have a helmet lock, but some don't. You can also get carabiners that have locks on them.
If your chain needs lubrication and you're in a town with no motorcycle shop, g0 to a supermarket and buy spray cooking oil to use as an affordable, temporary alternative to designer chain lubes. It can also be used to lube stubborn jacket zips.
Now, tell us about your motorcycling hacks by leaving a comment in the box below.