FandyFire UV-S5 3,000 Lumen Flashlight Review Summary
FandyFire UV-S5 3,000 Lumen Flashlight Image Gallery
The FandyFire UV-S5 is a 3,000 lumen beast.
It's more flashlight than anyone needs, proving that more isn't always better.
But, it's cheap enough, so if you want ultimate bragging rights, this is the light to have.
One thing's for sure: the FandyFire UV-S5 makes every other flashlight — and most car headlights — seem wimpy.
The FandyFire UV-S5 is totally unrelated to motorcycling, but as a curiosity, it's hard to beat.
We've been reviewing flashlights on webBikeWorld for many years, because a good flashlight is an essential tool for the tyro motorcycle mechanic.
Everything from the tiny one-cell Mini LED Keychain Light (review) to the useful and clever Pak-Lite 9V LED Flashlight (review) have been reviewed…yet we're still looking for that elusive "perfect" flashlight.
The FandyFire UV-S5 is far from perfect — for motorcycle purposes anyway — but it sure is unique.
A couple of webBikeWorld readers suggested we take a look at it after reading the recent review of the very powerful Clearwater "Andie" 800 Lumen LED flashlight (review). 800 lumens is about 8 times more power than you really need for a toolbox flashlight, but think about this for a second: the FandyFire UV-S5 is rated at 3,000 lumens!
That, my friends, is real power! It is quite literally the equivalent of holding a Clearwater "Krista" LED spotlight (review) in your hand and it could easily substitute for the most powerful of automobile headlights.
It's difficult to photograph and video flashlights in a way that is truly representative of their output, but we gave it a try. Let's take a look.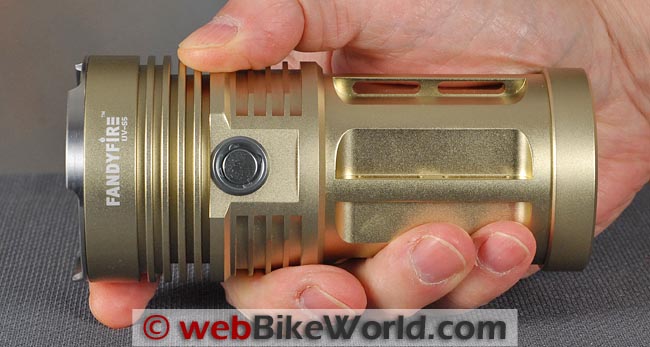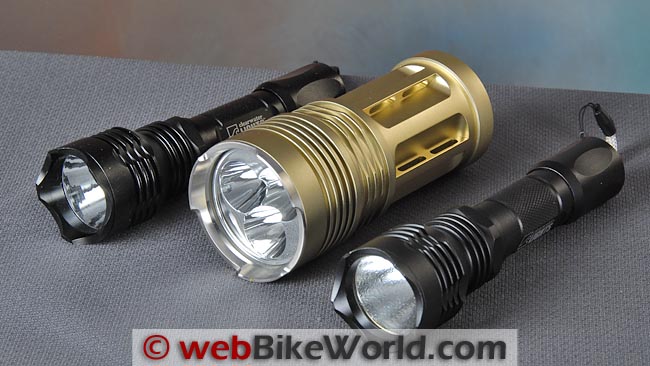 FandyFire UV-S5 3,000 Lumen LED Flashlight Specifications
FandyFire is a Chinese company of which I know little about. I couldn't find a website for the company but they make many different types of flashlights, all sold on Deal Extreme, the unique online marketplace for products from China (see the summary table below).
I knew nothing of the company or its products until a couple of webBikeWorld readers wrote to the Editor after the Clearwater Andie 800 lumen flashlight review was posted not long ago.
We took a look and figured "What the heck" and ordered one up. The UV-S5 costs only $59.99 with fee shipping from China — quite the deal, actually (I guess that's why the call it "Deal Extreme"!).
The flashlight quickly arrived in the mail, with the "gift" box ticked on the Customs form — not quite legal.
The FandyFire UV-S5 is rated at 3,000 lumens. It uses three of the industrial-strength Cree XM-L T6 3-Mode LED emitters. These are claimed to be the "industry's brightest, highest-performance lighting-class LED".
They are designed for use in "very high-lumen applications such as high-bay, indoor commercial or roadway lighting". I believe it — these suckers are bright!
With the four 18650 batteries installed, the UV-S5 weighs 512 grams (1 lb., 2 oz.) and it measures about 135 mm long by 65 mm wide at the head; too big for a pocket and probably for most toolboxes.
The electronic (!) clicker on/off button cycles the light through low, high and a strobe can be actuated in either low or high by pressing and holding the button.
The flashlight comes in a simple box with an extra O-ring and a simple cord lanyard.
The threads holding the two halves of the flashlight together are not lubed, so a thin coating of silicone grease should be applied to help prevent galling.
The lens is made from glass and the nicely machined aluminum body has what appears to be a gold-colored anodized coating. It is a well made unit and definitely not a toy.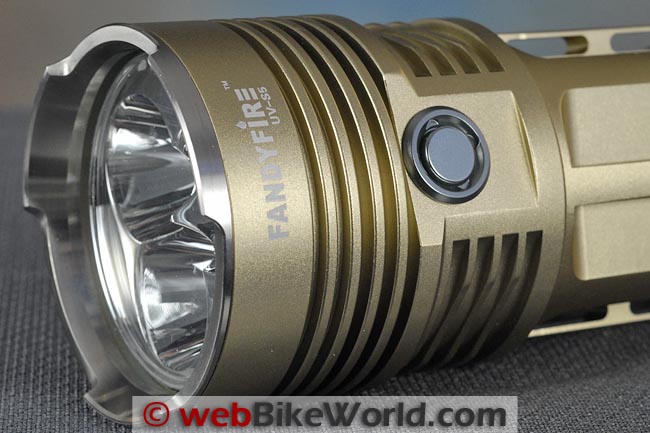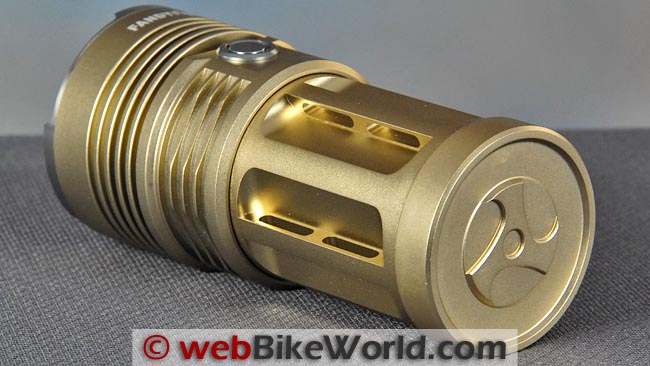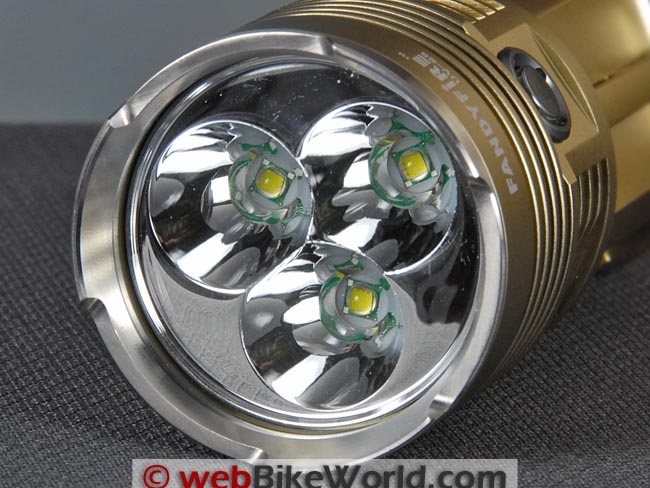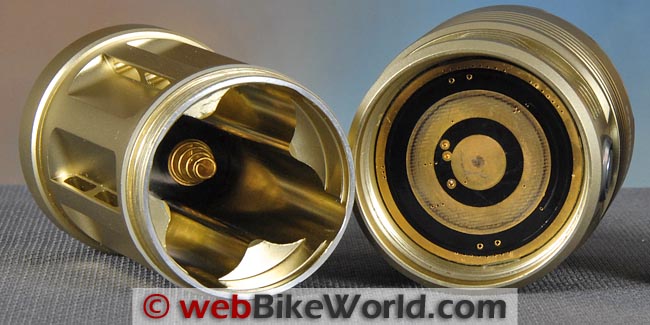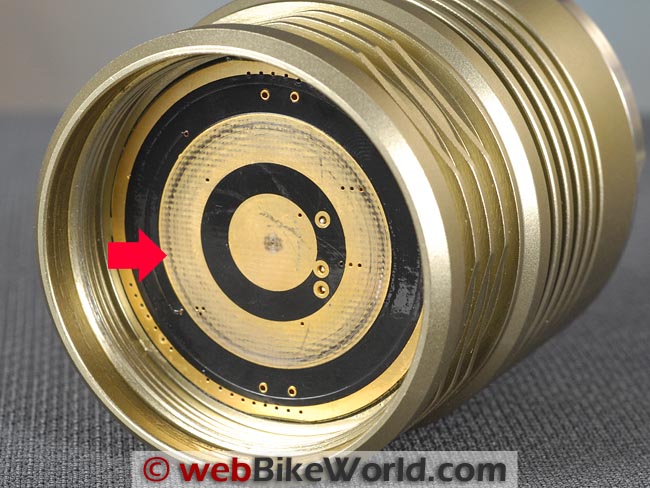 FandyFire UV-S5 Quirks…
The FandyFire UV-S5 doesn't come with the four 18650 rechargeable batteries needed to fire up this beast, but the Clearwater flashlights each came with two (they use only one at a time), so we charged 'em up and stuffed them inside. Right away, we noticed something.
The business end of the flashlight serves as the positive connector for the batteries.
But the batteries don't sit in a positive/negative holder; instead, the top has a flat surface inside that touches the positive terminals of the batteries. As the top is screwed down, the flat part rubs against the battery terminals and the plate gets scratched very quickly.
There are two types of 18650 rechargeable batteries: flat tops or tipped and we bought the tipped version, based on recommendations from UV-S5 owners.
Some of the flat topped batteries apparently don't stick out far enough to contact the plate (here are the 18650 battery specifications in .pdf format).
Look carefully at the 18650 reviews and make sure you buy a good quality set, because there are some real junkers out there. You may think you're saving money, but you could get burned — literally — by cheaping out.
We bought a set of the hard-to-find Orbtronic 2900 mAh 18650 batteries, which use Panasonic batteries in their core and an on-board circuit board controller. The rechargers that came with the Clearwater flashlights work fine to keep any 18650 battery topped up.
Back to the UV-S5…If the flashlight sits for a day or so between uses, the batteries seem to lose contact, so you have to unscrew the front a couple of turns and then screw it back down tight, which I think breaks the slight corrosion that occurs on the positive terminals where they touch the contact plate.
If this isn't done, the flashlight brightness is weak, but so far it's bounced back to full power each time.
As I mentioned, this is simply too much power for really any type of use I can think of, except blinding your friends — make that enemies.
For me, it's a novelty, and I've used it to impress my friends and neighbors but that's about it. There's a limit to how much flashlight power one really needs for working on motorcycles — 60 to 150 lumens is really quite adequate, especially if the beam is evenly distributed.
FandyFire UV-S5 Kudos…
During the daylight inside the house, the FandyFire UV-S5 seems powerful when it's turned on, but it's not really super impressive until you fire it up at night. Go outside and turn it on and it's absolutely mind-blowingly amazing — by far the most powerful flashlight I have ever seen.
It almost feels like the thing kicks back in your hand when you press the button!
The case starts to get warm right away and after about 5 minutes of use (if you really need to use it for that long), it can get up to 40 C (100 degrees F) or so — ironically about the same temperature as the HID light replacement kit we recently installed in the Suzuki DR650 (blog).
The review on that is coming soon…
The FandyFire UV-S5 puts out more light than the HID headlight and about as much, we figure, as one of those Clearwater Krista LED lights installed on the DR650.
The Clearwater Andie 700 lumen and 800 lumen flashlights are very powerful, but as the photos below show, the FandyFire UV-S5 simply blows them away, literally.
Nothing against the Clearwater flashlights; indeed, they're a much better choice for garage or home use, and even they are probably more power than anyone really needs for working on a motorcycle. But as a comparison, you can see the differences below: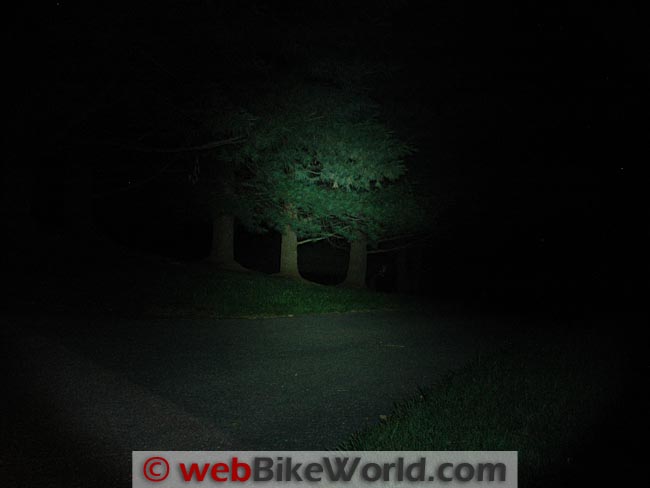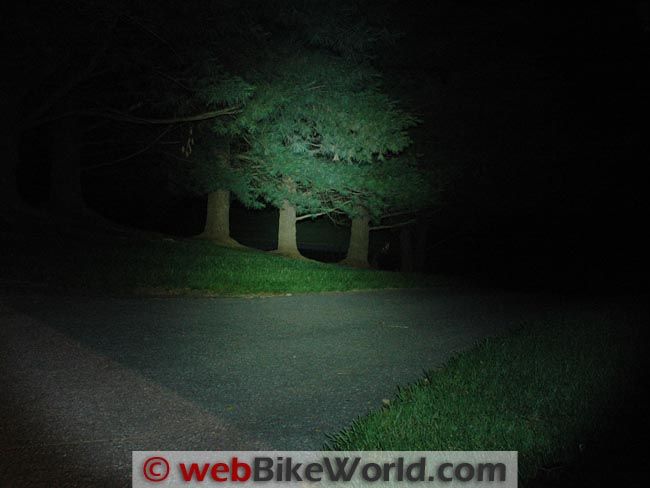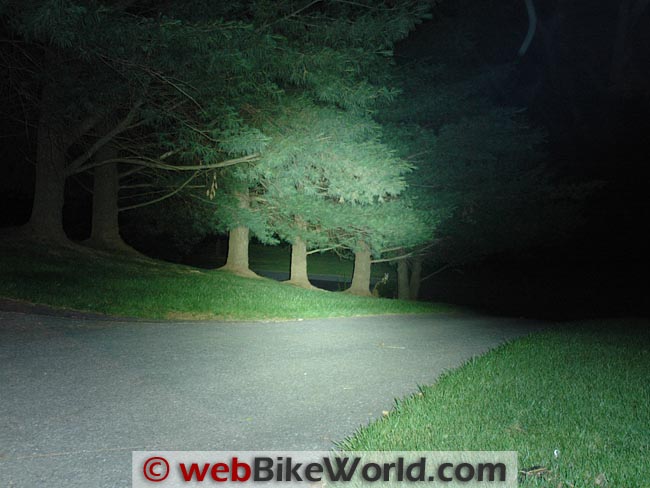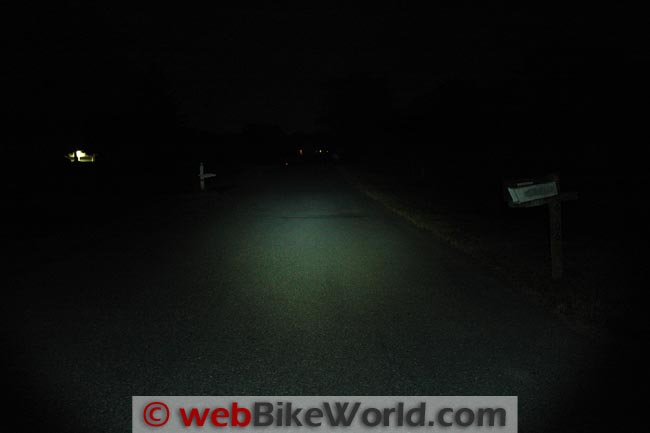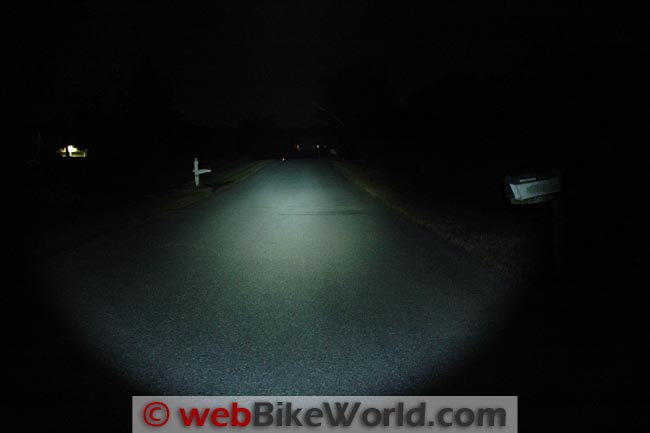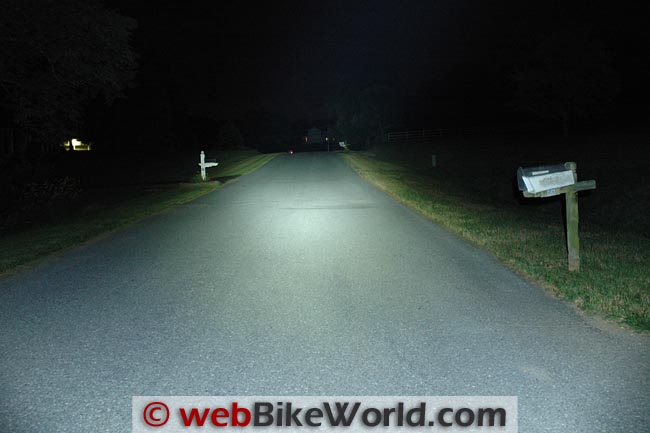 w

BW

 Video: FandyFire UV-S5 3,000 Lumen LED Flashlight
Conclusion
The FandyFire UV-S5 3,000 lumen flashlight proves that too much can be, well, too much. Flashlight freaks will surely want one, and no flashlight can be "too powerful". But for working on a motorcycle in the garage, this light is mega-overkill. But it sure is fun!
w

BW

 Review: FandyFire UV-S5 3,000 Lumen LED Flashlight
Manufacturer: FandyFire (no website)
List Price (2012): $59.99
Made In: China
Colors: Gold anodized
Sizes: Powerful!
Review Date: July 2012
Note:
 For informational use only. All material and photographs are Copyright © webWorld International, LLC since 2000. All rights reserved. See the webBikeWorld® 
Site Info page
. Product specifications, features and details may change or differ from our descriptions. Always check before purchasing. Read the
Terms and Conditions
!
Owner Comments and Feedback
---
From "J.B.L." (January 2013): "Mine came today, about two weeks after I ordered, it's really a nice flashlight and packs a real punch in a very modest chassis.
I am as much a sucker for a cool flashlight as I am for a interesting helmet and have many of each, the FandyFire UV-S5 drew me in instantly.
I also have several of the high power Fenix Flashlights, the TK-45 (760 lumens output//three Cree XP-G R5 LED's), the TK-60 (800 lumens output/ Cree XM-L LED), and the big hoss TK-70 ( 2200 lumens/ 3 CREE XM-L LEDs, powered by 4 large capacity D batteries).
Fenix just came out with the TK-75, (four 18650 rechargeable cells are stunningly transformed into 2600-lumen max output, throwing close to 2000 feet with an 80-degree plus beam angle).
But at $200.00 and running the same type of batteries and a larger chassis, it makes the FandyFire look even better!
The TK-60 and TK-70 are large chassis flashlights WAY too big too pop in the glove box of the truck.
They are two of my largest lights and more of a "S'cuse-me-while-I-whip-this-out" flashlight than anything else. I do use them a lot for locating varmints around my pond at night though.
The FandyFire light is a lot more convenient for the task though and I am really enjoying it.
I can actually fit it into my coat pocket it's rated at 3,000 lumens but in a head to head with the TK-70 is does not seem as bright, although this could be due to the fact that the projector head of the TK-70 is more than twice as large, the Fandy has a "whiter" tone to the light as well.
But the best part is that the FandyFire is almost 1/3 the price of the TK-70. I find it to be every bit as well made too. It is also completely up to the task of replacing the larger TK flashlights.
Battery life is outstanding, I am using the TrustFire 3000mAh batteries that are offered at Deal Extreme and they seem to be excellent.
Be sure to order a charger with a U.S. type plug end when you order a charger, mine came with a Euro Two-Prong that I had to cut and replace the end so it would work here in the US.
I'm not sure if that was my fault or theirs but it was an easy fix for me so I just thought I'd mention it.
This is a really awesome package that will really work well in most applications, it has a "Dim" setting too so if you don't want a ton of light you don't have to use the high setting all the time.
It also strobes well enough to give you a '70's flashback! (Pun intended). Buy one, live a little.
Thanks for alerting me to this flashlight if I decide to pop for the TK-75 I'll get a head-to-head test going and let you know how they shake out."
---
From "J.H." (November 2012): "OK. So after I read your review of this flashlight I knew I had to try it. So I ordered it and I bought the same batteries with a charger that you mentioned in the review.
The batteries were more expensive than the light by the way.
Oh well, anyway after about two weeks it arrived and I would have to agree that it is surprisingly built well. Very sturdy construction.
I popped in my batteries and tried it out and well…Lets just say if you have the need to light up an entire city block this light is for you. It reminds me of the Tim Taylor more power philosophy from my old favorite show Home Improvement.
It's great and it is every bit as bright as it claims. I don't know how long the batteries will last but it is a very bright light. It does have a lesser setting but you have to cycle it through the bright light first.
And of course what kind of light would it be without the vomit-inducing strobe.
Thanks you guys again on another very nice and accurate review. You guys are spot on. Its great to have a review you can trust."
---
From "B.S." (September 2012): "It seems to me with a little creative wiring, one could have a decent set of off-road lights at a fraction of the cost of purpose made units."
---
From "J.L.W." (July 2012): "These light are, I believe, designed for use in self defense as a substitute for rail mounted lights. The problem with rail mounted lights that attach to a pistol's accessory rail is that they not only light up the target but give away your position as well.
A hand-held light (e.g. FandyFire) can be held away from your body to both illuminate and blind the target assuming you can shoot with one hand."
---
From "F.M." (July 2012): "There's no question that it's grossly overpowered as a light for mechanical work, and I'd never consider using it for that. But I can't imagine a much better light to have along when an off-road crash or an electrical failure leaves you without a working headlight in pitch-black night.
One of these, some duct-tape, and you've got a safe way to get home — or to a repair shop.
It's also an excellent light for night-time boating, signaling for help off-road, or for any kind of long-distance work. It's also a great light for honey-what-was-that-noise?! You might try a light coating of silicone electrical grease on the contacts to prevent corrosion and reduce wear."
Other WebBikeWorld Motorcycle Flashlight Review
wBW Flashlight Review  Info