FAMSA 246 Motorcycle Tank Bag Review Summary
FAMSA 246 Motorcycle Tank Bag Image Gallery
I remember the first time I saw a tank bag on a motorcycle.  It was back in the early '70's, and European motorcycles were as rare as hen's teeth in my neck of the woods.
But there it was — a BMW, flat handlebars, cruising right down Main Street, and what was that thing on its gas tank?
I couldn't figure out why anyone would want to spoil the look of their bike with such a contraption.
Motorcycles with fairings just didn't exist back then.  And bags?  No way, except maybe some beat-up leather fringe jobs on the back of an old Harley.
Why would anyone want to carry anything on a motorcycle?  Other than a pair of gloves (tan leather work gloves from the local farm store) and a couple of spark plugs under the seat, you were on your own.  Well, until they invented bungee cords, anyway…
But after thinking about it, I realized that a tank bag might come in pretty
handy, especially for gadget freaks like me.  People laugh at the junk I carry around everywhere I go, but just wait — one day they'll be glad I had three different brands of antacid (and the spoon to take it with) in my briefcase!  Yep, they're right there next to the laser pointer, the emergency ration kit, the flashlight, the folding travel cup, the…).
Good ideas have a tendency to stick around for a while, and the humble tank bag has evolved over time.  A good tank bag has to be one of the most useful motorcycle accessories available.  I like to have selected belongings right there in front of me where I can keep an eye on them.
This is important, because I frequently carry things like a camera, a cell phone or computer gear.  A tank bag provides quick and easy access to just about anything I'll need, and it can be easily removed and carried, unlike hard bags or other types of luggage.
The first tank bags were square and leather with cheap steel zippers and maybe a pocket or two on the side (Deluxe models only!).  They were usually mounted to the fuel tank with a clumsy spider web of cloth straps and metal hooks.
Waterproof?  Hah!  But tank bag design has come a long way since then.  This FAMSA Model 246 is loaded with features, and it has more storage space than my first house.  If you can't carry it in the Model 246, then it's time to take out a mortgage on that Winnebago.
FAMSA was founded about 40 years ago by the De Fillipis family in San Giuliano Milanese, near Milan.  The company originally produced accessories for the scooter industry, and they started making soft luggage in 1980.  You may have seen or even owned a FAMSA luggage product without realizing it, because FAMSA has manufactured soft luggage to order for some of the major European motorcycle OEM's.
About 5 years ago, FAMSA started marketing their products under their own name.  FAMSA is still owned by the De Fillipis clan, and their strategy has been to stay small and flexible.
This has allowed them to quickly respond to the ever-changing needs motorcyclists by offering innovative products including tank bags, side bags and soft luggage for a variety of motorcycle makes and models.
The Model 246 is the "top of the line" FAMSA tank bag, and it's really a three-in-one convertible system.  The Model 246 consists of two tank bag modules that can be used individually or zipped together to create anything from a small day trip tank bag (with map pocket) to a "normal" sized 26 liter travel bag to a huge cross-continental touring bag of 34 liters.
In effect, you can purchase this single system and have a tank bag for just about every purpose imaginable.  This all works because FAMSA has designed each module to be attached individually either to the mounting base or to each other.  And there's a bonus:  the FAMSA mounting bases are available for individual purchase, so the entire system can be moved from one bike to another.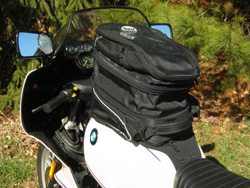 Tank Bag Modules
The system's bottom or base bag (or "module") is a 26 liter capacity tank bag with its own map pocket, two external side pockets and an external front pocket.
The cover of the base module includes a map pocket on top with a clear vinyl window, accessible via a 19cm (~7-1/2″) wide zipper at the rear.
The cover of the base module has two zipper pulls; it opens up to reveal a big storage compartment that's about 14cm (~5-1/2″) deep at the front and 11cm (~4-1/4″) deep at the rear when it's not expanded.
Need more room?  The base module can be expanded to nearly double the size by unzipping a full-length zipper to expose the accordion-like bellows.  The bag then has a cavernous 24cm (~9-1/2″) of depth at the front and about 18cm (~7″) at the rear.
The bellows fold back into the base module when not in use, but they don't seem to intrude on usable space.  We found only one minor issue with this module: the map pocket is narrower at the rear than towards the front, so some room that could otherwise be used for the map is lost.
The base module has two big external side pockets, each about 28cm (~11″) long and 8cm (~3″) deep.  Both pockets have full-length zippers along the top, and are about 6cm (~2-3/8″) at the rear.
The base module also has two hidden, adjustable padded shoulder straps, which allow the base (and the top module if it's attached) to be carried as a backpack.  It also has a couple of quick-release snaps on the bottom that allow the bag to be carried over one shoulder, using the supplied carrying strap.
The base module also has a front pocket with a zipper on one side.  The front pocket is about 18cm (~7″) wide by 13cm (~5″) high by about 5cm (~2″) deep.  It also stretches a bit, and it comes in handy for stowing some snacks, a sandwich or a wallet.
The upper module attaches to the base module with a hefty YKK zipper.  When attached, the upper module serves as the top compartment of the tank bag.  It has its own full-length clear vinyl map pocket.  This map pocket has a full-length zipper on the right-hand side.
The larger side opening makes it much easier to slide in a folded map without bunching, unlike other tank bags with narrow openings where the map has to be stuffed under the clear vinyl with one hand.  It would be nice if the map pocket had some type of expansion capability, which might allow thicker documents to be stuffed in, but it works fine with normal sized road maps.
Unzip the cover on the upper module to reveal a large inner storage compartment that stands about 10cm (~4″) deep at the front and about 4cm (~1-1/2″) at the rear.   The upper module also has two mesh side pockets, each about 15cm (~6″) long by about 8cm (~3″) deep.
These come in handy for carrying a spare set of keys, a small flashlight, or some change or bills for toll booths. The mesh works well in this application because the it allows the contents of the pockets to be visible, which is important for things like toll booth change.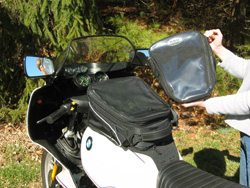 The upper module has two plastic D-rings sewn onto its underside, and the supplied adjustable carrying strap has two safety clips that allow the bag to be carried over the shoulder when it's detached.
The upper module is really handy for day trips or for carrying valuables, local street maps or other goodies that you don't really want to leave on the bike when you're walking around town.
It's even nice enough to use for non-motorcycle jaunts; I went on a day trip recently to downtown D.C. via the Metro, and I took the upper bag along to carry my camera, sunglasses, sweater and a windbreaker.
With both modules in place, the Model 246 measures a wide 30cm (~12″) at the front; 20cm (~8″) wide at the rear, and it's about 40cm (~14″) long from front to back.  It's about 28cm (~11″) high when unexpanded, and about 38cm (~15″) high at the front when it's fully expanded.  This is a big, BIG tank bag.
But even with the upper module removed, the lower bag is about 18cm (~7″) tall, providing plenty of room for longer distance trips.  It's a little hard to describe, but the bottom line is that when both modules are in use, there's give or take 40cm, or 16″ of height before you start stuffing it full.
Cross-country riders who travel light may only need a Model 246 and maybe a set of matching FAMSA side bags to stow everything they'd need for the trip.
FAMSA tank bags are made from waterproof polyester, and the 246 has 3M Scotchlite reflective material in the piping on its sides and in the two FAMSA logos.  The 246 is also supplied with a plastic rain cover that can be slipped over the entire bag during those real downpours or when the bike is parked.
FAMSA uses good quality YKK zippers throughout, and each zipper has a large pull ring or tab.  Also, the zippers themselves are apparently "self healing"; if for some reason the zipper teeth open up in the middle of a run, a quick pull back and forth will mesh the teeth back together again.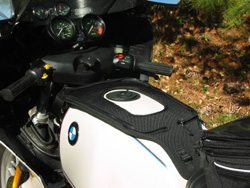 Mounting
The 246 is available with a variety of mounting bases that are designed to work with many different motorcycle makes and models.  If FAMSA doesn't have a base to fit your motorcycle, a "universal" mounting base is available that might work.
The universal base has an adjustable webbed strap that snakes around the bike's headstock and into a clip on the front of the bag, and the rear of the universal base has two adjustable straps with "U" clips that are designed to hook under the fuel tank lip at the rear of many bikes.
The universal base (photo left) has a large opening that should allow access to a wide variety of fuel filler placements.  The custom fit mounting bases have bike-specific openings that are designed to match the placement of the fuel filler on each bike.
One of the best features of the Model 246 is that the mounting bases can be purchased separately.  If you own more than one bike or buy a new one, all you need is a different base and you're in business.
I've ended up giving away several expensive tank bags over the years because they didn't fit the new bike I purchased, so the ability to swap out the base is a worthwhile feature and makes the Model 246 a long-term investment.  By the way, the Model 246 is also available with a magnetic base, which uses 8 neodymium magnets covered by fabric.
The bottom of the Model 246 base appears to be made from some type of vinyl.  There are two schools of thought on tank bag base design: some claim that a tank bag should have a base made from a very soft material, but others claim a harder material is better.
The soft material can initially work to protect the fuel tank from scratches, but the soft material can attract and hold tiny pieces of sand or grit, which are then ground into the bike's painted surfaces.  A harder material may not hold the grit, but could be tougher on the surface if the bag starts bouncing around.
Every tank bag I've ever tried has scratched the paint on my bike, no matter what type of base, so I suggest if you're going to use a tank bag that you first cover the surface of the tank with a paint protector like 3M Scotchcal. Scotchcal is a clear material that's easy to apply, easy to remove and it's nearly invisible.
It's designed to protect painted surfaces of motorcycles or automobiles.  It's used on many expensive cars to protect areas prone to stone damage, such as wheel arches, bumpers and hoods or other areas with a high probability of wear.
Another solution is to stop by your local hardware store and pick up some of that soft rubber mesh matting that is used to line kitchen cabinets.  I've seen a big roll at Wal-Mart for only a few bucks.  This same type of mesh is sold to go under area rugs to stop them from sliding on wood floors, so if you're thinking big, you can probably pick up a 4×8′ sheet and use the leftover to line your toolbox.  But take it from me, Scotchcal is the way to go…
A problem with nearly all tank bags is access to the fuel filler.  Different designs have been tried through the years to try and provide easy access, with varying levels of success.  The Model 246 must be zipped off its base to gain access to the fuel filler, which isn't the easiest solution, especially if the bag is packed, but the use of the good quality YKK zippers at least makes the chore a bit easier.
The FAMSA Model 246 has a lot going for it.  It can be used as a day bag, or as a "normal" sized tank bag or it can be super-sized and stuffed full of goodies.  The removable top section makes all the difference, because it makes the bag more manageable for smaller trips and it works well for all sorts of uses, both on and off the bike.
We think the price is very reasonable, especially considering the utility of the design, the features and the quality construction.  You can easily pay this much and end up with a much smaller tank bag with a non-removable base.  I've seen lots of tank bags come and go, but the Model 246 is a keeper and probably the last tank bag I'll ever have to own.
Note:  For informational use only.  All material and photographs are Copyright © webWorld International, LLC – 2000-2011.  All rights reserved.  See the webBikeWorld® Site Info page.  NOTE:  Product specifications, features and details may change or differ from our descriptions.  Always check before purchasing.  Read the Terms and Conditions!
Owner Comments and Feedback
Other WebBikeWorld Tank Bag Posts