Falco "Mixto" Motorcycle Boots Review
The new Falco Mixto boots combine street and adventure-touring style with a waterproof membrane at an excellent price point.
They're comfortable, roomy, easy to wear and made in Italy.
Falco has introduced a huge new lineup of motorcycle boots for the 2012 model year, which I previewed in my report from the 2011 EICMA show in Milan, Italy in November of last year.
In fact, there are so many cool new Falco boots that it was hard to pick a favorite for a more detailed follow-up review.
But the new Falco Mixto boots got the nod, because they're a perfect blend of street-smart and adventure-touring style without the bulkiness of full-on motocross boots.
Anything more motocross-y would probably make them clumsy for basic tasks — you know, like walking.
But it's important to remember the "adventure" part of adventure-touring, so the Mixto boots are fully waterproof and they're also easy to slip on and off.
They also include a unique external lining insert on the part of the boot that faces the inside, to help resist heat and wear.
Another unexpectedly nice feature is the non-slip composition used for the soles of the Mixto boots. Sticky soles are important in a motorcycle boot — especially for "inseam challenged" riders like me.
There's not much worse than trying to push off the bike or backpedaling on a slippery or wet road only to find that your boot bottoms feel like a pair of those sneaker skates with the built-in wheel favored by kids.
As you can see from the photos below, the soles also have an unusual tread design, which offers a larger surface area to give the sticky stuff a lot of grip.
On top of all that, the Mixto boots are very reasonably priced. But, I'm getting ahead of myself here, so let's take a closer look…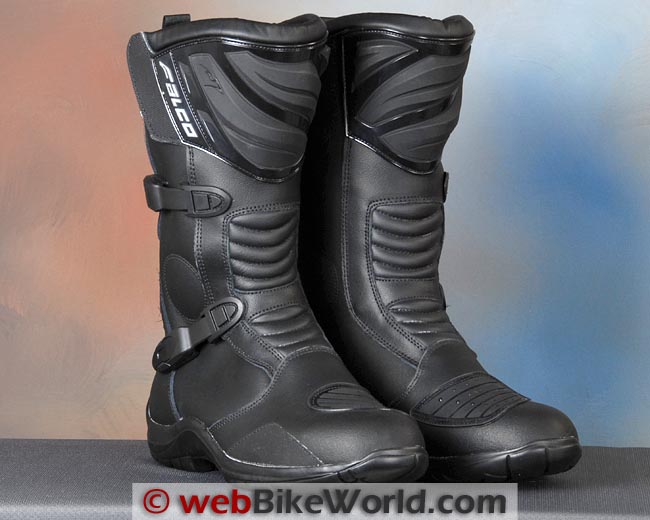 ---
Where to Buy Falco Mixto Boots
Check Reviews & Prices on Amazon
Check Reviews & Prices On RevZilla
Also: Leather Motorcycle Boots, Touring Motorcycle Boots, Women's Motorcycle Boots
---
Falco Mixto Boots Styling and Comfort
If it weren't for the two large poly buckles on the sides, the Mixto boots would probably pass for a good-looking motorcycle street/sport boot.
But those buckles and a few other styling clues and features indicate the dual-sport design intent of these boots.
Sure, there are more hard-core off-road boots you can buy.
In fact, Falco even makes a few they'd be happy to sell you, like the "Edge" and "Edge Pro" trials boots; the "Extreme Pro" and "Extreme Pro 2" and the very cool "Dust LS" and "Dust WTR", with its removable d3o armor liner inserts (and which we hope to review sometime soon).
But all of those boots are much more focused towards off-road riding, and since many adventure-tourers spend a lot more time on-road, the Mixto boots are much more appropriate. An analogy might be the Jeep Wrangler compared to a Toyota RAV4.
The Wrangler — and the more focused boot design — is an 80/20 off/on road while the RAV4 and the Mixto is just the opposite.
But they're plenty rugged enough for me and a heck of a lot more enjoyable. In fact, I'd have to rate the Mixto boots as one of the most comfortable pair of motorcycle boots I've worn.
They have a slightly roomy fit and the lining is a soft material that feels good.
They're also much more "walkable" than a pair of heavy off-road biased boots. Don't get me wrong — those shin-high off-roaders definitely have their place, and their steel beam sole construction gives the perfect platform for all-day peg standing.
But have you ever tried to walk in a pair? Frank N. Stein's clodhoppers are like ballet slippers in comparison.
The Mixto boots have enough flex under the toe to make for easy walking. OK, so they're not a pair of New Balance runners, but they're not bad, either. And there's enough support under the arch to make us part-time off-roaders happy.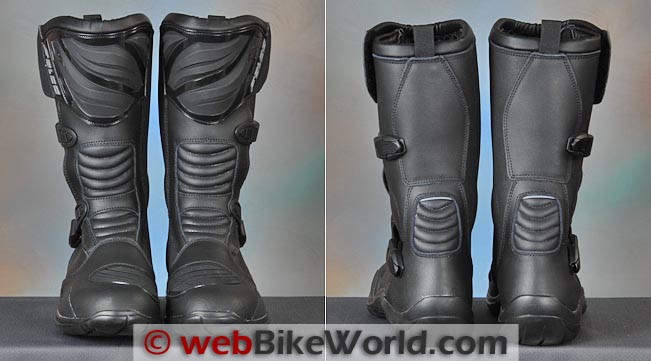 Sizing
I'm a borderline size 44/45 in motorcycle boots. That is, my size 10.5 US feet mean that a 44 is tight but a 45 is loose. I usually go with the 44's, as I'd rather have the support and leather boots will stretch a bit in use.
But I have to admit, some size 44 motorcycle boots are so tight that I find it difficult to walk; not enough room for normal expansion of the toes.
The size 44 Mixto boots are perfect. I think the footbed shape or what used to be called the "last" is slightly wider or, shall we say, more realistic than many other motorcycle boots. Yet, they're not so wide as to impede the ability to slip the toe under the shift lever.
The bottom line here is that based on this one size example, the Mixto boots apparently run true to size, so an average width size 10.0 to 10.5 US foot should fit just fine.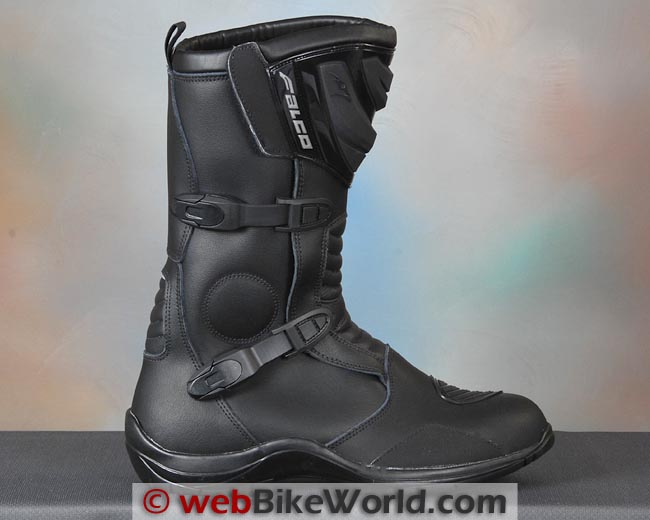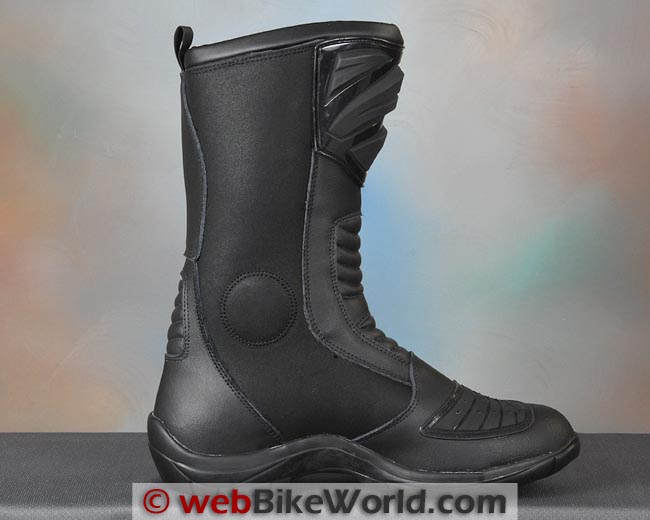 Ventilation and Water Resistance
The special "High-Tex" waterproof membrane is also included in the Mixto boots.
We first described this in H.B.C.'s review of the Falco "Raid" boots (review). I duplicated the sidebar from the "Features" section of that review on the right in this section.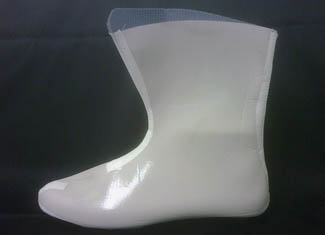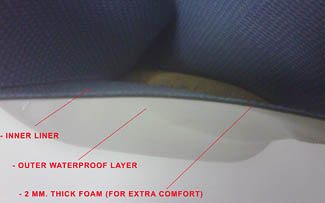 It has photos and a description of this one-piece waterproof liner embedded in the Falco water-resistant boot line, which includes 9 different boot models at last count.
The High-Tex membrane is different from Gore-Tex or other membranes used in motorcycle gear.
IIt feels thicker and it feels like it adds a bit of cushioning to the bottom and sides of the Mixto boots.
Falco had a dissected boot, along with the High-Tex liner, on display at the 2011 EICMA show, so I was able to handle this otherwise hidden boot component.
The High-Tex liner is one of the features that seem to make these boots feel more comfortable than many others.
SSlip your hand down inside a Mixto boot and squeeze along the side and you will feel the cushioning effect.
As described in the sidebar, the membrane is specially designed with a 2 mm thick foam layer, and that's the "secret sauce" that helps to make these boots comfortable to wear.
TThe downside of adding the membrane is that there are no vents on the Mixto boots, but it's the tradeoff for water resistance.
My other pair of go-to boots are very old basic Dainese street boots and they don't have vents and I've been wearing them forever without problems. So it's not a big deal for me.
We've been in the midst of a mini-drought here on the U.S. East Coast lately, so there have been no opportunities to test the water resistance of the Mixto boots on the road.
But a modified version of the "bucket test" indicates that the boots are indeed waterproof. The interior remained dry even after holding the boots under water for several minutes, so it works.
The soles are bonded to the leather uppers, so there's no leakage possible, because the soles are not attached with stitches to the boots.
The membrane is shaped like a bootie, and it comes up to the top buckle on the boots — plenty deep enough for any puddle I'd want to step into. Anything deeper than that and it's time for hip waders — or a boat!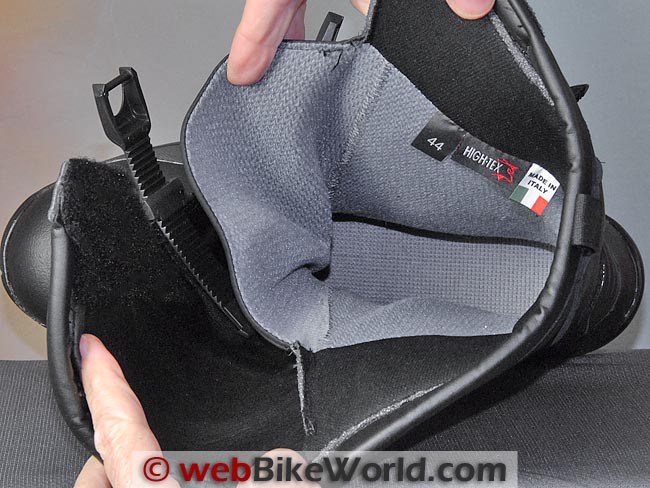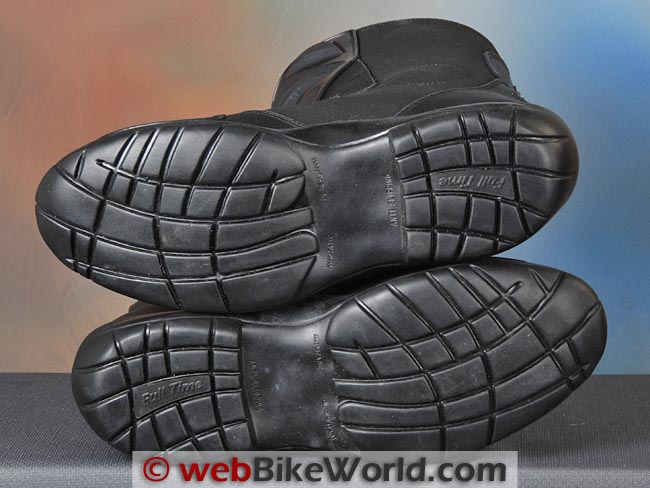 ---
Where to Buy Falco Mixto Boots
Check Reviews & Prices on Amazon
Check Reviews & Prices On RevZilla
Also: Leather Motorcycle Boots, Touring Motorcycle Boots, Women's Motorcycle Boots
---
Falco Mixto Soles
Falco installed a different type of sole on the Mixto boots. They didn't use the typical Vibram-clone with the big lugs.
When you think about it, those probably aren't best suited for a motorcycle boot that will see a lot of street use anyway, as the lugs minimize the surface area.
In reality, tread patterns on boot soles are probably not much different than car tire treads; once you meet the minimum sipe requirement, the pattern is more for show than go. It doesn't make much difference and there are as many patterns as there are tires — or boots.
What is important though for motorcycle boots is the sticky-factor; that is, the amount of grip the soles provide as you're pushing the bike with your feet.
Good traction is just as important when you're standing next to the bike, pushing it up on to the center stand, for example, as it is when you're sitting on the bike and pushing it back into a parking space or something.
Maybe I'm more sensitive to this issue because of my 30″ inseam, which is pretty short for any of the modern-day adventure-touring bikes.
I can just barely tip-toe on too many modern motorcycles, so I need all the traction I can get — and then some.
I've worn motorcycle boots that slip 'n' slide at the slightest provocation, and make that double when it's wet. So I'm always looking for sticky traction and the "Full Time" brand soles on the Mixto boots have it.
I'm not sure who makes the soles — I'm pretty sure Falco buys them from a supplier. Besides the "Full Time" logo, the soles are printed with labels declaring them "Anti-Static", "Oil Resistant" and "Anti-Slipping". They even feel sticky right out of the box, which is always a good sign.
The tread design has a lot of surface area for extra traction, so all told, I'm pretty happy.
They also have a nice step in front of the heel, which helps me to locate the foot pegs when I'm standing on the Suzuki DR650 (blog).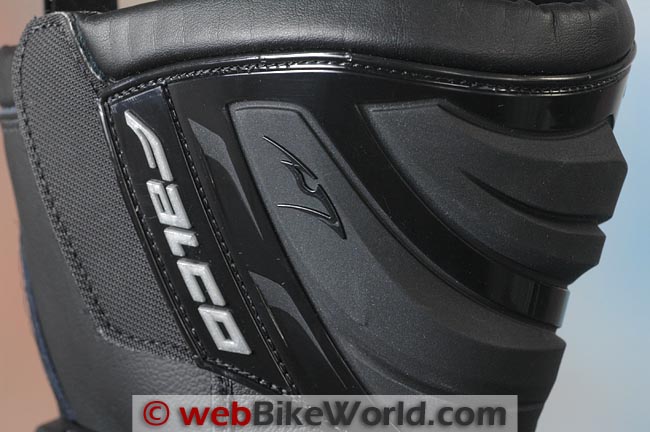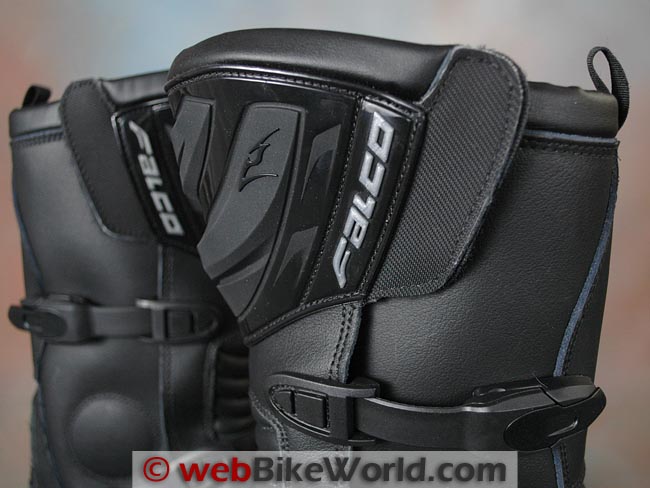 Safety and Protection
TThe Mixto boots have your basic street level protection agenda, with inserts to protect the ankles on both the inside and out; hard toe and heel cups; and a large polyurethane upper shin protector sewn on to the front.
The thick molded soles do a good job at resisting flex, although I probably wouldn't be sad if Falco had thrown in a stiffer insert to give the soles a harder platform for standing on the foot pegs.
But then again, that would probably ruin the off/on road nature of these boots.
The thick leather also helps; as far as I can tell, the entire boot (other than the obvious plastic bits) is made from cow hide.
It's doubled-up at the front, over the entire toe, and along the entire back of the boot, for extra protection and all of it is double-stitched for added strength.
And by the way, a sliver of reflective material is placed horizontally in the rear at the ankle.
Take another look at the photos and you'll notice a lot of pleated material in the front of the Mixto boots, along with a section of the stuff at the ankle in the rear. This is what helps give the boots some flexibility which, in turn, helps make walking in them a lot easier.
I mentioned earlier that the Mixto boots seem to have a slightly roomy fit and that the combination of the lining and the cushy High-Tex membrane adds comfort.
The boots open with two adjustable straps on the outside.
They're easy to use and once they're open, a big swath of heavy-duty hook-and-loop at the top of the boots can be peeled back to open the entire front wide enough for any foot.
This helps to make entry and exit very simple, even if you're wearing double socks.
Once the foot is inside, I find that the best method is to buckle up in reverse order.
First, tuck in the High-Tex bootie so it's nicely folded in front of the boot at the shin. Then, fold over the entire leather front of the boot and secure the hook-and-loop.
Then slip the top buckle through and snap it shut, followed by the bottom buckle and you're done.
It's very easy and works every time — much simpler than about any other adventure-touring boot I've worn and not much different than the procedure I use to put on those old Dainese street boots I mentioned.
In fact, it's a very nicely designed system with no significant compromises necessary.
The Mixto boots are obviously designed to be worn over pant legs, but they can be worn underneath if desired. I tried this with the new Richa Spirit pants (review) and it worked fine.
The tops of the Mixto boots feel large enough to fit over any pants I've tried, including leather pants, so there shouldn't be a problem unless your calves are larger than average.
The Mixto boots are the perfect complement for my Ducati Multistrada 620 (blog) or Suzuki DR650 (blog) adventures, both on and off-road.
Conclusion
The Falco Mixto boots are a perfect blend of adventure, sport and touring. They're much more wearable and "user friendly" than a hefty pair of motocross boots, yet they still have that adventure-touring look.
If you're an armchair adventure-tourer like me or a typical dual-sport owner whose riding is biased more towards street than dirt, definitely give these a look-see.
The price is right too, especially considering that the Mixto boots are made in Italy.
w

BW

 Review: Falco 411 Mixto Motorcycle Boots

Manufacturer: Gianni Falco (Italy)
List Price (2012): $229.00
Colors: Black.
Made In: Italy
Sizes: 7-14 (U.S.) in medium or wide widths.
Review Date: February 2012
Note: Item provided by a retailer, distributor or manufacturer with these Terms and Conditions.
Note:
 For informational use only. All material and photographs are Copyright © webWorld International, LLC since 2000. All rights reserved. See the webBikeWorld® 
Site Info page
. Product specifications, features and details may change or differ from our descriptions. Always check before purchasing. Read the
Terms and Conditions
!
---
Where to Buy Falco Mixto Boots
Check Reviews & Prices on Amazon
Check Reviews & Prices On RevZilla
Also: Leather Motorcycle Boots, Touring Motorcycle Boots, Women's Motorcycle Boots
---
Owner Comments and Feedback
---
From "B.Z." (May 2012): "I would consider my usage as normal wear, as I wasn't doing anything different than normal, except doing it a lot more.
The (abnormal) wear looks like it is on the more specific end of the heel and toe from moving/parking foot walking the bike into place, as one might experience the need for to do more so.
1) The hook-and-loop at the top of the boot, IMHO, needs to extend back about another inch. Where/when the issue appears for me is when you close the boot with minimal layer underneath, as if you were to tuck the boots under pants for instance, or if you have pants with knee armour, but no shin guard that are being tucked in.
The boot overlaps past the hook-and-loop and has an unsecured flap, or at least a portion that could grab onto something be pulled open more easily than desired.
2) The sole softness wear as mentioned which is hopefully visible/understandable from the pictures of the heels and toes specifically.
3) The side of the boot underneath the lower clasp enclosure. After a simple weekend of wear, you see the way the leather has dealt with the abrasion of the clasp pressed against it.
There seems to be no evidence of any burring or anything on the clasps themselves, so I don't understand where or how this kind of quality issue would come from. To me, the leather shouldn't wear away like this this soon.
4) My last and final thing is a personal gripe when "walking around" in the boots. This may or may not be a problem for various people. The shifter pad insets on the top of the boot at the back of it tend to bite into the top of your foot as the boot tends to flex behind it.
This hard edge can be anywhere from a nuisance to uncomfortable to a pain on the top of your foot at the end of the day.
Thanks for taking the time to read my feedback, and hopefully something can come of it in a positive light for down the road."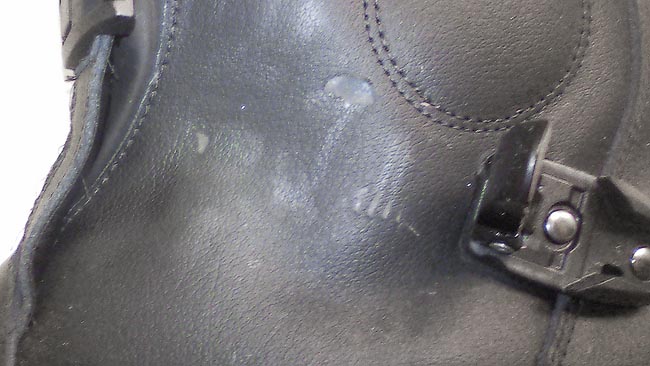 Other WebBikeWorld Boot Posts