Are you the face of motorcycling? British motorcycle insurance broker Carole Nash is searching for 12 faces to star in its 2017 annual motorcycle calendar to raise money for Blood Bikes.
The company has been inspired by their recent 'Biker vs Non Biker' survey that found motorcycle riders are more attractive, daring, adventurous and fun than drivers.
In five out of six cases, members of the public dressed as motorcyclists were voted as more attractive than when dressed as drivers.
You don't have to be a rider to star in the calendar, just have a love of bikes. Unfortunately, Aussies won't be able to take part as the competition is open to UK residents aged 18 or over only.
Proceeds from the sale of the 2017 Carole Nash biking calendar go to the Nationwide Association of Blood Bikes.
To enter, post your photo here.  
Carole Nash brand ambassador, British Superbike racer Leon Haslam, will select the 12 finalists who will star in the calendar, receive a certificate, a copy of the calendar and clothing vouchers.
The public will then be invited to vote for their favourite pictures, with the top three entrants winning an overnight stay in Birmingham and tickets to attend Motorcycle Live on November 19.
The winner with the most votes gets a modelling contract for a year, a makeover, professional photoshoot and a new biking jacket, second place scores a jacket and clothing vouchers, while third gets a £100 worth of clothing vouchers.
The competition closes at noon on August 31, the 12 finalists will be notified by September 2 and attend a photoshoot on September 15 or 16.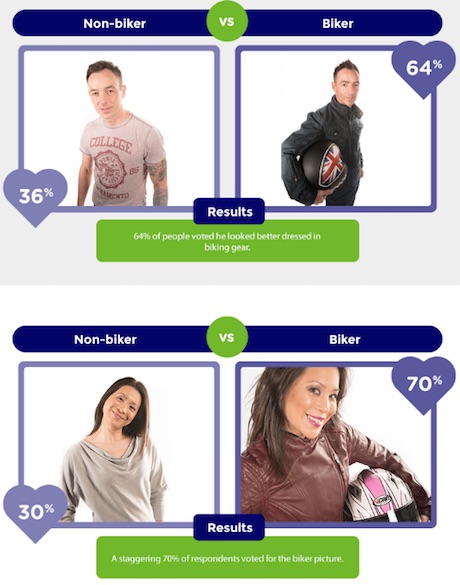 The Carole Nash survey of more than 1000 adults asked them to rate how attractive the opposite sex appears when dressed as motorcyclists, compared to plain driving attire.
It's not just levels of attractiveness which came out in favour of motorcyclists as riders are also seen to have positive personality traits.
The results showed that people who own a motorbike are viewed as adventurous by a third of the opposite sex (34%), closely followed by daring (28%) and fun (26%).
Unfortunately, it seems there are a lot of non-riders out there who have already worked out that motorcycle gear makes them more attractive, hence the abundance of pretend leather bike jackets.
The survey found one in four males pretends to own a motorbike, with almost a third (31%) also saying they would go the whole way and learn to ride if they knew it would impress a potential partner. 
One surprising result of the survey found almost half of the males (44%) would feel comfortable being a pillion with a woman while only 34% of women say they would pillion with a male.
The over 65s are the most adventurous with 44% saying they would be happy to ride pillion compared with just 24% of 18-24 year olds.