The Scenic Rim region in South East Queensland surrounded by the Great Dividing Range and Border Ranges is the perfect location to explore on a motorcycle, writes local rider and MBW contributor Todd Parkes.
Beaudesert is the perfect place to start exploring the Scenic Rim as it is easily accessible from Brisbane, Ipswich and the Gold Coast. From there a number of circuits and routes both long and short can be launched. These include a run through Rathdowney, on to the Lions Road and down to Kyogle; a run up through Boonah out to Mt Alford, Warwick and the Darling Downs; a trip around the dams of the area; even a trip to an aptly named area at the shelf of Razorback Mountain called the Lost World; a run through Rathdowney and down the famed Mt Lindesay highway and so on. With many swimming holes, several camping grounds and places to fish too, you could probably quite happily lose yourself willingly in this area for a few days and come back greatly refreshed.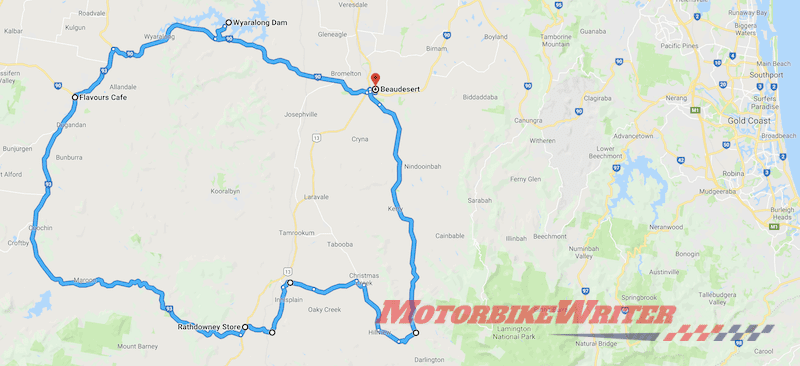 Click here to check out the route map.
The ride we are covering today is a loop that begins and ends at Beaudesert touring out through Kerry, Hillview, Rathdowney, out to Mt Barney and Maroon Dam and in to Boonah, Coulson, the Wyaralong Dam and back to Beaudesert. From there I return to the Gold Coast via Canungra and Nerang. 
Leaving town from Beaudesert (making sure you have a full tank of fuel and energy) take Kerry Road and enjoy the open air smells of farmland and countryside. You will encounter occasional road works, some at times messy roads, farm machinery on the roads, even livestock on the roads  as well as locals in their 4WDs riding the centreline yet being courteous as ever as they approach and moving over so you can both pass safely. You will also encounter serene creek crossings, sweeping roads, birds drifting on the thermals and skippies grazing. Keep your wits about you but enjoy your day away from the city. I saw one fellow biker on this section and yet many campers.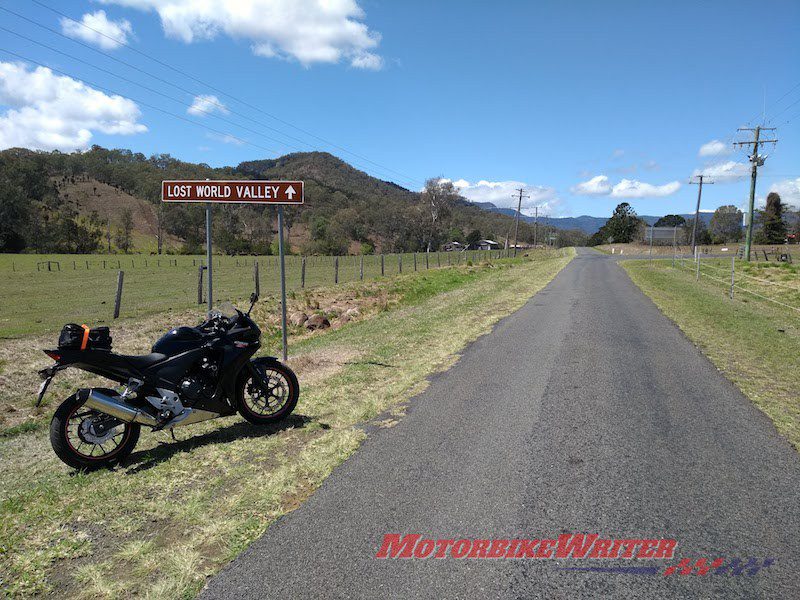 Look for the Darlington Connection Rd and take it on the right. If you continue straight ahead on Kerry Rd you will discover what is called the Lost World and will eventually find an alternate way to O'Reilly's and Lamington National Park. Turning right at Darlington Connection Rd will take you over a beautiful one lane collection of corners over a steep climb and down the other side. Some very tight blind verbs are there and amazing views too. Be careful as you come out at the bottom as you will get to a left hander that has a filthy upward bump smack in the middle where you will want to be leaning.
Scenic Christmas Creek
A couple of kilometres down Darlington Connection Road you will be taking a right turn on to Widgee Creek Rd for several minutes before arriving at Hillview and taking a right on to Christmas Creek Rd. You will keep Christmas Creek on your left for much of the next part of the journey as you look for a left turn at Rudd Lane which will then allow you to cross Christmas Creek sweep around on to George Lane and away from Christmas Creek altogether. This sounds tricky but it is a whole different scenic world out the back of the Gold Coast that is worth experiencing. I found myself checking Google Maps constantly just for reassurance and it really helped. With many swimming holes, several camping grounds and places to fish too, you could probably quite happily lose yourself willingly in this area for a few days and come back greatly refreshed.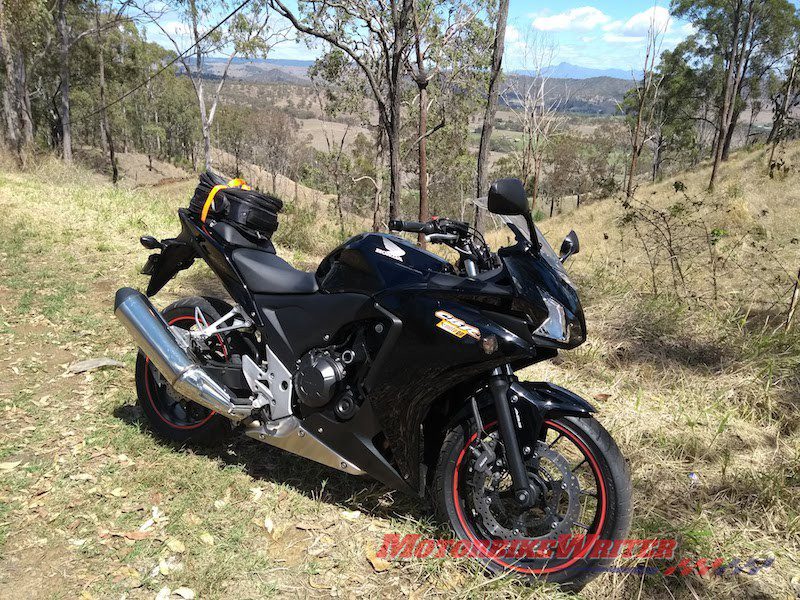 Keep motoring along George Lane and that road will eventually meet Oaky Creek Rd. You want to take the left branch of it (both branches being called Oaky Creek Rd) and travel along with Oaky Creek on your right (not always visible though). Eventually you will take a left hander onto Innisplain Rd which will then bring you to a fork where Running Creek Rd goes both straight ahead and right. Take it right and follow along Running Creek which after you cross it will be on your right then you will cross the Logan River as you follow the road on the run into Rathdowney. Time your run right and you could see the mile-long goods train coming over the bridge you will pass under. There is a scenic lookout on your left on the way in that is worth stop for and a great view across the pastures awaits. If you have completely lost your bearings by then, stop at the Rathy Pub for a meal and some fluid.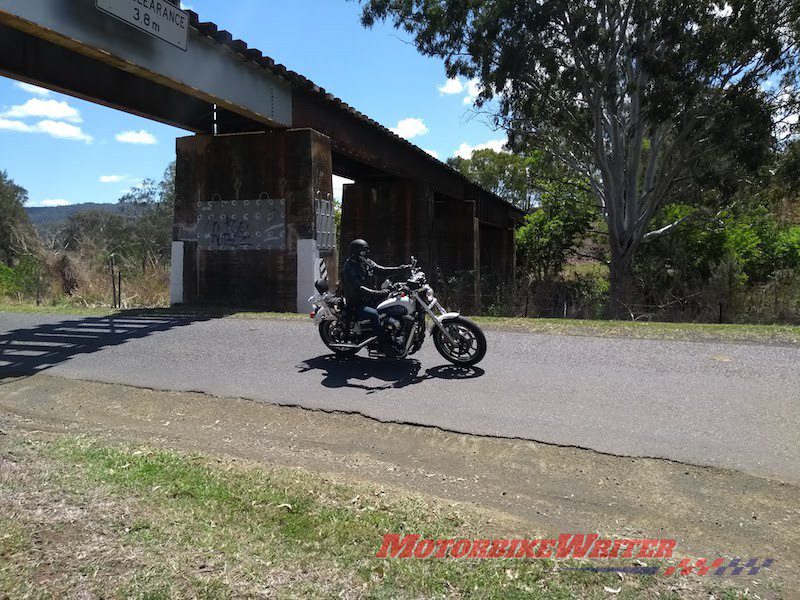 Back in the saddle you head a minute or so out of town and take the Boonah Rathdowney Rd on your right just past the school. It pretty much follows the winds and bends of the Logan River quite some ways along it and around the turnoff towards Mt Barney the Logan connects to  the Burnett Creek. Just prior to there on the left is Upper Logan Rd and a café called the Shed Café where their wonderful hospitality awaits. The run up the driveway and the scenic view to Mt Barney is alone worthwhile. It's a steep driveway with multiple curves, all sealed and goes between the orchard groves.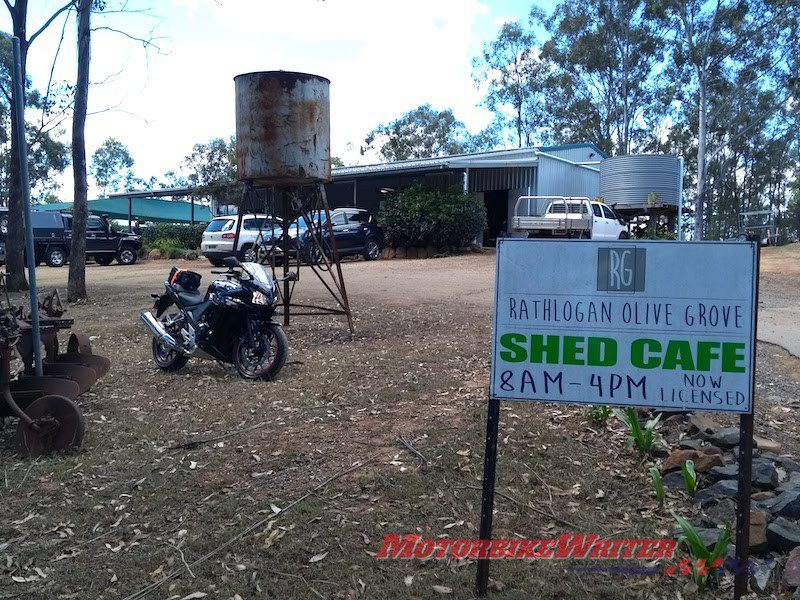 Mt Barney
If you continue along upper Logan Rd, you can travel to Mt Barney. Mt Barney is a venue for many into bushwalking, mountain climbing, camping and peace and quiet away from city life. Once back on to the Boonah Rathdowney Rd, heading towards Boonah, you will follow Burnett Creek with it first on your left but then eventually on your right. Down through the bends, the smells of native trees in the air and in the right season the sounds of the flowing rivers, eventually Maroon Dam can be a great site for a picnic or just keep continuing after a quick look, on towards Boonah. The roads, while imperfect (it is Queensland after all), are spectacular. Some great straights, long bends, occasional tight turns with crests and dips and every now and then a  member of the constabulary. On another day you could leave the Scenic Rim and head left at Carney's Creek Rd for a journey to the Darling Downs. Lake Moogerah is also out this way and many head there for their recreational pursuits.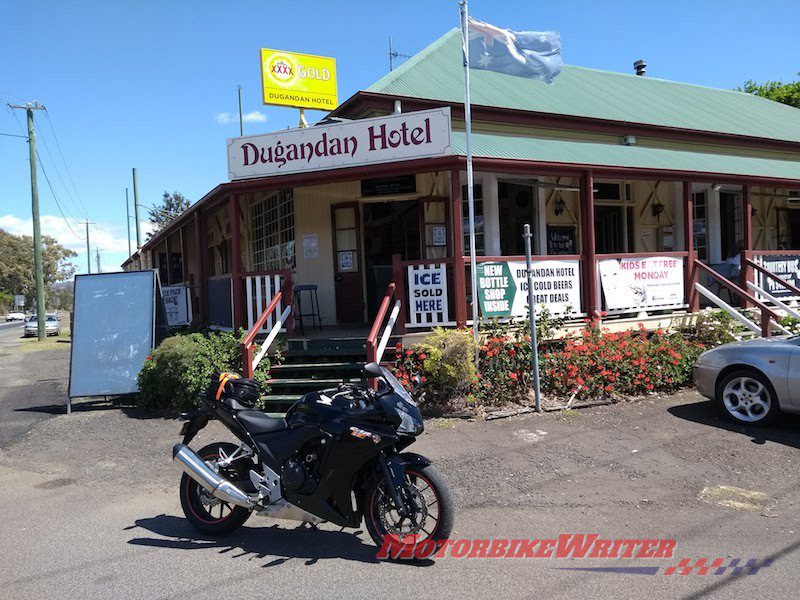 If you absolutely love a scenic view, you can take a left at the Dugandan Hotel and head towards a national park and lookout in the area at Mt French. Otherwise feel free to enjoy the hospitality of the Dugandan Hotel, a nice Queenslander-styled pub with a beer garden and fantastic food to enjoy.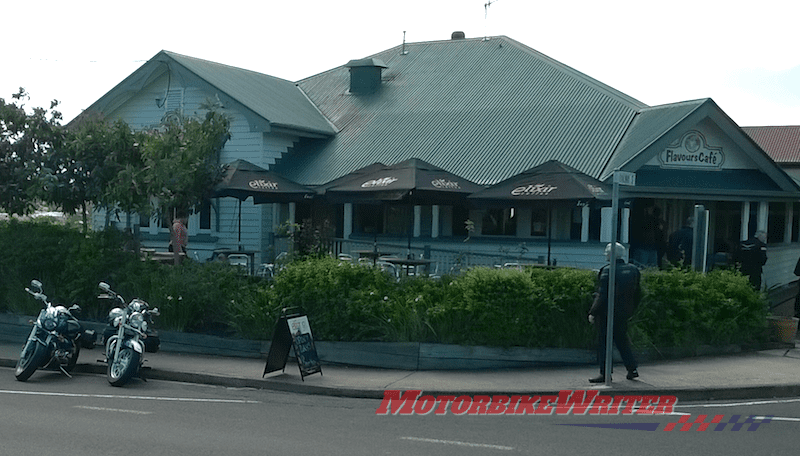 Another biker friendly and favourite place of mine in that neck of the woods is Flavours Café in the centre of town, around the corner from the BP servo too. They are also hospitable, friendly, accommodating and have great specials. So biker friendly are they that on the wall are some purpose built hooks for your helmets and jackets as well as a kiosk box provided by Team Moto that includes an emergency puncture kit, some chain oil and visor cleaner.  As you shoot the breeze on the deck of this great Queenslander you cannot help but notice the history of Boonah with buildings surrounding that have been standing since 1900. 
In this area, you really are spoilt for choice with country hospitality. Some even say it is worth 15 minutes extra up the road to Aratula to enjoy the offerings of its bakery. I haven't yet made it there though.
After the refreshing stop at Boonah, time to head towards Beaudesert again. As you do you may discover the Motocross Park at Coulson that is a fantastic venue for dirt biking for people of all ages and abilities with camping available too. Further down the road will be the Wyaralong Dam that is another excellent picnic spot plus a venue for mountain bikers too as well as other leisure pursuits. The rest of the ride back in to Beaudesert is pretty straightforward and can be slow going depending on traffic, so be patient.