Riding a motorcycle actually burns calories, but there is much more you can do to be a fitter and better rider by following a few of my fitness regimes.
In a previous article, Motorbike Writer shared some passive methods for shedding weight while riding such as stopping less, parking further away from cafes etc. Some people lampooned the ideas, but they're missing the point, thinking that Motorbike Writer was comparing motorcycle riding to a genuine fitness activity.
However, let's look at some of the facts. Riding a street motorcycle does use more calories than driving a car under the same circumstances.
Riding a motorcycle not only takes more skill and concentration, but also more energy. So the more you do it, the fitter you could be!
Have you done a track day lately? If so, you will notice how exhausted you are afterwards and how sore parts of your body are the next day or two.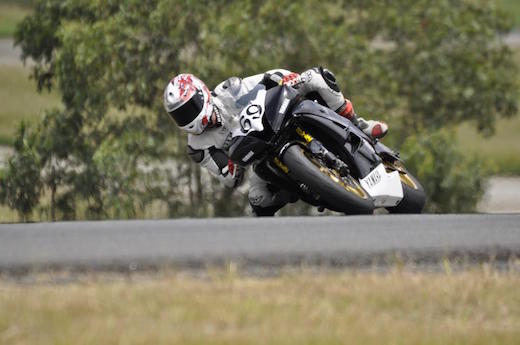 No one believed that road motorcycles required fitness until the Australian Institute of Sport started to test our elite riders like Wayne Gardner and Kevin Magee and found they had Olympic levels of fitness.
It takes a lot of fitness to maintain concentration for 45 minutes of wrestling around a 260+hp MotoGP machine.
Barry Sheene said he shed up to 6kg of weight in certain events, such as the steamy Malaysian Grand Prix.
Ask any off-road rider, especially a motocross rider at their youthful peak. These people are elite athletes, who eat, train and perform to sometimes beyond Olympic levels.
Riding motorcycles even at sensible road speeds still requires alertness, concentration and the ability to independently use of all four limbs at the same time.
A riding friend who is recovering from a recent stroke was told by a free-thinking medico to get back on the bike, as it will assist in his rehabilitation. The co-ordination skills and balance skills are far better and more real world than anything they can do in a gym. All this burns calories.
Most riders have above-average forearm strength, because of the constant brake and clutch lever squeezing. This burns calories.
No, simply riding a bike won't replace good diet and proper exercise, but it's a great social thing to do with numerous health benefits, especially with a safely maintained bike, performance rider training and approved safety clothing. An Exercise Bike Advisor can give you more relevant information on how to use different exercise bikes for getting in great shape.
Losing a bit of weight will also improve your bike's power-to-weight ratio, handling and braking!
Keep riding, it will help to keep you young in body and mind. Remember – you rarely see a motorcycle in the carpark of a psychiatrist.
Meanwhile, I have included the calisthenic exercises I do to stay at peak fitness, with heightened reaction times and less fatigue, for racing.
They will also help with flexibility and muscle strength.
The great thing about these exercises is you can do them anywhere.
This is a full body routine focusing on your legs, chest, core, arms and shoulders. Over my many years of motorcycle racing I have found these to be the main muscle groups used while riding.
25 squats
50 mountain climbers
15 push ups
One minute plank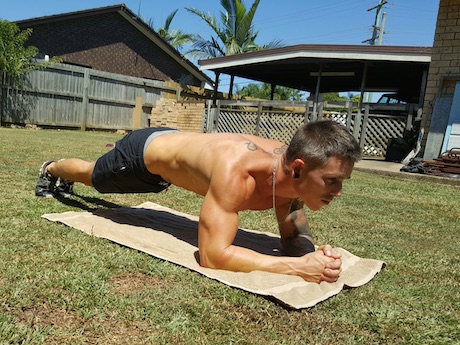 15 shoulder push ups
30 sit ups
This routine should take from 25-30 minutes and should be done around two to three times a week.
Complete all these exercises in any order with a one-minute break between each exercise. When you have done all of them, do the same thing another two times. So in total all exercises should be done three times over.
About the author:
Jake has been riding since the age of two, competed in Australia and America road-racing competitions and hopes to eventually race in World Superbikes. Results: 2013 Southern Californian Open Superstock 1000 champion, second in the 2013 Southern Californian Formula Twins championship, third in the Southern Californian Open Superstock 1000 championship and sixth in the 2010 Australian 600cc championship.
Feel free to ask any fitness questions of Jake by placing your query in the comments section below.