If you ever wanted a three-wheeled roadster but couldn't afford the Can-Am Spyder, there is now the Ryker which will cost about half the price.
Click here for updated Australian pricing and arrival
In Australia, the 1330cc F3 costs $28,890, so the 600/900cc Ryker should start at about $14,000-$15,000.
Obviously the entry level solo-seat version is the 600cc model. We reckon it would qualify as a learner/novice bike in Australia under the Learner-Approved Motorcycle Scheme (LAMS).
It could be a great way to get millennials on to "motorcycles"!
The 900cc model costs an extra $US1500.
While Spyders can cost up to $28,990 for the ST Limited with all the trimmings, this is a bare-bones roadster, yet it features a low-noise, no-maintenance drive shaft rather than a belt.
Ryker also has continuously variable transmission (CVT) which is the twist-and-go transmission used in most scooters.
To make it even easier for novices to ride, it has one foot brake on the right that is linked to front and back wheels.
It is powered by either a 35kW 600cc parallel twin or a 57kW 900cc triple.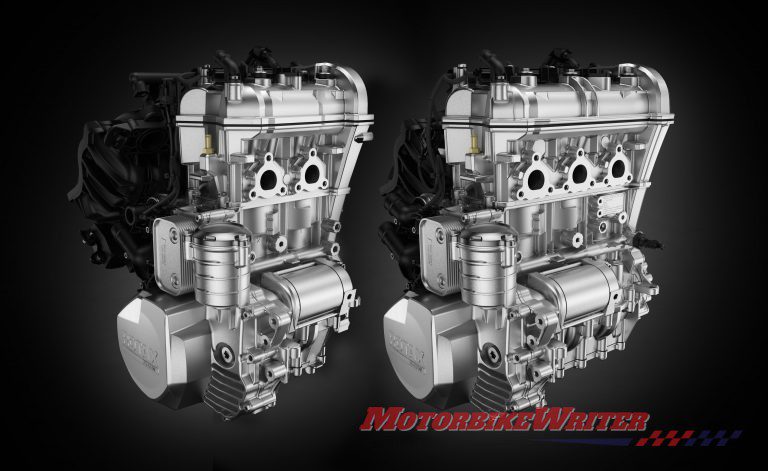 That's a long way from the 85kW 1330cc engine triple that powers the rest of the Spyder fleet, but it weighs only 272kg which is about a third lighter.
You can also buy a passenger seat that requires a separate rear frame. It weighs more and costs about $US600 extra.
There will also be a Ryker Rally Edition for $US10,999 which is the first Can-Am roadster with off-road abilities.
It features longer travel suspension, knobby tyres and a Rally riding mode that allows rear-wheel slide.
All Ryker models come with Can-Am's Vehicle Stability System which includes ABS and traction control.
Ryker ryders
Can-Am spokesman Josée Perreault says the roadster will appeal t a younger demographic than the average age of Spyder buyers at 62.
"That our average buyer's age is on the high side doesn't bother us at all," he says.
"Actually, we're embracing it. These are people who have both a comfortable amount of disposable income and time to enjoy life. They use their Spyders to travel, to be with their friends, to have fun, and they love 'em.
"On the other hand, we know there's a substantial mass of potential that would love to own a Spyder but can't.
"Our dealers keep telling us how they snap up a used unit as soon as one becomes available. We also know there are people out there wondering if they'd really like the riding experience or not. They're uncertain.
"We know others just want a toy to occasionally play with. And we know there are young people who'd love to go ride, but can't afford it.
"What's common to all these groups is the desire for a price low enough to make it easy for them to make that decision and buy a 3-wheeler."
2019 Can-Am Ryker Specifications
2019 Can-Am Ryker
2019 Can-Am Ryker Rally
Engine Type
Rotax 600 ACE: inline 2 cylinders, liquid-cooled with electronic fuel injection and electronic throttle control
Rotax 900 ACE: inline 3 cylinders, liquid-cooled with electronic fuel injection and electronic throttle control
Rotax 900 ACE: inline 3 cylinders, liquid-cooled with electronic fuel injection and electronic throttle control
Bore & Stroke
2.9 in. (74 mm) x 2.7 in. (69.7 mm)
2.9 in. (74 mm) x 2.7 in. (69.7 mm)
Power
Rotax 600 ACE Engine: 47 hp (35 kW) at 7300 rpm (claimed)
Rotax 900 ACE Engine: 77 hp (57.5 kW) at 7100 rpm (claimed)
Rotax 900 ACE Engine: 77 hp (57.5 kW) at 7100 rpm (claimed)
Torque
Rotax 600 ACE Engine: 35 ft-lb (47 Nm) at 6200 rpm (claimed)
Rotax 900 ACE Engine: 56 ft-lb (76 Nm) at 6300 rpm (claimed)
Rotax 900 ACE Engine: 56 ft-lb (76 Nm) at 6300 rpm (claimed)
Transmission
Automatic (CVT) with reverse
Automatic (CVT) with reverse
Front Suspension
Double wishbone
Front Shocks Type / Travel
Sachs twin-tube coil-over shocks / 5.39 in. (137 mm)
KYB HPG with preload adjustment 36mm / 6.38 in. (162 mm)
Rear Suspension
Multi-link – mono swing arm
Multi-link – mono swing arm
Rear Shock Type / Travel
SACHS Twin-tube coil-over shocks with preload adjustment / 5.91 in. (150 mm)
KYB HPG 40 mm with remote reservoir 4-positions compression adjustable damping and preload adjustement / 6.89 in. (175 mm)
Front Brakes
270 mm discs with Nissin 2-piston floating calipers
270 mm discs with Nissin 2-piston floating calipers
Rear Brake
220 mm disc, 1-piston floating caliper
220 mm disc, 1-piston floating caliper
Parking Brake
Park lock
Park lock
Front Tires
MC145/60R16 66T
MC145/60R16 66T
Rear Tire
MC205/45R16 77T
MC205/55R15 81T
Aluminum Front Rims
5-spoke Carbon black, 16 x 4.5 in. (406 x 114 mm)
5-spoke Carbon black & Machined, 16 x 4.5 in. (406 x 114 mm)
Aluminum Rear Rim
5-spoke Carbon black, 16 x 6.5 in. (406 x 165 mm)
5-spoke Carbon black & Machined, 15 x 6.5 in. (381 x 165 mm)
Storage Capacity
1.85 gal (7 L)
1.85 gal (7 L)
Fuel Capacity
5.28 gal (20 L)
5.28 gal (20 L)
Fuel Type
Premium unleaded
L x W x H
92.6 x 59.4 x 41.8 in. (2,352 x 1,509 x 1,062 mm)
92.6 x 59.4 x 41.8 in. (2,352 x 1,509 x 1,062 mm)
Wheelbase
67.3 in. (1,709 mm)
67.3 in. (1,709 mm)
Seat Height
Rotax 600 ACE Engine: 23.6 in. (599 mm)
Rotax 900 ACE Engine: 23.5 in. (597 mm)
24.2 in. (615 mm)
Ground Clearance
Rotax 600 ACE Engine: 4.1 in. (104 mm)
Rotax 900 ACE Engine: 4.0 in. (102 mm)
4.4 in. (112 mm)
Dry Weight
Rotax 600 ACE Engine: 594 lb (270 kg)
Rotax 900 ACE Engine: 616 lb (280 kg)
627 lb (285 kg)
Type
4.5″ digital display
4.5″ digital display
Main Functions
Rotax 600 ACE Engine: Speedometer, tachometer, odometer, trips, gear position, distance to empty, engine lights, fuel gauge, clock, ECO mode
Rotax 900 ACE Engine: Speedometer, tachometer, odometer, trips, gear position, distance to empty, engine lights, fuel gauge, clock, ECO mode and Sport mode
Speedometer, tachometer, odometer, trips, gear position, distance to empty, engine lights, fuel gauge, clock, ECO mode, Sport mode and Rally mode.
Electronics
Stability Control System
Traction Control System
Anti-lock Braking System
Anti-theft Digitally Encoded Security System
Hill Hold Control
Stability Control System
Traction Control System
Anti-lock Braking System
Anti-theft Digitally Encoded Security System
Hill Hold Control
Factory
1-year BRP Limited Warranty with 1-year roadside assistance
BRP's B.E.S.T. extended service term available from 12 to 36 months
1-year BRP Limited Warranty with 1-year roadside assistance
BRP's B.E.S.T. extended service term available from 12 to 36 months