Energizer Contractor Industrial Flashlight Review Summary
My wife is curious: what is it about men and flashlights?  It must be one of those male survival protect-the-cave things.  Hey, you can't have too many flashlights, right? I mean after all, you never know what emergency will happen next…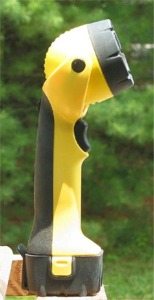 And the 21st century is turning out to be a flashlight lover's dreamtime.  All sorts of technology is being brought to bear on the world of portable lighting — like LED bulbs, rechargeable batteries, Xenon bulbs, and now — the Energizer Contractor Industrial Flashlight (aka "SwivelHead")!
I've got some pretty good lighting in my garage; overhead halogen bulbs and a ceiling full of four-foot fluorescents.  But I still carry a couple of flashlights in my portable toolbox — you never know when you'll need some extra light to peer down a throttle body or trace some obscure wiring deep under the fuel tank.
Unfortunately, the Peter Principle doesn't take a rest when it comes to motorcycle repair.  There are two of the Principle's corollaries at work here: 1) No matter how much light you have, it never falls on the right spot; 2) You'll never have enough hands to hold the light you need, focus it on the right spot, and manipulate the tools!
The Energizer Contractor Industrial Flashlight (aka "SwivelHead") can help.  This thing first caught my eye while browsing the automotive aisle in the local Target store after being hijacked by my wife to help pick out — I'm embarrassed to say this — bathroom furnishings!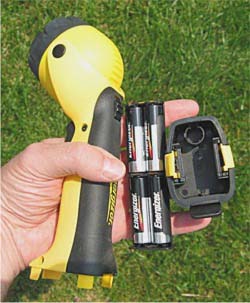 Always on the lookout for the perfect flashlight, after looking at this one I pictured it balanced on my toolbox with its swiveled head deftly illuminating my work.
The Energizer Contractor Industrial Flashlight (aka "SwivelHead") feels nicely balanced in the hand; it has soft black rubber grippy surfaces all over.  There's an on-off switch that falls right under your index finger, no matter which hand you're using.  The switch has a nice tactile feel and it works great — except it might be almost a touch too sensitive, as it's easy to turn the flashlight on when you're picking it up or putting it down, and you might not notice that you've left it on.
There's a thumb wheel that allows you to easily swivel the head up and down through 180 degrees; I'm not sure how useful this would be when you're holding it in your hand, but it's really useful when the flashlight is balanced on your toolbox and you can point the beam to a precise spot.  The unit also has a belt clip that makes it easy to hang it on your pants pocket when not in use.
The bottom of the flashlight has two tabs on either side that, when squeezed, allow the cap to come off and you can access a neat little tray to load the four AA batteries.  The flashlight comes with four Energizer AA's, which is a nice touch — usually these things come either with no batteries or with the cheapest ones available.
There's a place in the cap that looks like you can store an extra Xenon light bulb, although there's no documentation that says that this is what that little round hole is for.
I haven't used it enough yet to determine how long the batteries will last; I kind of wonder why it uses four AA's rather than two D cells.  I thought D's were cheaper than AA's, but maybe not.
UPDATE:  After using this flashlight on a variety of tasks, I've realized that the life expectancy is far shorter than I'd like, so it would probably pay to have a AA sized battery charger and rechargeable batteries.
The Xenon bulb (it takes a KPR102) puts out a nice, strong (albeit narrow) beam of light.  Just the ticket for illuminating a precise spot on your bike while you use your mitts to do the wrenching.
Last but not least, the Energizer Contractor Industrial Flashlight (aka "SwivelHead") carries a lifetime warranty from Energizer against defects in materials or workmanship.  Unfortunately, the unit is made in China.  I guess I just like to buy products made in my home country, but that's becoming harder to do these days…..
Anyway, if you use flashlights, I think you'll find the Energizer Contractor Industrial Flashlight (aka "SwivelHead") pretty useful around the garage and the house — hey, you can even use it to help you hang bathroom fixtures!
Note:  For informational use only.  All material and photographs are Copyright © webWorld International, LLC – 2000-2011.  All rights reserved.  See the webBikeWorld® Site Info page.  NOTE:  Product specifications, features and details may change or differ from our descriptions.  Always check before purchasing.  Read the Terms and Conditions!
Product Review:

 

Energizer "SwivelHead" Contractor Flashlight
Available From:  Energizer Flashlights; here's the product page for this flashlight
Suggested Retail Price:  $12.99; I purchased this one at Target for $6.99
Colors:  Yellow/ black
Made in:  China
Product Comments:  Swiveling head comes in handy; bright, sharply focused Xenon bulb; soft rubber grip. Takes four AA size batteries instead of two D cells; batteries don't last long; switch has good tactile feel but is too sensitive; unit feels a bit lightweight, so it's undetermined how much garage abuse it will take; could use a slightly bigger footprint and/or weight to balance on top of a toolbox.
More:  See the 

w

BW

 Flashlight Page  |  

w

BW

 Review of the Energizer "Headlight" Flashlight
Other WebBikeWorld
Motorcycle Accessory 

Posts

wBW Motorcycle Accessory Info