Would you pay up to $US5000 for a Harley-Davidson cap claimed to have been worn by Harley fan Elvis Presley?
If so, you can go online and bid now for the cap which is estimated to fetch from $3000-$5000 at the Christina Auction Gallery in Newark, Delaware.
There is no confirmation offered online that it is an authentic cap owned by Elvis, except for this hazy photo of him wearing a similar cap.

We do know Elvis loved riding Harleys and had several including a 1959 FLH Panhead which was given to him by the Milwaukee company.
Elvis was often photographed riding his Harley and other bikes, usually wearing a cap.
However, most of the old photos of Elvis on a bike show him wearing a different cap to this, especially this famous shot.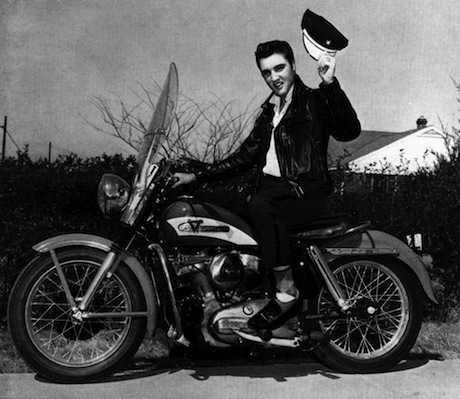 Whether this was his or not, the size 7 1/4 cap bears his autograph, so it could have been a cap he signed for a fan. The cap is claimed to be in good condition and dates back to the late '50s.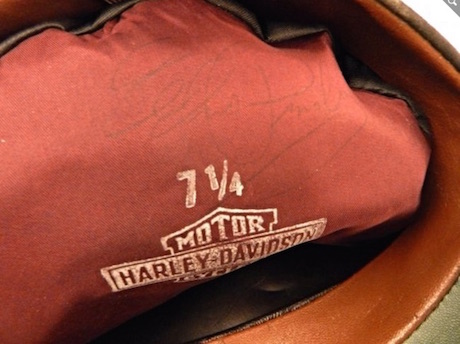 Elvis had a lifetime love for motorcycles and owned some Triumphs and BSAs, and even a Honda Dream.
But it seems he mainly owned Harleys, including an ex-police bike and seven given to him by his wife at the time, Priscilla.
Motorcycles also featured in his movies with Elvis as a motorcycle stunt rider in Roustabout (1964), riding scooters with Ann Margaret in Viva Las Vegas (1964), riding a Harley in Clambake (1967) and even on a dirt bike in Stay Away Joe (1968).
In 2007, 30 years after his death, 30 limited-edition Harley-Davidsons were built as replicas of his 1957 Blue KH model, costing $57,888 each. No doubt they are worth a lot more now!