Almost half of the first production run of Australia's first full-size electric motorcycle, the Savic C-Series, has been allocated to paid-up customers.
Savic Motorcycles founder Dennis Savic (pictured above) says they are on track for their first customer delivery in December after coronavirus pandemic setbacks.
So far, 21 of their 49 units have been pre-ordered for their first production run of 2021.
"The company management remains confident that this initial run will be sold out by the end of the year," they say on their latest email update.
"With the first Savic-developed motor on schedule to arrive at our workshop in September, the current goal remains to get the first five Alpha bikes on to the road by late December.
"This includes our homologation vehicle, which will undergo all the roadworthy and safety tests required for regulatory compliance and state-based registration."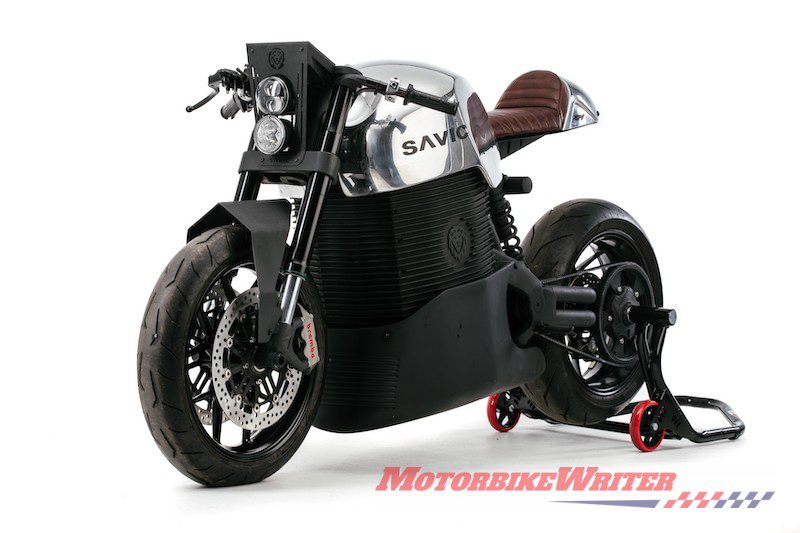 Savic C-Series
Savic Motorcycles will make 49 C-Series cafe racer electric motorcycles available in three variants.
| | | | |
| --- | --- | --- | --- |
| Specification | Alpha | Delta | Omega |
| Power | 60kW | 40kW | 25kW |
| Torque | 190Nm | TBC | TBC |
| Range | 200km | TBC | TBC |
| Charge time | 4-6 hours | TBC | TBC |
| 0-100km/h | 3s 900ms | TBC | TBC |
| Price (+ORC) | $22,999.00 | $15,999.00 | $10,999.00 |
That's much cheaper than the Harley-Davidson LiveWire electric motorcycle which launches in Australia next month at $A49,995.
Buyers of the first production models will also receive:
Exclusive company updates first;
Lifetime membership providing exclusive discounts for all future Savic rider gear; and
Live updates and images of their bike build as it happens.
Each model comes with several battery pack options. The largest offered in the Alpha will provide range of up to 200km, while the smallest option in the Omega is expected to have about 50km range. 
Like all electric vehicles, peak torque is instantaneous and the Alpha will accelerate from 0-100km in 3.9 seconds.
By comparison, the LiveWire has city range of about 235km and highway range of about 150km and reaches 100km/h in three seconds.
Savic customers will be able choose a range of options in brakes, suspension, wheels, tyres and three colours – Spectre, Stealth, and Rustic.
Aftermarket upgrades will also be offered. 
The bikes feature a fully integrated, stressed, liquid-cooled motor and energy storage system.
Depending on the model and battery pack a customer selects, a single charge can provide up to 11kWh. That costs only $3 compared with about $15 for a petrol bike to travel 250km.