Harley-Davidson and Marvel Studios have revealed their electric motorcycle, Project LiveWire, to comic book fans at the weekend's San Diego Comic Con.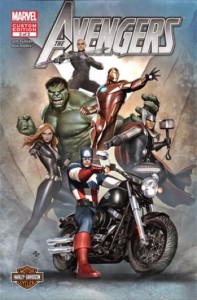 The LiveWire will feature in Marvel's Avengers: Age of Ultron, along with the Harley Street 750 from their last joint project, Marvel's Captain America: The Winter Soldier which also included a Harley Breakout.
Character Natasha Romanoff (aka Black Widow) played by Scarlett Johansson will ride the LiveWire, while Captain America is back on the Street 750.
The movie is a continuation of the Harley/Marvel arrangement which will soon include an online magazine. Harleys featured in Captain America: The first Avenger: In the WWII scenes the hero used a 1942 Harley-Davidson WLA Liberator Army motorcycle and back in the modern world, he rides a V-Rod. A Harley FLH is also used in the Wolverine solo movie and Harleys have been included on many occasions in the comic book.
The inclusion of the LiveWire in the Avengers movie was revealed in spy shots last month, followed by Harley's announcement that it had built the LiveWire to showcase to potential customers and see if it should be produced for the mass market.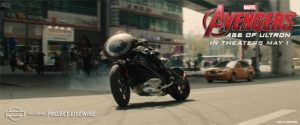 A couple of dozen LiveWire bikes have been built and are being taken around the US to show to customers and showcase at events like Comic Con. The bike will stay in San Diego at the local dealership for customers to test ride. Next year, the LiveWire tour will extend overseas, but not to Australia, at this stage.
The Avengers movie is for release in the US on May 1, 2015. Joining the cast are Aaron Taylor-Johnson (Godzilla, Kick Ass 2) as Quicksilver, Elizabeth Olsen (Godzilla) as Scarlet Witch and James Spader (The Blacklist, Lincoln) as Ultron.