Review Summary
The Quick 20 is a new model from EJEAS with BT 4.2 and basic features like two-party intercom and support for two paired Bluetooth devices. Along with its FM radio feature and very functional controls, including a small but effective Wheel and Multi-Function Button combination, the Quick 20 could be a good choice for consumers; but its not quite ready for prime time.
Pros
Solid design & build
Very good control layout & access
Excellent input using Wheel & MFB
Positive audio switching – fast & quiet
Very good speaker performance overall
Pop-up antenna enhances intercom range & clarity
Great battery life
Cons
Wheel is a bit too sensitive
Intercom is weakest (key) feature – flaky with poor range
Minimalist FM radio feature needs work (e.g. development)
System seems to be a work in progress
EJEAS Quick 20 Bluetooth Helmet System Image Gallery
Introduction
Technology in all forms, with a particular bent for communications, especially wireless forms, along with motorcycling are life-long passions that haven't been diminished by time. As such, the opportunity to review another new or unknown Bluetooth helmet system is never one to be missed.
Which brings us to the EJEAS Quick 20 opportunity. I had seen some EJEAS branded products on various websites, but with the opportunity identified, some targeted 'looking' resulted in some basic information being gleaned.
The parent company, VNETPHONE, was founded in 2005. After some up and down periods, 2016 saw a resurgence and Shenzhen EJEAS Technology Co., Ltd came into being with their own R&D and Sales teams and a new production plant.
Over time, the corporate entities have developed, produced, and marketed multiple intercom-related communication products with a market reaching over 80 countries and regions around the world. In 2017, VNETPHONE became EJEAS Industrial.
With this and some related insights and more browsing through the EJEAS product line, the Quick 20 systems offered up for this first wBW review seemed to be a good representative choice among the current and evolving BT systems from EJEAS.
The EJEAS Quick 20
The EJEAS Quick 20 module isn't small and it does tip towards the large size when compared to so many other newer BT headset systems on the market today. It is however lightweight and easy to handle.
Featuring Bluetooth v4.2 and a CSR chipset, the Quick 20 supports two (2) riders with full-duplex (intercom) communications, with a claimed range of up to 1200m (3,937ft or 1312yds), otherwise known as three-quarters of a mile.
Group communications are provided with the use of optional connectivity accessories and standard FRS or comparative function two-way radios
The Quick 20 BT module measures approximately 90 x 45 x 20mm (3.5 x 1.77 x 0.78in) with the whole system tipping the Polouze scales at 108gr or 3.8oz. It does have a slightly larger footprint than many other BT systems on the market due to its elongated shape.
Button Controls
All five controls on the module are well-placed and readily accessed, although manipulation with heavy gloves will take some practice. The first input, the Power button, on the left face is a small raised motorcycle – a nice touch indeed. Dominating the right quadrant is the 'Wheel' with a center-mounted button or Main-Function-Button (MFB).
The Wheel is smallish and nicely integrated with a very smooth efficient feel, but its also a bit over sensitive regarding input – a light touch is needed. In being very fond of a wheel-centric approach, especially for AVRCP, FM tuning, or Volume control, it can't get much simpler (and effective) than this approach.
On the top is a small Reset button marked 'RST' and further back is the Mode button.
The micro-USB charging/auxiliary port is on the back downside and the 3.5mm headset port on the bottom.
From a visual communications perspective, there are two displays. A very bright three-side LED sits just ahead of the Wheel, while the four-LED Amber battery indicator/function strip sits in about mid-way on the lower part of the module's face.
Antenna
An easy to miss feature is the pop-up blade antenna that blends perfectly into the top of the module. Flat with smoothed edges, it releases with a light outwards push, which is admittedly harder with gloves on. Its best deployed before the helmet is put on.
Functionally, the antenna is identified for use as 'signal receiving' but without any other description. Is it for the intercom or for the FM radio? More on this later.
Communication & Audio
The Quick 20 system is limited to connecting with one other compatible BT headset system as for a simple rider/passenger or rider/rider configuration and by the same token, it only supports two Bluetooth devices at the same time. For many users, these capabilities are just fine and not seen as limitations.
Featuring 40mm high-quality speakers and utilizing advanced DSP noise suppression the Quick 20 is said to provide crystal clear music with Hi-Fi stereo bass for a clear and natural listening experience.
EJEAS Quick 20 System Features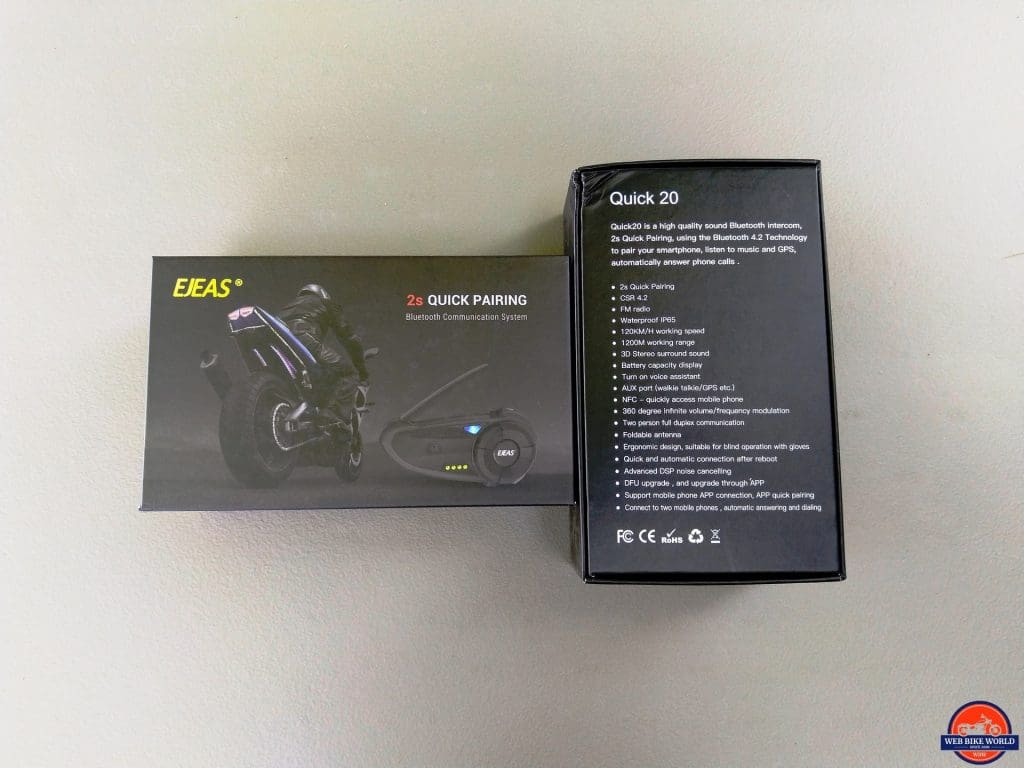 (From EJEAS Media)
BT 4.2 with CSR chipset
Two (2) second quick pairing – device to device or with phone
Two-person intercom
Pop-up antenna
40mm Speakers, heavy bass design
FM Radio
NFC Pairing
Smart Voice Prompts
1200m Noise Free Intercom Range (600m identified in some media)
530mAh large capacity lithium battery with front LED display
Wired auxiliary interface, with optional connectivity for dedicated PTT radio, GPS, etc.
Waterproof IP65 rated
Firmware upgradeable using PC software or (through App)
(Supports mobile phone App connection & App quick pairing)
(*Note – App and App-based features not yet present or detailed)
EJEAS Quick 20 System Components

The EJEAS Quick 20 retail box kit is basic but everything needed is provided including extra mounting fasteners for the small mounting clip that is likely to be the preferred low-profile installation option.
Contents
Quick 20 BT Module
Headset harness with stereo speakers, microphone lead on modular connector leads, & 3.5mm connection jack
Thin wire & boom microphones
Micro-USB to USB A charging/data cable
Two foam speaker covers
Multi-piece bag of mounting rounds
Large & small plate mounts (& related adhesive pieces)
Quick 20 pocket User Manual (multi-language)
Helmet Installations
As always, the objective over the life of a review (and then longer-term) is to fit the headsets on as many different helmets as possible and use these helmets on as many different motorcycles as possible over time. For this initial EJEAS product effort, it was a two helmet environment.
Schuberth C3 Pro
For the Schuberth C3 Pro, there's nothing complicated here, less having to cope with a boom microphone when closing/opening this uber-quiet versatile modular helmet. The speakers fit nicely into the slightly angled elongated speaker recesses that allow precise speaker and ear alignment.
It didn't take much longer to layout and secure the boom microphone component to previously installed hook-n-loop pieces that sit along the bottom of the EPS liner and are totally hidden once the liner sections are snapped back into place.
As is the norm for this helmet, the headset connector harness runs out from the back edge of the neck collar and then forward a bit so the 3.5mm jack connects to the module that sits securely in place on the small adhesive plate mount that is positioned behind the plastic edge for the sun-visor control. Low profile, no-conflicts, all good. 
NEXX X.WED2 X-Patrol
The NEXX X.WED2 X-Patrol installation took a little more time, due to the time needed to carefully remove one of the Bikecomm BK-T1 units and prepare the helmet for the EJEAS Quick 20 system.
The 40mm speakers slip nicely into the EPS recesses, with the speakers oriented so the leads exit via the small channels in the lining. The thin wire microphone is tacked in place to the immediate left of the mouth, more or less out of line of the free-flow front intake with its warm weather mesh insert still installed.
Using the large spring-steel clip mount is an expedient solution for this helmet. The piece fits over the bottom of the outer shell, its inner side pressure-fitted against the inner side of the shell.
The clip mount is positioned so that when the module is slipped and clicked into place, the assembly just clears the (obtrusive) raised NEXX BT system cover. A non-slip pad placed underneath the mount on the outer side minimizes movement while protecting the helmet's finish.
The headset/microphone harness is run inside so that it exits where the plastic bottom edge of the inner removable pad provides a pass-through without impacting the positioning and securing of the pad. With the 3.5mm jack inserted into the connecting port, this installation is done.
Initial Setup
Before the pair of Quick 20 systems were put to work, they were put on charge, indicated by the bright Red LED, which goes off when charging is complete. Initial charging took just under two hours per unit on individual 2.1A charging connections.
Right off the bat, the shortness of the supplied micro-USB cables, 51.5cm (20.3in) end to end, is noticeable. Virtually every other system on the market provides longer (1m or more) charging/data cables, with more inherent versatility. Relatedly, the use of other micro-USB cables may not be an option either due to the small size of the opening for the micro-USB port.
On/Off Controls
To Power the Quick 20 System ON press the Power (motorcycle icon) button for two (2s). The LED shows Blue and the LED strip battery indicator flashes once, with the LED flashing Blue once every two seconds (standby).
Press and hold the Power and the back Mode buttons for two to three (2-3s) to turn the system OFF or, use the Quick Power-Off shortcut – a single push of the RST or Reset button.
Input Controls
Input-wise, the Quick 20 controls have the following roles:
Front (motorcycle) – Power & Intercom
Wheel (rotating bezel) – Volume, AVRCP & FM tuning
Centre Button on Wheel – Phone, Music & Main Function Button or MFB
Back button – Mode, FM and Voice Command (via paired device)
Reset (RST) – Reset & Quick Shutdown
Device Pairing & Connectivity
The EJEAS Quick 20 is designed to be (and is) a very basic Bluetooth helmet system that supports two paired devices, e.g. – phone and/or navigation device. Without an audio-overlay capability, only one audio source can be heard at a time. But switching between active audio sources is fast, seamless and very quiet.
Mobile Phone/Smart Devices
With the system ON, press the Wheel's MFB button for five to six (5-6s) until the LED goes into its Red/Blue two-step. Make sure Bluetooth on the target device is on and put it into search or discovery mode.
When the 'Quick 20' listing appears, click on it to connect. If successful, the module's LED goes to a double-Blue repetitive cycle (indicating an active device pairing).
After connecting to a device that offers phone services, the MFB control provides the usual functions: answering incoming calls, rejecting incoming calls, hanging up, last number redial, cancel redial. As expected, the functions work well in real-world on the road use.
The Voice Command feature, activated with a double push of the back 'Mode' button makes the external call to the paired (compatible) device, typically the Nokia 7+ Android One phone, and sometimes an iOS iPad Mini 4.
Both devices worked well using their external voice-driven menus to state a request or identify a contact from a listing, although sometimes noise levels will intrude and make things a bit more difficult. But full marks must be given to the EJEAS Quick 20 for a solid performance regarding phone call and voice command use.
As will be expounded upon in the System Audio section below, music streaming is very good as well. The Wheel manages AVRCP and Mode functions (as switched) smoothly, although the wheel is indeed a wee bit sensitive, taking a light practiced touch to get the best results.
GPS/Navigation Devices
The same overall 'solid performance' rating can't (yet) be given regarding pairing and connecting to and with navigation devices. In this instance a BMW Navigator V and a Garmin 590LM, both on the latest firmware.
Pairing the devices isn't an issue but staying connected is. Just when you think things are sorted between the paired phone and the paired navigation device regarding which provides which service for phone, navigation or media streaming, the Navi and 590 kept dropping the Quick 20 or one of its discrete services selected on the navigation device's menu.
Any of the three could be the culprit or perhaps it's a conspiracy. But in using and retesting this configuration and more complex scenarios with other Bluetooth systems, once the connection assignments are sorted, switching and streaming between the paired devices are solid. More playing with the Quick 20 and these devices is needed.
Intercom
As with the device pairing feature, the Quick 20 provides intercom pairing for just two users, e.g. – rider with passenger or rider to rider. And to repeat, where requirements are simple, a good point to point intercom is just fine.
User to User Intercom
With both Quick 20 systems ON, press and hold both 'Intercom' (motorcycle) buttons for five (5s). The LEDs go into a double-Red/double-Blue sequence during polling and pairing. With a successful pairing, the LEDs revert to the slow Blue flashing.
A quick push on either the 'Intercom' button starts or ends a session usually within one or two seconds, with an acknowledging tone/tones. The LEDs show a three-second on/one second off sequence.
Quick Pairing using NFC
The built-in Near-Field-Communications or NFC provides a faster (hence the 'Quick' 20) means to pair two systems. With both systems ON, double-click the 'Intercom' button on Set 1 – the LED flashes a Red/Blue pattern. Now orient Set 1 so its 'Wheel' can be brought near to the 'Intercom' button on Set 2.
With the distance closed, both devices flash together to indicate successful pairing with the LEDs reverting to their slow Blue flashing. Press the 'Intercom' button on Set 1 to initiate a session.
Intercom Range & Observations
Depending on the source, the intercom range is identified as 1200m or 600m. However, results with the two current systems and their current firmware build reveal that both figures are very optimistic, even the lesser ones.
Initial testing in the neighborhood – mounted and dismounted, revealed useful working ranges of 250m to 300m without the antenna and 300 to 350m with the pop-up antenna used.
So, no matter 'what' the antenna is meant to be used for, it provides a noticeable intercom gain, while not seeming to boost FM radio performance in any way…
But back to road use – appreciating noise levels, understandable audio is typically lost at 200 to 250m (even with the antenna deployed). And around the 200m range link noise and increasing static plays havoc.
At no time was there any indication that link loss was imminent, nor of course were there any audio announcements. A degraded intercom session is gradually restored as ranges decreases, with a short tone heard with reacquisition.
The intercom is also very susceptible to electronic interference (spurious or frequency related transmissions; some pretty clear) from other road users with their Bluetooth or NFC communications.
In built-up areas where more electrical 'noise' is expected, the interference is intense at times, although again, deploying the antenna helps quite a bit regarding clarity and some improvement in the range is realized.
And finally, just when a good clear link is realized, the audio volume starts to move up and down, often in the middle of a conversation, without anything having been touched… another mystery regarding intercom performance.
Two-Way Radio
The Auxiliary capability, seemingly facilitated through the micro-USB port, is identified as being able to support various wired connections, such as two-way radio, other GPS, etc.
But no other information regarding actual functionality and available options has been provided. This feature, one I like, gets bypassed for now.
System Audio
The stereo speakers used for the headsets are 40mm in diameter and about 6mm thick. They provide very good output with lots of volume, albeit with some distortion once things are cranked up to LOUD.
Bass response is good, but perhaps not as good as claimed and of course, most of that is lost once the wheels start turning and thing intensifies within the cockpit and helmet – but clarity remains very good.
Audio Adjustments
Although still requiring physical input, things are easy in using the smooth running Wheel and its hard to go back to individual button-based controls after living with a system providing this feature. The continuously adjustable output is much preferred (overall) vis-à-vis step or level-based adjustments.
Switching between discrete audio sources or streams is very (very) good – seamless for the most part and typically without any noise whatsoever; one audio source stops, the other starts again – done.
About the only time interruptions or noise is heard is when a navigation device is in the loop, even the Garmin 590LM that works so quietly (for the most part) on other systems, seems to induce or cause noise on the Quick 20 audio connections.
Voice Notification
Voice notification is a bit on the sparse side, with the announcements limited to 'Power On', 'Power Off' and 'Successful' – typically when the intercom is activated and sometimes when a device is successfully connected, or a connection change is done. There are no other features or status announcements… at least that was heard.
FM Radio
EJEAS has included an FM radio feature in the Quick 20 and all things considered, it is a good media inclusion. The pro and con discussions over onboard FM are healthy (to say the least) among many BT helmet system users, whereas on the other hand many don't really care. Many don't even know the feature is at their fingertips or voice command.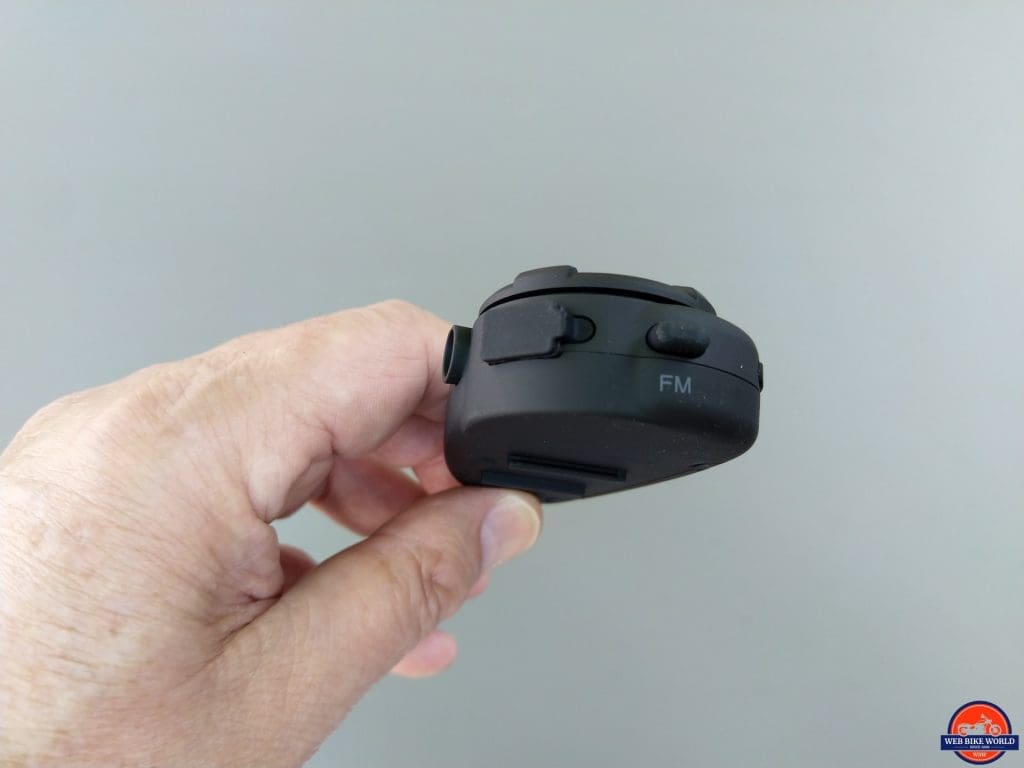 I'm one of those who appreciate and use the feature, especially when traveling. In not usually having cellular or satellite connectivity that allows the way ahead to be scoped out for planning purposes, local radio stations along the way are a timely asset, as are listed weather and emergency broadcast services (along with checking the skies of course).
Volume
The FM radio feature on the Quick 20 is indeed rudimentary. Pressing the 'Mode' button for two seconds results (typically) in dead air or static at a high default volume. Moving between volume and tuning functionality via the Wheel is done with a push of the MFB button on the Wheel.
Tuning
There are no apparent means to do anything other than manual tuning. Turn the wheel to the back tunes Up in frequency and turning the wheel forward goes Down the band. The FM band is seemingly set for 88.0 to 108MHz which is the Americas, ITU Region 2.
With no (apparent) memory or even a means to save settings, once tuned to a station, turning the FM feature off with another two-second push of the 'Mode' button or turning the Quick 20 Off and On and reactivating the FM feature has the tuner sitting at the bottom of the band again.
When the FM feature is active, the LED is a solid Blue with a double-Red sequence every three seconds.
As basic as this feature is, FM audio is very good and tuning up or down via the Wheel is quick and a bit of auto-tuning/signal optimization is heard, indicating that RDS AF may be in play as well. But the feature, overall, is minimalist and needs development.
Firmware Updating
With some initial testing observations passed back to the EJEAS representative, a firmware update was offered for download, which included the CSR Bluesuite v2.6.2.632 package and the firmware DFU file. No installation issues ensued, with both 32bit and 64bit systems used as platforms for the updating site.
An MS Word file in the package is the 'Instructions of Q20DFU Update' that walk through the process with a mix of English and Chinese text…more on this below.
The screen by screen instructions was followed, and in being familiar with the CSR suite of tools, issues were not anticipated…
But after going through the identified steps (and with some translation support), subsequent steps had the new firmware file loaded on to the device, but when it came to rebooting the device and preparing it for a final enumeration, a 'failed update' notification popped up.
The usual workarounds didn't work, nor did running some of the connection and diagnostic tools under the CSR suite pinpoint anything… something is missing.
A query sent off to the representative resulted in another download link, with this package containing an MP4 instruction video and, an updated MS Word file, with two extra paragraphs… which cleared up everything. And the document itself needs cleaning up, at least for the English version.
Results with the firmware updated – audio performance seems a little better although switching between audio sources now often results in a click or slight delay whereas the original firmware was virtually seamless and quiet. Intercom performance is the same – poor.
Conclusion
The EJEAS Quick 20 BT helmet system is clearly identified as a basic offering, and it certainly doesn't pretend to be anything more. Although some of the marketing media is a bit optimistic regarding function, performance, and identification of features that seem to be missing in action or lacking in detail.
Outside of its poor intercom performance and a marginal FM radio 'feature', the system works, with some features like phone pairing and audio streaming working seamlessly (admittedly simplified by the fact that it does not provide an audio-overlay feature).
Controls are straightforward and easy to use especially the small but smooth running Wheel. Everything is well placed, easy to reach and easy to operate even with light to medium gloves worn. The exception being the flat antenna on top of the module that is best deployed before the helmet is put on.
To sum things up, the EJEAS Quick 20 has potential (thus my comment about firmware enhancements) but seems to be not quite ready for prime time. There are other EJEAS BT headsets with additional features and they might have fared better from a review perspective?
Where the EJEAS Quick 20, listed for $129.00 USD suffers the most is in being compared to other evaluated on-hand systems in the 80.00 to 170.00 USD price range – most offering equal or more expansive feature sets including multi-party intercom or audio-overlay, and superior performance.
Bottom Line: It's hard to recommend the EJEAS Quick 20 in its current state. It could have potential; but at this stage, it seems to be a work in progress. And when a key feature like the intercom is short-ranged and problematic, it raises all sorts of concerns.
Pro
Solid design & build
Very good control layout & access
Excellent input using Wheel & MFB
Positive audio switching – fast & quiet
Very good speaker performance overall
Pop-up antenna enhances intercom range & clarity
Great battery life
Con
Wheel is a bit too sensitive
Intercom is weakest (key) feature – flaky with poor range
Minimalist FM radio feature needs work (e.g. development)
System seems to be a work in progress
Quick 20 Specifications
Chipset: CSR8670
Bluetooth Version: 4.2
Bluetooth Profiles/Protocols: A2DP, AVRCP, HFP, & HSP
Frequency Range: 2402MHz – 2480MHz
Maximum Intercom Range: 600m
Working distance, paired devices: About 10m
Battery Capacity: 530mAh lithium-ion battery
Working voltage: 3.7v
Charger: DC 5V/500mA
Charging Time: About two (2) hours
Charge/Discharge Times: More than 500 times
Talk Time: About 15 hours
Standby Time: About 300 hours
Working Temperature: -10 – 40C (14 – 104F)
Further Specs
Manufacturer: VNetPhone (EJEAS)
Where to Buy: EJEAS
Manufactured In: China
Price: $129.00 USD
Fitment: Most popular types of full-face, modular or three-quarter style helmets
Original Review Date: July-August 2019
EJEAS Quick 20 Bluetooth Helmet System Image Gallery