SUPER73's at EICMA 2023, and they've just lifted the proverbial curtain on the latest models of an electric motorcycle prototype called the C1X. 
If you're at EICMA 2023 this year, be sure to mosey over to Hall 11P, Stand G49 for a gander at what SUPER73's brought to the party; if not, buckle up because we've just recieved a press release detailing what SUPER73's C1X is all about (and based on the photos, it's high time we had an update). 
According to the recently shared assets, SUPER73's powertrain now shows off two prototypes, christened the "El Jefe" and "Super Le Pew," respectively.
Recall, the idea of the C1X first started making waves when SUPER73 – then a bicycle-focused company – surveyed their customer base and found that 60% of their fans wanted them to make a full-fledged motorcycle….in spite of the fact that 67% wouldn't know how to ride it (via Electrek).
Considering the diversity of that customer pool, SUPER73 soon generated a concept that not only looked super cool, but promised some pretty nice specs to boot. 
This slideshow requires JavaScript.
To clarify, this is certainly not a machine designed to be on par with the energy output of, say, an Energica bike… but then again, big-bore EVs aren't the current focus of market demand; as such, it makes sense that SUPER73 would punt out an accessible machine that looked neat and catered somewhat to their new-to-riding customer base.
This slideshow requires JavaScript.
According to the release, the SUPER73 C1X sports a 10%-80% charge in about 15 minutes, carries regenerative braking abilities to recharge the motor, and can fly aout at speeds upwards of 85mph; it's also got multiple ride levels "to meet the requirements of beginner to advanced riders, as well as meeting regional licensing requirements, all within one platform."
Here are the purported power levels: 
Standard Range (A1)

: up to 100 miles

Extended Range (A2+)

: up to 150 miles and beyond
This slideshow requires JavaScript.
On top of the above modes, SUPER73 says they're working with their design team to ensure that each customer will be able to transform the bike's distance, performance, and design – in fact, letting the design team run wild was, apparently, what generated the SUPER73 C1X Super Le Pew – an electric homage to our good cafe racer culture – and the SUPER73 El Jefe Scrambler Dual-Sport, the ultimate EV hooner for the daily urban situ. 
Good call, guys.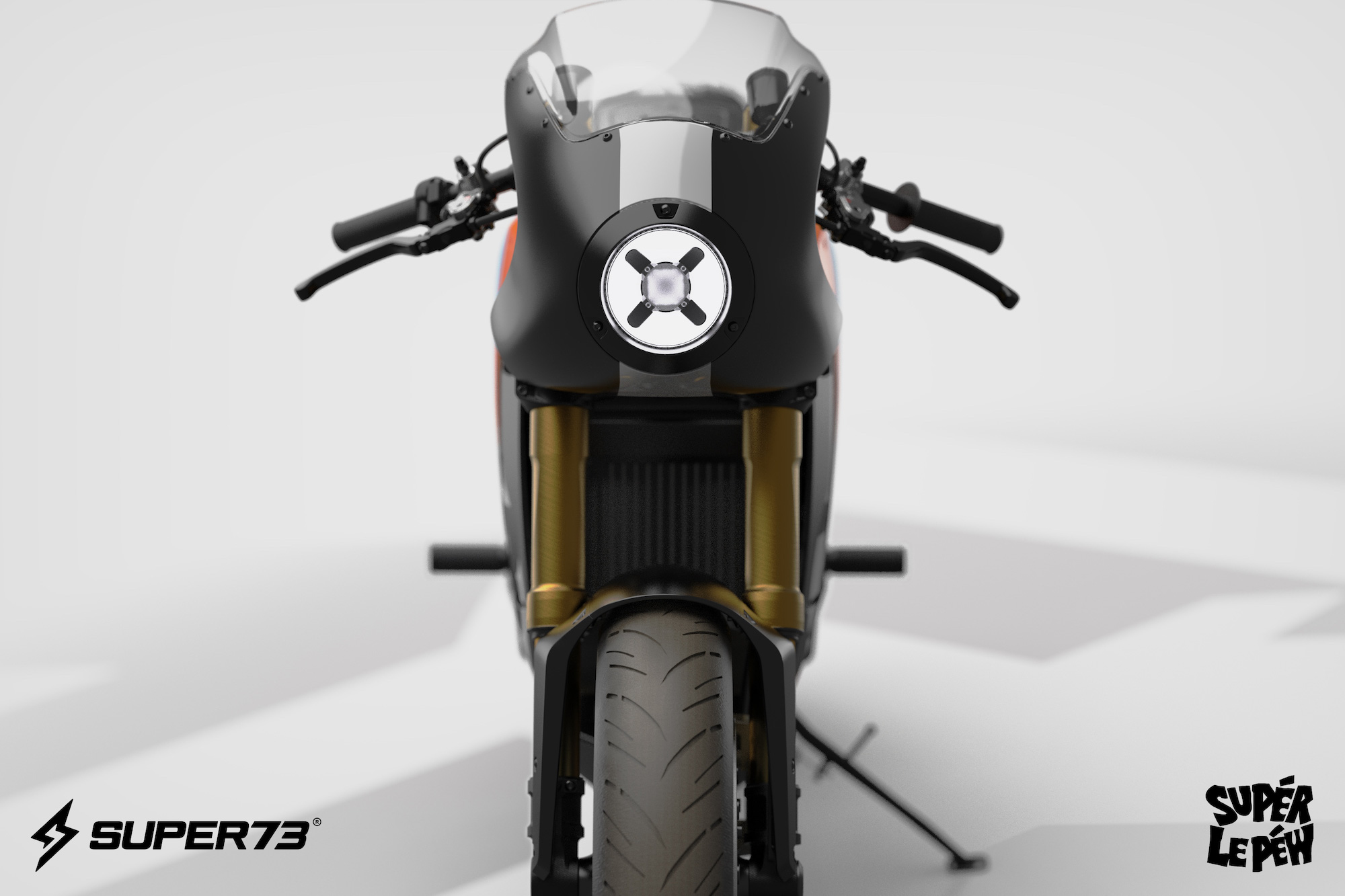 While pricing estimates have yet to be announced, these new prototypes could easily go for a $10,000 USD price tag – though we'll have to wait to hear from SUPER73 themselves to provide a more accurate number. 
With SUPER73's development team having shown usexactly what the C1X platform is capable of, we look forward to seeing what SUPER73, an American lifestyle adventure brand and manufacturer of electric bicycles, gets up to in the coming seasons. 
*All media provided by SUPER73*