Husqvarna Mille3 Concept Husqvarna Mille3: Slammed Power Supermoto Cruiser Dragbike?
November 6, 2010 – Yet another motorcycle announcement at EICMA 2010, this time by Husqvarna, now owned by BMW.
The Husqvarna "Mille3" was introduced with great fanfare at the Tuesday afternoon BMW new product intro, which was hosted by Hendrik von Kuenheim, the General Director of BMW Motorrad.
von Kuenheim said that Husqvarna will produce street bikes, and the first thing that might come to mind would be a dual-sport.
Of course, that would be the safe thing to do and sales of dual-sport bikes like the Suzuki DR650 aren't exactly catching fire.
So how about an Adventure Touring type, using the off-road experience of Husqvarna, which brought them the 2010 Enduro World Championship with rider Antoine Meo (and in the Husqvarna satellite team!)?
No one would have guessed though what Husqvarna had in mind. I could hear the crowd suck in their breath when the silk was drawn off the Mille3, a segment-buster if I've ever seen one.
It looks like my description above — it's slammed, for sure. It's a Power Cruiser…with a touch of Supermoto and a long dragbike chassis. Even more surprising is the engine, a three-cylinder, using heads from one of the Husqvarna dirt bikes.
It's only a concept, but since Husqvarna and BMW confirmed that Husqvarna will indeed be producing a street bike, who knows — maybe something like this will reach production? I'm starting to think that between the Ducati Diavel (report), the CR&S bikes (report) and heck — don't forget the Moto Guzzi XXX (info), one of the originals — maybe Power Cruisers will steal some market share from the traditionalist cruisers.
And why not? I've read reports saying that the average age of the Harley rider has gone from 37 in 1990 to 47 in 2010, up one year every year. The Gen-X and Gen-Y types don't want Dad's bike — think about it: when's the last time you saw a 20-year-old on a Road Glide?
But this new generation of Power Cruisers looking vaguely like something out of a Transformers box may just be the ticket — although the prices will have to be within reason for someone in their 20's.
Many journalists completely miss the point on these concept bikes, not understanding what a concept is or does or represents. I'd guess Husky has a pretty young fan base, from the look of their very youth-oriented display at the EICMA show (including the pounding music of an unidentifiable genre).
So add it all up and the Mille3 makes a lot of sense. Here are some photos and a video. Part of the video, starting around 2:12, also includes the presentation during the introduction by Husqvarna.
Husqvarna Mille3 Concept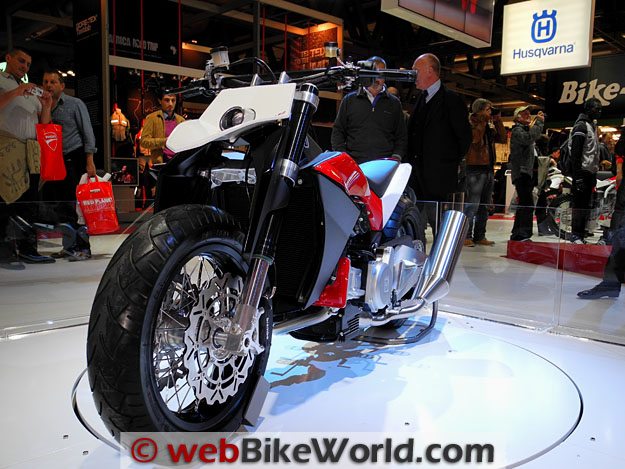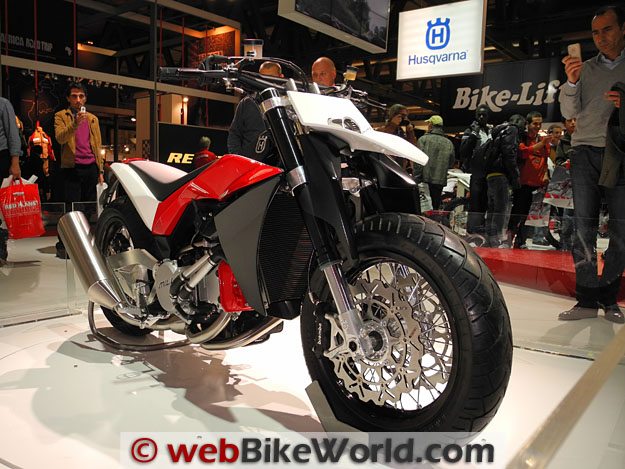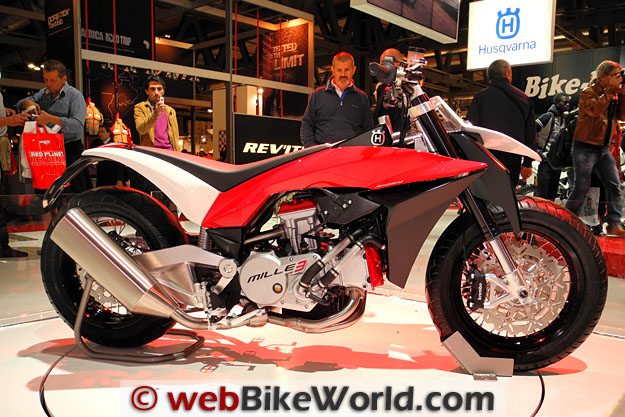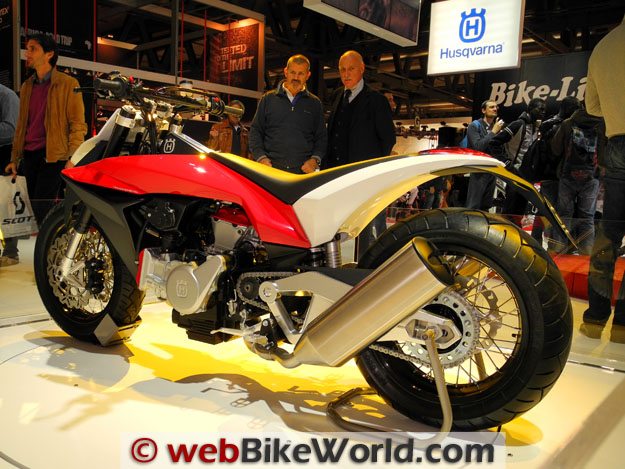 Video: Husqvarna Mille3 Concept
Publication Date: November 6, 2010
Note:
  For informational use only.  All material and photographs are Copyright © webWorld International, LLC – 2000-2011.  All rights reserved.  See the webBikeWorld® 
Site Info page
.  NOTE:  Product specifications, features and details may change or differ from our descriptions.  Always check before purchasing.  Read the 
Terms and Conditions
!
Other WebBikeWorld Motorcycle Brands Posts
wBW Motorcycle Brands Info