2011 Moto Guzzi Motorcycles
---
Moto Guzzi V7 Café Racer and Sport 8V
November 2, 2010 – Moto Guzzi is running on a very small budget compared to, say, BMW and Triumph, so a new motorcycle introduction from the company is big news.
You just don't get to see a new Moto Guzzi very often but when you do, you can be sure it will be exciting.
Photos of the V7 Racer have been leaked to the press over the last few weeks, but I have to say that looking at it "in the flesh" got my heart pounding like it hasn't since I first laid eyes on my old Ducati GT1000.
While the new BMWs are nice (and I especially like the basic single-cyliner G 650 GS, which is a bike very nicely suited for current times), and the new Triumph Tiger twins are pretty cool, they have a bit of an antiseptic quality about them.
The Guzzi V7 Racer (or Café Racer, I'm not sure which yet), on the other hand, is 110% passion and then some. It does strike me as a work of art (as do most of the Moto Guzzis) and I really want one. I pray (prego in Italiano) that Moto Guzzi (Piaggio Group) will bring it to the U.S. so I can gleefully hand over my greenbacks for one!
From its accordion fork gaiters to its chromed tank and red spark plug wires, this has "want" all over it. I could not get any printed information (yet), because no one in the booth apparently speaks English, and my Italian ends after mi scusi (excuse me) grazie and una birra per favore (a beer please) which are, of course, the three must-know phrases in any language. Especially the third…  café
Anyway, I'll try again tomorrow to get some printed info on the bikes. Besides the V7 Racer, the other surprise to me was another Breva variant, this time it's the Sport 8V. I'm not as fond of the Breva as I was of the early 2000's V11 versions of the Le Mans and Sport models. Why I didn't buy a Le Mans is something I kick myself in the rear for very often; yet another motivator to get on it this time and buy a V7 Racer if I can.
So here are some photos of the bikes and I'm processing a quick video walk-around of the V7 Racer and hope to have that uploaded tonight as soon as it's ready. Enjoy!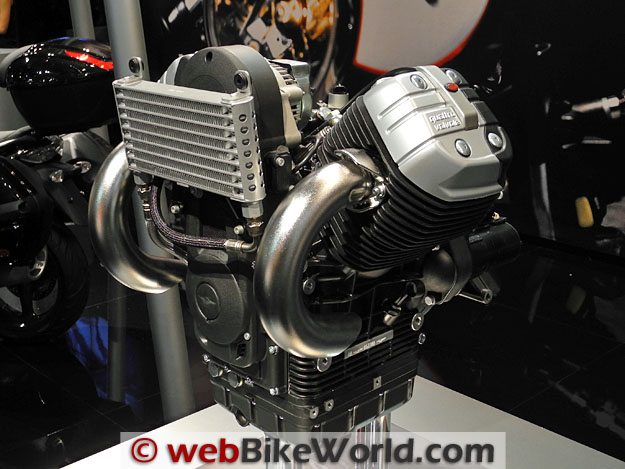 Moto Guzzi V7 Café Racer Video
Moto Guzzi V7 Café Racer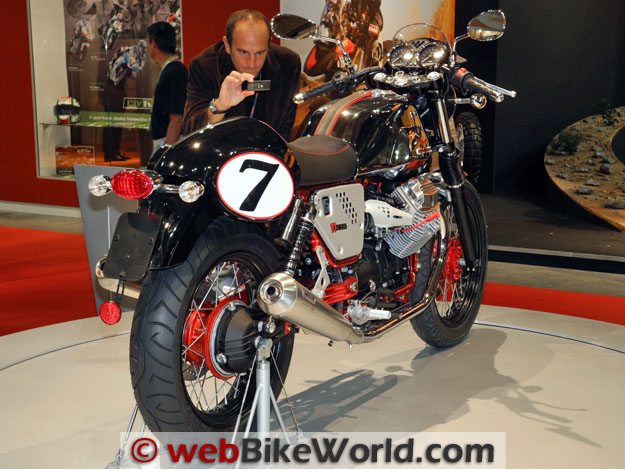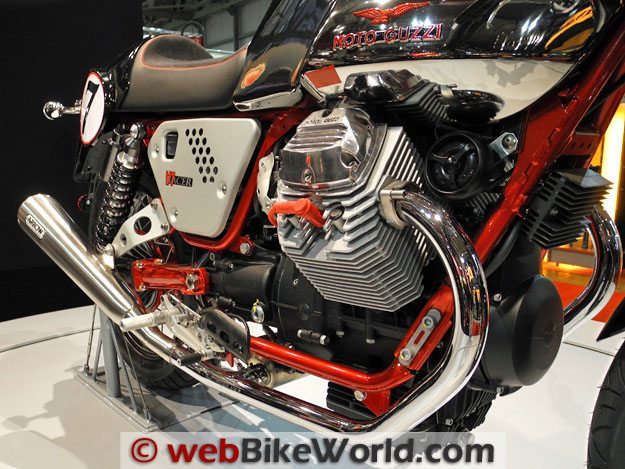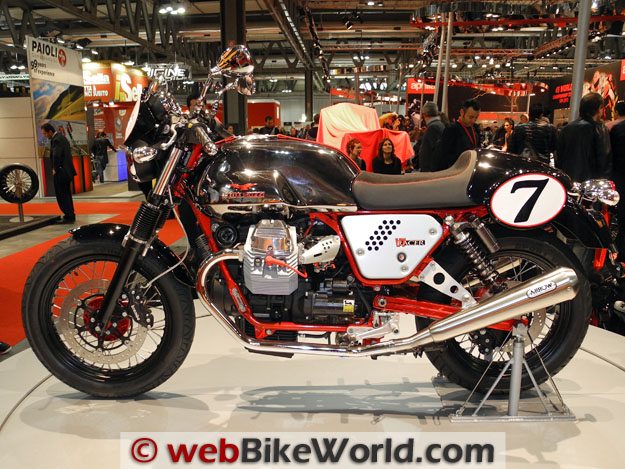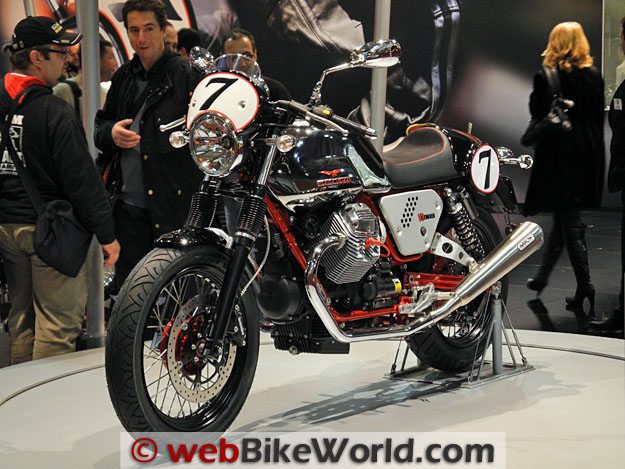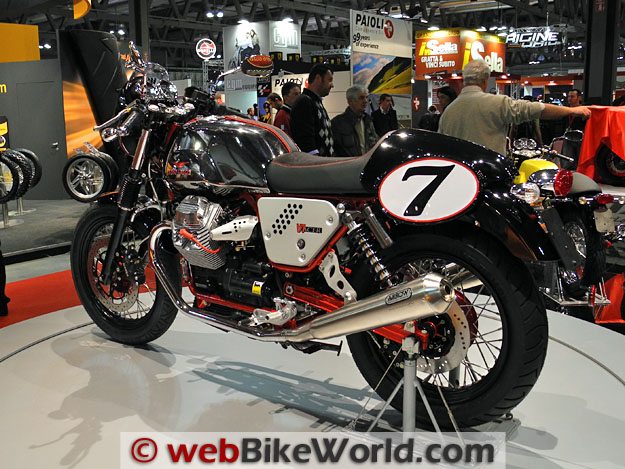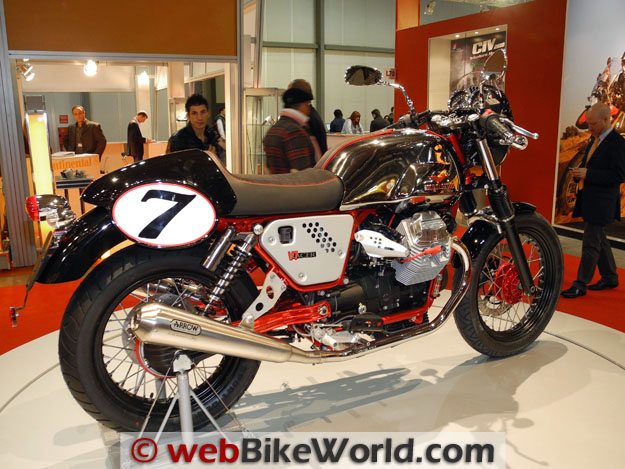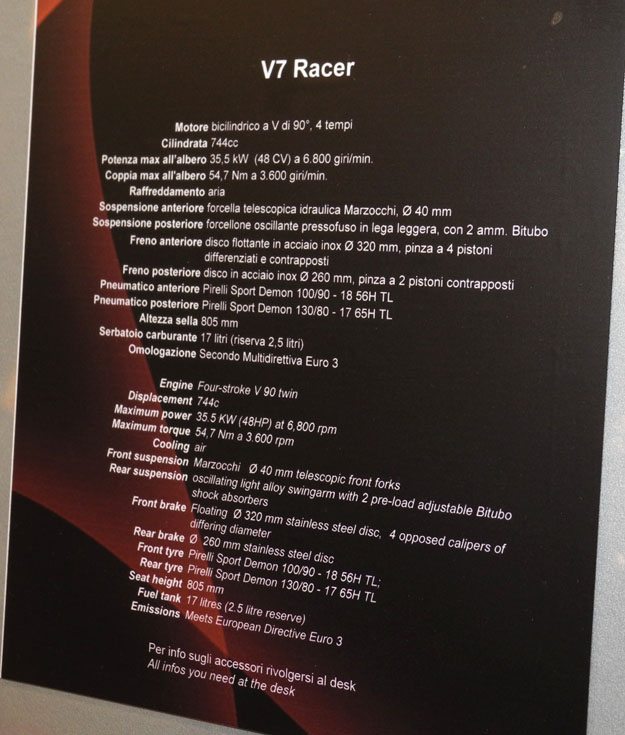 Moto Guzzi Breva Sport 8V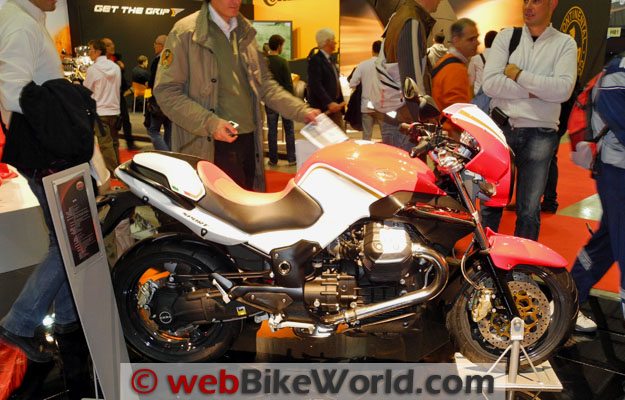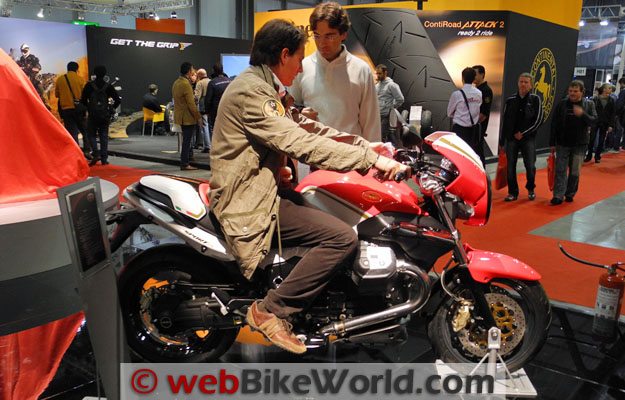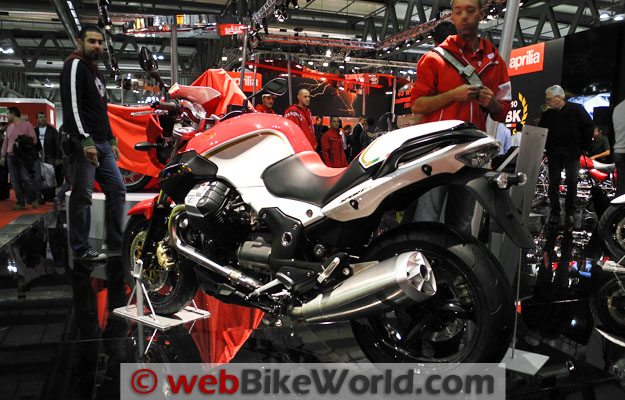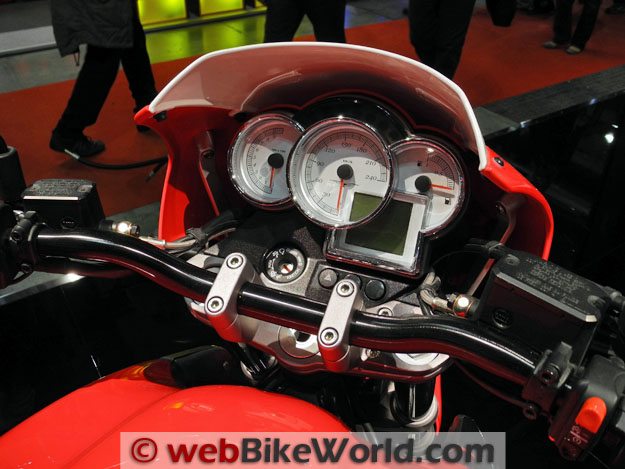 Moto Guzzi V7 Café Video
Publication Date: November 2, 2010
Updated: November 14, 2010
Note:  For informational use only.  All material and photographs are Copyright © webWorld International, LLC – 2000-2011.  All rights reserved.  See the webBikeWorld® Site Info page.  NOTE:  Product specifications, features and details may change or differ from our descriptions.  Always check before purchasing.  Read the Terms and Conditions!
Other WebBikeWorld
Motorcycle Articles 

Posts

wBW Motorcycle Articles Info