FRITZ EGLI & THE EGLI-VINCENT
Fritz Egli was born in Switzerland in 1937, spent his early years motorcycle racing and building motorcycles, including frames of his own design. He opened his own shop in 1965 and began building modern cafe racers with 998cc Vincent Black Shadow V-twin engines and Egli-designed-and-built frames, dubbed the Egli-Vincent. Three trademarks of Egli frames, besides incredible workmanship, are their large-diameter backbones (carrying the oil), their luscious nickel-plating, and their absolutely flawless brazing beads. Egli frames are gorgeous! There is no other word for it. He built bikes well into the 1970s, all hand-built in low volumes, and today genuine Eglis are highly prized and go for big bucks in auction. By the mid-1970s, the dominance of big 4-cylinder Japanese bikes prompted Egli to come out with a line of Egli bikes using Honda CB750, Kawasaki Z1000, and Yamaha V-max engines. These modern engines with wet-sump oiling systems didn't need the in-frame oil reservoir, but the frame tube remained the same large diameter for structural reasons. Many frame builders took their inspiration from the Egli frame, and many more just outright copied it. Today, genuine Eglis command bike bucks at the big motorcycle auctions, an honor rarely bestowed on a frame-builder. Rickman probably comes closer than anyone else, and while lots of Rickmans change hands, other than the rare McQueen bike, they don't usually go for big money. Eglis, genuine Eglis are a different story altogether. Egli-clones (not genuine Egli-built bikes) are also very nice, and certainly worth some money, but not so much that people can't ride them. There's a guy in San Jose CA with an Egli knock-off that rides it around. Nice choice.
Egli-Vincent BY THE YEAR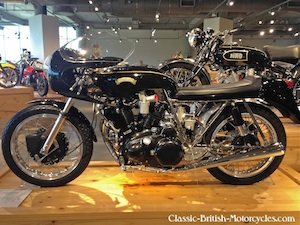 Eglis being hand-built, each is unique, with slightly different equipment or trim, many custom-built for their owners. This one is on display in the Barber Museum.
---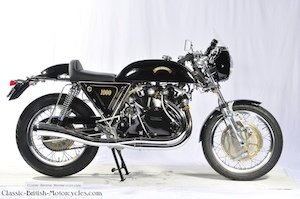 One of the most gorgeous motorcycles I have ever seen! And I'm not exaggerating. Shot in studio setting at the 2011 Clubmans Show.
---
Check out these VINCENT MOTORCYCLE BOOKS
---

Vincent Motorcycles (Crowood Motoclassics)
---

Original Vincent Motorcycle: The Restorer's Guide to postwar singles and twins (Original Series)
---

Illustrated Vincent Motorcycle Buyer's Guide (Illustrated Buyer's Guide)
---

Vincent (Osprey Color Library)
---
---

Vincent from 1938, Road Tests and Features from the Motorcycle & Motor Cycling
---

Know Thy Beast: Vincent Motor Cycles
---

Vincent 1945-1980 Gold Portfolio
---
---

Vincent Motorcycles: The Untold Story since 1946
---
For more like this, please visit our
---