Riders may soon be able to connect to the internet and access Google Maps via a tiny Edison computer in their helmet.
Intel has displayed a helmet using an Edison chip computer at the Barcelona Mobile World Congress.
The helmet also has built-in brake and indicator lights on the back that work in time with a connected BMW motorbike.
A microphone inside the helmet also allows riders to search the web and Google Maps using voice commands, without needing to be connected to the internet as the information is stored on the Edison chip.
The rider can interact with the intelligent unit by speech using trigger phrases and ask for directions.
The helmet has been in development since October and is not yet ready for road use yet.
It is one of several hi-tech helmets being developed or hitting the market such as the Skully which is the world's first commercially available motorcycle helmet with head-up display.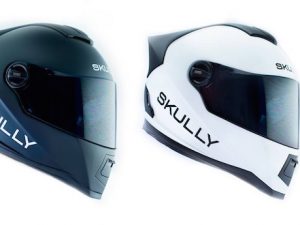 The development of these hi-tech helmets will create issues of rider safety and will become a challenge for legislators to keep pace with developments.
Meanwhile, the tiny Edison computer used in this helmet costs on $50 and has a powerful dual-core Atom system on chip (SoC) Pentium-class x86 processor.
For the geeks out there, the device runs Linux and, despite its size, has built-in WiFi and Bluetooth modules which make it ideal for application in a motorcycle helmet.
Edison is delivered as a bare-board module about the size of a postage stamp, and is based on a 500MHz dual-core Atom CPU with 1GB memory and 4GB flash storage, combined with a 32-bit Quark micro-controller at 100MHz.
Edison doesn't actually require the internet to function, as the processing power can be done on the chip. However, it can also connect to its own app store.