The world's most expensive bike is the Captain America Harley Panhead chopper from the 1969 cult film Easy Rider … or is it?
The bike has just sold for a staggering $US1,350,000 ($A1.54m) in the Profiles In History auction in California to an undisclosed buyer. Profiles in History spokesperson Sabrina Propper says "the buyer is always confidential, I'm afraid".
But there is now a cloud over the bike's authenticity.
The American-flag-decorated chopper ridden by Peter Fonda in the movie directed by Dennis Hopper was once endorsed by Fonda as the original bike.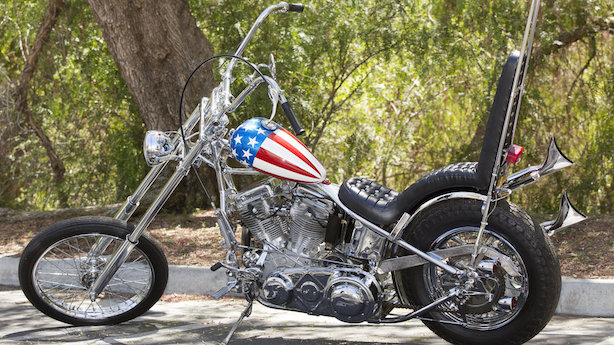 The chopper was partially destroyed in the film's finale and rebuilt by Grizzly Adams actor Dan Haggerty. Three other bikes used in the film were stolen even before the movie hit the cinemas.
But some doubt still remains about the authenticity of the bike.
Haggerty said last week that he has authenticated and sold two Captain America bikes, while Fonda has authenticated at  least one other bike, but later withdrew it, saying he had been duped by Haggerty.
Gordon Granger, of Texas, bought a supposed original Captain America in 1996 from Haggerty for $63,500. Haggerty later said it was not an original.
The bike which has just sold at auction was owned by Michael Eisenberg, a Los Angeles real estate agent and collector of Hollywood memorabilia. Eisenberg bought the bike in early 2014 from John Parham, a Midwestern motorcycle parts magnate who had bought it from Haggerty 12 years earlier.
Meanwhile, Fonda says he has no idea which bike is original, or even if an original exists.
The mystery surrounding the bike only makes it more alluring … and valuable!