DuPont Chain Saver 3.5 oz. Travel Size Review Summary
DuPont Chain Saver 3.5 oz. Travel Size Image Gallery
Sometimes, you do get what you wish for.
Back in 2012, when DuPont Chain Saver chain lube (review) was introduced, I suggested they make a smaller travel size for motorcyclists.
Finish Line Technologies, who manufacturers and distributes the DuPont chain lube products, went to work on the idea.
We had a few conversations back and forth since then and now it's here: DuPont Chain Saver in a handy 3.5 fluid ounce (2.5 oz. net) spray can that's perfect for stuffing in a tank bag or jacket pocket.
My wife said that the new mini-sized cans are "cute", but I'll leave that one up to you.
Many webBikeWorld readers still long for the the original DuPont Multi-Use Dry, Wax Lubricant chain lube formula, which was a favorite for many years.
But it disappared (with some mystery) and Finish Line — the company that makes the lubes for DuPont — now recommends the DuPont Chain Saver product only for motorcycle chain lubrication.
DuPont Teflon Chain Saver
DuPont Chain Saver has just released the 3.5 oz. (71 g) travel size, which is just coming into the retail sales channels and should be available in local stores and online.
The Chain Saver spray cans are also still available in 11 oz. (311 g), 14 oz. (397 g) size and the 120 ml (4 oz.) liquid container.
Note that in our DuPont Chain Saver chain lube review, where all of these products were first described, we didn't think the liquid container was as handy for motorcycle chain lubrication, but this depends on the accessibility of the chain on your motorcycle.
In addition to being "cute", the new travel size is perfect for carrying on the bike. It's pretty hard to stow one of the 11 oz. or 14 oz. cans, but no problem with the 3.5 oz. size.
Pricing
Let's take a look at cost per ounce for each of these containers.
You can get a 14 oz. can for around $10.50, which works out to about $0.75 per ounce. The 11 oz. can has a street price of about $6.75, or about $0.62 per ounce and the 4 oz. (120 ml) liquid version works out to around $2.25 per ounce.
Note that the liquid drops can be a more efficient application, depending on the location and accessibility of the motorcycle chain.
When I discussed the 3.5 ounce travel size with Finish Line, I suggested a list price of $3.99 would make it a "no-brainer" impulse buy if the display was set up near the cash register in the local motorcycle shop.
Finish Line agreed and has set the list price at $3.96, which is great, but you're paying a premium for the portability, because that works out to about $1.13 per ounce.
Shipping costs are another issue, so unless you have an Amazon Prime account or can fill an Amazon shopping cart with $35.00 worth of stuff to get free shipping, you're going to pay through the nose for the Chain Saver, so better wait until you can find it locally.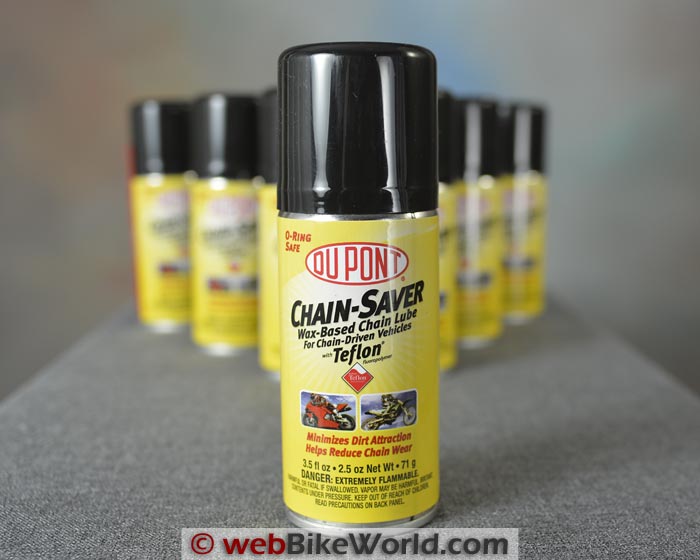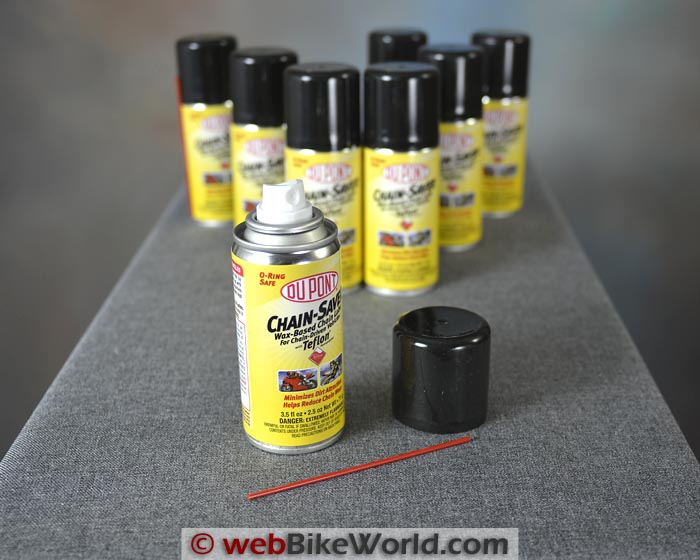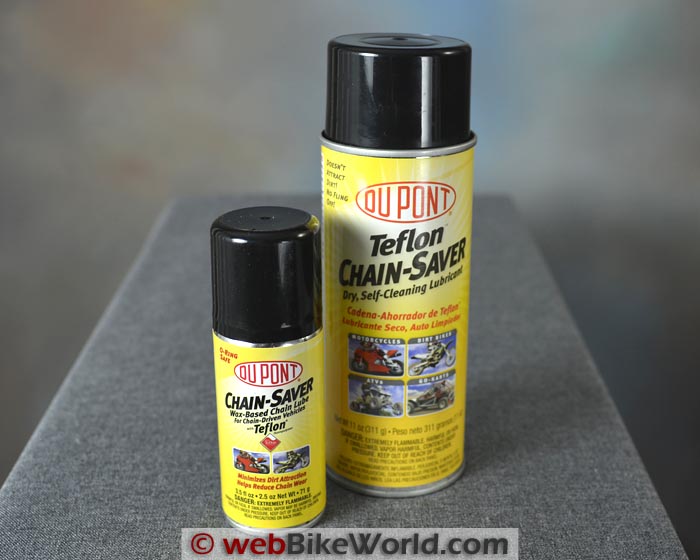 Conclusion
webBikeWorld readers asked for a smaller "travel size" DuPont Chain Saver and now it's here!
The 3.5 oz. can is small enough to fit in a jacket pocket, tank bag or even under the seat. 3.5 ounces isn't much, but it should do the job for a fairly extensive trip.
At a list price of $3.96, it's a must-have for travel!
All wBW Motorcycle Chain Lube Reviews
More Motorcycle Chain Lube Info:
Chain Cleaner Redux: Motul vs. Motorex  |  Motorex Chain Cleaner
2008 Chain Lube Comparison  |  2010 Chain Lube Comparison
Note:
 For informational use only. All material and photographs are Copyright © webWorld International, LLC since 2000. All rights reserved. See the webBikeWorld® 
Site Info page
. Product specifications, features and details may change or differ from our descriptions. Always check before purchasing. Read the
Terms and Conditions
!
Owner Comments and Feedback
---
From "N.S." (May 2014): "I've been using DuPont lubes for several years now, and while the old formula was awesome, the new Chain Saver is still a winner.
Compared with many lubes I've tried, DuPont's stuff just works — allowing me to not have adjust the chain as frequently, and it doesn't fling off.
Having a travel size will both make it handy to have on trips and hopefully make it more commonly available in moto stores. Glad Finish Line was open to the idea."
---
From "T.B." (May 2014): "  As one of those sorely missing the old stuff, who tested the changed formula much to my displeasure, who tested the dropper bottle and wasted more than I got on the chain.
And as one most upset because the "new" stuff was not available at the WalMarts that I begrudgingly visited, I'm curious at where this new stuff will be distributed to?
Lowes was the perfect location, as it was both convenient compared to bike shops and priced incredibly well (less then $5). I never thought to look at Amazon for the new larger cans and will do so. Thanks for the tip."
Rick's Reply: The idea is that the travel size can be sold at the checkout counter by the cash register in a motorcycle shop and the sub-$4.00 price point would make it an "impulse buy".
Also try local hardware stores, big box stores, etc. Since this is a very motorcycle-specific product, hopefully the local motorcycle shops will carry it.
From "R.B.S." (May 2014): "I've been looking for something to replace DuPont Multi-Purpose Teflon spray lube for lubricating my bikes' chains.
I was very disappointed that the formula for DuPont Mult-Purpose was changed as I thought that it was just about ideal. It was the best chain lube that I have ever used, and I've been trying different products, looking for a really good one, for about 40 years.
(As you have noted in previous articles, DuPont's Teflon Chain Saver isn't nearly as good as their Multi-Purpose was.)
I think that I may have found a winner!  It's not exactly the same, but it's close. MotoPro Chain Lube is available at any Cycle Gear store in a big 13 oz. can.
It's usually $10, but it is currently on sale for $6. It sprays on as a very thin liquid that is almost completely clear, but there is a hint of black dust floating in the liquid (probably moly and/or Teflon, both of which the label says are in this lube).
It doesn't dry quite as quickly as the DuPont MP, but when it does it leaves behind nothing but a trace of dry waxiness. The DuPont MP smelled like a mixture of WD-40 and coconut, the MotoPro smells like some sort of petroleum solvent.
I haven't noticed any fling-off, nor any propensity for it to attract dirt or to allow the chain to rust. I've been using MotoPro for a couple of years now, and my chain still looks like new.
Full disclosure, though, I live in sunny Sacramento, California, I don't ride on rainy days, and I keep my motorcycle garaged."
Other WebBikeWorld Chain Lube Posts