We already knew the Ducati Superleggera v4 would be super light and super powerful and now we can see it's super sexy and super exclusive!
The 159kW (214hp) Superleggera V4, unveiled overnight, is wrapped in exposed carbon-fibre and other exotic materials with a Desmosedici GP19-inspired livery.
It will be limited to 500 exclusive units with no price tag yet announced.  But as they say, if you have to ask the price, you can't afford it.
Super exclusive Superleggera V4
Ducati expects this bike will be shipped around the world by its cashed-up buyers to be ridden on some of the world's most famous tracks.
There they will be able to monitor lap times via the exclusive lap timer that records finish line and split times for five circuits: Laguna Seca, Mugello, Jerez, Sepang and Losail.
These can be recalled at the start of each track day without having to repeat the set-up procedure.
Buyers of the Superleggera V4 will also get to ride exclusive Ducati race bikes: the WSB Panigale V4 on the Mugello test track and the Desmosedici GP20 used by Dovizioso and Petrucci, with the close support of the Ducati Corse technicians.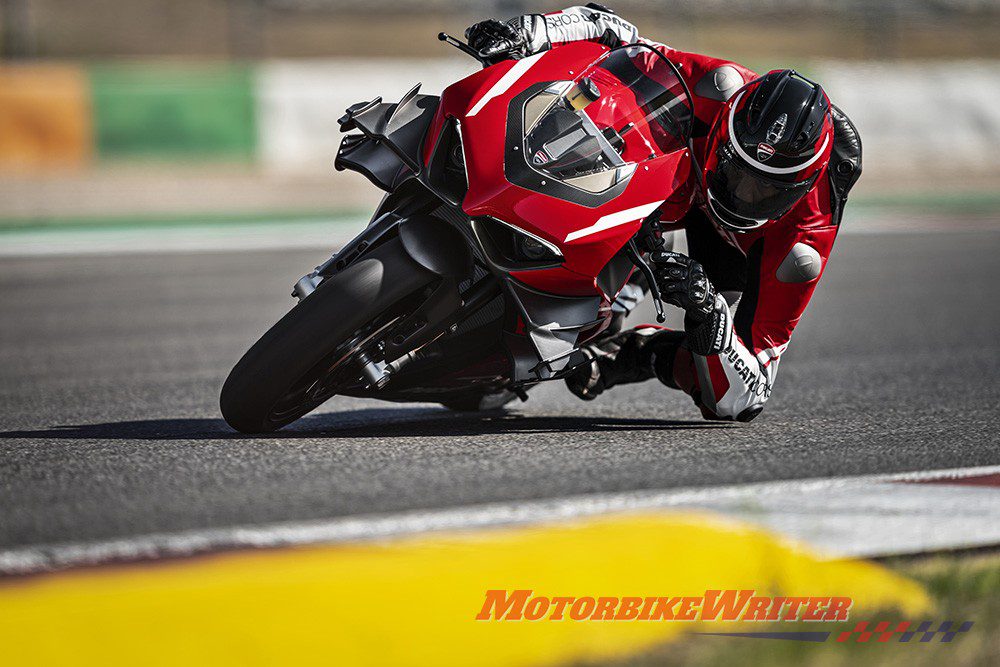 As you would expect, there is a host of exclusive details from a solid aluminium radiator cap to a dedicated ignition key with an aluminium insert showing the bike number.
The bike ID number (XXX/500), which matches the VIN, is displayed on the frame, fork yoke and ignition key.
Ducati has not made pricing and full tech pecs publicly available.
However, select Ducati VIPs (that's those who've previously bought their exclusive bikes) have received a e-mail signed by CEO Claudio Domenicali  which has a link to an exclusive page with these details.
Ducati says deliveries will start in June 2020 in Europe at a limited rate of only five bikes a day with all bikes produced this year.
Superleggera customers can also buy an exclusive Superleggera V4 Dainese leather suit with integrated air-bag and an Arai carbon fibre helmet in the bike's colours and graphics.
Presumably they're the ones in the photos.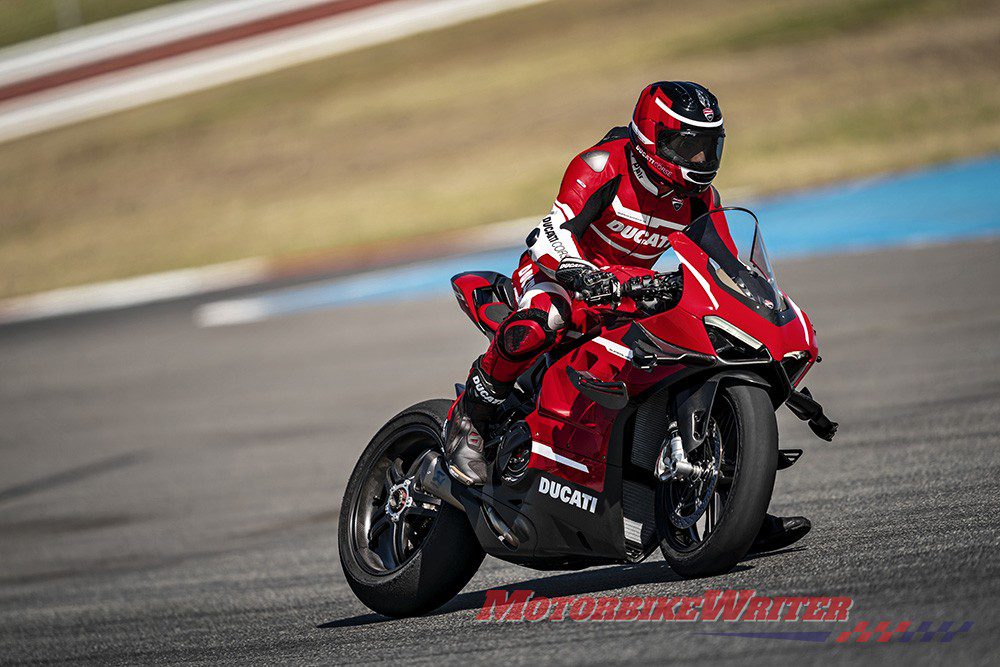 Super light
The Superleggera V4 is the world's only street-legal motorcycle with the entire load-bearing structure of the chassis (frame, subframe, swingarm and wheels) made from composite material.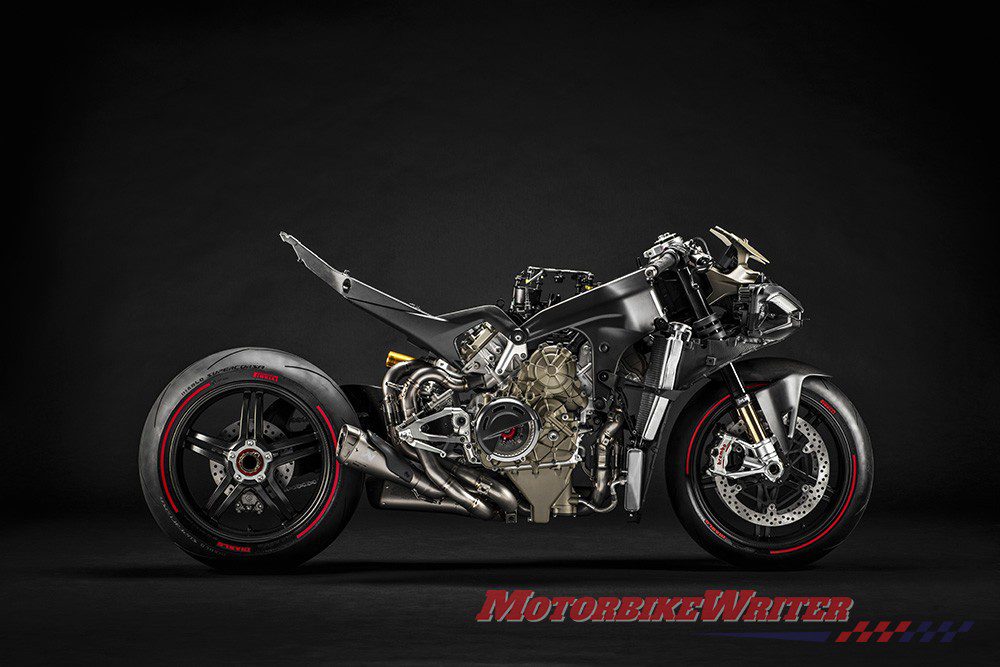 That helps it achieve a dry weight of just 159kg which is 16kg less than the Panigale V4, resulting in a record power-to-weight ratio of 1.41hp/kg.
But wait, there's more … or less!
In track kit, power is increased to 175kW (234hp) and weight drops to 152.2kg, raising the power-to-weight ratio to 1.54hp/kg.
Apart from their GP models, this is the most powerful motorcycle ever produced by the Bologna manufacturer.
Ducati says their official tester, Alessandro Valia, took the bike, fitted with the racing kit and slick tires, around the Mugello circuit in 1:52:45.
That's less than two seconds from the lap time of the Panigale V4 R SBK, winner of the 2019 Italian Motorspeed Championship (CIV) with Michele Pirro.
Ducati claims the lightweight components have been "100% tested using the most sophisticated techniques borrowed from the aerospace industry, such as thermography, ultrasound inspections and tomography".
The chassis dimensions have been modified for optimised track use by increasing the length of the swingarm.
"The overall result is unparalleled deceleration power, faster leaning down into corners and sharper lines riding out of bends," Ducati says in its official press release.
They also claim the carbon fibre fairing with biplane winglets has greater aerodynamic efficiency than the current MotoGP bikes.
Superleggera V4 provides downforce of 50kg at 270km/h, 20kg more than on the Panigale V4 MY20 and V4 R.
Super powerful
The 998cc  90° Desmosedici Stradale R engine is also lighter and more powerful.
It weighs in at 2.8kg less than the 1103cc V4 and when fitted with the road-legal Akrapovič exhaust produces 167kW (224hp) while the track-only titanium Akrapovič exhaust lifts in the track kit lifts that to 175kW.
The track kit is included in the purchase price.
There is also a dry clutch and an individual manual adjustment of the Desmodromic timing system.
In this mode, riders will see an instrument display similar to that used on the Desmosedici GP20.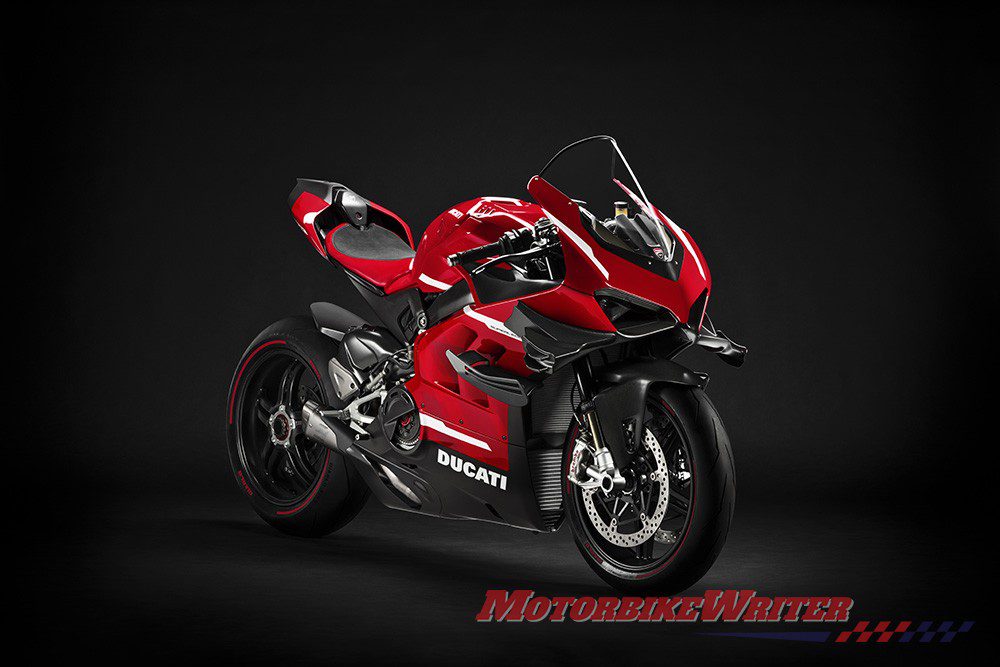 The Superleggera V4 display was designed with input from Andrea Dovizioso.
Electronic controls are designed for racing nature of this motorcycle with the latest traction controls, up/down quickshifter three reprogrammed riding modes (Race A, Race B and Sport).
For the first time there are five extra modes that can be personalised with the rider's preferred settings.
Other exclusive items include a lighter Öhlins suspension system, with a pressurised fork and lighter machined aluminium fork bottoms, a titanium shock absorber spring and GP-derived valves for improved damping on road bumps in the initial compression stage.
Brembo supplies the brakes, with an MCS calliper featuring a remotely adjusted lever gap and Stylema R callipers for greater front-brake stroke consistency in long track runs.