One of two new Ducati Scrambler models to be unveiled in Milan next month is the Desert Sled, which is the famous name actor and racing Legend Steve McQueen used for his Triumph desert racer.
The famous Desert Sled was sold at a Bonham auction in Las Vegas in January 2016 for $US103,500.
It was bought by an anonymous Aussie buyer who allowed the Desert Sled to be shown at Ellaspede custom bike shop in Brisbane in August. It will also be on show this weekend at the Motorclassica in Melbourne.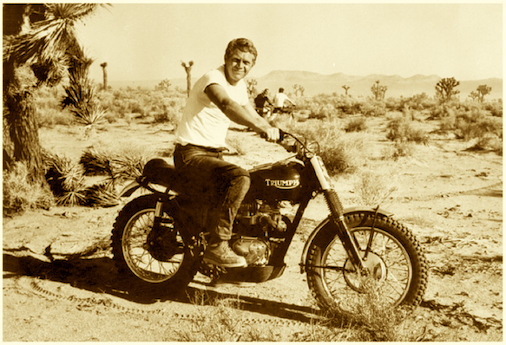 It was built up from a 1963 Triumph Bonneville by Steve's long-time friend Bud Ekin who did the famous jump in The Great Escape.
There is no doubt Ducati stole the Desert Sled name for its McQueen connection, robbing Triumph of valuable market potential.
Quite frankly, Triumph has been a bit slow on the uptake here. They have used McQueen's image on Triumphs for years on their t-shirts and in their marketing. However, they were blindsided by the Italians on this one.
Desert Sled video teaser
Here is a sneak peek video of the Ducati Desert Sled which will be unveiled at the EICMA motorcycle show in Milan on November 7. 
You can't see much, but the Ducati Desert Sled is expected to be an 800cc Scrambler with longer-travel suspension, wire wheels, engine protection and knobby tyres.
In other words, the bike it should have been when launched rather than a "hipster pretender".
Ducati will also unveil a Cafe Racer Scrambler at the show which could be fitted with either an 1100 or 1200cc engine.
Cafe Racer teaser video
Here's the sneak-peek video of the Cafe Racer.
The Scrambler has quickly become Ducati's top-selling bike and there are even more variants to come.
Ducati recently lodged plans for six new Scrambler models with the California Air Resources Board (CARB) for approval. The names submitted are CR, CT/T, DS, DS/T and T.
Obviously CR stands for Cafe Racer and DS for Desert Sled (also, conveniently Dual Sport). The DS/T could mean a touring version with luggage capacity and a bigger pillion seat.
Perhaps the T is a dedicated tourer, while the CT/T is a cross-tourer with luggage!