Ducati Australia is set to join the global recall of faulty Brembo front brake master cylinders after confirming it has sent a recall notice to the Department of Infrastructure.
It typically takes several days before the official notice is posted and Ducati Australia has not confirmed which bikes are affected.
However, earlier official recalls in the USA nominated these Ducati models:
2015-2018 Ducati 1299 STD / 1299 S / 1299 FE / 1299 SL produced from March 16, 2015 to September 22, 2017;
2015-2018 Ducati Monster 1200 S / Monster 1200 R produced from March 04, 2015 to October 23, 2017;


2015 Ducati Monster 1200 R

2015-2018 Ducati Multistrada S / Multistrada PP produced from March 16, 2015 to October 31, 2017;
2015-2018 Ducati Panigale R produced from March 16, 2015 to June 20, 2017;
2017-2018 Ducati Scrambler 800 Cafe Racer produced from March 01, 2017 to November 20, 2017;
2015-2018 Ducati XDiavel S produced from January 12, 2016 to September 08, 2017.

Ducati is the third brand in Australia set to recall bikes, joining Aprilia and KTM.
Aprilia recalled their RSV4 and Tuono. Click here for VIN numbers and more details.
KTM Australia is also set for an official recall, but has not yet confirmed the models.
However, a spokesman said they were "street bikes" and replacement parts are expected at the beginning of February. Free replacement will take about 1.5 hours.
Brembo issued a statement earlier this month that the safety recalls only affect radial master cylinder pistons in 15mm and 16mm diameters produced between 2015 and 2017.
They were supplied to Aprilia, Ducati, KTM, MV Agusta, TM Racing, Moto Morini and Horex.
Which companies will join recall?
There is still no word from the Australian importers of MV Agusta on whether they are also set to join the recalls.
The recall does not affect brake master cylinders sold as aftermarket kits through Brembo authorised dealers.
The Department of Infrastructure, Regional Development and Cities told us earlier this month that they had contacted the Australian distributors of Ducati, Aprilia, Triumph and KTM motorcycles.
"The distributor of Triumph motorcycles has advised that no vehicles supplied to the Australian market are affected," the department says.
"Other distributors are aware of the recently announced recall in the United States and are currently establishing whether voluntary recall action is relevant for vehicles supplied to the Australian market."
Brembo brake fault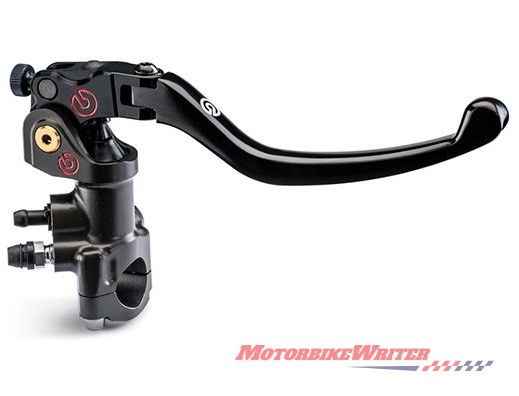 The fault is believed to be a crack in the internal piston of the PR16 radial master cylinder.
The crack can result from prolonged and hard use such as track work or frequent use of ABS.
Obviously, if it breaks, not only will braking force be diminished, but owners could also end up wth highly corrosive brake fluid leaking over their bike.
Brembo says the problem is with the plastic (polyphenylene sulphide) they used. To fix it, they will replace the plastic piston with an aluminium piston.
Here is the official notice from Brembo about the fault:
The anisotropy of the piston material, in addition to potential porosity introduced during the injection process, could lead to crack generation and thus potential component failure. The failure may occur with no warning to the rider, although a significant loss in brake effectiveness may be an early indicator.

In May, 2017, Ducati received initial information from the field regarding front brake malfunction involving a motorcycle in the European market. During the same month Ducati received a second European front brake malfunction report.

Ducati initiated an investigation and began to jointly conduct an analysis with Brembo, the component manufacturer. In September, 2017, a third European case was discovered. Failure was found to have occurred during race track use in two of the three cases. In November, 2017, the investigation was finalised and the root cause was identified as above. On December 14th, 2017, Ducati determined that a worldwide safety Recall was justified. For subject motorcycles sold in the US, there have been no reports of injuries due to the defect."
The only previous recall for a Brembo brake fault we could find was an ABS modular in Triumph Street Triple and Daytona models in 2013.
Recall notices are issued by the manufacturer through a voluntary industry code under the ACCC.
Despite hundreds of recalls by various automotive manufacturers, none has ever been mandatory.  All have been issued by the manufacturer.
While any recall is not good news for the manufacturer, it shows that they are largely diligent in fixing problems.
If you believe there is an endemic problem with your bike that should be recalled, contact the ACCC on 1300 302 502.
To check whether your motorcycle has been recalled, click on these sites:
• USA
• UK
• Canada