The new Ducati Monster 696 represents the next generation and what Ducati calls "the final word in urban excitement".  The Monster 696 looks like it would be fun either on your favorite downtown routes or unleashed, where it should deliver more performance than ever before.
Design
Refined style and design are the clear motivations behind the new Monster and the continued perfection of the Desmo engine ensures that its "saint and sinner" image will impress any rider.
A comfortable and confidence-inspiring chassis combine with the powerful Ducati L-Twin engine to provide what should be a most enjoyable riding experience.  The balance of new technologies expressed in stylishly finished materials is shaped around the original cool Monster heritage.
Maintaining its traditional Monster silhouette, the 696 now looks more muscular.  Its wide tank tapers to a thin waistline of what Ducati says is a comfortable narrow seat, which should ensure sure-footed confidence when at the traffic lights.
The large diameter Hybrid Trellis frame blends stylishly into an aluminum sub-frame and swingarm while minimalist instrumentation and simple controls at the front of the Monster contrast with twin, bold, Ducati-style mufflers at the rear to enhance its urban-ready image.
With a fuel tank form created with ingenious removable outer skins that enable quick and easy color swaps, changing the personality of the Monster has never been easier.  The quickly removable rear seat cover makes it even easier to completely color coordinate and, when removed, reveals a place for your favorite passenger.
The Cult of the Monster
The Monster is the original "naked" motorcycle.  Launched to rave reviews in the early '90s, it immediately created a devoted following and became a cult motorcycle.  With its fully exposed engine and "less is more" minimalist attitude, the Monster delivers style and real sport bike performance.
It has defined the class and become the bike of choice for top designers, Hollywood stars and Formula One racing drivers alike while creating a unique motorcycle lifestyle that is accessible to everyone.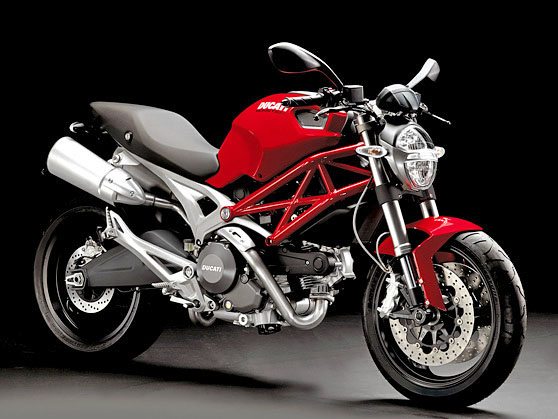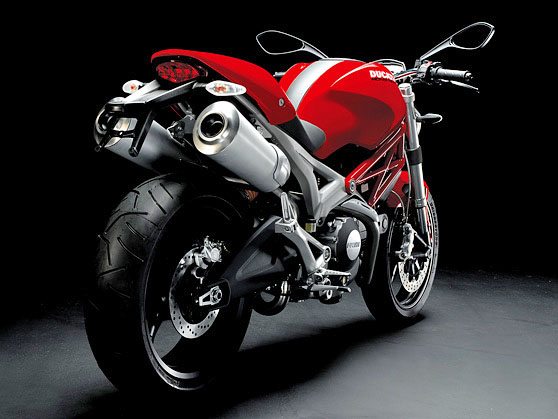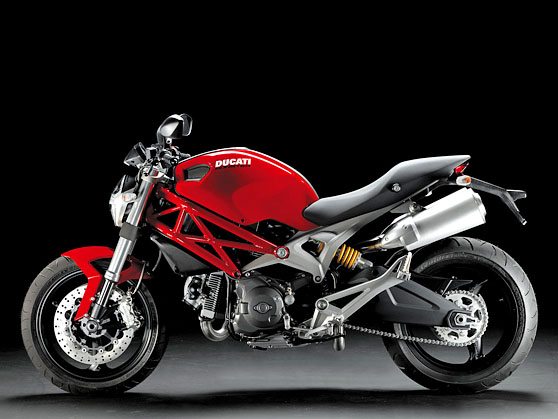 Chassis
The 696 ergonomics have been improved with subtle but effective changes to the riding position.  A shorter reach to the bars and a slightly lower, more forward foot peg position, together with the lowest seat height of any Ducati and a reduction in weight, empowers any rider to become the master of this Monster.
The chassis of the new Monster is made up of a new Hybrid Trellis frame with larger diameter tubes directly inspired by the 2007 World MotoGP title-winning Desmosedici GP7 machine.  To this is attached a rear aluminum sub-frame.
The front brake system is the envy of its class and becomes the new benchmark for the category with two 320 mm discs and four-piston radial calipers.
At the rear, the dual-sided aluminum swingarm draws inspiration from Ducati Corse's finest racing products in this area.
The instrumentation is now totally digital and continues the tradition of all Ducati's latest-generation hypersport models, guaranteeing lightness, ease of use and a wealth of information.
The new exhaust system stands out for its re-routed down pipes that now give the underside of the Monster a cleaner appearance and terminate with twin, bold Ducati-style mufflers.
The headlamp unit is characterized by a new triple arc main beam, while the rear light uses modern LED technology.
The unmistakable tank boasts ingenious removable outer skins which makes it easy to change the personality of the Monster 696.
In line with the latest-generation Ducatis, the new Monster 696 has undergone a weight reduction of 5kg from the previous model and now becomes the lightest bike in its category (359 lbs – 163 Kg).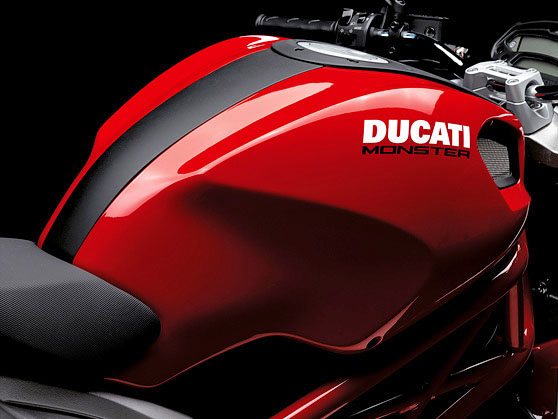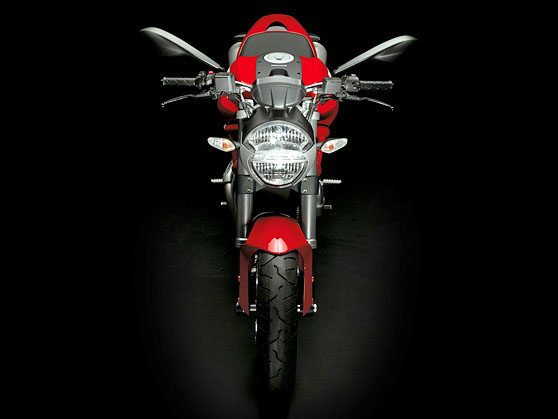 Engine
The engine of the new 696 is an evolution of the previous 695 version.  Measuring 696cc, it boasts a series of updates and refinements.
Power output gets a 9% boost to 80 hp (59 kW) and an 11% increase in torque to 50.6 lb-ft.  This new engine continues to have the best horsepower per liter ratio of all Ducati's air-cooled units, and it ensures a smooth and powerful delivery for a relaxed but thrilling ride in all conditions.
This increase in power has been achieved by the introduction of new cylinder heads, which are now similar to those fitted on the 1100 2V engine fitted to the Multistrada and Hypermotard.  Bore and stroke remain identical to the previous 695 model at 88 x 57.2 mm, but the pistons and combustion chamber have been revised to optimize the fluid dynamics of the new ports.
The camshafts now rotate on bearing surfaces directly in the cylinder head and are supported by means of oil pressure. The elimination of the bearings has enabled the weight of this unit to be reduced considerably and the layout simplified.
Furthermore the cooling fins of the cylinders and the cylinder heads have a new shape, and an improved casting process allows them to be produced closer to one another so as to increase their number and improve thermal exchange.
Like its predecessor, the new Monster 696 has an advanced APTC clutch, which makes down-shifting safe and helps keep the clutch lever action light and easy, especially in urban riding where frequent stops require high use.
Like every bike in the new range, the Monster 696 also has a new scheduled maintenance program that reduces costs for the customer.
For more information, visit the Ducati Monster 696 website.
Ducati Monster 696 Specifications

Engine

Type
L twin cylinder, 2 valve per cylinder Desmodromic, air cooled

Displacement

696 cc

Bore x Stroke

88 x 57,2 mm / 88 x 57.2 mm

Compression Ratio

10.6:1

Power

80 HP @ 9000 rpm

Torque

69 Nm @ 7750 rpm

Fuel injection

Siemens electronic fuel injection, 45 mm throttle

Exhaust

2 aluminum mufflers

Emissions

Euro 3

Transmission

Gearbox

6-speed

Ratio

1st 32/13, 2nd 30/18, 3rd 28/21, 4th 26/23, 5th 22/22, 6th 24/26

Primary Drive

Straight cut gears; Ratio 1.85

Final Drive

Chain; Front sprocket 15; Rear sprocket 41

Clutch

APTC  wet multiplate with hydraulic control

Chassis

Frame

Tubular steel trellis frame

Wheelbase

1452 mm / 57.2 in

Rake

24°

Steering Angle

32°

Front Suspension

Showa 43 mm upside-down fork

Front Wheel Travel

120 mm / 4.7 in

Front Wheel

3-spoke light alloy 3.50 x 17

Front Tire

120/60 ZR 17

Rear Suspension

Progressive linkage with preload and rebound Sachs adjustable monoshock

Rear Wheel Travel

148 mm / 5.8 in

 Rear Wheel

3-spoke light alloy 4.50 x 17

Rear Tire

160/60 ZR 17

Front Brake

2 x 320 mm discs, 4-piston radial caliper

Rear Brake

245 mm disc, 2-piston caliper

Fuel Tank Capacity

15 liters (incl. 3.5 liter reserve) / 3.8 US gal (incl.  0.9 US gal. reserve)

Dry Weight

163 Kg / 359 lbs

Seat Height

770 mm / 30.3 in

Max Height

1129 mm / 44.0 in

Max Length

2100 mm / 82.7 in

Instruments

Digital unit displaying: Speedometer, tachometer, clock, scheduled maintenance warning, oil temperature, trip fuel, air temperature, lap time, warning light for low oil pressure, fuel level, fuel reserve, neutral, turn signals, over-rev,

 

immobilizer

Warranty

2 years unlimited mileage
 New Color Schemes for the Monster 696
Following the world unveiling at the last Milan Motorcycle Show (EICMA07), the new Monster 696 reveals its two new color schemes just a few weeks from its arrival on the market.
In addition to the 'Ducati red', the Monster 696 will also be available from April 2008 in the new 'pearl white' and traditional 'matte-black' or 'dark'.
'Pearl white', already featured on other highly successful Ducati models like the Superbike 848, emphasizes the muscular lines of the Monster 696 which contrast sharply with the seat, sub-frame and Hybrid-Trellis frame.
The 'dark' version demonstrates how the Monster silhouette remains totally uncompromised by centralizing the bike's volumes and masses.  Both colors are complemented perfectly by black wheels and frames.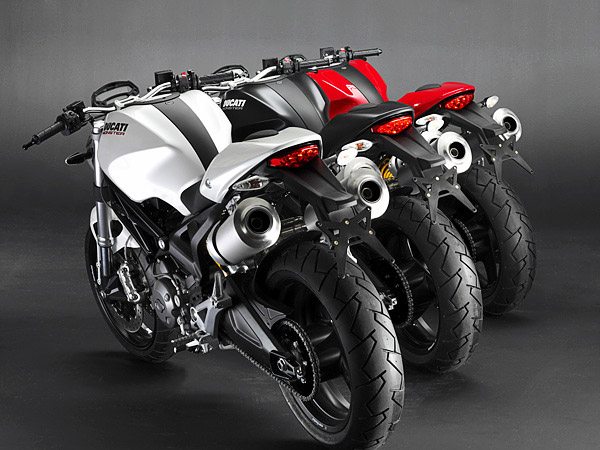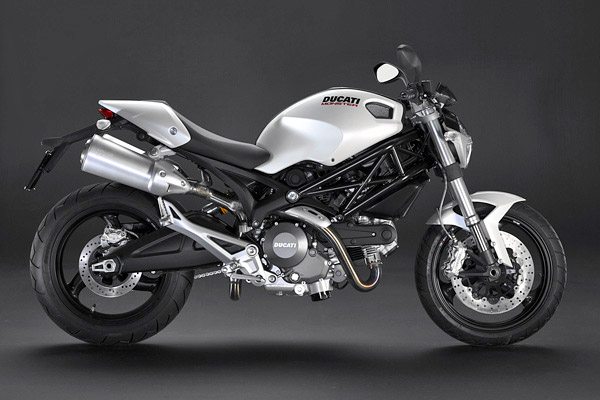 The new Ducati Monster 696 best identifies the next generation of naked bikes.  It is a bike that perfectly combines fun and excitement in any type of environment – relaxed in the city, but at the same time ready to unleash its sport character with top performance.
Refined style and design are the clear motivations behind the new Monster and the continued perfection of the Desmo engine ensures that its 'saint and sinner' image will impress any rider.  A comfortable and confidence-inspiring chassis combines with the famously smooth and powerful Ducati L-Twin engine to provide the most enjoyable riding experience. The balance of new technologies expressed in stylishly finished materials is shaped around the original cool Monster heritage.
Maintaining the unique style and character built on 15 years of world-wide success, the Monster now moves forward into a new era.
More information is available on the Monster page at the Ducati website.
New Special Version of the Monster 696 Announced!
March 25, 2008 – A special version, its own website and a wide range of accessories.
In just a few days the latest naked offering from Borgo Panigale will take centre stage: the brand new Monster 696.  Since the first version was unveiled at the International Motor Show in Cologne back in 1992, the Monster has enjoyed unrivalled success and become a true icon in the world of motorcycling.
The 696 has inherited all the design and build principles of its predecessor, allowing true Monster character to now shine through from every single component.  Providing pure, undiluted excitement, the Monster is the definition of a bike that strikes a perfect balance between performance and everyday riding pleasure.
Ready to arrive in Ducati Stores around the world from the beginning of April onwards, the new Monster comes in a choice of three color schemes: Ducati red, matte black, and Ducati's currently hot color of pearl white.
The last few days have also seen the completion of an exciting special version.  Aptly labeled the Monster 696+, it comes pre-accessorized with two sophisticated in-house designer additions.  A color-matched rear seat cover, which gives the bike an even cleaner, sportier look and is quickly removable for your favorite passenger and a unique, head-turning micro-bikini fairing that embraces the digital instruments and rounds off the sporting appeal of the new Monster 696.
To satisfy loyal 'Ducatisti' – or 'Monsteristi' – a new website dedicated entirely to this very important new Borgo Panigale baby has gone live on the Ducati Monster site.  With just a few clicks, you're on your own virtual ride through an interactive space full of Monster facts and figures where you can discover the Monster story, its technical data, performance, dealerships and more.
Photos and videos include a special Casey Stoner feature showing the MotoGP world champion testing the 696 during a recent visit to the Ducati factory, and an exclusive video of the production line.
The Monster range has always been synonymous with customization, its minimalist style lending itself perfectly to the customization and individual interpretation of every component.  For this very reason, Ducati already has a wide range of accessories and special parts ready.
Specifically for the Monster 696, they are designed to help owners make each and every bike even more unique and original.  While images of the new accessory collection will go live online on 27 March, a mouth-watering taster of some special items is already available on Ducati CEO Gabriele Del Torchio's DESMOBLOG.
The Monster 696 dedicated website is a key link between Ducatisti around the world and the company in Bologna, Italy.  It is also a great way for everyone surfing the net to discover and fall in love with the Ducati brand and the latest naked bike to come out of Borgo Panigale.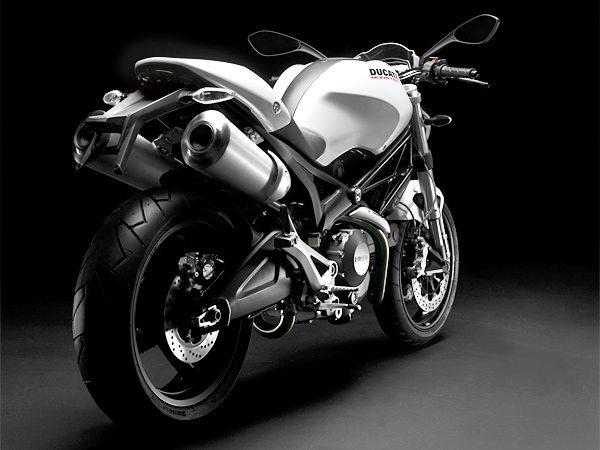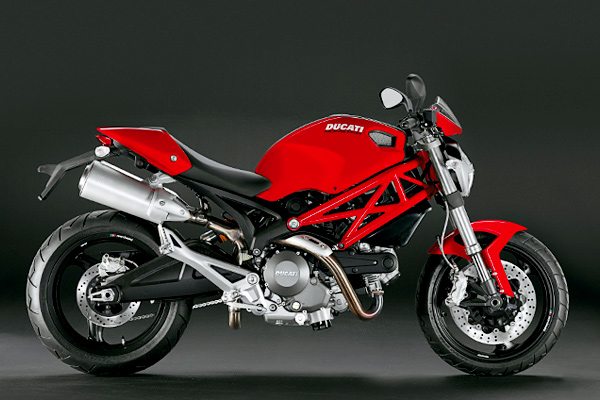 Monster 696 Accessories
Titanium homologated silencers kit – Made from precious titanium, this set of homologated silencers makes the bike lighter, yet even richer and ensures a fuller and exciting sound.  The electronic control unit and high-efficiency air filter supplied in the kit help optimizing the engine power output already at low rpm and keep emissions within the EURO3 requirements (homologation valid for EU member countries).
Carbon racing exhaust system kit – Oval racing silencers with carbon sleeve and removable dB killers.  Their streamlined and aggressive design underlines the new Monster's exuberance, thanks also to the dedicated electronic control unit and high-efficiency air filter that enhance engine performance and make it more of a thrill.
Rear bag – Applicable on passenger's seat padding, this rear bag is useful not only when riding solo but also when two-up since it becomes a backpack thanks to the straps.  The upper pocket and the two side pockets are ideal for small personal belongings to be kept handy or that could be useful during a trip, while bag can be expanded up to a roomy 18 liters.  The imitation leather fabric resists solvents, UV rays and other corrosive agents for a longer life.
Touring seat for Monster – Designed to improve ergonomic features to make riding position for rider and passenger even more comfortable, this seat is made in high-density foam and is covered with anti-slip valuable fabrics that resist climate conditions.
LED turn indicators – LED turn indicators, smaller than standard indicator for a sleeker look
Carbon fuel tank protector – Tank protector with pure carbon core and protective resin on the surface; three-piece design avoids jacket or pants zip from damaging the paint.
Short tail guard in ABS with number plate holder – A more streamlined rear end that sets off the exhausts, swingarm and rear wheel, and enhances the lines of the new Monster.  The bike seems even more compact and spirited, a pure "café racer", yet with enough room for the passenger.  The new tail guard is made in ABS and comes with aluminum number plate holder and a new LED number plate light.
Carbon front sprocket cover – Front sprocket cover made from carbon fiber.
Carbon rear mudguard – Carbon rear mudguard, with wraparound design, that ensures excellent protection against water and dust raised by the rear wheel.  The integrated carbon chain guard protects the rider's legs from the final drive chain and possible stains of lubricant.
Carbon tank top cover – Top tank mould in carbon enhances the shape of the new Monster, resulting in a sleeker and more aggressive look.
Carbon tank bottom cover – Bottom tank mould in carbon perfectly matches the top part and creates a seamless line of pure carbon at the centre of the tank.
Carbon instrument panel cover – Instrument panel cover made from carbon fiber.
Note:  For informational use only.  All material and photographs are Copyright © webWorld International, LLC – 2000-2011.  All rights reserved.  See the webBikeWorld® Site Info page.  NOTE:  Product specifications, features and details may change or differ from our descriptions.  Always check before purchasing.  Read the Terms and Conditions!