The arrival of the new Monster 1100 and Monster 1100 S now increases the size of the Ducati Monster family, a family that redefines the motorcycle and stakes its claim as the new icon of Italian excellence.
Dedicated to those who want to make the ultimate expression, this jewel of style and performance is powered by the charismatic two-valve 1100cc Desmodromic twin-cylinder engine, famous the world over for its legendary torque and acceleration.
When you choose to ride the Monster, you are not simply choosing a bike but an entire lifestyle. It is an extension of your own character, something that can be shared or kept for yourself but either way, a desire to experience the exhilaration of naked power as you ride this international motorcycling icon.
With its new single-sided aluminum swingarm, high level of componentry, race-oriented chassis and 15 years of evolution, the Monster 1100 now takes its place at the head of the Monster family.
The 'less-is-more' philosophy behind all Monsters underlines Ducati's never-ending pursuit of genuinely compact, high performance motorcycles, but these new models have succeeded in being even more 'pared down' than their predecessors.
The Ducati Monster 1100 weighs 8kg (17.6lb) less than the already lightweight S2R 1000, making it by far the lightest bike in its category. Every single component has been redesigned and redeveloped in order that form would follow function.
With any details detracting from the Monster concept being eliminated, the 'less-is-more' also means 'less-is-Monster'. Less weight plus more torque equals fun-filled riding.
Today's Monster family is the result of constant evolution in design and technology. The new, powerful and breathtaking top-of-the-range models boast attractive ergonomics and present pure style and charisma, while preserving the essence of the original naked bike concept.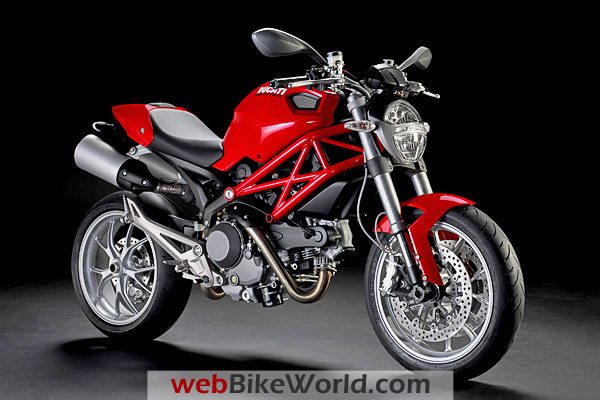 Ducati Monster 1100
The new Monster 1100 design perfectly balances sports performance, riding pleasure and stunning looks. Its seductive line is the product of a Ducati philosophy where form and function combine to create the naked bike par excellence.
Its essential yet painstakingly perfected design is the result of the all-Italian motorcycling tradition of creativity. The new Monster 1100 is the bike for motorcyclists who know exactly what they want and whose lifestyle revolves around their love of riding.
Pure riding pleasure is guaranteed with super-light and agile handling characteristics combined with the exceptional torque of the Desmo engine and the dependable competition-level braking system. The Monster 1100 is more than just a bike, it is an extension of your own personality. The Monster's essential design and unique sound sets it aside from all others.
Chassis – In Search of the Perfect Corner
At just 169kg (373lb), the Monster 1100 is the lightest bike in its class. The exceptional handling, combined with 10.5kgm (75.9lb-ft) of torque from the Ducati Desmo engine, results in a pure, adrenalin-filled ride.
Every single component has been created to satisfy a Ducati rider's needs and provide unrivalled agility and handling. That is why Ducati engineers, designers and testers have aimed for the best possible set-up and the Monster is able to ensure the best handling of all naked bikes.
With a 40mm higher ride-height than the 696, the increased ground clearance of the Monster 1100 enables impressive lean angles, letting you explore the sports side of this new naked bike to the full.
The extremely lightweight aluminum alloy five Y-spoke wheels reduce unsprung weight and improve agility. The 3.50×17 front wheel is fitted with a 120/70ZR tire while the rear 5.50×17 wheel has a 180/55ZR. T he result is lightweight, precise steering that is extremely responsive at all speeds while giving the vehicle exceptional stability.
The steering lock has been improved to a considerable 64 degrees overall by using the extra distance allowed by cleverly shaped air ducts in the fuel tank covers which feed the new ten liter airbox. The sports feel of the bike is further accentuated by the new aluminum tapered handlebars.
Suspension
The 43mm fully adjustable Showa forks and Sachs rising-rate rear suspension unit, with adjustable spring pre-load and return damping, offer sufficient personalization to suit all riding styles and provide that perfect 'feel'.
Using the proven 'cantilever' system, the steeply angled rear unit compresses in a movement non-linear to the rear swingarm radius, thus achieving a progressive action. This enables easy access to the spring pre-load and rebound damping adjuster, while eliminating the weight of the rocker-arm mechanism.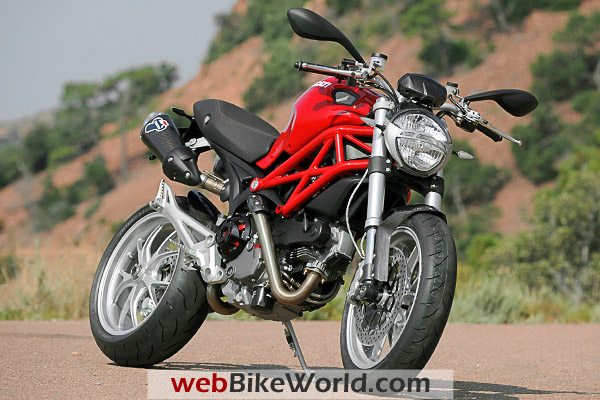 High performance Trellis Frame
The Trellis frame, developed in conjunction with Ducati Corse and using the Desmosedici short frame concept, uses the same tube diameter and thickness as the 1098 R.
The rear subframe is also derived from Desmosedici RR technology using cast aluminum to create a sturdy and yet lightweight structure for rider and passenger. The lightweight Trellis frame not only boasts unequalled rigidity, but its simple and essential lines perfectly link up the aluminum foot peg assemblies and single-sided swingarm in pure Ducati style.
Maximum Control Braking
The power and charisma of the new Monster 1100 can rely upon a best-in-category braking system that provides excellent, precise and controllable braking performance.
The vigorous Brembo system is the direct result of Ducati Corse racing experience, featuring radial pumps with adjustable levers feeding four-piston radial calipers which grip twin 320mm discs. The rear brake uses a 2-piston caliper operating on a 245mm disc.
Single-Sided Swingarm
The beautifully shaped single-sided swingarm gives the Monster a 'tough' look while ensuring higher rigidity, reduced weight and enhanced road holding. The swingarm is chill-cast using aluminum in its most noble form. Gravity cast and heat treated, the component achieves the best mechanical characteristics as well as reduced final weight for improved handling.
Innovation and Style
The Monster 1100 takes its place at the top of Monster family, inheriting and developing the groundbreaking features that took the 696 to the top just weeks after its launch.
The new color schemes have elegant combinations including grey with red frame while the racing gold wheels of the 'S' version accentuate the sports side of the new, naked Ducati.
Headlight:  The triple-parabola headlamp uses the latest optical technology to provide a deep, wide beam which makes riding at night both easier and safer. he highly advanced construction of the assembly provides one of the most compact headlamps available.
Airbox and Fuel Tank:  The use of advanced molding techniques have not only enabled greater fuel capacity but also a larger airbox. The new fuel tank now holds 15 liters (3.8 US gal) while the airbox contains a power-enhancing 10 liters of air.
Mirrors:  The rear view mirrors have been completely redesigned, making them lower, smoother and more aerodynamic while ensuring a clear view to the rear. Their design accentuates the curves and lines of the handlebars and fuel tank.
LED Rear Light:  The minimalist spirit of the Monster and the desire to reduce weight to a minimum were the reasons behind the choice of an LED lighting system for the rear.
Gull-Wing Fork Clamps:  Just like the race-winning Ducatis, the Monster 1100 is fitted with extremely robust fork clamps. Their 'gull-wing' shape design achieves exceptional torsional strength.
Instruments:  The digital instrumentation enables you to keep an eye on your Monster 1100's performance at all times, thanks to the many viewing options offered by the on-board computer.
The display, which is scrollable from the left-hand switch gear, is made even more attractive and easier to read thanks to a new white screen back lighting. Information includes: service reminders, oil temperature, air temperature, speedometer, lap time, fuel reserve warning light, low oil pressure warning light, indicators, over-rev warning light, neutral position and immobilizer. The instrumentation is also ready to accommodate the DDA (Ducati Data Analyser) system.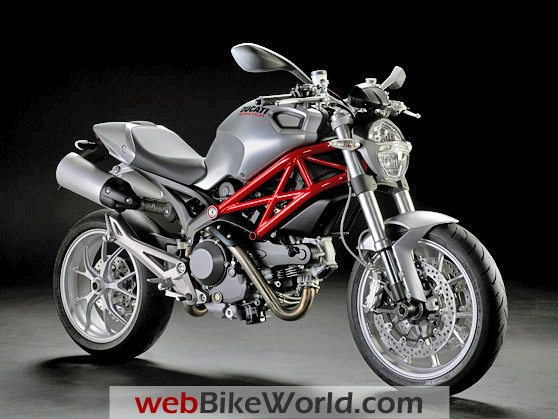 Engine
The Monster 1100 power unit is the legendary 1100cc, air cooled, Dual Spark L-Twin engine whose 95hp gives it that unmistakable Ducati sound.
Developed for an incredibly flexible power delivery, the 1100 Desmodromic engine provides the rider with enough torque to exit the most challenging of corners. The impressive 10.5kgm (75.9lb-ft) of torque, typical of the Ducati L-Twin engines, will excite with every twist of the throttle.
The two-valve engine on the new Monster 1100 features an all-new crankcase which significantly reduces overall engine weight. They are produced using the same innovative Vacural technology that Ducati previously applied only to Supersport models such as the 848.
This method of production relies on vacuum die-casting, which improves the quality of the casting by avoiding porosity, air pockets and oxidation. This enables greater dimensional accuracy and higher ductility for the aluminum alloy.
Ducati designers have drawn upon the benefits of this innovative process, redefining the conformation and thickness of the sides on the new crankcase using finite element simulations (FEM) and tests, which resulted in achieving the required reliability standards as well as attaining a significant weight reduction of 3kg (6.6lb) compared to previous versions of the 1100cc engines.
The new geometry of the crankcase, their black cylinders and the new carbon grey finish on the cam covers give the Monster 1100 engine a brand new look.
To help control the 95hp of powerful twin-cylinder engine, an entirely new engine control system has been adopted based on a combined alfa-n and speed-density strategy for carburetion adjustment.
Used alongside the traditional alfa-n system, the speed-density strategy makes it possible to optimize engine carburetion, in particular when using small throttle openings. This ensures a greater control over the torque delivered and improved control of harmful emissions.
The 1100 engine boasts a 98mm bore and a 71.5mm stroke, delivering 95hp at 7500rpm and an impressive torque of 10.5kgm (79.5lb-ft) at 6000rpm.
The excellent torque and power values of the most advanced air-cooled L-Twin cylinder engine ever designed by Ducati combined with the exceptional light weight of the motorcycle accentuate the riding pleasure and charisma of the new Monster 1100. To underline the sports side of the bike, the new Monster 1100 is fitted with Ducati's very own dry clutch.
Exhaust System
The Monster 1100 has a specially designed exhaust system which features an electronically controlled exhaust valve that enables the use of silencers similar to those of the 696.
The exhaust system on the 1100 has one Lambda probe dedicated to each cylinder, enabling precise fuelling for a smoother power delivery as well as complying with current emission regulations. The routing of the exhaust system enables optimum foot peg positioning.
Ducati Monster 1100 S
The Monster 1100 S is a pure concentrate of lightness, power, design and exclusivity. The 'S' features fully adjustable 43mm titanium nitride coated Öhlins forks and rising rate linkage Öhlins rear shock absorber with adjustable pre-load and return damping.
Front brake disc carriers in aluminum help reduce rotating mass, while carbon fiber cam belt covers, silencer guards and front fender reduce weight by a further 1kg (2.2lb). The distinctive racing gold colored 5-spoke wheels of the Monster 1100 S give it an elegant style and the same sporting look as historical Ducati racing models.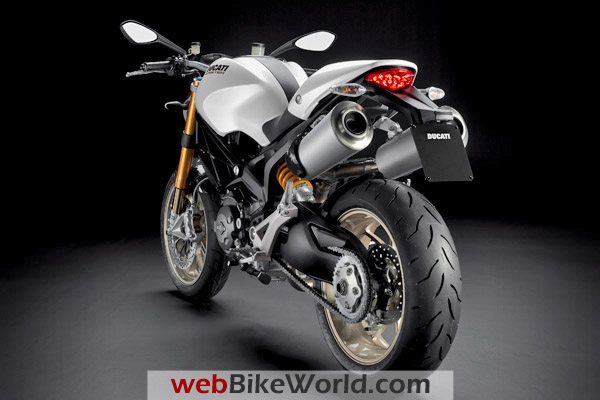 Personalize Your Monster
Customize your own personal object of desire, live the dream and make your Monster a one-off with Ducati's complete range of accessories.
Whether creating a whole new look, improving performance further or simply styling your own Monster, the accessory collection is intended to make your Monster experience even more rewarding. Both versions of the new Monster 1100 already come factory-personalized with removable single seat covers and neat micro-bikini fairings.
From there, interchangeable tank covers offering an easy way to personalize your Monster or carbon fiber and titanium exhausts to enhance the performance and sound of the Desmo engine, you'll find endless ways to make your Monster special.
Performance-hungry owners can choose carbon fiber components to make the Monster even lighter or the Ducati Data Analyzer (DDA) to analyze the performance data of the bike and rider. Alternatively, the extra comfortable touring seats and soft pannier bags for seat and tank are perfect for longer, more relaxed rides.
Color Schemes
| | | | |
| --- | --- | --- | --- |
| Model | Fuel tank | Frame | Wheels |
| 1100 | Red | Red | Silver |
| 1100 | Silver | Red | Silver |
| 1100 | Gloss Black | Matte Black | Silver |
| 1100 S | Red | Red | Racing Gold |
| 1100 S | Pearl White | Matte Black | Racing Gold |
 
DUCATI MONSTER 1100
DUCATI MONSTER 1100 S
Type
L-Twin cylinder, 2 valve per cylinder Desmodromic, air cooled
L-Twin cylinder, 2 valve per cylinder Desmodromic, air cooled
Displacement
1078cc
1078cc
Bore x Stroke 
98×71.5mm / 98×71.5mm
98×71.5mm / 98×71.5mm
Compression Ratio
10.7:1
10.7:1
Power*
95  hp @ 7.500 rpm
95  hp @ 7.500 rpm
Torque*
75,9lb-ft @ 6.000 rpm
75,9lb-ft @ 6.000 rpm
Fuel Injection
Siemens electronic fuel injection, 45mm throttle body
Siemens electronic fuel injection, 45mm throttle body
Exhaust
2 aluminum mufflers
2 aluminum mufflers
Emissions
Euro 3
Euro 3
Gearbox
6-speed
6-speed
Ratio
1st 37/15, 2nd 30/17, 3rd 27/20, 4th 24/22, 5th 23/24, 6th 24/28
1st 37/15, 2nd 30/17, 3rd 27/20, 4th 24/22, 5th 23/24, 6th 24/28
Primary drive
Straight cut gears; Ratio 1.84:1
Straight cut gears; Ratio 1.84:1
Final drive
Chain; Front sprocket 15; Rear sprocket 39
Chain; Front sprocket 15; Rear sprocket 39
Clutch
Dry multiplate with hydraulic control
Dry multiplate with hydraulic control
Chassis
Frame
Tubular steel Trellis frame
Tubular steel Trellis frame
Wheelbase
1450mm / 57.1in
1450mm / 57.1in
Rake
24°
24°
Steering angle
32°
32°
Front suspension
Showa 43mm fully adjustable upside-down forks.
Öhlins 43mm fully adjustable upside-down forks with TiN.
Front wheel travel
130mm / 5.1in
130mm / 5.1in
Front wheel
Y-shaped, 5-spoke in light alloy 3.50 x17
Y-shaped, 5-spoke in light alloy 3.50 x17
Front tire
120/70 ZR17
120/70 ZR17
Rear suspension
Progressive with preload and rebound Sachs adjustable monoshock
Progressive with preload and rebound Öhlins adjustable monoshock
Rear wheel travel
148mm / 5.8in
148mm / 5.8in
Rear wheel
Y-shaped, 5-spoke in light alloy 5.50×17
Y-shaped, 5-spoke in light alloy 5.50×17
Rear tire
180/55 ZR17
180/55 ZR17
Front brake
2 x 320mm discs, 4-piston radial caliper
2 x 320mm discs, 4-piston radial caliper
Rear brake
245mm disc, 2-piston caliper
245mm disc, 2-piston caliper
Fuel tank capacity
15 l (of which 3,5 l reserve) / 3.8 US gal (of which 0.9 US gal reserve)
15 l (of which 3,5 l reserve) / 3.8 US gal (of which 0.9 US gal reserve)
Dry weight**
169 Kg / 373 lbs
168 Kg / 370 lbs
Seat height
810 mm / 31.9in
810 mm / 31.9in
Max height
1149 mm / 46.0in
1149 mm / 46.0in
Max length
2121 mm / 83.5in
2121 mm / 83.5in
Instruments
Digital unit displaying: Speedometer, rev counter, clock, scheduled maintenance warning, oil temperature, trip fuel, air temperature, lap time, warning light for low oil pressure, fuel level, fuel reserve, neutral, turn signals, overrev immobilizer. Ready for DDA system.
Digital unit displaying: Speedometer, rev counter, clock, scheduled maintenance warning, oil temperature, trip fuel, air temperature, lap time, warning light for low oil pressure, fuel level, fuel reserve, neutral, turn signals, overrev immobilizer. Ready for DDA system.
Versions
Biposto / Dual seat
Biposto / Dual seat
*Data calculated using an inertia dynamometer.
** The weight excludes battery, lubricants and coolant for liquid cooled models.
Ducati Monster 1100 Accessories
Complete racing exhaust system kit with carbon silencers:  Complete exhaust system in larger diameter stainless steel with carbon race silencers fitted with removable Db killers. The layout replicates that used with the standard system ensuring maximum flow dynamics and further enhanced by the kit-included ECU with race mapping and a high-efficiency air filter.
Carbon race silencer kit:  Pair of oval race silencers with carbon sleeves and removable Db killers. Their streamlined and aggressive design maintains continuity with the latest Monster styling. The kit comes with a dedicated ECU and high-efficiency air filter, enhancing engine performance as well as your ride.
Homologated silencer kit in titanium:  Made from precious titanium, this pair of homologated silencers reduces weight, enhances the sound and adds to a sophisticated specification. The ECU and high-efficiency air filter supplied in the kit optimizes power output while keeping emissions within the EURO3 requirements (homologation valid for EU member countries).
Cross-mounted aluminum steering damper:  Fully adjustable cross-mounted aluminum steering damper to enhance front-end stability under extreme conditions.
Low seat:  The low seat option reduces seat height by approximately 20mm, ensuring sure-footed confidence when stationary.
Semi-rigid pannier bag kit:  A pair of semi-rigid pannier bags, complete with anti-theft retaining system and made from weather and chemical resistant 'Sky' fabric. Offering a capacity of approximately 14 liters each, they feature a useful carrying handle and a water-resistant protective cap.
1980's tank side-covers:  Personalize your Monster with a pair of customized tank side-covers decorated with 80s graphics.
Top tank covers in carbon fiber:  Top (front) and bottom (rear) tank covers in carbon fiber add a high-tech finish to the Monster's tank centre, creating a seamless panel of pure carbon.
Front fender:  One-piece carbon front fender adds a high-tech finish.
Single seat cover:  Quickly removable single seat cover in carbon fiber adds a sporty look to the rear of the bike.
Rear hugger for single-sided swingarm:  Carbon rear hugger, specifically designed for single-sided swingarm.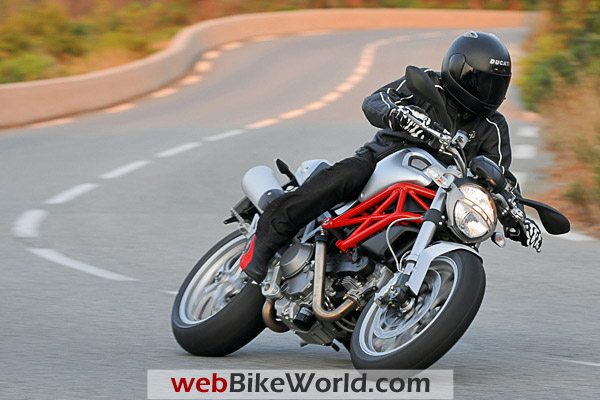 Ducati Monster 1100 and Ducati Nero Leather Jacket
Ducati Monster Clothing
Dress Like a Monster!
With fresh and exclusive styles to suit every mood from racing to leisure, the Ducati apparel collection will look great on or off the new Monsters. The Monster line is modern and bold, it defines a new look and ensures maximum comfort. Essential and highly distinctive, Ducati apparel reflects the same Italian style and values as the new Monster.
Hi-Tech Leather Jacket
The Hi-Tech leather jacket blends the safety of a technical item with the design of a fashionable one. Made in cowhide, this jacket has composite protectors on the shoulders and elbows, a fixed sanitized lining and a removable thermal lining in micro-down that makes this jacket perfect year-round.
The fit is made to accommodate all the needs of a biker thanks to the elasticized fabric inserts on the armholes and adjustable hip fastenings. While safety is key in this jacket, Ducati never forgets style – the black background is contrasted by the white stripes across the chest, back and sleeves where the Ducati logo and the Italian flag are highlighted.
Nero Leather Jacket
After the great success of the '80s items, Ducati is proposing this new Black line for everyone that wants a modern, but classic, look.
The Black jacket has a simple, clean feel with two white stripes along the sleeves and the Ducati logo in the front, on the right sleeve and on the back that stand out on this black jacket (see photo above).
Made of cowhide with CE-approved removable protectors on the shoulders and elbows, a sanitized non-removable lining and fit for the G2 back guard, this jacket is made even more comfortable thanks to the stretch panels on the shoulder blades, the adjustable hip fastening and the zippers along the wrists. Sizes 56, 58, and 60 are cut for a comfortable fit.
Air Fabric Jacket
This cloth jacket, a mix between Cordura and breathable cloth, features a clean, essential design. Two red bands with white highlighting stand out on the black sleeves with the Ducati logo in white on the chest, left sleeve and the back. Made of 100% breathable fabric with rigid elbow and back protections and fitted for a back guard insert, this jacket also features reflective inserts.
Monster Leather Jacket
The key garment of this new Monster line is made of soft leather, enhanced with patches of the distinctive elements of the new motorcycle that characterize this entire clothing line. Both the men's and women's versions have red highlights against the elegant, yet tough, contrasting black and white background.
The men's version is black with white inserts while the women's version is the opposite, white with black inserts. Both garments have three front pockets, wrist zippers and adjustable hip fastenings.
Flag Leather Trousers
These 100% breathable pants are perfect for anyone looking for safety and style in all riding conditions. With CE approved composite protections on the shins and knees and the classic Italian band of red, white, and green across the left knee, these pants are truly something to be noticed. Topped with a jacket-to-pants zipper attachment, these pants were created for all devoted Ducatisti!
Stripies Full-Face Helmet
Aggressive graphics for an aggressive helmet. The Stripes helmet sports a red central band with the colors of the Italian flag on the side. This Arai helmet has an outer fiberglass shell, strong but lightweight with a hybrid multiple density foam EPS liner for the most comfort.
Practicality is guaranteed through the visor, which unhooks by pressing a small lever, and the air conductor intake which allows an efficient inlet of fresh air into the top section of the helmet while the air conductor outlet draws out hot air and moisture from the inside of the helmet.
Other relevant characteristics include the external supports built into the shell that provide improved aerodynamics and a quiet ride, the racing closure with D-ring fastening and a button to secure the strap, and rigid reinforcements at the base and in the area of side vents to guarantee maximum safety.
Monster Open-Face Helmet
This open face helmet is practical and light – perfect for city driving in complete safety. It has a polycarbonate shell with a removable and washable interior, a neck roll with a zipper for multi-seasonal use, top ventilation and a micrometric shield-changing system. The scratch proof polycarbonate visor with CE certification provides perfect resolution.
Motard Leather Gloves
A truly unique style has been used in the development of the Motard gloves with a short fit and a Velcro-adjustable cuff strap.
Available in two different color schemes, red/white/black and black/white/silver, these leather gloves have multistrate, carbon fiber composites for knuckle protection and soft inserts on the knuckles and fingers to ensure the safest driving.
The elastic leather inserts on the back of the hand, reflective inserts, a cowhide palm with abrasion-resistant reinforcements and soft pads to distribute load during breaking complete the many comfort and practical aspects of these gloves.
Monster Sweatshirt
This dynamic hooded sweatshirt with a stamp all over has a comfortable fit in 100% cotton for him and a more feminine fit in elasticized jersey for her. This garment has minimal details with front zippered pockets, red Ducati embroidery on the wrists and the distinctive patches of this line in lurex for the women's version.
Monster Sweater
This zippered cotton sweater comes in a bi-color version for men and a timeless black for women. These two models are both perfect for those that love to wear their passion discretely
Note: For informational use only. All material and photographs are Copyright © webWorld International, LLC – 2000-2013. All rights reserved. See the webBikeWorld® Site Info page. NOTE: Product specifications, features and details may change or differ from our descriptions. Always check before purchasing. Read the Terms and Conditions!