Tapping into the growing number of newcomers, women and returned riders, Ducati Australia has launched free "beginner" training events, called Ducati 101.
It takes new and returned riders through the basics of motorcycling, from picking up a bike to general motorcycle riding tips, servicing and maintenance. It sounds a little like Harley's popular Garage Parties for women.
Ducati Australia says the events allow riders to ask questions "in a comfortable environment, to get to know more about the Ducati world, away from a typical buying situation".
It's a great idea for newcomers, women and returned riders who may feel intimidated or nervous when they walk into a bike dealership.
The courses are being held in Ducati dealerships around Australia and will include a special introduction to their leaner-legal (LAMS) Monster 659 with ABS. Bookings are essential and can be made at participating dealers listed below.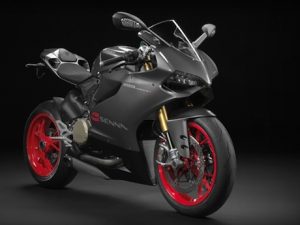 Meanwhile, six-time world champion motorcycle racer Max Biaggi has paid over $50,000 for the first Ducati 1199 Panigale S Senna special edition. Max outbid Formula 1 driver Felipe Massa at a charity auction for the bike which is dedicated to F1 legend Ayrton Senna. The remaining 160 limited-edition bikes will be sold in Brazil with proceeds going to the Senna Foundation's local education projects.
DUCATI 101 EVENTS
NEW SOUTH WALES
North Coast V-Twins, Coffs Harbour, Thursday July 10, 6pm, (02) 6650 4200
Fraser Motorcycles Newcastle, Broadmeadow, Wednesday July 16, 6.45pm, (02) 4935 9800
Fraser Motorcycles Sydney, Concord, Wednesday, July 16, 6.45pm, (02) 8741 3000
Fraser Motorcycles City, East Sydney, Wednesday, July 16, 6.45pm, (02) 8333 7888
Fraser Motorcycles Wollongong, Fairy Meadow, Wednesday, July 16, 6.45pm, (02) 4283 0800
QUEENSLAND
Brisbane Motorcycles, Windsor, Wednesday, July 9, 6pm, (07) 3357 4333
Gold Coast Ducati, Nerang, Thursday, July 17, 6pm,  (07) 5578 2122
Ducati Noosa, Noosaville, Saturday, September 6, 1pm, (07) 5474 4016
SOUTH AUSTRALIA
Italian Motorcycles, Stepney, Thursday, July 24, 6.30pm, (08) 8130 0700
TASMANIA
Sportsrider Motorcycles, Launceston, Friday, August 1, 6pm, (03) 6331 9913
AUSTRALIAN CAPITAL TERRITORY
Canberra Motorcycle Centre, Fyshwick, Wednesday, August 13, 6pm, (02) 6280 4491
NORTHERN TERRITORY
NT Motorcycle Centre, Berrimah, Wednesday, August 13, 6.30pm, (08) 8939 0390
VICTORIA
Ducati City, Melbourne, Wednesday, July 16, 6.45pm, (03) 8341 2900
WESTERN AUSTRALIA
Fraser Motorcycles Perth, Dianella, Wednesday, July 16, 6.45pm, (08) 9370 9000