Ducati GT1000 and SportClassic Fork Guards Image Gallery
I received an email a few weeks ago from Paul Smith (no, not that Paul Smith), letting me know about some GT1000 SportClassic fork guards he had for sale.
Paul makes the fork guards, which will fit the Ducati Sport 1000, Sport 1000 S and the GT1000.
He does not have a website, and other than some very basic ordering information (and a price), I don't have much more information on the product.
Sport Classic Fork Guards
The fork guards are made from aluminum plate that I measure at 1.27 mm (0.05 in) thick.
They appear to have gone through multiple machining processes including cutting, forming, drilling, deburring and/or edge polishing.
The surface is unfinished aluminum, so they could be polished, anodized or painted.
I'm not sure if the small amount of internal fork tube that is left unexposed at the bottom of the "upside-down" forks on the GT1000 really need protection, but mine do seem to get pretty dirty, as you can see in the photo below.
Dirt can ruin the fork seals as the fork moves up and down, and stones or other debris could possibly also harm the fork tube, so protecting them isn't a bad idea.
I like the look of the uncovered upside-down forks on the GT1000, and these fork guards hide the smaller inner fork tube from sight, so it took me a while to get used to the new look with the guards installed, especially from the front, where the forks now look like a single solid tube.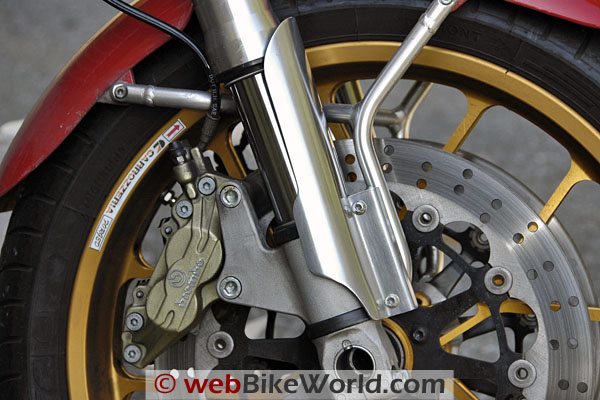 The fork guards are very easy to install. Before you start though, make sure that the forks and the surrounding area are cleaned and degreased.
Then simply remove the two Allen screws that hold the fender to the aluminum fender support on each side, place the fork guard over the top and replace the screws. I used a touch of blue Loctite just to make sure the screws stay put, because it appeared that Ducati used some type of thread locking compound on them at the factory.
The screws do not need to be over-tightened; I didn't bother looking up a torque spec for them, and I'm not sure if there is one, but it didn't take much torque to remove them, so I only tightened them until they bottomed out and then just a touch more.
The fork guards do a good job of protecting the bottom section of fork tube. I may paint the aluminum just for kicks — the paint could easily be removed if I don't like it.
These Ducati SportClassic fork guards are made in Scotland, and they cost £43 including worldwide postage. That's roughly $63.00 USD at current exchange rates.
This may or may not seem expensive, and it all depends upon how you look at it. After all, these are hand-made to order, limited production units. He apparently does not have stock on hand, and I'm not sure how long it takes to make a new pair. He just happened to have this single set when I contacted him.
If you're interested, send Paul the dosh via PayPal or contact him at [email protected]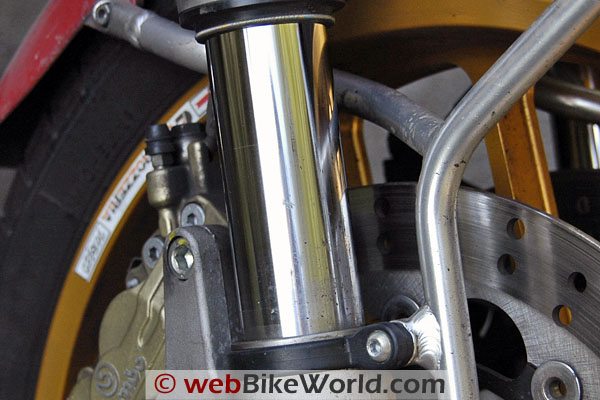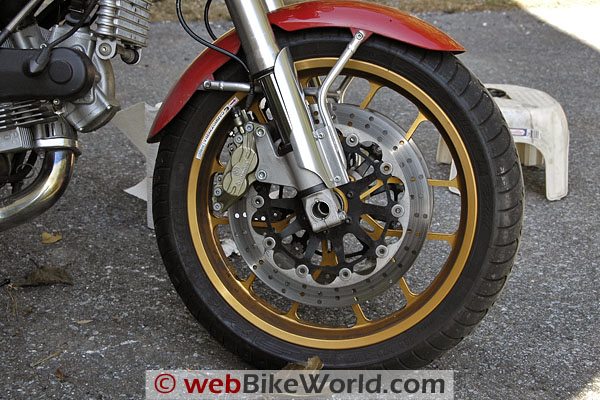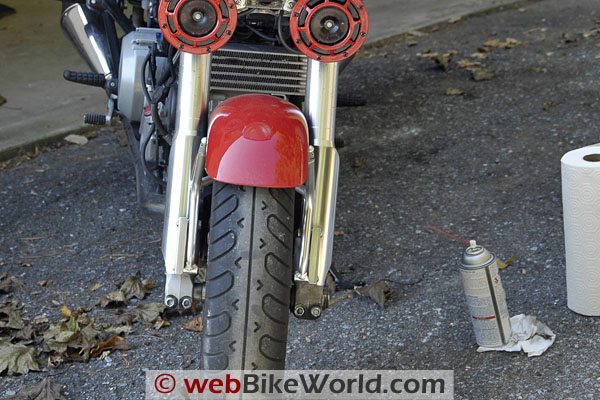 Also from Paul
"Thanks for the write-up on your authoritative site. Your positive comments are much appreciated.
Just for future reference, I have designed a set for the Paul Smart (Paul Smith fork protectors for the Paul Smart!).
The new design does not obliterate the prestigious Öhlins sticker at the foot of the fork leg and show a little more of the fork leg (than the GT1000 fork protectors).
For that reason I think they look better from the front, too, but I suppose that's subjective (and I'm biased, of course!)."
Update on Paul Smith and Custom Ducati
March 29, 2009 – "Since you featured my Paul Smith Fork Protectors I have been inundated with requests from Sport Classic lovers seeking to buy a set. As a result, I decided to set up a more professional operation.
I have just launched CustomDucati, a website featuring SportClassic steering dampers, oil cooler screens and more.
I have also redesigned the fork guards, which fit all the bikes in the Sport Classic range (you will recall the last model allowed a full view of the Öhlins stickers on the Paul Smart LE).
I am also about to launch a Paul Smith Oil Cooler/Radiator guard that will fit the Sport Classics, many Monsters, and the Hypermotard. Both products are featured on my site.
The latest design of fork protectors is machine-made and, as a result, can be offered at the highly competitive price of £38 plus £5 post and packing. Fits in seconds, protects for years."
w

BW

 Review: Ducati SportClassic Fork Guards
Manufacturer: CustomDucati (As of October 2013, company is apparently no longer in business).
List Price: £43
Colors: Untreated aluminum.
Made In: Scotland
Review Date: November 2008
Note:
 For informational use only. All material and photographs are Copyright © webWorld International, LLC since 2000. All rights reserved. See the webBikeWorld® 
Site Info page
. Product specifications, features and details may change or differ from our descriptions. Always check before purchasing. Read the
Terms and Conditions
!
Owner Comments and Feedback
---
From Michele in Italy (02/09): "It's Michele from Italy. Finally, I have purchased and fitted a pair of the Paul Smith's fork guards, and I am very satisfied of it. They look very well on my red GT, and they have employed only a week to arrive here in Italy. The price is good, if you consider that they are handicraft. Good purchase!!  I suggest to GT1000 and Sport 1000 owners. All the best from Bologna (Italy)."