Ducati GT1000 Review Summary
Our Triumph Tiger served its purpose during the last 18 months or so as the webBikeWorld "hack" bike.
It was time to look for something different.
Burn usually has 6-8 motorcycles in his garage at any given time, but there always seems to be more parts on the floor than between two tires, which means only one or two are actually available for use during our evaluations.
So what to buy?  I'm usually on the lookout for a bargain on a "sleeper" — great bikes that for some reason never became popular, like the pre-'99 Tiger "Steamer".
These are the motorcycles that fall outside the top choice in the print magazine "road tests" — you know, the bikes that the scribes usually discount because they don't make 150bhp, weigh 300 lbs. and have World Superbike qualifying times right out of the box.
Nothing wrong with buying used, but I thought it was high time for a showroom-new motorcycle for a change.
The last brand-new bike I owned was — I'm embarrassed to admit — a Honda Ascot VT500. That was way back in the early 1980's. Damn the depreciation, I wanted new!
But what would it be?  There are so many nice motorcycles out there, but my graduate degree in the College of Hard Knocks has taught me that even though motorcycling is much about emotion and "the look", practicality is enduring. And after all, the choice would have to be something of a workhorse that we can use for evaluating all sorts of clothing and gear.
So I went through a bunch of them in my mind — Yamaha FJR1300?  No, too big and I'm tired of ripping apart a fairing every time I want to do some minor repair. Triumph Sprint ST?  Nice and seriously considered, but it still has a fairing and the local Triumph dealer bit me once too many times.
How about something really wild, like a Moto Guzzi Griso?  Now there's a bike you don't see every day. But two of the dealers I called gave me the brush-off; they wanted to clear out their inventory of existing Guzzis before taking any new orders. One of these days, I'm going to own a Goose though…
The search is sometimes more fun than the actual purchase, and my ramblings brought me to the local BMW dealer. I sat on a new R1200S but immediately decided the riding position wasn't for me. An R1200GS sitting nearby was too tall for my 30″ inseam and I didn't like the massive view from the seat. Also, modern BMW styling flatlines my passion meter.
But upstairs, in the Ducati "department", right next to an autographed Paul Smart 1000, sat a brand-new GT1000. This one was painted in the gray-green metallic color that's just a bit too retro for my taste. But it spoke to me — it hits all my '60's sensibilities, yet it has some nice, modern accoutrements, like the fat 180-series rear tire, the upside-down forks the fuel injection and the classic-but-modern instruments.
No fairing, exposed engine and nice and basic. I sat on it, looked at it, touched it and sat on it again. Then I ordered one in Ducati red.
The GT1000: First Impressions
I picked it up today and rode the heck out of it, took some photos and rushed in to jot down my initial impressions. I'll certainly be bringing you lots more on this bike and we also ordered a set of the Ducati saddlebags and the windscreen that are both designed for the GT1000 and we'll report back with an installation article when they arrive.  That is, if we still own the bike when they arrive — the dealer informed me that the bags and 'screen are backordered at the factory.
The GT1000 seems tiny, especially after stepping off the Tiger. The riding position is very reminiscent of the Triumph Thunderbird Sport we had kicking around here before the Tiger. The GT rider is leaned out over the handlebars, which seem just a touch too low and angled too far out. I'll have to see if I get used to it or not but they should be fixable if necessary.
The seat is taller than it looks, and I have to tiptoe a bit at stoplights. This is surprising, because the bike seems so small otherwise. Maybe the height is a result of that vertical cylinder sitting right under the crown jewels?
The GT1000 starts right up — no manual petcock and no choke — and it has the craziest loping idle I've ever heard. All I can think of is an alien biomechanical creature breathing away, with a weird whining-ray-gun sound that seems to proceed the firing of each cylinder, which explodes with a deep, thumping boom. Magnifico!  You can feel each and every pulse of those 495cc pistons as they jump up and down. And guess what?  There's no clutch rattle!
I turned on the recorder and fired up the bike and let it run for a few seconds; here's the resulting .mp3 file (Quicktime format) for your listening pleasure. The microphones were about 6 feet away from the GT's tail and if you have a decent stereo system you should be able to hear the deep bass loping sound from the Ducati V-twin.
Initial press reports spoke of a reduced clutch pull at the lever, but if the GT1000's is reduced, I'd hate to try full strength. Ducati riders must have biceps like tree stumps. At least the clutch and the front brake levers are adjustable. Setting #4 puts the clutch engagement too close to the grip; #3 is much better.
Just for kicks, I broke out the scale and measured the GT1000's clutch pull at 26 lbs. vs. 20 lbs. for the Tiger. I had guessed about 20% more and that guess is about right.
The engine has gobs torque and power that comes in rapid fire whee-ta-whee-ta-whee-ta bursts from those two big jugs. The power pulses make it a bit difficult to pull smoothly away from a stop or to round a slow speed turn — the power feels like it's on/off, on/off every time a cylinder goes off and when it does, the bike wants to jump forward. Give it just a tiny bit of gas in a slow speed corner and it jumps ahead if the gear is too low and bucks like a bronco if it's a gear too high.
But this is what gives the bike character with a capital "C". I love it!  You definitely, absolutely know that there's an engine under there with a living, breathing soul, just waiting to be let loose. Now I know why people love Ducatis.
The other big surprise to me is the stiffness of the forks. I'm in disagreement with other reviewers on this one; a couple of them have claimed that the bike's suspension is too soft. Maybe too soft compared to Nicky Hayden's Honda, but surely not for American streets (Note: this problem has been partially resolved; I discovered that the dealer had pumped up the tires to 36 PSI. When I reduced the pressure to the recommended 32 PSI, the suspension went from stiff to firm).
The forks seem very stiff and when combined with the low bars, it's sometimes hard to keep the sensitive throttle steady through a bumpy corner due to the torque and on/off fuel injection response. The rear shocks, however, were panned in the print press as too wimpy. My feeling is that they're perfect for my 190 lb. body; the rear end seems so smoothly controlled over the same bumps that rattle the front.
Other impressions?  The GT1000 seems over-geared for U.S. roads. It's only turning 3,750 RPM at 70 MPH in 6th gear and 4,000 RPM at 70 MPH in 5th. I have drop down about two gears to accelerate.  The cure?  Up the rear sprocket by a couple or three teeth.
The flip side of the higher gearing is a very relaxed cruising pace. The engine is always noticeable, but the bike barely feels like it's turning over when the speedo reads 50, 60, 70… It's a great feeling but highly dangerous to one's license.
The retro gauges are nice, but aimed slightly too low; they would probably be perfect if the rider was piloting the bike from the passenger seat. The position is fixed though, so there's no solving this problem. The speedo goes up to 160 MPH, which borders on ridiculous and which means the individual hash marks are too close together for easy reading.
The seat feels comfortable and I feel like I'm definitely sitting in the bike rather than on it. But after a while, the slope of the seat pushes me into the fuel tank and I feel myself sliding forward at stop signs. The low forward handlebars don't help. But overall, the seat isn't bad.
Note: wBW visitor "T.W." recommends an ancient product called Dubbin (Dubbin info) to prevent sliding on motorcycle seats. He writes "…I was reading the GT1000 blog and noticed you said your seat was slippery. I don't know if this will work for you but on my '06 Honda spirit I use Dubbin leather treatment on the seat. After it's on I stick like glue to the seat. Well maybe not like glue but I sure as hell don't slide around".
I had to struggle with the insurance company to get a proof of insurance sent to the dealer and after all was said and done, I realized I forgot to actually ask how much it would cost to insure the bike. When I arrived at the dealer to take delivery, I glanced at the insurance information and discovered that they're charging me a whopping $870.00 per year for the GT1000!
This compares to the insurance cost for the 1986 BMW R65 at $105.00 and the 1998 Triumph Tiger at $110.00 per year. I'm wondering if perhaps they see the word "Ducati" and the price skyrockets?  Needless to say, I'll be shopping for a new carrier when the policy expires and I'll report back on my findings.
Here are some quick photos, unfortunately a bit too quick and my apologies for the quality. For more information, check out my "GT 1000 Blog", where I will post my thoughts as I get to know the new ride…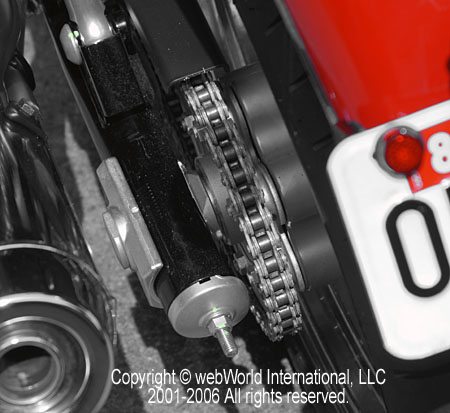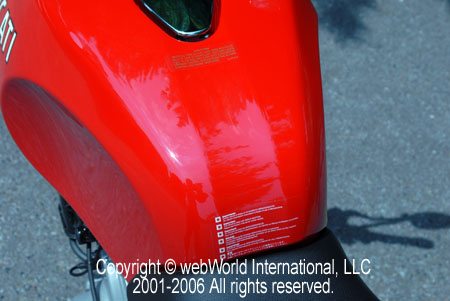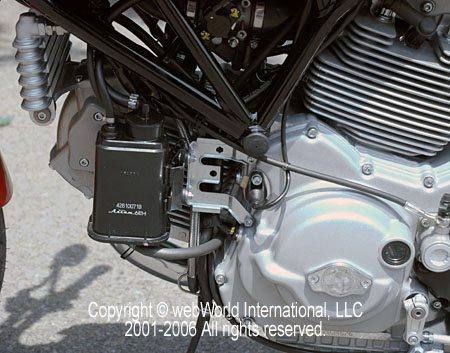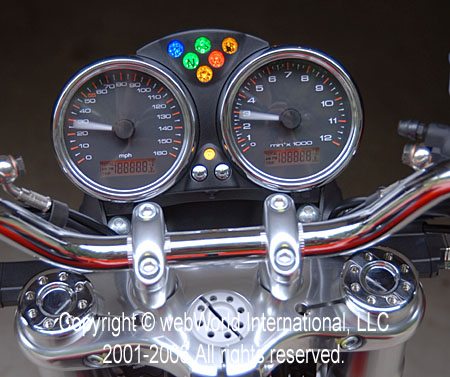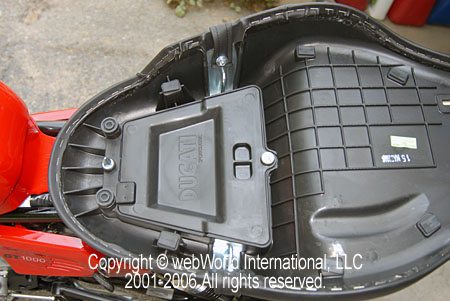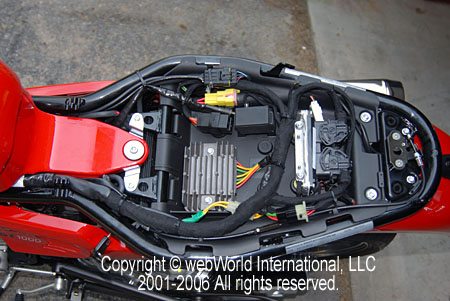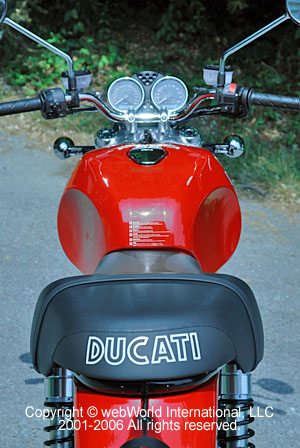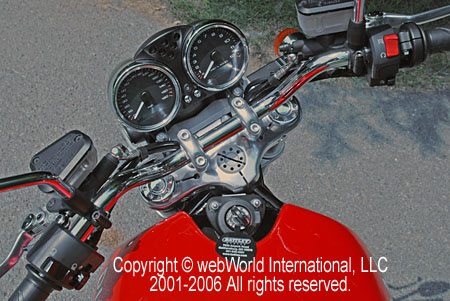 ---
From "R.P." (03/11):  "Thanks for putting together an attractive and comprehensive site dedicated to the GT1000. I bought my bike with 8000 miles on the clock. Originally it was the grey model but an earlier owner decided it should be in black. I'm glad about that and have added the white tank stripe to really set it off.
The bike came with Paul Smart Replica mirrors which were useless. I replaced them with new mirrors meant for a Kawasaki Zephyr. They are very similar to the stock mirrors but have a chunkier look.
My bike also has the factory leather bags which make the back of the bike look neater. I fitted a hugger from a 900ss which I cut to fit. It was easy to install and there are two screw holes in the swinging arm to secure the front. I used a broad plastic cable to clamp the hugger's side mounting to the swing arm proper.
I did not like the look of the stock handlebars. They reminded me of an old BSA twin and seemed unsuited to a Ducati. I bought some "M" bars which are not too low but give the bike a sporty look. They are comfortable too.
I bought the Ducati touring screen. It is not difficult to install but requires longer bolts for the clamps. The screen is hopeless with the stock bars. The wind whistles over the top of the screen and at anything over 80mph the wind pressure pushes on the screen and then the handlebars.
You end up fighting the steering or slowing down. What is the point of a screen that lets you down at exactly the speed when you need wind protection? With the "M" bars the whistling has gone but the screen still messes up the steering unless you crawl along. So it's a waste of money and I'll be selling mine. Fortunately I got it cheap on ebay otherwise I would be upset.
Over the winter the bike got little use and when I last took it out it would not run cleanly at low revs or tick over. So it is going into the Ducati shop for a tune up. Corrosion is a bit of a problem and the fork tops with the little holes are flaking. One day I'll just polish them. They are aluminium so there is no point in chroming them.
I have had five previous Ducatis and they have all been reliable. My last was a Multistrada which was a much better handling bike. The GT1000 seems more a lump by comparison. I am going to try and stick with the GT long term but I wish it handled better than it does."
---
From "TJ":  "I've been going over your information on the GT 1000 and found some very helpful and interesting ideas to help improve the ride and performance of my Ducati GT 1000.
I bought my GT 1000 last July and so far I put over 1600 miles on the bike. I am 6-1 about 210lbs and this is my first Ducati and 3rd motorcycle.
I always wanted a Ducati, it looks like a work of art with the beautiful lines and that low roar from the the exhaust, but when stock, sounds like a baby kitten. I'm finding on long rides that the bike beats me up with it's low handlebars and not so comfortable seat and my philosophy on trying to keep the bike as stock as possible was fading away.
So I broke down and purchased the comfort seat and comfort bars from Ducati and what a difference. Being tall with long legs on this bike did not help but with the bars being up just a few inches, it makes all the difference in the world to me. The bike now feels that I can go on longer rides The seat is more comfortable and it feels it has a grip when you accelerate off the line or going around tight turns.
I had the dealer install the bars because of the lines that had to be replaced and rerouted to the higher bars, which by the way comes with the kit.
I rode the bike up to Angeles Crest Highway just last week with my friend and had a great time for the first time with it!
The other thing I wanted to do was turn my baby kitten of an exhaust into the classic Ducati sound that I fell in love with and the answer for me was easy and that was with the Termi exhaust designed for the GT 1000, baffles removed of course.
The cost of the exhaust pipes hurt pocket book but what a difference!  Beside getting that awesome Ducati sound, the response of power is incredible. Every time I accelerate off the line hard. the front in feel like it comes off the ground, WOW!  Have to wear ear plugs now!!
The next thing I am looking for in the future is a suspension upgrade so I will be checking back for articles about this next endeavor for my Duc."
---
From "E.O.":  "Great site, very informative and I keep coming back for continuing updates. I had a question/concern re: the GT1000 fuel line issue. I have had my GT since July 22, I have nearly 2800 miles, and have not had any issues with fuel cut-out. Can I assume that I am in the clear, or could it just be a matter of time?  Are there any serial number identification/build date information, that the factory can assure us will not be affected by this type of failure?
Also, I had read somewhere that the factory offered three (3) sizes of handlebars, but so far, have not seen anything listed on the parts pages from Ducati. Does anyone know if in fact I can obtain higher bars, and if so, will the stock lines continue to fit or will I have to change them all out?  I'm nearly 60 and my wrists are not up to to much lean(ing) over. About 250 miles, maybe 300, and I'm done for the day. Otherwise, I could just keep riding and riding.
One last question on the suspension – any recommendations for replacement rear shocks or fork springs? Brand, model number, spring info if relevant, fork oil preference, etc."
Editor's Reply:  I'm really not sure about the fuel line issue, I have not been able to get a confirmation from Ducati on the problem, nor have I been able to get a list of the affected VINs. I plan on removing the tank and documenting the procedure to see what's up, I figure that's the only way I'll be sure that I either have the problem or that it has been fixed.
I don't know about the different height handlebars either, but I would assume that the handlebars don't have to come from Ducati, there may be others that would work. I wouldn't be surprised if someone comes out with handlebar risers also. I know what you mean about the wrists, I find that I have to lock my thighs on to the fuel tank to take the weight off my arms. Putting too much weight on the hands and handlebars can affect the handling and cause headshake also.
Don't know anything about shocks either, but I'd imagine that given the weight of the bike and rider and the length of the shock that it should be fairly easy to find a replacement set?
If anyone has more information to help E.O., please send it to me.
Follow-up from "E.O.":  "The rear shocks are OK with one click on the pre-load. Two clicks are too much (too firm), even riding two up. No pre-load, and it pogo's too much over small road irregularities. I'd still like to have a more adjustable rear shock set-up. I'll be interested to hear what others do.
I'm averaging 52 MPG. Had a high of 58, and a low of 48, but generally consistent at just over 50. Trying to get to 3,000 miles by Sunday. Not too bad for only riding weekends since I bought it July 22.
First gear is a trick on this one. I get anxiety every time I begin a new ride. Cold, and I'm a-jitter with any movement while in first, and it is a bit difficult to engage neutral, too. As it warms up, the clutch seems much easier to find the engagement points, and I've had good success with short radius U-turns after it is warmed up. Definitely not a learner's bike.
In motion, as long as the revs are kept over 4k, the engine is pretty smooth in acceleration mode. I can cruise very smoothly at a steady 3200 rpm and also at 3800 rpm, as long as I don't need to accelerate from those spots. If I do need to accelerate, I have to drop to 3rd or 4th, depending on whether I was in 5th or 6th, or it feels like a paint shaker.
Looking forward to either higher bars or barbacks. Then I can just add gas and keep going and going and going.
The Ducati tenor sings to me beautifully between 4k and 6.5k. This is my first Ducati, and I'm a believer. What a bike."
---
From "R.E.":  "Found your blog yesterday just wandering thru the internet. I've found it incredibly helpful. Bought my GT 1000 three weeks ago and had the same issues with the gearing and throttle. I was worried that it was just me. My other bike is a 20 year old Harley FXRS so this thing has taken some getting use to — but I love it. Got the panniers which look wonderful but seem a bit flimsy for 600 bucks. Also have the wind shield and pipes on order.
After riding for a week I experienced the fuel line, fuel pump failure. Thank God I had just gotten off the freeway. I called the dealer from the road and they immediately knew what it was. Told me it had happened to another GT they'd sold. Asked why it hadn't occurred to them to check mine out before I rode off with it, I got a "Yeah, sorry".
This and a number of other things have left me less than thrilled with Ducati of Beverly Hills. Thoroughly unhelpful in every way. Having a business add "Beverly Hills" to their name when they're not actually in Beverly Hills should have been enough to tip me off. I've been told that Pro Italia is the place to go in the LA area. I've ordered my accessories from them and will go there for my 600 mile (service). (Note: see below for response from Ducati of Beverly Hills)
I'm down working in … Mexico for a couple of weeks and all I think about is getting back home to the GT. Looking forward to taking off the emission canister and getting out on a long windy road.
Ducati's are completely new to me so it's wonderful to be able to watch someone who knows what they're doing. Hope you're able to keep the blog going for a few thousand miles."
Beverly Hills Ducati replies: "First off I just want to say that you have a very nice website. As I was reading through the Ducati GT section I was upset to see my dealership slandered on a site that is otherwise so wonderfully informational. I know exactly who the gent is who posted so unfavorably about us because we had exactly 2 GTs that left the dealership before we contacted Ducati about the issue and were informed that the hose clamps in the tank needed to be replaced (they were too loose from the factory).
The first example had occurred that very morning on a new bike and we were just lucky that it happened to our service manager on a test ride. Anyway, its always upsetting to hear something negative from a customer thru the internet. Especially when you work so hard to keep customers happy (this bike was towed here and we had rectified the issue within 30 minutes)."
Note:
 For informational use only. All material and photographs are Copyright © webWorld International, LLC since 2000. All rights reserved. See the webBikeWorld® 
Site Info page
. Product specifications, features and details may change or differ from our descriptions. Always check before purchasing. Read the
Terms and Conditions
!