Ducati will unveil a flagship Scrambler 1100 at the EICMA show in Milan tomorrow morning (November 6, 2017) along with four other new models.
Spy photos from Inmoto (above) emerged last year of a big Scrambler being tested in Europe and many thought it would be a 1200cc model.
However, American Asphalt & Rubber is now reporting it could be powered by a resurrected air-cooled two-valve 1078cc L-twin.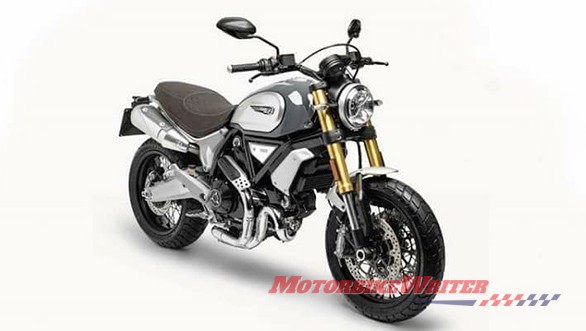 A big-capacity Scrambler would make sense to take advantage of those who like the style but want to graduate to something more powerful.
Flagship Scrambler
Now more photos of the 1100 Scrambler have been released.
The most notable differences are an instrument pod with a screen that juts out of the round dial, twin high-mount exhausts and dual front discs. It now actually looks slightly more Monster.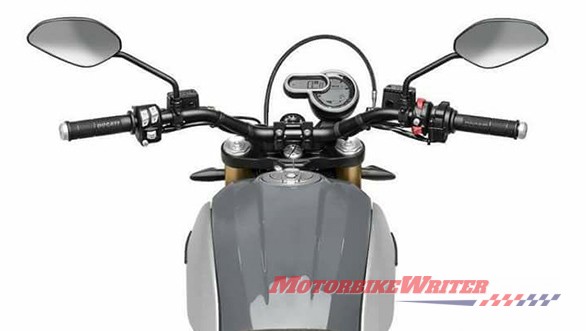 It also appears to have a slightly more substantial rear end for carrying some luggage as there are luggage frames visible.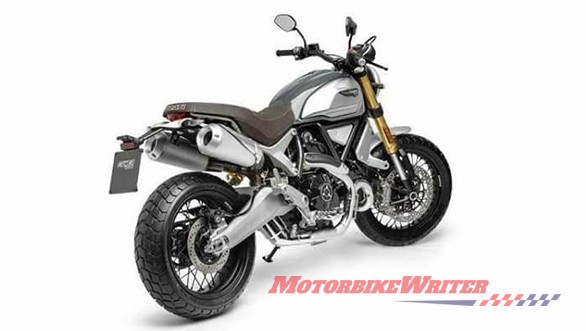 A flagship Scrambler would bring the model range to eight. There are six 800cc variants — Icon (Ducati Red) $12,990; Icon ('62 Yellow) $13,140; Urban Enduro $14,990; Classic $14,990; Full Throttle $14,990; Flat Track Pro ($16,990) — and the 400cc learner-approved Sixty2 ($11,990).
Ducati is no longer the sports bike company. The retro Scrambler quickly became the Italian brand's top-selling family, leaping over the Multistrada.
Five new Ducatis
Speaking of which, the other new models to be unveiled are expected to include a 1260 Multistrada. It would be powered by the XDiavel's Testastretta DVT 1262 engine.
It will come as the Multistrada 1260, Multistrada 1260 S and Multistrada 1260 Pikes Peak. The 2018 Multistrada Enduro and Enduro Pro will continue to use the 1198cc engine.
We know the flagship sportsbike, the V4 Panigale, will be their highlight new model.
Then there is the recently announced Monster 821. It features a new TFT colour LCD dash with gear position and fuel indicators, a new muffler like on the Monster 1200R and new LED headlights.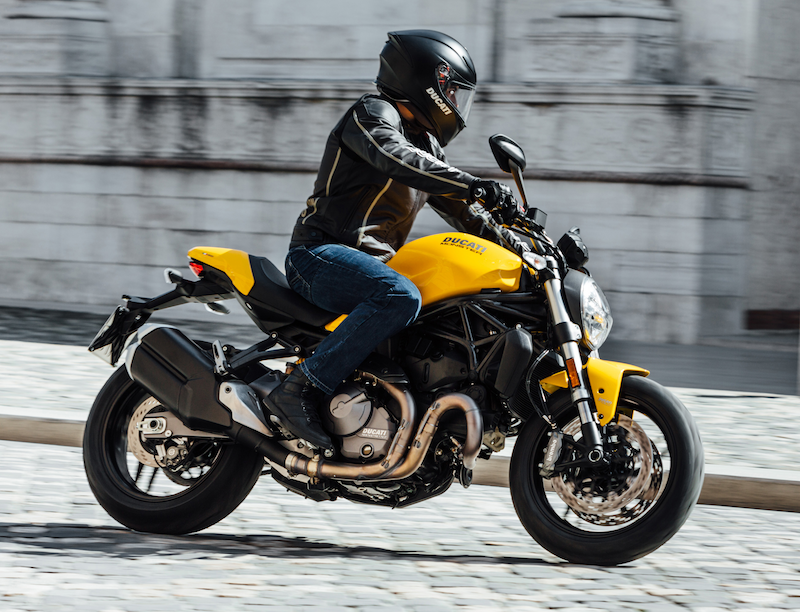 As for the fifth new model, there are lots of rumours, but it may just be a limited edition race-livery model.