Ducati Announces the 848 Superbike!
The Ducati Superbike family for 2008 features two important changes: the introduction of the light and nimble 848 and for all those who demand the maximum performance, the 1098 R that will take part in the 2008 World Superbike Championship.
The priority in every step of the new Ducati Superbike development has been performance first.  Every system, every detail and every component has been studied, pared down to its essence and performance increased to the maximum.
Ducati says that "If it didn't make the Superbike lighter, faster or deliver quicker lap times, it wasn't considered".  The 848 and 1098 are the lightest, fastest stopping, quickest Ducati Superbikes in history.  For the first time Ducati MotoGP and World Superbike technology have been combined to create premier sport bikes.  The results are stunning.
The look and stance of the 848 and 1098 were designed by the combination of race track technology, track-derived components and Ducati heritage.  Their striking aerodynamic shape naturally embraces a riding position, configured by our racers and test riders for optimum speed and agility.
The new Ducati Superbikes immediately strike you with their purposeful, no-nonsense attitude.  Performance is first and foremost in every detail.  Trademark Ducati features like the high tail section and compact front-end meld with twin under-seat silencers and single-sided swingarm to express aerodynamics and agility.
Add the new Testastretta Evoluzione engine at the heart of the machines and you get all-out performance Ducati Superbikes that seem to be moving fast, even when at rest.
A number of "firsts" for Ducati and production sport bike design have also been introduced.  The 848 and 1098 are the first to have a data acquisition system integrated as standard equipment and the first to use an ingenious construction method for their weight-saving single-sided swingarm.
More "firsts" for a road-going Ducati include the direct application of MotoGP technology, like the power producing GP6-derived elliptical throttle bodies and the use of the information-rich instrumentation originally developed for the Desmosedici GP7.  Furthermore, the 1098 is the first production motorcycle to have the amazing stopping power of Brembo Monobloc brakes.
The Ducati 848 is as agile and light as a Supersport yet as powerful as a Superbike.  The new 848 enjoys all the performance advancements of the entire Superbike family, while adding its own innovations to redefine the middleweight sport bike class.
The words "agile" and "refined" aptly describe the 848.  At 168 kg (369 lbs) the 848 is an amazing 20 kg (44 lbs) lighter than its predecessor, and a significant 5 kg (11 lbs) lighter than its larger capacity brother, the 1098.
The highly advanced 848 engine uses an improved method of engine case production in which cases are vacuum die-cast formed.  While providing significant weight savings of more than 3 kg (6.5 lbs), this method also ensures consistent wall thickness and increased strength.
Further refinements include a sophisticated wet clutch that offers 1 kg (2.2 lbs) less weight, a much higher service life, improved clutch feel and quiet operation.  With the first twist of the wrist, the powerful rush of the Testastretta Evoluzione engine confirms that the rules have changed.  The 848's 134 hp is not only 30% more powerful than its predecessor, but it provides a power-to-weight ratio even better than the potent 999.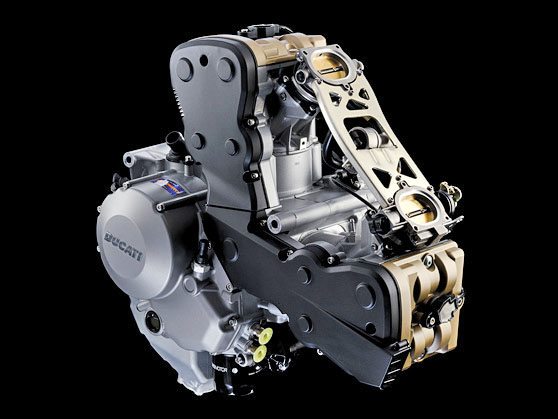 Ducati 848 Engine
The new 848 Testastretta Evoluzione engine becomes the benchmark for the middleweight sportbike category, benefiting from all the experience accumulated with the larger engine on the 1098.
It successfully adopts the same design guidelines and the same compact cylinder and cylinder head layout, but introduces for the first time ever an innovative solution for the crankcase, which has been designed with a further weight reduction for this advanced engine in mind.  The overall layout of this engine integrates a series of avant-guard solutions, confirming the close links with the experience of Ducati's racing department.
The 849 cc engine has bore and stroke values of 94 mm and 61.2 mm respectively, which produce a ratio that is only slightly inferior to the 1098 (1.54 compared with 1.61), while maintaining the highly "over-square" layout typical of racing engines.
Power output is an impressive 134 hp (98.5 kW) at 10,000 rpm and maximum torque is 9.8 kgm (96 Nm) at 8250 rpm.  The power and torque values confirm the high performance level of this engine, especially when compared to its predecessor, the Testastretta-engined 749.
The cylinder head has been modified in line with the characteristic bore and stroke of the engine in order to optimize the fluid dynamics of the intake (straight and plunging) and exhaust ducts and combustion chamber.  The compression ratio is 12:1.
The valve angle is the same as the 1098 engine and diameter is 39.5 mm for the inlet valve and 32 mm for the exhaust.  The technology used sees the application of a bi-metallic alloy that combines increased lightness with resistance and reliability required for these particular components.
The Desmodromic control system has also been designed with the weight and the inertia of the new components in mind, allowing extremely efficient valve lift during intake and exhaust phases.  The excellent results achieved are confirmed by the engine's power figures, producing outstanding performance thanks also to the use of MotoGP-derived elliptical throttle bodies, which have been fitted to the 1098 engine.
The design of a dedicated elliptical throttle body for the 848 demonstrates the attention that Borgo Panigale engineers have devoted to the development of the Superbike range.  The cross-section is reduced from the 60 sq. mm of the 1098 to 56 sq. mm so as to optimize fluid dynamics at every engine speed.  Just like on the 1098, the new cylinder heads benefit from fewer components and include magnesium covers.
For the first time ever, this Testastretta Evoluzione engine sees the introduction of a special technology for the construction of the engine crankcase: Vacural casting.
This is a forced vacuum die casting method that allows jet characteristics to be improved thanks to the absence of porosity, gas inclusion and oxidation.  This allows extremely high measurement precision and greater ductility for aluminum alloy.
Designers have been able to harness the benefits of this innovative process by redefining the shape and the wall thickness of the new crankcase by means of FEA (Finite Element Analysis) checks, which allowed the required reliability standards to be achieved, while simultaneously obtaining a significant weight saving of 3.5 kg.
The 848 engine is fitted with a silent modular wet clutch, characterized by an exceptional resistance to wear that will lead to superior duration.  This solution makes a useful contribution to weight saving, estimated to be around 1.6 kg, which is also due to the use of a different type of clutch cover.
The high power figures achieved by this engine also come from the use of the same type of oil cooler and coolant radiator as the 1098's engine, with an increased surface area assisted by lightweight, high flow electric fan assemblies.
Finally, the 848's exhaust system follows the same layout and uses the same innovative technology as the 1098.  The system terminates with Ducati's trademark twin under-seat silencers, delivering the unmistakable signature sound of the big bore 90° L-Twin.
This power unit, just like all the other Ducati engines, has been designed to comply with Euro 3 exhaust emission norms.
Chassis
Trellis frame:  Developed in cooperation with Ducati Corse, the 848 Trellis frame has a simplified tube layout featuring main section tubes increased in diameter from 28 mm to 34 mm, while being reduced in thickness from 2 mm to 1.5 mm.  The result is a 14% increase in rigidity and a weight saving of 1.5 kg (3.3 lbs).
Single-sided swingarm:  The 848, as all the Superbike family, is equipped with a unique single-sided swingarm.  The engineers were encouraged to re-think the construction technique of this element.  The solution was to produce the main operational components using individual aluminum castings so as to ensure strength around the pivot points, wheel hub and suspension links, with fabricated aluminum sections used to complete the construction into a single, beautifully engineered component.
Rear suspension:  Highlighting the way in which individual components are influenced by each other, the new lightweight Trellis frame and single-sided swingarm have enabled a more compact and further weight-saving rear suspension linkage system to be used featuring separate lower pick-up points for the push-rod and suspension unit.  This "tandem" design effectively reduces stress around the linkage pick-up area of the Trellis frame. Working together with this highly efficient linkage is a fully adjustable Showa single shock for the 848, the same as the 1098.
Front suspension:  At the front the new 848 is equipped with fully adjustable 43mm Showa forks with radial mounts.  This type of front suspension is professionally track-tuned and offers superior road holding, delivers superior feedback, and helps every rider to be more confident and in control.
Brakes
Brembo Monobloc calipers:  The 848 brake system is characterized by M4 calipers using four 32 mm pistons and two radial mounted pads.  Matched to the calipers are two 320mm discs and the combination of these elements achieves spectacular braking power.
Wheels
Super lightweight wheels:  The new 848 also benefits from lightweight Marchesini Y-shaped spoke wheels.  The weight saving of 250 grams achieved on the front wheel substantially reduces the moment of inertia and enhances the 848's change of direction and braking performance.  The rear wheel is just as impressive with a complete redesign for its single-sided swingarm application that has resulted in a reduction of over 1 kg compared with traditional Ducati single-sided swingarm fitments.  Finally a 5.50" wheel fitted with a 180/55 tire guarantees the maximum agility at the rear.
Colors
| | | | |
| --- | --- | --- | --- |
| Bike | Fairing | Frame | Wheels |
| 848 | Red | Red | Black |
| 848 | Pearl white | Racing Grey | Black |
| 1098 | Yellow | Racing Grey | Black |
| 1098 S | Red | Red | Black |
| 1098 R | Red | Red | Racing Gold |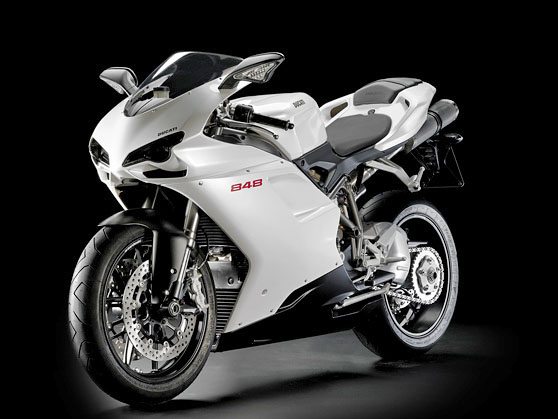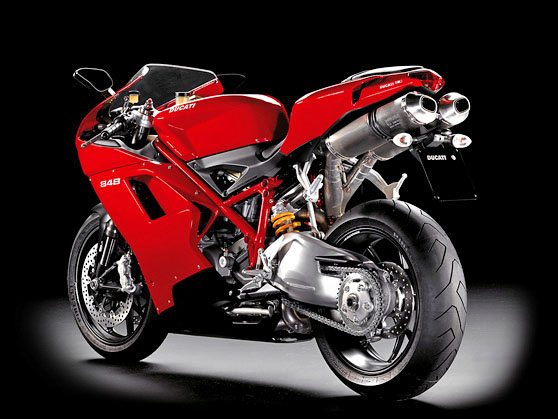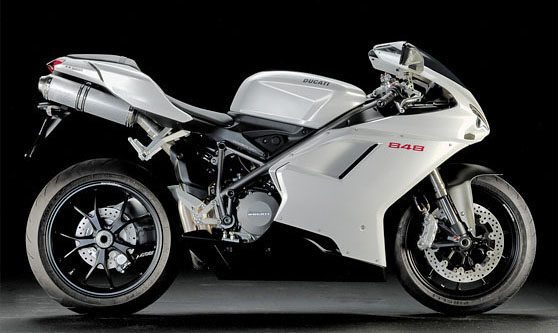 Ducati 848 Accessories
Certified titanium silencer kit:  Kit consisting of titanium silencers with catalyzer compliant to current EU regulations. This system also complies with current regulations on noise and exhaust emission levels.  This kit also includes the suitably calibrated ECU and hi-efficiency air filter to enhance engine performance.
Adjustable rear suspension linkage:  Adjustable linkage made in aluminum allowing variation in rear end height, thus for ride height to be changed according to personal riding style.
Cross-mounted adjustable steering damper:  Cross-mounted adjustable steering damper complete with billet aluminum anodized brackets.
Carbon under tank side panels:  Carbon under tank side panels are lightweight and give the bike a racing look.
Carbon front mudguard:  Carbon front mudguard designed in collaboration with Ducati Corse for improved aerodynamic efficiency at the front end.  The carbon mudguard is extremely light, weighing as little as 0.17 kg.
Carbon rear mudguard:  Carbon rear mudguard designed in cooperation with Ducati Corse; protector but even design element that perfectly integrates with the aluminum single-sided swinging arm lines thanks to its streamline.
Silicone rubber and aluminum tubes kit:  Set of silicone rubber and aluminum tubes for cooling system.
Öhlins upside-down front fork kit:  Öhlins upside-down front fork kit with TIN coating for improved sliding action and increased wear resistance.  Adjustable compression and rebound damping enable customized set-up to suit your riding style.
Large Plexiglas windshield:  Large Plexiglas windshield, about 30 mm taller for improved wind protection especially at high speeds
LED rear-view mirrors:  Pair of LED rear-view mirrors to be fitted to fairing, coated with 'soft-touch' material. Smaller and streamlined than standard mirrors, they offer a good reflecting surface while making the front end of the new Superbike family even more streamlined.
Ducati 848 Superbike Specifications

Engine
Type
L-Twin cylinder, 4 valve per cylinder Desmodromic, liquid cooled
Displacement
849cc
Bore x Stroke
94×61.2mm
Compression Ratio
12:1
Power
134hp – 98.5kw @ 10000rpm
Torque
70.8lb-ft 96Nm @ 8250rpm
Fuel injection
Marelli electronic fuel injection,  elliptical throttle bodies.
Exhaust
Lightweight 2-1-2 system with catalytic converter and lambda probe. Twin stainless steel mufflers
Emissions
Euro 3
Transmission
Gearbox
6 speed
Ratio
1a 37/15, 2a 17/30, 3a 28/20, 4a 26/22, 5a 24/23, 6a 23/24 / 1st 37/15, 2nd 30/17, 3rd 28/20, 4th 26/22, 5th 24/23, 6th 23/24
Primary drive
Straight cut gears, Ratio 1.84:1
Final drive
Chain; Front sprocket 15; Rear sprocket 39
Clutch
Wet multiplate with hydraulic control
Chassis
Frame
Tubular steel Trellis frame in ALS 450
Wheelbase
1430mm / 56.3 in
Rake
24,5°
Steering angle
8,5°
Front suspension
Showa 43mmfully adjustable upside-down fork
Front wheel travel
127mm / 5in
Front wheel
5-spoke in light alloy 3.50 x 17
Front tyre
120/70 ZR17
Rear suspension
Progressive linkage with fully adjustable Showa monoshock.  Aluminum single-sided swingarm
Rear wheel travel

120mm / 4.7in

Rear wheel
5-spoke light alloy 5.50 x 17
Rear tyre
180/55 ZR17
Front brake
2 x 320mm semi-floating discs, radially mounted Brembo calipers 4-piston, 2-pad.
Rear brake
245mm disc, 2-piston caliper
Fuel tank capacity
15.5L (of which 4L reserve) / 4.1 US gal (of which 1 US gal reserve)
Dry weight
168kg / 370lbs
Seat height
830mm / 32.6in
Max height
1100mm / 43.3in
Max length
2100mm / 82.6in
Instruments
Digital MotoGP derived unit displaying: Speedometer, rev counter, clock, scheduled maintenance warning, warning light for low oil pressure, fuel level, oil temperature, fuel reserve, trip fuel, neutral, turn signals, average speed, average fuel consumption, remaining fuel meter, immobilizer. Ready for DDA system.
Warranty
2 years unlimited mileage
Versions
Dual seat
** The weight excludes battery, lubricants and coolant for liquid cooled models.
Note:  For informational use only.  All material and photographs are Copyright © webWorld International, LLC – 2000-2011.  All rights reserved.  See the webBikeWorld® Site Info page.  NOTE:  Product specifications, features and details may change or differ from our descriptions.  Always check before purchasing.  Read the Terms and Conditions!
Other WebBikeWorld Brands Posts