Dual Sport Motorcycle Tires Image Gallery
I'll confess: this article doesn't have much to do with the Dealer Expo.
But there are an extraordinary number of motorcycle tires on display for some reason at the show, and this got me thinking…
I've been keeping an eye out for potential tire replacements for the Bridgestone Trail Wing tires on the DR650 project bike (blog).
Also, be sure to check out Chris' Continental TKC80 review.
So what better place to check out all the possibilities than here at the Dealer Expo, with the factory representatives on hand to answer any questions?
UPDATE: New dual-sport tire company, GoldenTyre is now in the U.S.A. (report).
DR650 Tires
In case you haven't been following the story, the DR650 is a revelation to anyone not used to a (relatively) lightweight, go-anywhere motorcycle.
It handles much better than expected on the road and it's a heckuva lot easier to muscle around off-road than a big GS, KTM 990 Adventure or Super Ténéré.
It's also a pretty cheap way of getting into the hottest motorcycle segment going today: dual-sport riding, aka adventure-touring.
There are literally tons o' cool products and accessories available for the DR650 — everything from big-bore kits to tubeless rims to electronic dashboards that can tell you the cylinder head temperature or the time.
But tires? Well, that's horse of a different color, as it were. The DR650 has a "normal" (for a bike with serious off-road pretentions) front tire size of 90/90-21 (90/90-21 54S, tube type, to be exact).
Slim, to be sure, but no problemo.
But the rear is a somewhat weird 120/90-17 (120/90-17 64S, tube type). This size is somewhat difficult to find, limiting choices.
For example, the Metzeler Sahara Enduro 3 is made in a 120/90-17 but not imported to the U.S.A. (confirmed with Metzeler in May of 2013). A 130/80-17 is available as an option (see below for comments).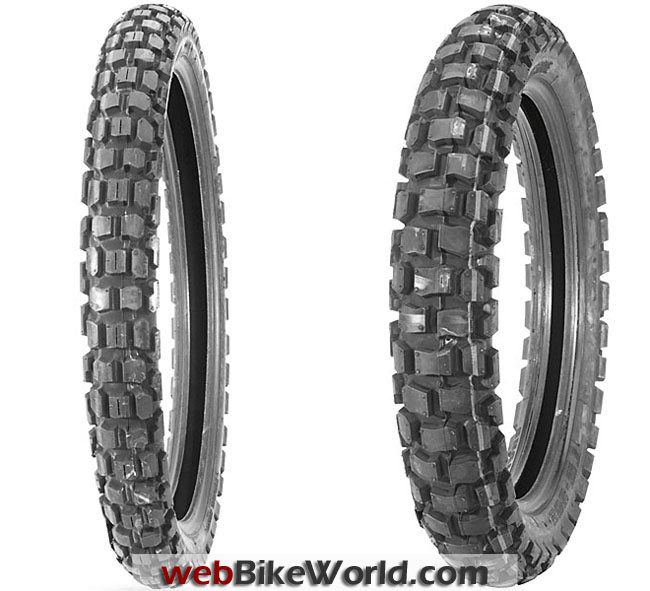 The Bridgestone Trail Wing Controversy
The bike comes with a pair of Bridgestone Trail Wing TW41 front and TW42 rear in those exact sizes.
This Trail Wing pair is much better than it gets credit for, in my opinion; it provides way more grip than I expected on-road and it's not bad off-road either. In other words, it's a fantastic tire.
My opinion is that people don't like it because…someone on some forum somewhere decided it isn't the ultimate off-road tire. What is?
They panned it; it took (with the absurd "Death Wing" label) and rookie dual-sport jocks repeat the message because it makes them seem knowledgeable about tires.
The opposite of that is the ridiculous amount of love given to the never-heard-of-'em brands like Heidenau, Mefo and Mitas in the forums. No one has 'em and they're hard to get so they must be good.
This is the same leftover psychology from the 1990's, when the SCHUBERTH Concept was the "It" helmet, only because you had to go through the wringer to import one, so you were automatically cool because you had something no one else did.
I have read some complaints that the Trail Wing front will wash out during fast riding in sand, and maybe that's so.
By the way, every other dual-sport tire will do the same because they're dual-sport tires, not full-on motocross tires.
But since the nearest sand is a couple of hundred klicks away from me, I'll probably never know.
Who's going to ride a DR650 or the even heavier KLR650 in sand anyway? Besides, at the velocities 99.99% of DR650 owners ride, no one would ever know the difference. It's a dual-sport bike, remember…not a motocrosser.
Still don't like that Trail Wing? OK…which one don't you like? What "they" don't tell you is that there are, as of this date, 40 (count 'em) Trail Wing tires made by Bridgestone.
That's right — four-zero — 40 different tires, all called Trail Wing! So you're telling me that "the" Trail Wing is no good? Time for some homework. bucko.
In fact, more than one Trail Wing gets excellent ratings by owners. For example, read the reviews for the Bridgestone TW301 and TW302 pair shown above. Yep — they're Trail Wings, and they're as uncommon as your Mefo, Heindenau or Mitas dual-sport tires.
Nevertheless, a DR650 owner wouldn't be worth a kilo o' salt if he or she wasn't always looking for the next big ultimate accessory, and "serious" off-road tires are pretty high up on that list.
There's plenty of discussion on this topic, so I shan't repeat it here, but it all boils down to finding an off-road tire that will fit.
The Trail Wing TW41/TW42 pair are maybe 70/30 (i.e., 70% street and 30% dirt) or 80/20. Many owners are looking for something more along the lines of a 60/40 (like the TW301/TW302 pair) or 50/50 or even 30/70 (or 10/90).
But any street riding means the tires must be street legal. You really don't want to be pounding the pavement on a non-DOT off-road tire.
Also, think about where you will be riding your DR650 or KLR650…really. Many riders make the mistake of buying 80/20 tires when the reality is they don't ride off-road much at all.
People make this mistake all the time ("I need a pickup truck because I might need to haul my bicycle some day."). Go for the reality, not the fantasy.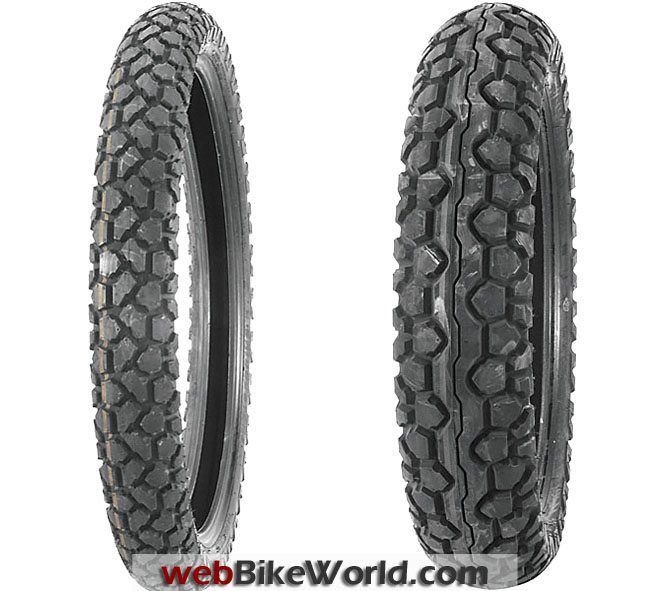 120/90-17 vs. 130/80-17 Tire Sizes
The 130/80-17 tire size is a popular option for the DR650 and other bikes. Many riders mistakenly figure that "wider is better" when it comes to motorcycle tires. It's not.
In general, you want to stick to the exact tire sizes recommended by the factory. It's usually not a good idea to try and out-guess the engineers when it comes to motorcycle tires.
Larger tires may fit but are usually not equivalent, and they will usually affect handling — a problem to avoid on a motorcycle.
Unfortunately, many/most motorcycle tire manufacturers don't publish exact dimensions of their tires (e.g., width, sidewall profile and overall diameter) after proper inflation.
This makes it very difficult to compare tire size changes.
The biggest problem is that a wider and taller (or shorter, like the 80-series aspect ratio) will change handling, turn-in and probably speedometer and odometer readings. It can make that sweet-handling DR650 on its 120/90-17 rear more sluggish than you remember.
While I'm in critic mode, how about the forums where the very first thing dual-sport riders are concerned about is the mileage they are getting out of a tire? Pick one: you can have grip in the dirt; grip on the street; grip in the wet or mileage.
You're not going to get grip on the street, in the dirt, in the wet AND high mileage. It's a dual-sport tire — forget 10k life spans and buy the tire that works for the majority of your riding (most likely, the street).
Dunlop D606
The Dunlop D606 is a popular switch; the front sizes are no problem and there's a D606 rear available in 130/80-17, which will fit the DR650. It looks more like a 50/50 or 60/40 or so to me, with PBK (Pretty Big Knobbies).
Dunlop lists the D606 as follows: D606 Front 90/90-21, Load Speed Index 54R, minimum rim width 1.60″, overall diameter 27.70″, overall width 3.50″ and tread depth 14/32″.
The D606 Rear 130/90-17 is rated at 68R, with a 2.75″ minimum rim width, overall diameter of 26.30″, width of 5.20″ and tread depth of 20/32″. I may try  pair when the Trail Wings are worn out.
Bridgestone Trail Wing Option Tires
Back to the Bridgestones: I stopped by the Bridgestone booth at the 2012 Dealer Expo and the rep educated me about the Trail Wing TW41/TW42 pair, which was designed specifically for and is installed as original equipment on the DR650.
They are not the same as the optional Trail Wing TW301 and TW302, which have the latest and greatest Bridgestone technology (DTC – Dual Tread Compound).
He even showed me photos in the official catalog that lists the two tires (OE and optional) separately; those photos are shown above.
That was news to me, as only the TW301 and TW302 pair are featured on the Bridgestone website; you have to search to find the other 38 Trail Wings (here). He said the TW301 and TW302 pair are 50/50 on/off road tires.
So I've seen it with my own eyes and heard it from "The Source"
Only problem? The TW302 rear comes in the old-fashioned 4.60-17 size, which roughly translates to a 120/90-17.
Bridgestone doesn't list the exact dimensions of the TW301 or TW302 tires (although a front is listed in 90/90-21. It's apparently no longer sold in the U.S.A.), which makes it difficult to determine how these compare with the standard 120/90-17 size, but some DR650 owners really like this tire duo as a good compromise between street and trail.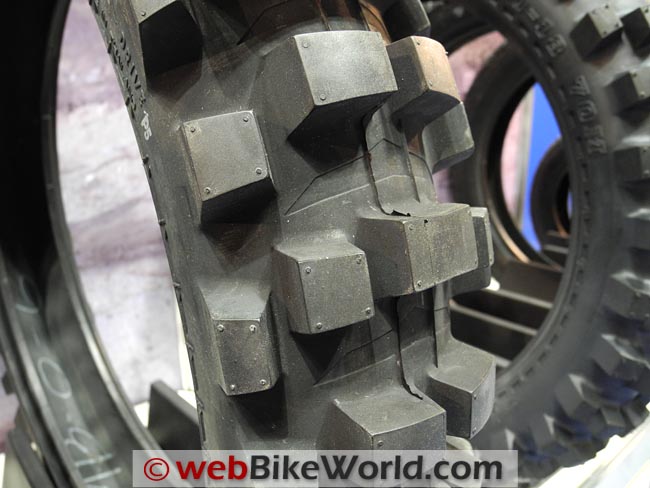 IRC BR-99 Battle Rally Tires
Unrelated to the DR650 tire issue, but related to dual-sport, off-road biased tires: while I was looking at tires I found a nice set at the nearby IRC booth that look like some of the most off-road biased dual-sport tires I've seen: the IRC BR-99 Battle Rally.
These have been around (hey, a pun!) for a number of years, but I haven't been able to find a review.
The IRC rep said that the BR-99's are their most aggressive DOT street-legal tire, and one look at the knobbies pretty much confirms it.
They come in the standard 90/90-21 front (54R with a recommended rim width of 2.15″). The rears only come in 120/90-18 (65R) or 140/80-18 (70R) with a 3.50″ rim recommended.
Anyone using these sizes and needing an off-road biased tire might be interested in looking these up. I am interested to know if anyone has any feedback or experience using the IRC BR-99's.
Anyway, that's a long digression on an obscure and somewhat settled issue.
Continental TKC 80
There are other DR650 tires available, like the Continental TKC 80 (review).
It is, according to the Continental website in this .pdf download, is available in the exact DR650 recommended sizes (Front: 90/90-21 M/C 54S TT and Rear: 120/90-17 M/C 64S TT with an option of 130/80-17 M/C 65S TT).
The TKC 80 also comes in a tubeless version in those same sizes.
Interesting factoid: the Continental representative showed me the Continental printed catalog, which does not list a 120/90-17 as a rear tire — only as a front.
The catalog does list a 90/90-21 front and a 130/80-17 rear for the TKC 80.
Continental also makes the Conti Escape, an adventure-touring tire that looks about like an 80/20 or 90/10, in the 90/90-21 and 130/80-17 rear.
I believe this is specifically designed for the KLR650 but should fit a DR650 also, but it's not as off-road biased as I'd like.
The TKC 80 is a highly regarded tire with a strong off-road focus.
The center knobs on the rear tire are slightly different sizes and placed at slightly different intervals, which, according to the Continental representative, helps reduce road noise.
It will be a toss-up for me next time whether to try the Dunlops or the Continentals, but since Chris already reviewed the Contis…
Pirelli Dual Sport Tires
Read the webBikeWorld Pirelli MT60 Corsa review for another take on a dual-sport tire as installed on the Kawasaki Versys (review).
I stopped by the Pirelli booth also at the 2012 Dealer Expo but, strangely enough, they had only very few tires on display in a large booth.
Not sure why, since motorcycle tires are pretty easy to transport or ship to a show, all things considered. Anyway, they had one pair of Scorpion motocross tires on display and that's it for off-roading.
I did talk to the Pirelli representative and he showed me a photo in the catalog of the MT 21 Rallycross.
He said it's a 10/90 (10% on-road and 90% off-road) tire that is DOT street legal, so it's about as biased to off-road riding as you'll find.
From the photos, it does look much like a motocross tire. It also comes in the 90/90-21 front (54R) and 120/90-17 (64R) rear, with the option of a 130/90-17 (68P) rear also.
Pirelli makes two more tire types that are an exact match for the DR650: the Scorpion MT 90/AT, a street-biased tire that is standard equipment on the 2012 KTM 990 Adventure (report). It's available in a 90/90-21 front and 120/90-17 (64S) rear.
And the Pirelli Scorpion Trail looks about 95% street and 5% off-road. It's original equipment on the Triumph Tiger and Ducati Multistrada (report) (and Multistrada uncrating report).
It comes in a 90/90-21 front, tubeless in 54H and 54V. The rear is available as a 120/90-17 (64S) and 130/80-17 in 64S, 65S and 65H tubeless configurations.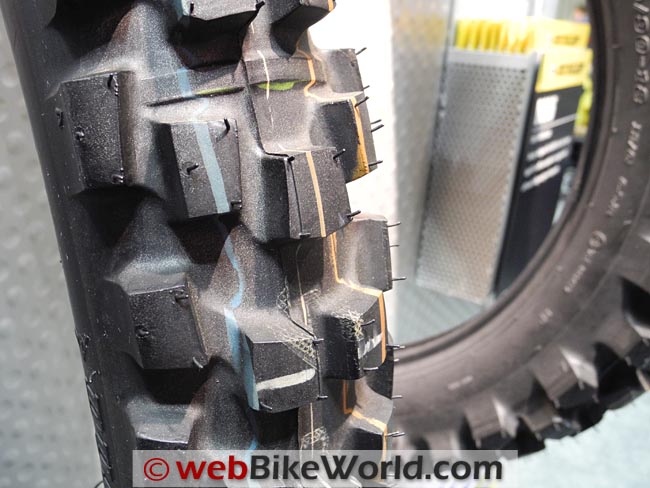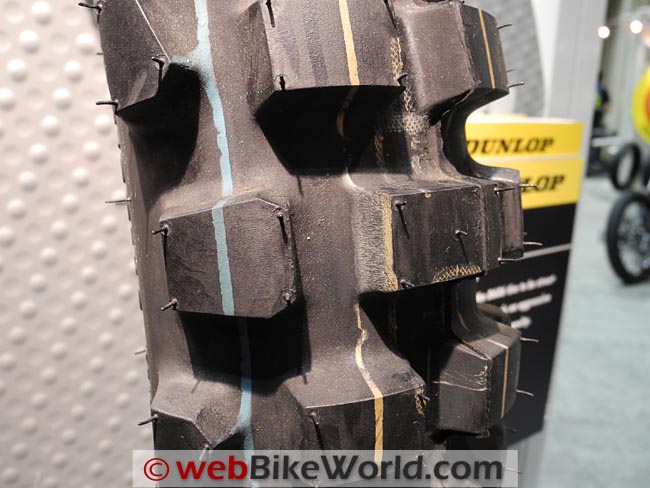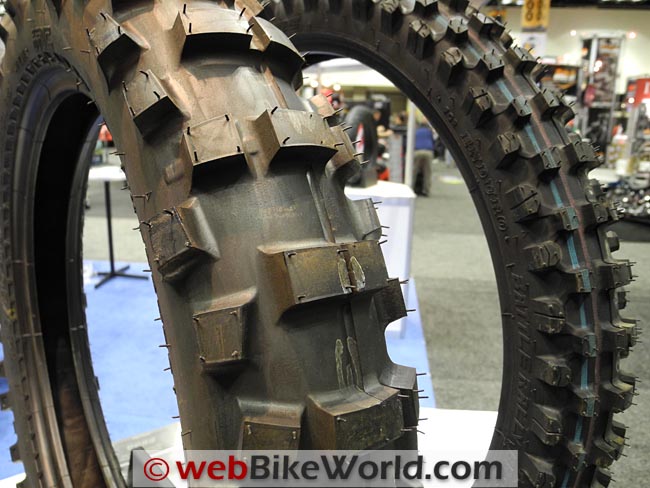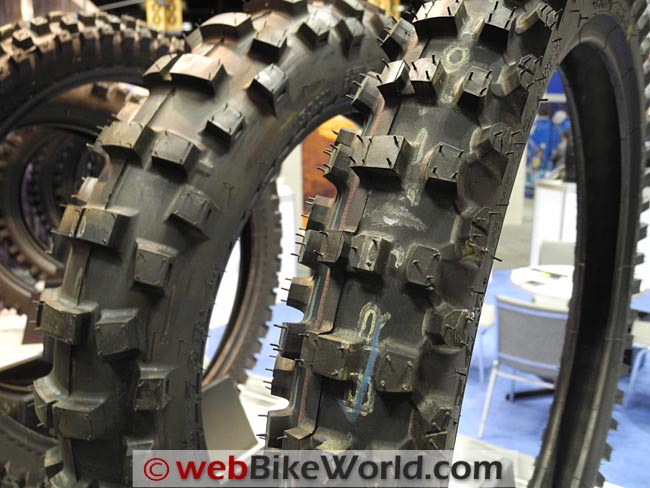 More wBW Motorcycle Tire Reviews
Publication Date: February 18, 2012 (Updated June 1, 2013)
Master Listing of All wBW Motorcycle Product Reviews
Note:
 For informational use only. All material and photographs are Copyright © webWorld International, LLC since 2000. All rights reserved. See the webBikeWorld® 
Site Info page
. Product specifications, features and details may change or differ from our descriptions. Always check before purchasing. Read the
Terms and Conditions
!
Owner Comments and Feedback
---
From "T.S." (October 2014): "I was just looking through your review of the DR650 (which I have) and read your tire selection article.
I tried the IRC TR-8 battle rally front  (21″) on my DR650 for a long on/ off road tour to Utah last year. In a nutshell, very happy and it is now my 'go-to' front tire for the DR.
For some jistory, I did a similar tour (the Continental Divide Route) the year before on the same bike, but using Heidenau K60's front and rear.
While I was really impressed with the durability and street performance, the front was lacking in traction — particularly laterally — on gravel and dirt roads, which constituted most of surface area for this type of trip.
Also, the rear was done at 11,000 km's, while the front had a good 40% left which is not particularly useful as I would not start another tour with one new tire, and one 60% worn out.
So I was looking for a more aggressive front that would not wash out as easily in dirt/ gravel, but would still last for a longer tour.
Put on the IRC, and just removed it now after about 10,000km of mixed riding. It did start to get very cupped for the last 2-3,000 km's but still usable.
I found it fine on the highway, not as loud as the pair of Pirelli MT21's I have tried.
As you said, tires are always a compromise — there is no way to 'have it all', you just have to choose your top priorities and live with less in the other areas.
The IRC is very affordable, so I'm happy to swap it out regularly, but it will also last for a longer tour. It is a good 50/50 tire. To bad they don't make a rear to fit my bike, but I have found that running a less aggressive rear works fine.
I'm ok with the rear sliding around a bit more, and if you don't have enough tread it wears out to quickly for a long trip.
I also think that more open knobbies are more prone to flats from sharp rocks under a fully loaded 'adventure bike'.
Another note on the Heidenau tires is that the tread compound varies between tire sizes.
Impressed by the durability and traction of the rear Heidi on my CDR trip, I put on another for Utah, but in a different size (the more appropriate/ cheaper 120/17 rear instead of the 130/17 from the year before) it was pretty much gone after 7000 km's; same bike, load, and terrain.
So, very happy with the 130/17, but less so with the 120/17 — it almost seems like an entirely different compound. Handling was better with the wider/ flatter 130 profile as well, the bike rolls in better.
On the 120, which is the OEM size, it sends to 'fall in' a bit much for my liking, necessitating a slight mid-corner correction on tighter turns."