Drivers may soon be tapped on the shoulder to warn them of approaching riders.
The Jaguar/Land Rover technology is called Bike Sense and it's latest car company technology development that could prove safer for riders and help prevent SMIDSY (Sorry Mate, I Didn't See You) crashes.
The company is working on a range of new "Bike Sense"technologies that use unconventional warnings including a "tap" on the shoulder to alert drivers of potential collisions with motorbikes and bicycles.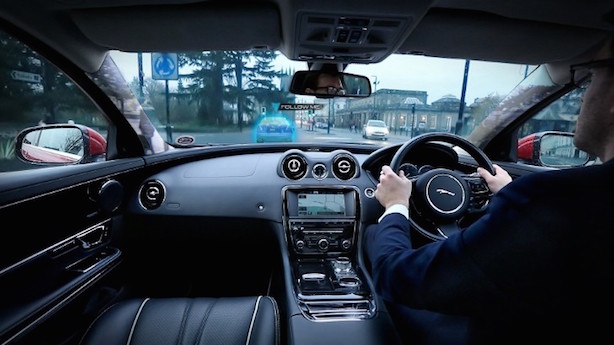 This follows the recent unveiling of their "invisible" pillars prototype that uses cameras on the outside of the car to project images on to the A, B and C pillars inside the car so they become virtually invisible. This allows drivers to see vulnerable road users such as motorcyclists.
It also follows Volvo's technology that alerts drivers of vulnerable road users via a two-way communication between the car and a rider's helmet.
The only problem with all this car technology is that it could lull driver's into a false sense of security and awareness so that they stop actually looking for riders.
The latest Jag tech, called "Bike Sense", uses sensors on the car to detect and identify bicycles and motorbikes. Bike Sense then makes the driver aware of the potential hazard with unconventional warnings, including a "tap" on the shoulder by a lever on the car seat.
Drivers would also get a matrix of LED warning lights on the window sills and the sound of a motorcycle horn or bicycle bell through the car's audio system. It would even be mixed into the audio's surround sound speakers to indicate which direction the bike is approaching from – left, right, front or rear.
If the driver was in a street with a lot of motorbikes, cycles or pedestrians, the system would prioritise the nearest hazards so the driver is not overwhelmed or distracted by warning lights, sounds and shoulder taps.
Bike Sense will also identify hidden hazards such as a rider obscured by a parked vehicle.
If the driver ignores all the warnings and accelerates, Bike Sense vibrates and stiffens the pedal.
It will also help prevent vehicle doors being opened into the path of bikes when the vehicle is parked by warning all passengers of an approaching cyclist, motorbike or car. If anyone opens the door, the handle will light up, vibrate and buzz as an alert.