Parking your motorcycle in a safe and secure environment should be a high priority for any rider. Motorcycles are vulnerable vehicles and they can easily degrade if left exposed to the elements. The rain, sun, wind, and snow can cause serious damage to a bike, accelerating rust and corrosion, discoloring parts, and even causing some components to degrade and fail.
Keeping your motorcycle healthy is just one of the benefits of investing in proper motorcycle storage. However, the main reason most riders prefer to keep their motorcycle secured in a safe place is to protect it from thieves. By their very nature, motorcycles are easy to steal, and even the most steadfast padlock and chain can be circumvented by a would-be thief.
A wise motorcyclist won't rely on one single security measure to keep their pride and joy safe. In fact, the best way to stop your motorcycle from being stolen is to deter the thief altogether by using a combination of security devices: a ground anchor, a brake disc lock, a chain and padlock, and if possible, a secure room to keep your motorcycle hidden away in! A garage or dedicated motorcycle shed is the best option.
Garages are great but they're not always the best place for motorcycle storage. It's true! Being able to park in a building made of bricks and mortar will help keep your motorcycle safe and secure—but only if you've got the space. If you find yourself squashing your motorcycle into a corner to make room for your car, or need to move it to get to your tools, then keeping your bike in the garage might be more hassle than it's worth.
Since garages often double up as workshops or storage areas, the last thing you want to do is damage your motorcycle trying to perform some kind of Austin Powers/Ever Given Suez-Canal-blocking maneuver to get it out.
However, if you've got the space for a dedicated "motorcycle-only" garage, then you'll have a hard time finding a better solution. Unfortunately, few riders have that kind of luxury. So, what are the alternatives?
Alternative Motorcycle Shelter Ideas
Luckily, there are a number of practical solutions to fit different circumstances and budgets. To help keep your motorcycle safe—from the elements and from thieves—we recommend that you invest in one of them.
A Tough Motorcycle Cover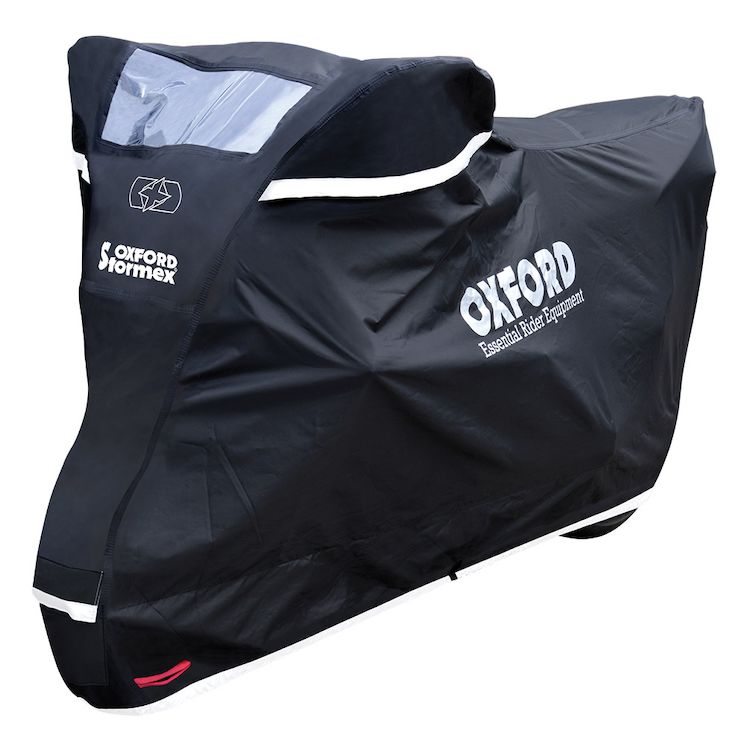 At the cheaper end of the spectrum, there's the humble motorcycle cover. A good motorcycle cover will be made out of a heavy-duty fabric, with a selection of tie-down points, heatproof panels, and plenty of ventilation. It's important to invest in a cover that will truly keep the elements out, sure, but it's also important to ensure that it has adequate breathability. Cheaper covers often don't have enough ventilation to keep your ride safe.
Also, it's worth looking for a cover with integrated security. This can be in the form of locking straps, or a built-in alarm system. Naturally, any skilled thief will be able to remove a cover and disable an alarm system, but every layer of protection costs them time; precious time that could turn an easy theft into a prison sentence. It could be enough to deter a thief from even attempting to steal your motorcycle in the first place.
Portable Motorcycle Tents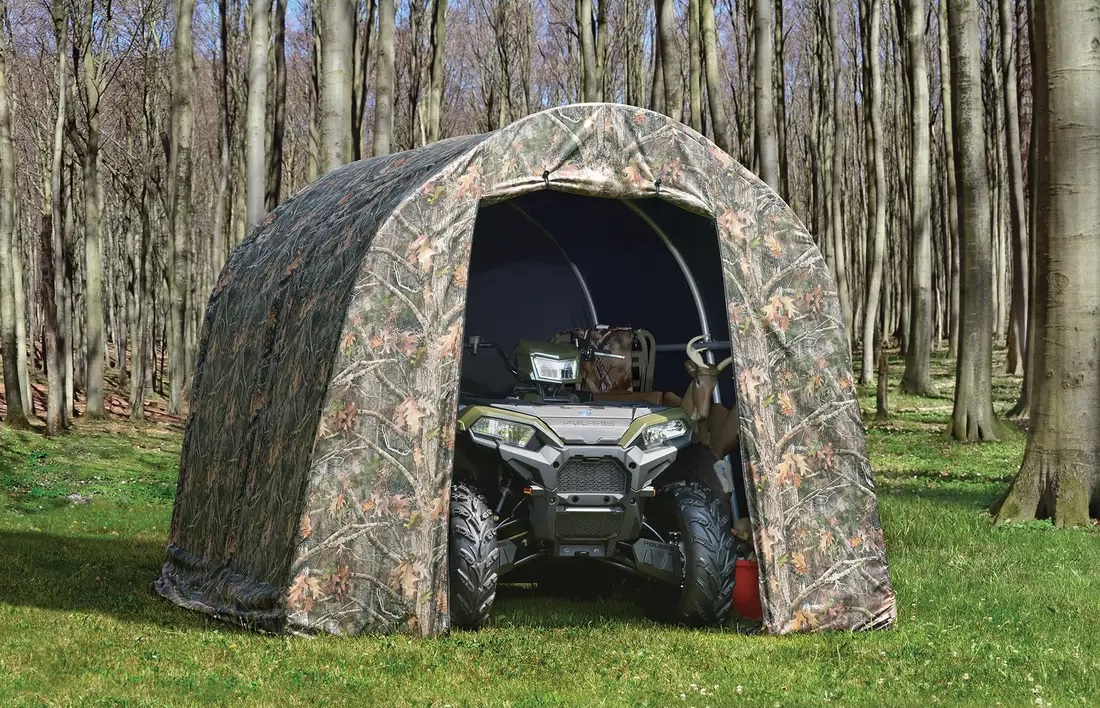 Motorcycle tents are quite popular storage options. They're a lot like regular camping tents but in a shape designed to accommodate a motorcycle rather than a person. Tents like these are made from a lightweight metal frame with a plastic tarp-like covering. In essence, they're like motorcycle-sized garden marquees. If you live in an area with heavy winds, then they're not ideal. However, in areas with gentler weather, they're an affordable and practical motorcycle storage solution.
Generally, they're only used as temporary solutions though. Still, they offer great value for money if you need a quick and easy bike storage solution.
Retractable Storage Units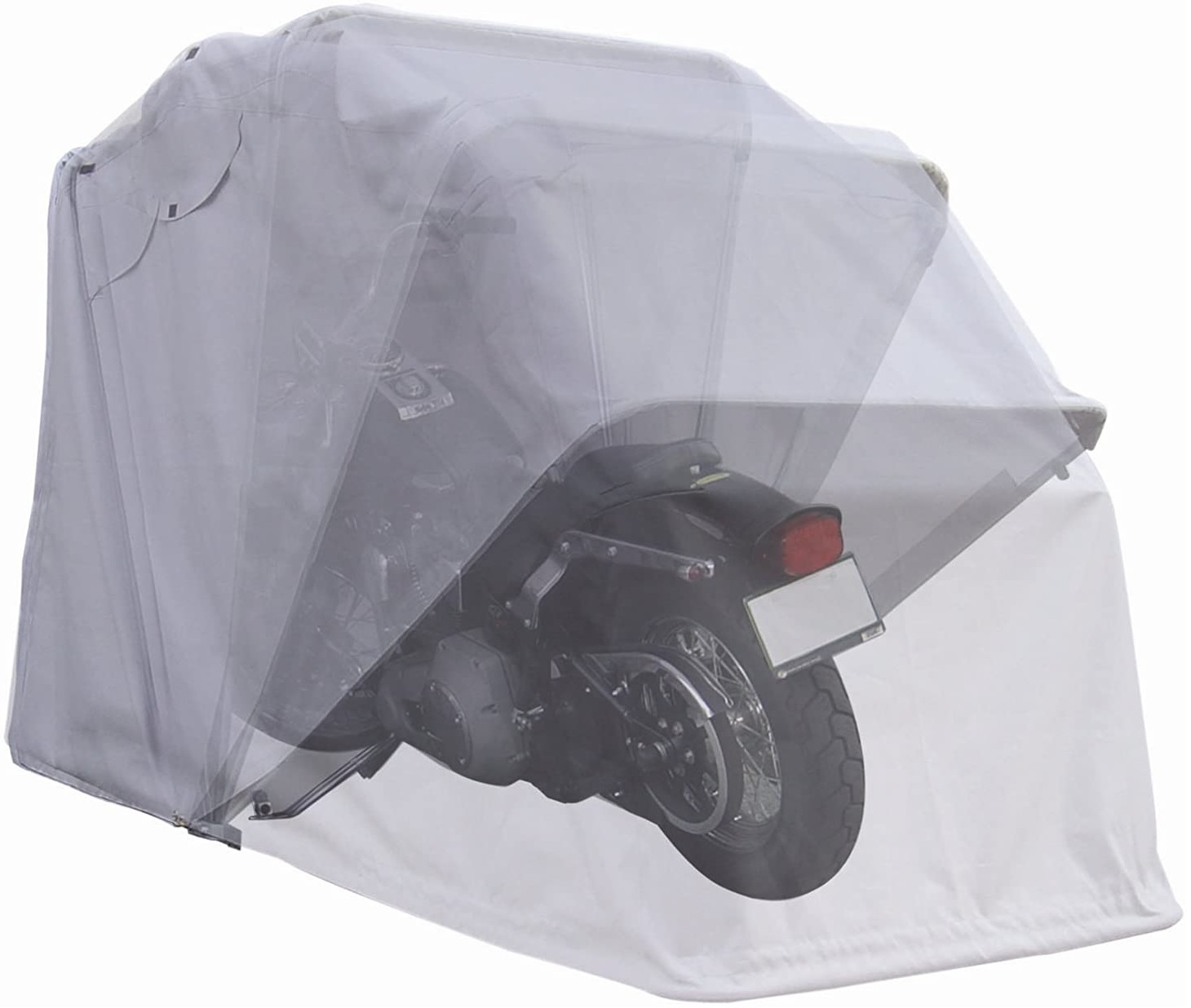 Though these are quite similar to the light-duty portable tents mentioned above, these retractable storage units are built as permanent motorcycle storage options. Rather than relying on a free-standing metal frame, these little bike pods can be bolted to the floor in the center, allowing for more heavy-duty bike protection. They work just like a normal tent, but instead of having a door, they have a roll-down, concertina-like roof. You simply ride into your space and pull the roof over the top of your bike.
These retractable units are fairly robust and come with a number of essential features such as adequate ventilation, additional security options, and heavy-duty UV-resistant coverings. Since they can only accommodate a single motorcycle, they don't offer any space for riders to perform maintenance—which is only a small negative point.
Inflatable Storage Chambers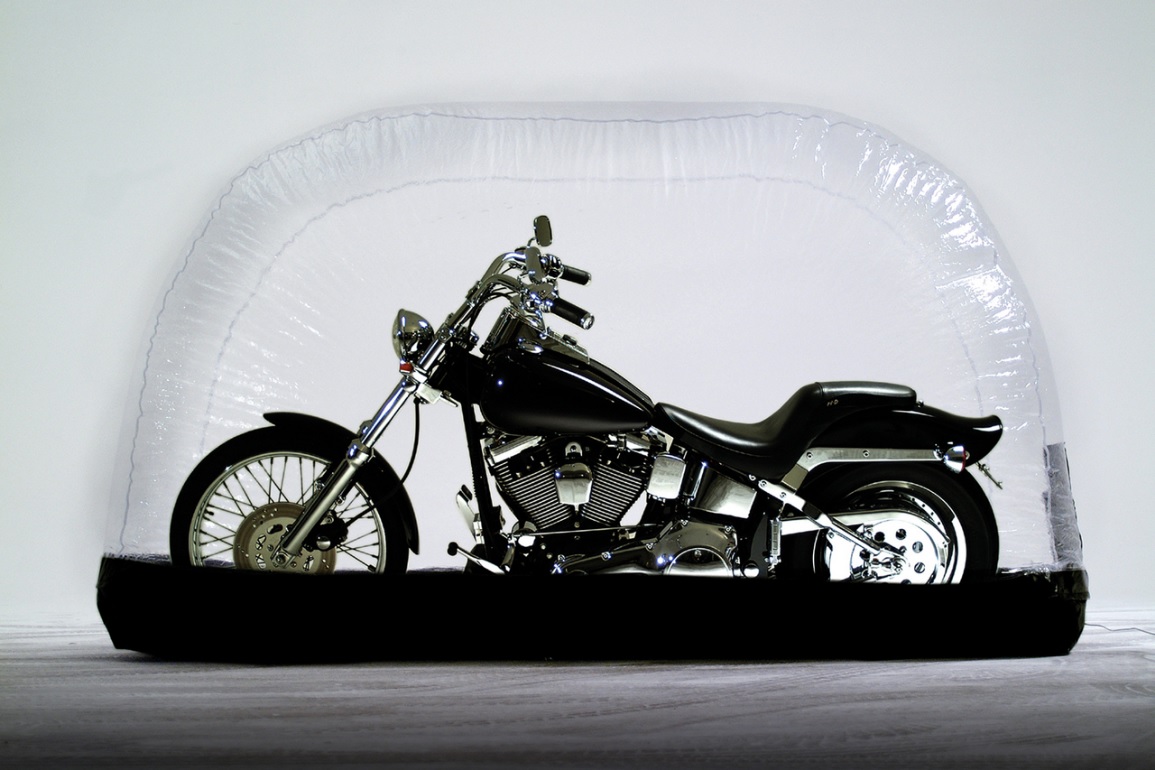 You may have seen products like this made for cars, but they also offer these strange bubble-like enclosures for motorcycles too. If you've always wanted to see what your motorcycle would look like in a snow globe, then this is the product for you. Now, these aren't really designed for outdoor use but they can be used if the conditions allow for it. Instead, they're for riders with garage space (or a similar area) who require a sturdy internal protective barrier.
These domes keep out dampness, dust, and more, whilst protecting your motorcycle from any knocks or bumps that could occur. These are ideal for riders who want an extra level of protection for their motorcycle. However, they're not cheap and require an existing structure to do the heavy lifting.
What About A Motorcycle Shed?
Sheds are great options for riders who have a bit of land to spare. There are two ways of going about building your own motorcycle shed. You can either build one from scratch, with materials that you've gathered and processed yourself, or you can buy a kit that you simply assemble.
Both require some basic tools and some DIY skills, and no matter whether you're building from scratch or buying a kit-shed, there are a few things that you'll have to consider that will apply to both.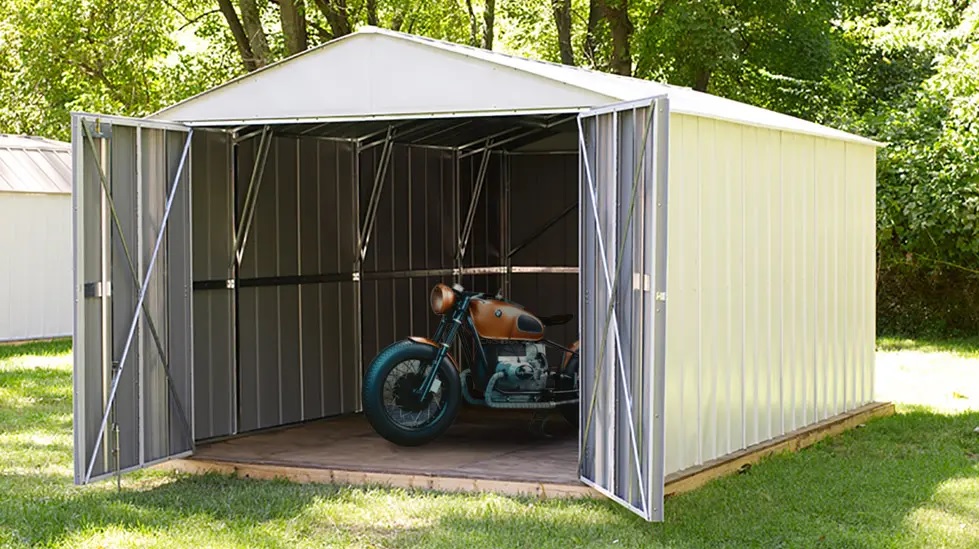 Space
The first thing you should consider is the size of the shed and the footprint that it would have. A good shed needs a good foundation. If you want to build a sturdy building, you'll need something strong to anchor it to. Also, you should take into account the other dimensions and make sure they conform to local planning regulations. Oh, and don't forget: you'll need to make sure that you can park your motorcycle in it, perhaps with enough space to perform some maintenance too!
Materials
Motorcycle sheds can be made out of a wide range of materials. Brick-built storage units are ideal, but a timber-framed shed is probably more cost-effective and just as strong. While your shed should be sturdy, you don't need to go crazy and DIY a steel building for the bike (unless you're feeling a bit overzealous, of course).
However, there's nothing wrong with going above and beyond the call of duty. After all, you want to build a strong shelter that will keep your pride and joy safe. If you are keen on DIY, there are products out there that come with a step-by-step review of how to construct your own storage unit.
Whatever material you choose, it's important to make sure that the building is watertight. The last thing you want is a leak in the roof, which could cause damage to your motorcycle.
Ventilation
Also, no matter whether you're building from scratch or assembling a pre-made shed, you should always ensure that your structure has adequate ventilation. Moisture can be damaging to a motorcycle. It can accelerate rust and corrosion, damage paintwork, perish rubber parts, and cause no end of damage. Even the most watertight shed can let water in, and parking your motorcycle after a rainy ride can also bring in unwanted moisture. So, when designing or selecting a shed, make sure it has decent ventilation.
Installation
Lastly, there's the simple matter of the installation. Before you embark on a project, either building from scratch or assembling parts, make sure that you're up to the task of actually doing it. If you're building from scratch, it's essential to have all of the right tools, the right fixings, and the right kind of know-how to make sure that you're building a structure that will keep your motorcycle safe and stand the test of time.
Even assembling a shed can be a mammoth task. It might look simple on the instructions, but that's rarely the case. However, if you've done the right kind of prep work, you'll be fine. By prep work, we mean more than setting a nice flat concrete slab for it to stand on. We also mean reading customer reviews. Check the reviews before buying a shed to see just how easy the installation is, or if any parts often arrive with deformities. Or worse! If assembly requires different tools than the seller advertises.
No matter what you choose, from a tent-like cover to a steel-reinforced structure, make sure you get the right product for you and your motorcycle. The elements can cause untold damage, and potential thieves can be deterred by another layer of protection. A good motorcycle shed will keep honest people honest, prevent premature degradation, and keep your motorcycle happy and healthy!