The death of a young Irish rider whose helmet came off in a crash has led to a court warning about buying cheap helmets with clasp chin straps online.
Stephen Hyland, 24, of Dublin, died of head injuries in October 2016 when he clipped another motorcycle and lost control of his Yamaha.
Dublin Coroner's Court heard that Stephen slid 34m along the road, losing his helmet and hitting his head on a kerb.
The court was told his helmet had a quick-fastening clasp buckle and the strap had no stitching at the end to prevent the strap pulling through the clasp.
Stephen's brother, Michael, said Stephen was fine except for his head injury.
"We believe he'd still be alive if his helmet had not come off," he said.
Alan Kavanagh of Arai Helmets told the court that the helmet could be bought online for less than €100 (about $A180, $US140).
"A traditional 'double D' strap will not pull through," Alan told the court.
"The double D is the only strap that's approved in all types of motor sport."
He suggested riders buy helmets from shops where the sales assistant can give them advice on fitting.
"However, in a lot of cases helmets are bought online where there is no advice," he said.
The jury returned a verdict of accidental death.
Clasp straps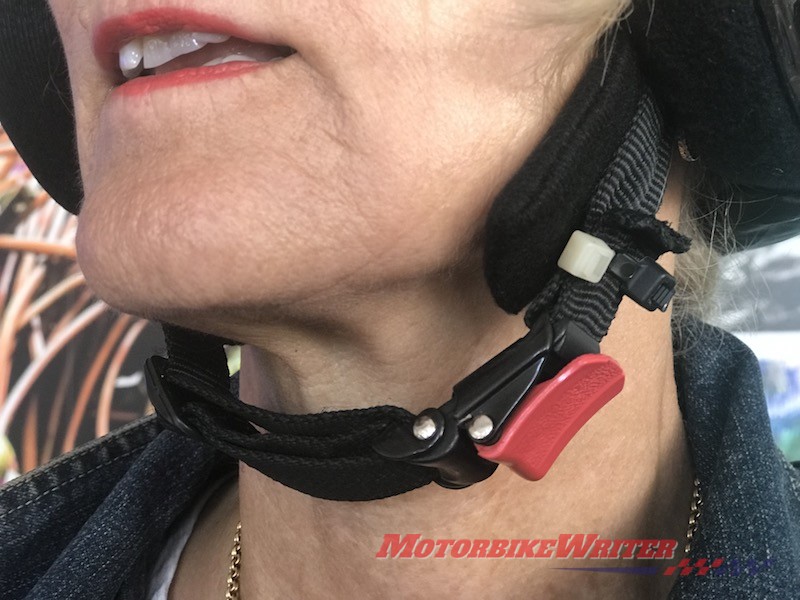 While motorsport only approves double-D-ring fasteners on chin straps, that does not mean that quick-fastening buckles are unsafe.
Some helmets such as Caberg have clasp fasteners yet receive a full five-star rating on the industry-leading British Safety Helmet Assessment and Rating Programme (SHARP) helmet ranking website.
Quick-fastening clasps are very handy for people who remove their helmet frequently, such as on road trips where they want to remove their helmet for a photo.
The main problem with these clasps is that riders don't fasten them properly until they click into position.
However, in the Irish case, it was a cheap helmet where the clasp didn't fail, but the strap wasn't secure within the clasp.
Once a double D fastener is done up, it should not come undone. It's your choice.
Click here for our tips on choosing the right helmet for you.