Cover Your Noggin but Feel the Wind on Your Face for Less
Every week I take a look at our partner's websites and pull the deals that catch my eye. This week I was drawn in by the discounts on Revzilla's website for open face helmets. I'll recommend a full-face lid over an open face helmet in most cases, but there's no denying that an open face has its merits.
Revzilla has plenty of open face lids discounted right now. The discounts range from 10 percent to 59 percent off. I've included the best helmets and the best discounts below. If you want to check out the full selection, click here.
Bell Custom 500 Carbon Helmet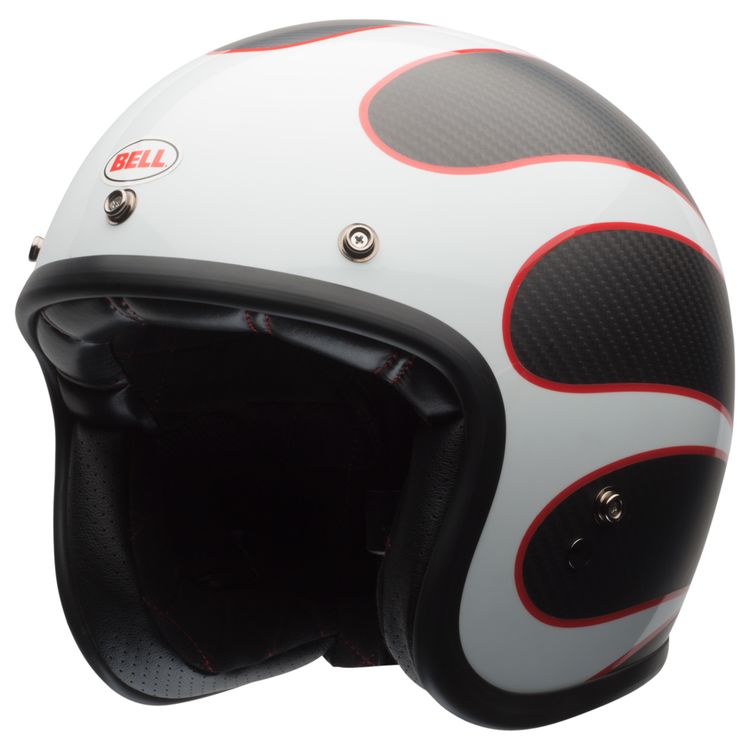 Regular Price: $399.95, Sale Price: $239.97 (40% off)
Bell's Custom 500 Carbon helmet blends modern construction with old-school style. The helmet comes with a low-profile and lightweight carbon shell that comes in five different sizes, multi-density EPS, custom suede interior, goggle strap, five snap system for aftermarket visor, and a five-year warranty. The helmet with the Ace Cafe Ton Up graphic or the RSD Jager graphic (shown in the lead image of this article) are both 40 percent off right now, which is about $160 off.
Check it out at Revzilla
HJC IS-5 Helmet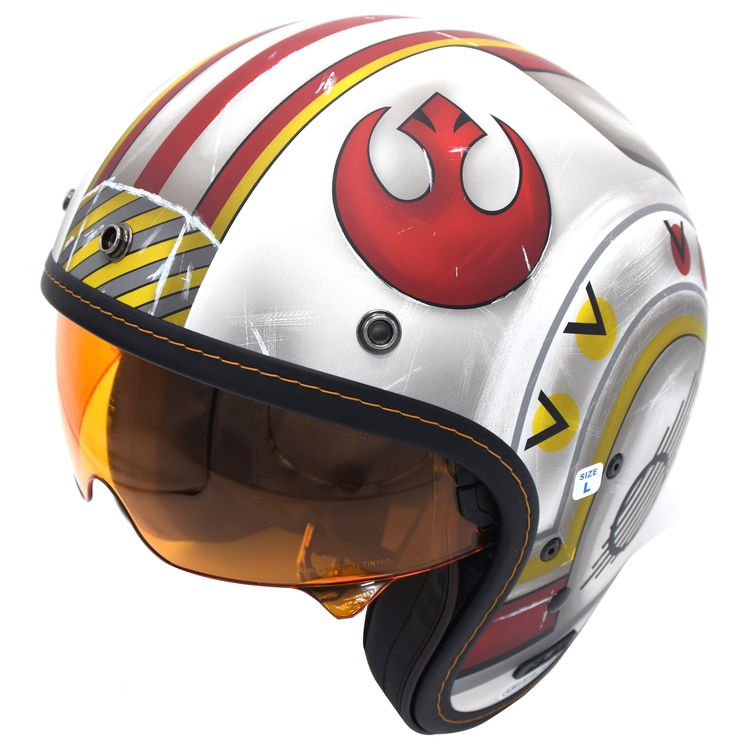 Regular Price: $199.99, Sale Price: $159.99 (20% off)
The HJC IS-5 is a good open face helmet from the company with a handy drop down sun shield. The helmet also comes with an advanced polycarbonate shell, SuperCool moisture-wicking interior, a removable liner and cheek pads, and a three-snap visor that's included. HJC makes this helmet in various colors and graphics packages. The Star Wars Rebel graphic you see here is just one of them that are marked down 20 percent, which is about $40 off.
Check it out at Revzilla
Shark Drak Helmet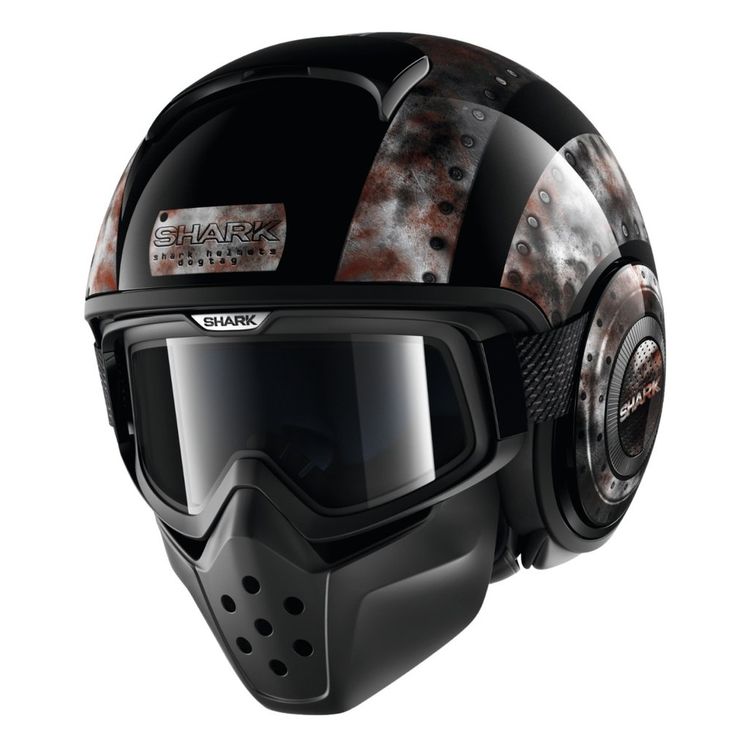 Regular Price: $279.99, Sale Price: $169.99 (39% off)
Looking for a helmet that makes you feel like a fighter pilot but still want to have the open face helmet design? The Shark Drak helmet is exactly what you're looking for. This helmet puts badass style high on the list of priorities. It also features a thermoplastic shell, quick-release goggle system, face protection mask, and some vents for airflow. The goggles and mask portion of the helmet are easily removable. The particular version you see above is called the Dogtag and it's marked down 39 percent or about $110 off.
Check it out at Revzilla
Nolan N40 Helmet With MCS II Headset
Regular Price: $349.95, Sale Price: $179.99 (49% off)
The Nolan N40 helmet is a modern open face helmet. The particular version shown above also features the MCS II communication headset. The helmet comes with a large face shield, internal drop-down sun visor, a small external peak, polycarbonate shell, removable and washable liner, and a Microlock2 quick release retention system. The version of the helmet with the built-in communication system comes at a 49 percent discount or about $170 off.
Check it out at Revzilla
AFX FX-76 MCQ Helmet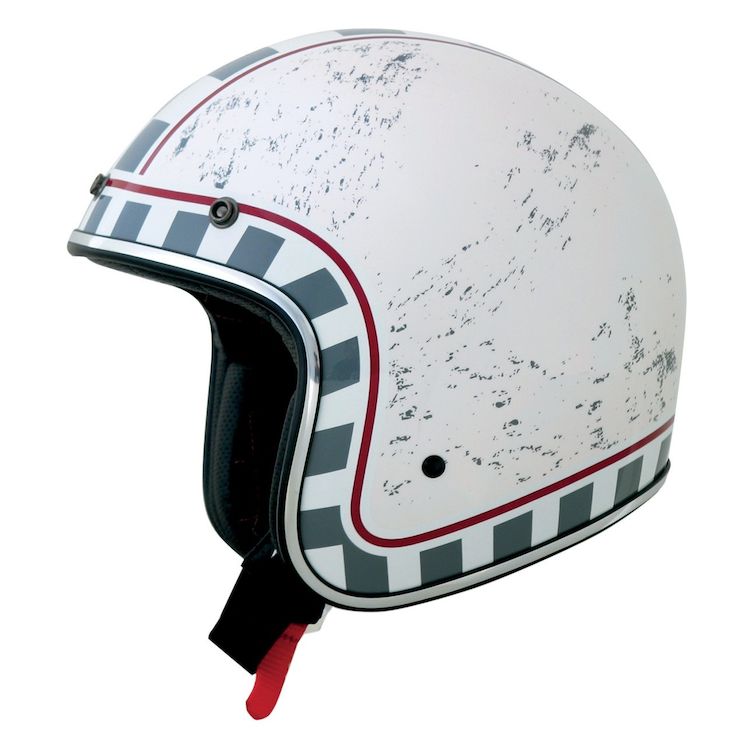 Regular Price: $114.95, Sale Price: $74.72 (35% off)
A budget offering with some good features, the AFX FX-76 is a helmet that starts off at an affordable price and with the discount from Revzilla slips below the $100 mark. The helmet gets an aerodynamic shell, a hypoallergenic liner that's removable, and three snaps for an aftermarket visor. The FX-76 in the MCQ graphic shown above comes in a 35 percent off, which is about $40. There's also a solid color version that's about 20 percent off.
Check it out at Revzilla