We love café racers all year round, but there's just something about spring that seems like the perfect time to bomb around town on your Triumph Speed Triple or Royal Enfield Continental. And if that's your plan this year, you'll need to make sure you have adequate body protection—plus, you'll want to look as good as your bike does.
As usual, RevZilla can help. This week, they're offering over 50% off select café racer jackets for men and women. Check out our top choices below, or go directly to RevZilla and browse to your heart's content.
Select Men's Café Racer Jackets Over 50% Off
Klim Drifter Jacket
Regular Price: $299.99–329.99, Sale Price: $129.99–159.99 (57% Off)
A recurring item on many of our lists, this rugged canvas jacket has a simple look with minimal branding—but packs a punch in terms of the protection and functionality it offers riders. With D30 CE Level 1 armor in the elbows, shoulders, and back, you can enjoy the timeless workwear styling of this garment while safeguarding the vital zones on your torso.
Rokker RokkerTech Jacket
Regular Price: $599.00, Sale Price: $249.99 (58% Off)
We featured this jacket in a previous post about V-twin gear, but its versatile appearance makes it more than suitable for the café crowd as well. This is a jacket you could be just as comfortable in while riding through the Italian countryside as you could while heading to the local biker bar to meet your tattoo artist.
The coated denim construction gives this jacket a sleek retro appearance, while UMHWPE fibers woven into the fabric provide top-tier abrasion protection. D30 armor in the elbows, back, and shoulders also offer plenty of protection—more than you'd expect from a jacket that looks and feels so light.
Scorpion EXO Birmingham Jacket
Regular Price: $299.95, Sale Price: $150.00 (50% Off)
A waxed-cotton body with sealed seams for waterproofing, plus SAS-TEC CE Certified elbow and back protectors keep this jacket ready for a wide range of conditions and emergency situations. Not only that, but it looks elegant as all hell—almost like a Belstaff, but at a fraction of the price. And you can even upgrade the PE foam back panel to a level 2 protector if you're so inclined!
Select Women's Café Racer Jackets Over 50% Off
Roland Sands Trinity Perforated Women's Jacket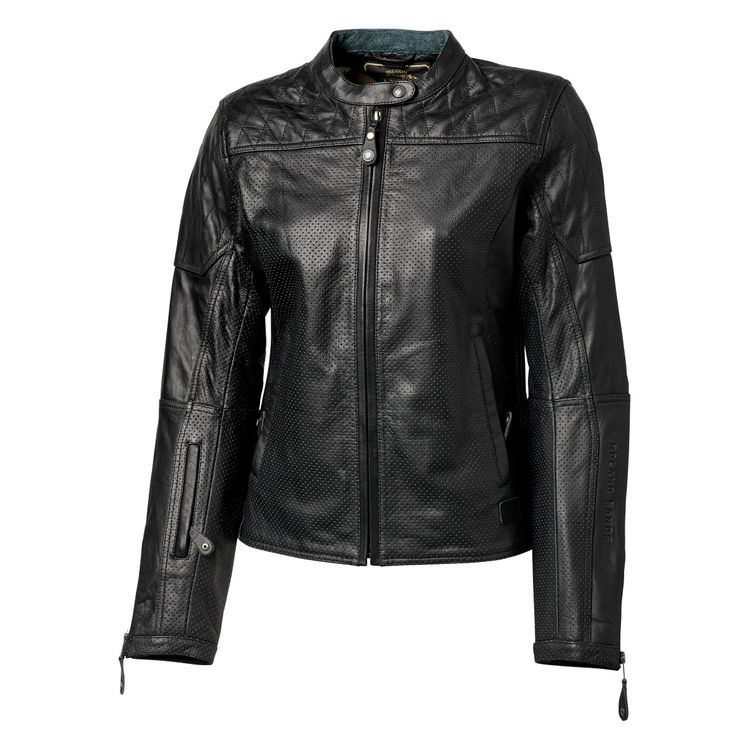 Regular Price: $450.00, Sale Price: $220.00 (51% Off)
Another holdover from our previous post about V-twin gear, this jacket's styling is just as versatile (and badass) as the offering from RokkerTech mentioned above. And the protection it offers is nothing to sneeze at, either.
You get abrasion resistance from matte buffalo leather, with CE-certified Knox armor for the elbows and shoulders. You also get a pocket for adding a back protector (sold separately), and a cool core mesh liner for enhanced comfort in a range of conditions. Plus, you get to look like an action movie hero—there's really no downside here.
Roland Sands Hayden Women's Vest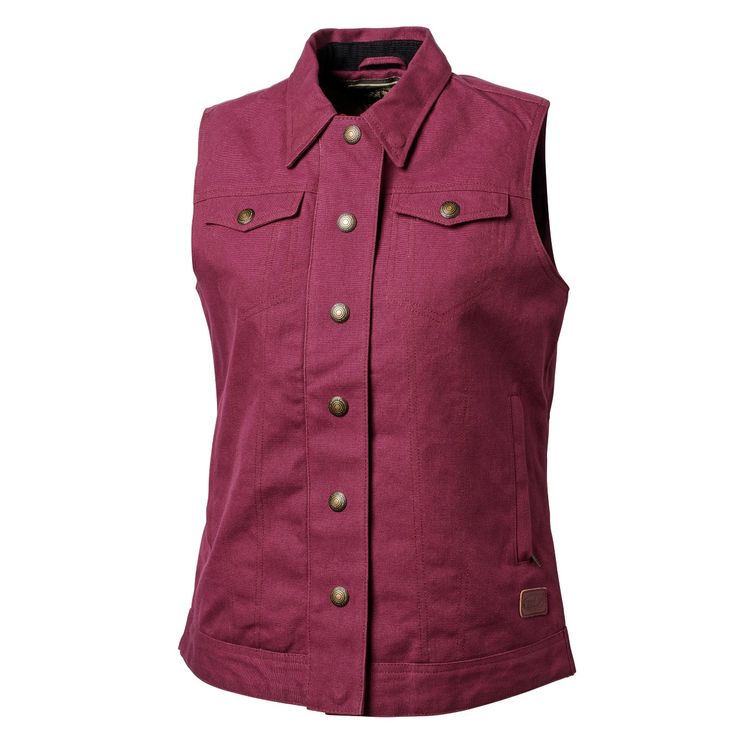 Regular Price: $175.00, Sale Price: $65.00 (63% Off)
Made from 11-oz heavy-weight duck cotton and featuring a pocket for an optional back protector, this tough but unassuming vest is an excellent way to sneak some under-the-radar protection into your ride. It also has a waterproof device pocket to keep your phone dry and functional while riding through wet conditions, even if you happen to like the rain on your face and arms.