If you see a big "V" in your rearview mirror at the Daytona Bike Week or any other motorcycle rally or event in the Florida beachside city, it will be the local cops on their new Victory motorcycles.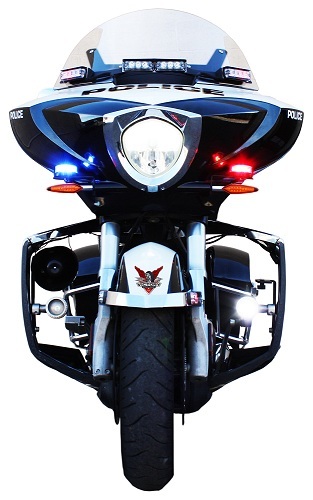 The Daytona Beach Police Department has begun doing daily patrols on 12 Victory Police Motorcycles and will use them for special annual events such as Bike Week, Speed Weeks, the Daytona 500, Spring Break, and Biketoberfest 2014, this weekend (October 16‐19).
The Daytona Beach City Commission voted unanimously in May to accept the recommendation of Police Chief Michael Chitwood and switch to Victory Police Motorcycles.
Victory Motorcycles spokesman Steve Menneto says it's "rewarding to see Victory Police Motorcycles used by the police department that is vital to the city hosting so many major events".
Victory Police Motorcycles is a Tucson, Arizona‐based company that buys motorcycles from Victory and equips them to suit the specific needs of individual agencies. The VPM staff typically equips a Victory Cross Country, Cross Roads, or Victory Vision with equipment such as lights, radio, and siren, a secondary battery to power that electronic equipment, and custom paint that features the agency's logo.
Additional accessories can include tip‐over protection, a skid plate, firearms and radar gun holsters, alternate windshield styles, and more.
However, VPM does not need to make performance or handling modifications to the motorcycles it supplies to law enforcement agencies.
The Daytona bikes come with LED lights, a radio box, a siren and the department's striking custom paint scheme and famous logo.
Victory Police Motorcycles are now on patrol in more than 40 police departments across America and Canada.
Victory Motorcycles Australia marketing manager Adrian Givoye says there are no moves to introduce Victory police motorcycles here.