The role of the police bike today is manifold.
Gone are the days – thankfully – when they were used in chases, cutting through the traffic like a stunt scene from a Hollywood action blockbuster. That behaviour is much too dangerous to the general motorising public.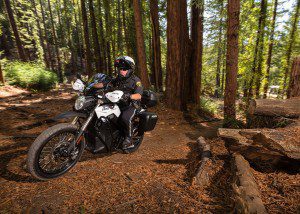 Unfortunately, with the axing of dangerous high-speed pursuits, some police forces have dropped motorcycles from their arsenal. That is a bad move as motorcycles still have roles to play.
I'd like to see more police bikes used for ceremony, community relations and just being seen on the roads. (Of course, off-road bikes also have practical purposes in bush searches and some police services are even using electric bikes.)
There is nothing more inspiring than to see a gaggle of police bikes in a parade. The kids love them; they wave and they cheer. And the kids – and sometimes the adults – want to be photographed sitting on them. Police bikes do more for policed-community relations than just about anything else.
And perhaps nothing makes the crowds cheer louder than police on big American cruiser/tourer-style bikes. Harleys have long been a favourite in the US, but Victory is now starting to make inroads. They look awesome with their lights, sirens and antenna.
It is a shame that no Australian police force has any of these types of police bikes.
On the pother hand, police bikes play a vital role just by being seen.
The sight of a police bike instils a fair amount of fear among motorcycle riders because motorcycle police are more likely to know the vagaries of the laws that affect motorcycles, such as illegal accessories. It doesn't endear them to riders, but it does make us fearful and more likely to behave in their presence. (Years ago a police officer told me an old police academy joke: "If a cadet turns out to be a prick, they make them a traffic cop when they graduate. If they are a total prick, they make them a bike cop." His joke, not mine.)
Out on the highways and byways, it's good to police motorcycles patrolling along with the traffic. It acts as a deterrent, cooling the temperament of hot-headed motorists.
As riders, we know that being on a motorcycle gives you a slightly different view of the traffic and we often spot drivers on mobile phones because of our raised position. It also works for police bikes as a recent successful police operation in Western Australia proved.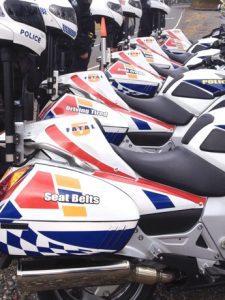 That is why it is good to see the Queensland police introducing more visible police bikes – a mixture of Honda STs, BMW RTs and Yamaha FJRs. Their traditional colours been blue and white with orange and yellow trims. The general fleet will now be predominantly yellow.
In addition, there will be five motorcycles with a "Fatal 5" message of speeding, seatbelts, fatigue, driving distracted and driving affected by drugs or alcohol.
RACQ spokesman Steve Spalding says their members support a visible police presence. He says the livery of these new motorcycles will "help improve road rule compliance and act as a reminder to use the road more safely".
"The road rules are there to keep us all safe on the road so it makes sense to have police motorcycles carrying highly visible reminders of what we should be doing every day," he says.
Meanwhile, a word of caution from Queensland Minister for Police Jack Dempsey: "We're putting more police on the beat to crack down on traffic infringements and enhance road safety for Queensland families. The new motorcycles are used for marked patrols, speed detection and random breath and drug testing operations."