The lowest-profile open-face motorcycle helmet on the market – the Davida Speedster V3 – is now legal to wear in Australia.
UK-made Davida Speedster helmets have long been the lowest-profile helmets, but they were illegal to wear in many markets.
Now the Speedster V3 has received European (ECE22.05) and American (DOT) safety approval thanks to multi-density EPS shock absorption liners and a manufacturing technique called orbital lamination for their GRP composite helmet shells.
Yet they are still a nice low profile so you don't look like you have a big alien head.
They also retain the Speedster's comfortable leather lining which is now removable and swappable with different colour options.
Speedster V3
I've always wanted one, so I bought this nice gloss black Speedster V3 with fine gold pin striping and black leather interior. I could also have chosen a maroon or brown leather lining or brown suede.
Price is an eye-watering $599.95 for one colour, $649.95 for two colours and $699.95 for three colour and special designs. But it's simply the best-fitting and most comfortable open-face helmet I've ever owned.
First thing I noticed was how tight it was to put on but then how comfortable and form-fitting it felt once on my head.
That is because it is narrower below the ears than at the temples. Just like your head!
To put it on you have to grab the chin straps and pull the bottom of the helmet apart to fit your head in and squeeze it over your ears.
However, once in place, it doesn't feel tight, but snug and without any annoying pressure points.
Davida actually explain the process of putting on your helmet on their website and say not to worry about pulling on the chin straps as it won't damage the helmet.
Now, every head is a different shape and maybe not everyone will fit a Davida helmet the same.
However, Davida have profiled thousands of heads and come up with a shape that seems to be more realistic than the standard head shapes of other helmets.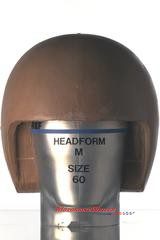 But remember, this is a Euro-made helmet to fit European heads. People of other ethnic backgrounds may find the helmet does not fit as well.
Shell size
Helmet manufacturers provide a wide range of helmet sizes, but the shell is often the same size throughout and they just vary the liner thickness to create the interior size.
Davida obtain a close fit and low profile by using three helmet shell sizes, three thicknesses of EPS foam and six leather linings.
Despite the thin foam liners, the Speedster V3 isn't excessively noisy because the helmet shell fits so closely to your head and the liner doesn't have any gaps to let the wind noise in.
Unfortunately, that means some glasses arms are too wide to fit. I now wear Flying Eyes Golden Eagle sunglasses which have ultra-slim arms and are very comfortable in this helmet.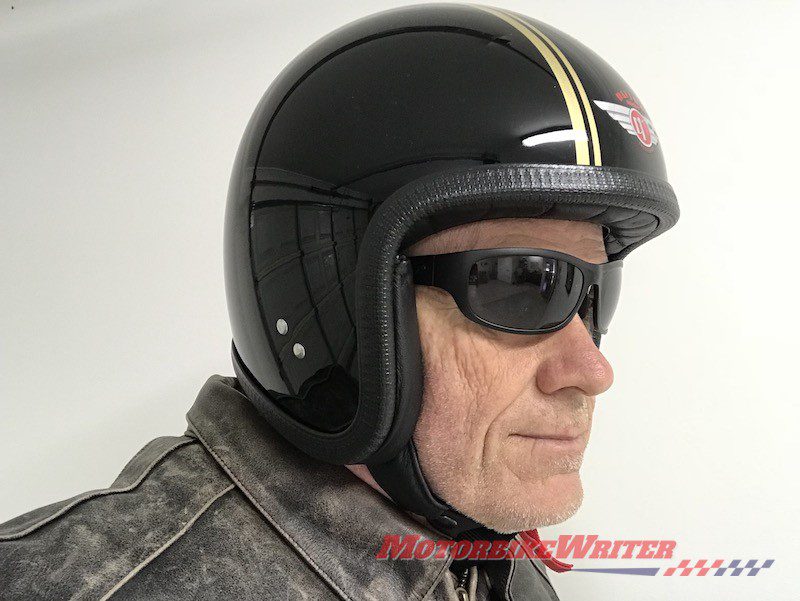 Many open-face helmets act like a windsock and lift on your head, pulling the chin strap in a choker hold around your neck. I often wear a peak on open-face helmets in an effort to get some downforce to negate lift and pull.
However, the Davida's close fit prevents any lift and choking at highway speeds, so there is no need for a peak.
You can order the helmet with press studs for a visor or peak, but I prefer the clean look without studs.
The leather lining is quilted for a comfortable feel and can be removed to be aired and cleaned with proper leather cleaners.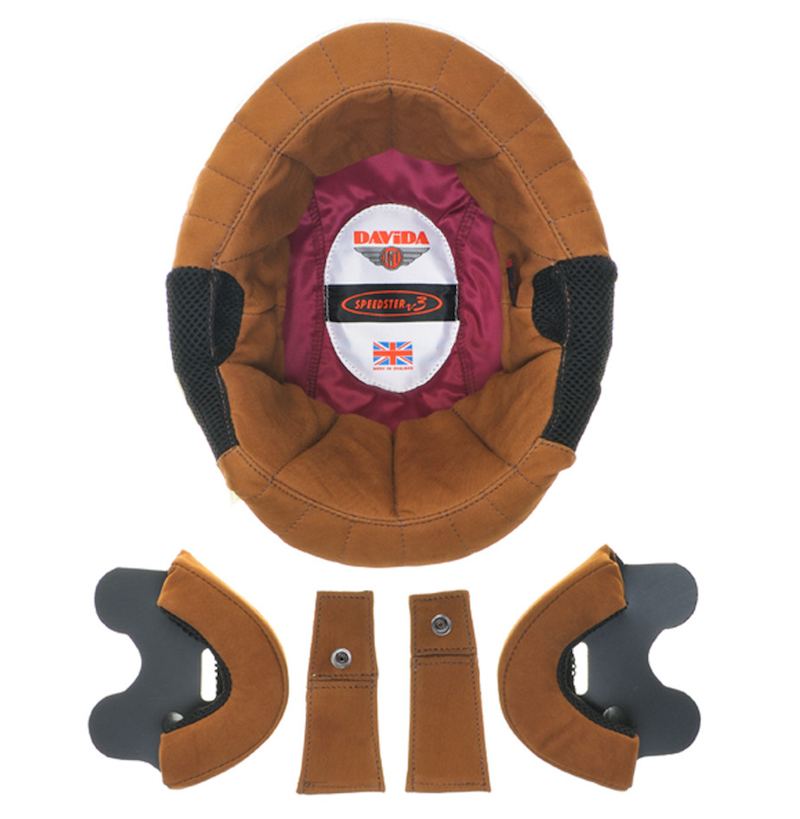 You can also remove and hand wash the maroon silk crown.
The chin strap uses conventional double-D rings which are simply the most secure and adjustable fastener and used by most racers.
At the back is a leather clasp to anchor your goggles strap so they don't fall off.