Davida open-face helmet prices have come down about $100 in the wake of the new Euro helmet laws that allow their use and sale in Australia.
New Euro helmet laws were not only supposed to open our market to a wider range of high-quality  helmets, but also make them cheaper because they didn't have to undergo extra Australian testing.
While we are now starting to see several brands we haven't seen before, few are being offered at cheaper prices and Euro versions of previously Australian-approved helmets are also not coming down in price.
However, the new importer of stylish UK Davida helmets, Crazyhorse Moto / Zorros of Melbourne, claims they are able to reduce prices by as much as $100.
Spokesman Mark Barthelmie says that long before Euro helmets were approved for sale and use in Australia, they sold "the odd helmet" with the standard UNECE 22.05 approval sticker to fashion-conscious riders.
"We used to ask the customer to sign declarations stating they understood they could not be used legally here to prevent a breach of federal law," he says.
"I certainly discussed with Davida some three or four years ago the possibility of submitting the Davida Jet for AS1698 approval but the cost-benefit ratio did not stack up."
Zorros has now reduced the price of these fashionable helmets by $100 to around $649-$749.
"We are, of course, dealing with a handcrafted product made in the UK, all leather-lined and produced by time-served craftsmen and not made in China or South East Asia," Mark says.
"Relative to some Shoei and Arai products that are mass produced, I think the price is good value for money." 
While you can buy a Davida helmet online for about half price, not including shipping, Mark warns that Davida has a very different headform to other helmets.
"It's a much closer-fitting helmet so it's gotta be the right size," he says and that means trying it on in a store.
The Motorcycle Council of Australia warns riders against buying helmets online for sizing reasons. They also advise riders to try them on in a store to ensure they get a tight fit.
Mark says they worked hard with Davida to keep the price down.
"Davida and ourselves have contributed in various ways to contain the price as best we can. For example, my carriage cost by buying in bigger numbers has almost halved the freight cost."
The Davida range has more than 100 styles to choose from, but not all are in stock.
"What we have tried to do is keep the top five in stock in all sizes and a representation of some of the more popular designs. It won't be a surprise that matt black flat black white silver are in the top sellers."
Davida will be releasing a new road-legal version of their 1970s-style Speedster helmet at the Intermot auto show in Cologne, October 5-9, 2016 which should be available here next year.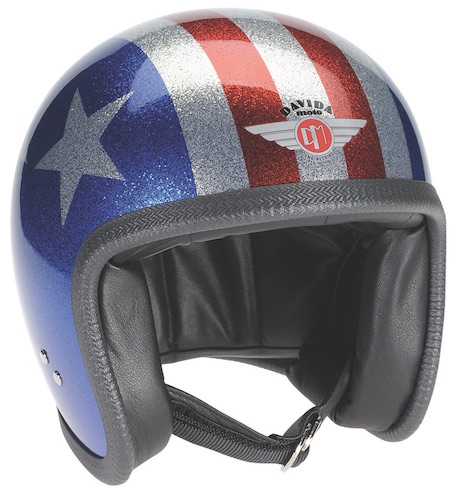 The New Speedster V3 retains all the features of their original Speedster helmet with the  same low profile shell shape and an improved traditional leather lined interior which can now be removed for cleaning or replacement. Replacement leather liners are available in black, brown or nut brown colours.
Mark says the helmets are now available at their Melbourne store and they are working hard to establish a nationwide network of stocking dealers.