Now riders can replace the leather liner in their Davida helmet to prolong its life or create an alternative custom look to match your riding gear.
The replacement leather liner kits for Davida's English-made Speedster V3 and Ninety 2 helmets include the foam ears, strap covers and comfort liner.
It does not include the satin crown, but it can be removed to be washed.
The Speedster V3 kits cost £45 (about $A77) and come in five colours: black, brown, ZNut brown, ROX blood red and white.
The Ninety 2 kits cost £40 (about $69) and come in black, brown and ZNut brown.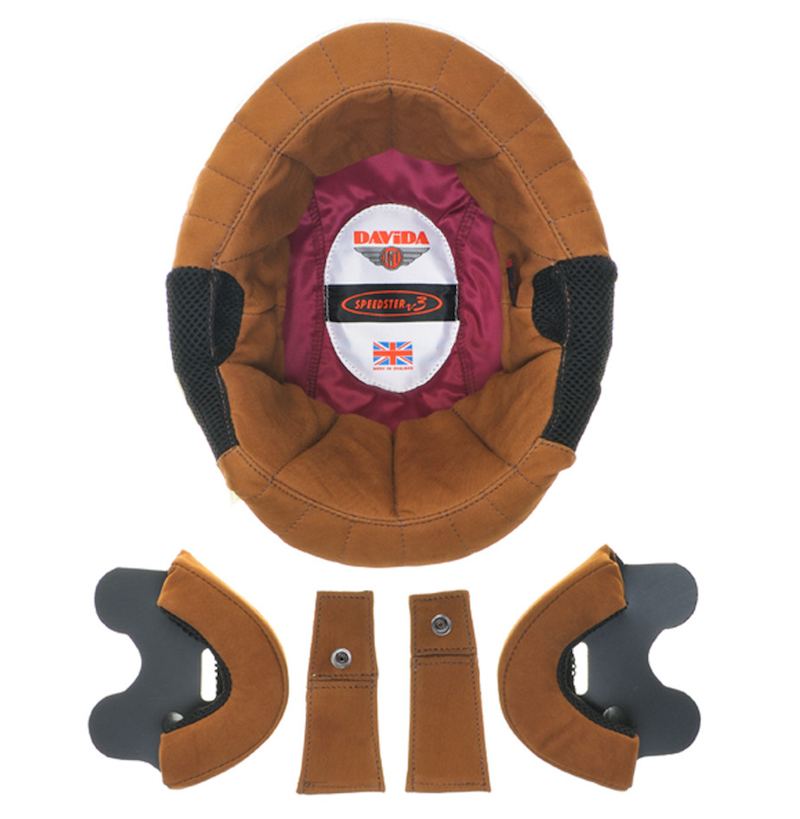 Chin straps can be bought separately for £15 (about $A25).
Both helmets are European ECE22.05 approved which means they are legal in Australia. They are also DOT-approved for the USA.
The leather is cut, sewn and finely quilted.
The lining can be removed and replaced in a matter of minutes.
Each leather liner kit is size specific as the helmet shell is different for each size which is how they are able to make one of the world's lowest-profile helmets.
Many helmets now have removable linings which is a great idea for extending the life of your helmet and removing that stale sweaty smell.
If you do remove the lining from your helmet, follow the washing or cleaning instructions carefully.
The lining is one of the most important safety aspects of a helmet as it not only absorbs some of the impact in a crash, but also keeps the helmet stable on your head, rather than moving around.
It can compress over time and may no longer fit firmly around your head.
Cleaning the lining can restore some of its firm-fit ability.