Look out ladies, heartthrob soccer legend David Beckham stars in a BBC1 feature-length documentary called "David Beckham: Into the Unknown" which is now screening on Stan. (Story updated May 31, 2016)
It features Beckham, 38, riding a Triumph Scrambler into the Amazon rainforest, accompanied by three mates, a bike expert from LA, the film's director and a guy he's known since 14 who doesn't ride but follows in an ancient Ford F100 pick-up truck. There is also an extensive film crew in tow.
The show has attracted a lot of make and female attention since it was first screened in June 2014 and is still attracting attention on pay TV channel Stan. The usually tough and scathing UK press are surprisingly glowing in their praise for Becks who they say comes across as genuine and rugged. It's difficult to escape just how handsome he is the dirtier he gets.
The documentary may also win more cred for the Triumph Scrambler in the same way that Ewan McGregor and Charley Boorman did for BMW's GS bikes in their two Long Way series.
Meanwhile, how long before we see the water-cooled Scrambler?
Becks is an above-average rider with rudimentary dirt-riding and mud-riding skills, but he isn't showy. There is one scene where he crashes, but who wouldn't on the slimy mud with semi-knobby tyres.
Isn't it great to see a multi-millionaire enjoying the same pastime we can all enjoy on a sub-$20,000 motorcycle, not some million-dollar Ferrari!
David says he enjoys riding because of the anonymity and seclusion it provides when he puts on a helmet. However, it's remarkable how many places in Brazil where he is identified.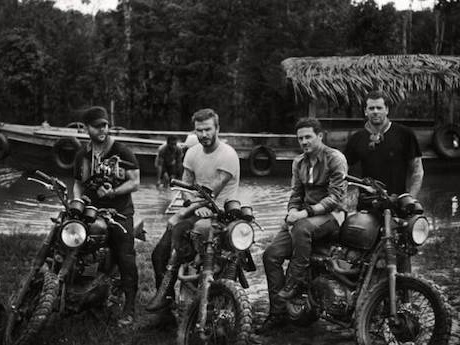 He has long been a motorcycle fan, but hasn't had a lot of opportunity during his hectic career. He is also the face of Belstaff motorcycle clothing.
David may have retired from football in May 2013 after a 22-year illustrious career, but this show still manages to place him in Brazil before the last World Cup.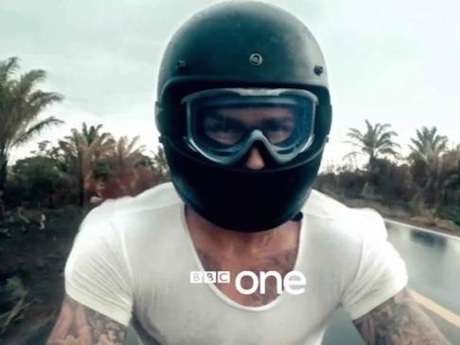 The film starts with Beckham telling his son Brooklyn, 15, that he is the man of the house while he is away. His daughter, Romeo, 12, is worried he will be eaten by a hungry hippo while wife Victoria, aka Posh Spice, is more concerned about his hair in the humidity!
They initially stay in five-star hotels and fly the bikes into the jungle, but from then on they sleep in hammocks and ride much of the way, getting dirtier and muddier.