Group riding with competent riders and good friends can be great fun, but riding in an unfamiliar pack can be fraught with danger as I recently discovered.
I am often asked to go on shop rides, charity events and club rides, but I turn down invitations if I fear there are too many "racers" or novices attending or the organisers aren't very organised.
The problems are that there can be a mix of different skill levels, a variety of motorcycle styles and competencies, riders who want to race (especially if they know I'm a motoring journalist) and some organisers are not equipped to control dangerous situations.
The biggest problem is the mix of skill levels: You get some who are highly skilled, some who think they are highly skilled and those that have very few skills.
It's not the novices that tend to cause the most problems, though.
While I ride with novices who have the right attitude, the most dangerous riders are those who exceed their abilities.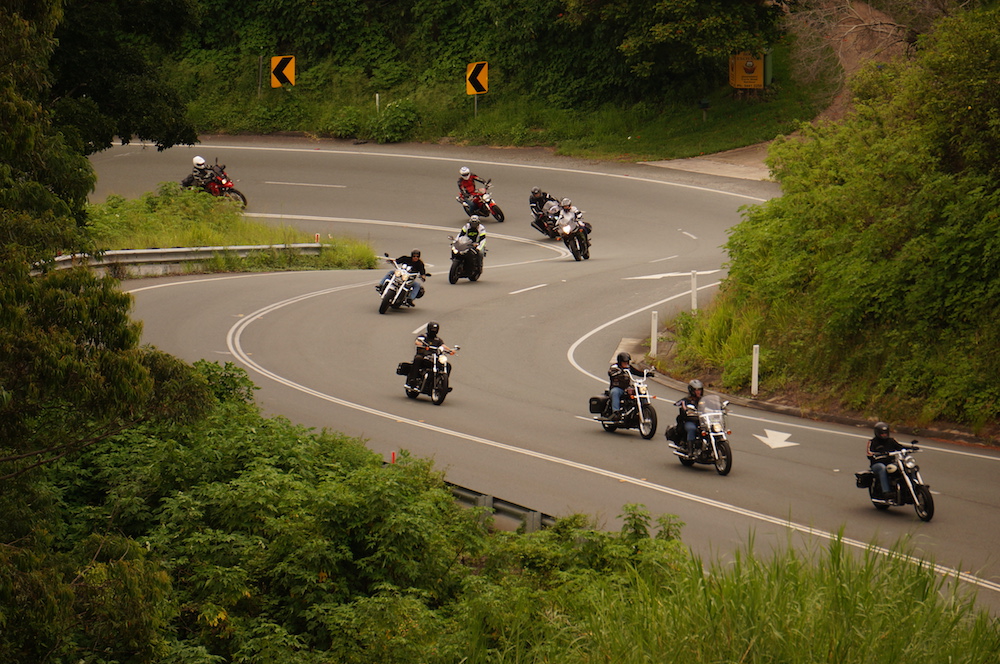 Tips for group rides
But that shouldn't put you off participating in group rides if you take the following precautionary measures:
Check whether the organisers have the runs on the board. How often do they run? Have there been incidents before? Do they have enough escorts at the front, rear and within the group to control the ride? Do they have good communications? Is there a back-up vehicle for

 

breakdowns and first-aid? Despite the potential dangers, some rides are organised well enough to mitigate most dangers.

Talk with other riders when you are mustering and gauge their level of experience. How long have they been riding? Have they ridden with this group before? How long have they had this bike? Often a casual conversation will unearth some truths about their abilities.

Ride toward the front of the group where the more experienced riders are. Sometimes there is a "racy" group just behind the leader. Best to stay just behind them. But don't ride up the back with the novices trying desperately to keep up with a too-hot pace. Towards the front there is less likelihood of being caught up in someone else's crash.

Well-organised group ride
Caught out
Despite all these precautions you can still be caught out as I was recently on a group ride.
At one point, I took the lead for several reasons. I could see the pace was too hot for riders up the back, I wanted to get in front of some riders running wide on corners and I also wanted to get off the boring highway and take some more interesting back roads.
At one stage, I tucked in behind a couple of slow-moving vehicles as we approached a hill crest and a solid white line.
However, one of the other riders further back realised that it was "pass now or be stuck behind them for a while on double white lines and miss the wiggly fun bits".
So he decided to overtake up the hill toward the blind crest.
All ended well, but had there been another vehicle coming the opposite direction, we might all have been scattered like bowling pins.
Disaster strikes
Further on, a rider at the back of the pack wanted to join the front crew, so he passed several bikes in one hit.
I constantly scan my mirrors so I saw him coming from a long way back and had time to plan an escape strategy.
As we approached a corner, I slowed down to let him in front, but he realised he was fast running out of room and tucked back in behind me.
I heard the screech of brakes, braced myself for the shunt and hit the throttle to get out of his way.
Next time I saw him was on my left, sliding sideways across the grass until friction sent him into a high side and tumble.
Bike and rider were ok, but it could have ended in disaster for several riders.
So, riding up front or down the back still may not save you if you are riding in a group of unknown riders with mixed skills, motorcycle types and confidence.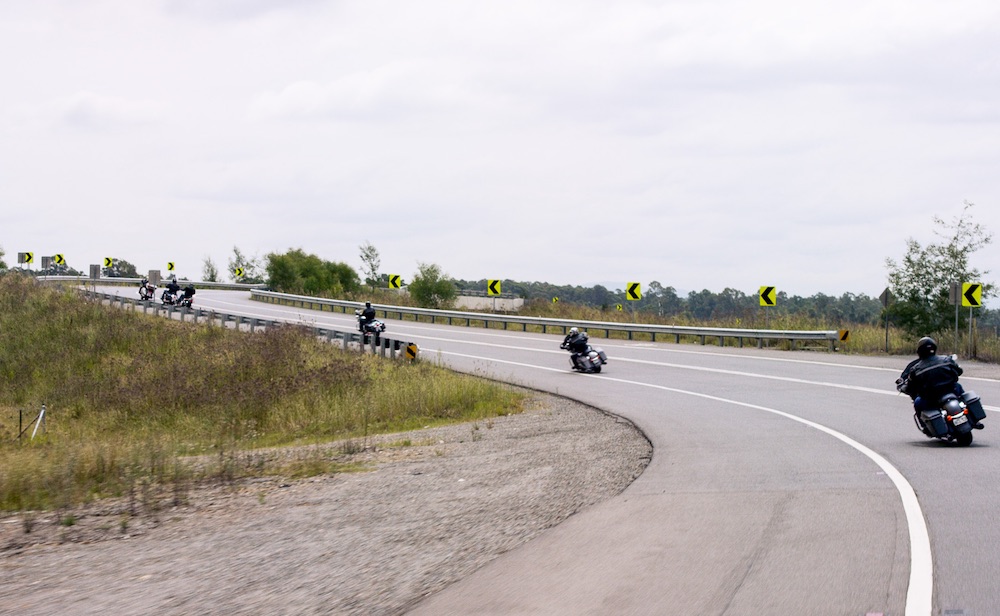 Old bikes
We all love looking at old bikes, but riding with one or more in a pack can also have its problems.
They tend to break down and you can be stranded at the side of the road while the rider repairs his bike (they usually carry tool kits).
Otherwise, the group could be delayed hours while they await a tow vehicle. (Or you could be nasty bastards and just leave them at the side of the road on their own!)
Old bikes also tend to drop oil, which can be a hazard in a group ride. I've seen riders come down in an old bike's oily discharge!