The world's most gruelling and dangerous motorsport event, the Dakar Rally, has again been marred by the death of a competitor.
Belgian rider Eric Palante, 55, died on the fifth stage of the rally, but the cause of his death is not yet known. It was his 11th rally and he was vying for the lead. No alert was received by the organisers, and his water had been replenished.
Today's sixth stage was won by Sherco rider Alain Duclos, one minute ahead of rally leader Marc Coma (KTM), while title contender Juan "Chaleco" Lopez (KTM) crashed out of the rally.
Duclos now moves into podium contention behind Honda rider Joan Barreda Bort who was fourth today.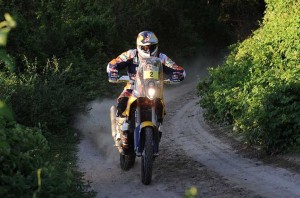 Five-time winner Cyril Despres had another crash where he broke his Camelback and had to ride a long distance in hot conditions without water. He finished 5th and clawed back two overall positions to 11th but a distant 2.24:41 hours behind Coma.
With only 79 riders completing the dusty stage so far, three Aussies have arrived at the bivouac.
Shane Diener (Yamaha) finished 33rd and is in 56th outright, Troy O'Connor (KTM) was 36th (43rd) and Allan Roberts (KTM) in 47th position (46).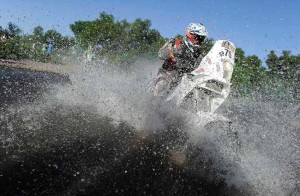 Mark Davidson (KTM) had been marked down as a withdrawal yesterday, but was still on the fourth stage after the riders started the fifth stage.
When he arrived at the bivouac, he had ridden for 27 hours. Mark had a 10-minute break before heading out on the next stage.
He is still listed as having withdrawn from the fourth stage, but it is yet to be confirmed.
The rally has hit the half-way point with a rest day tomorrow.