They call day one of the Dakar Rally a shakedown, but the competitors certainly attacked it with vigour.
Eventual leader of the first stage, Spaniard Joan Barreda Bort was trying so hard he even had a small crash on his Honda.
He was followed by three-time winner Marc Coma on a KTM, just 37 seconds behind and five-time winner and incumbent titleholder Cyril Despres third and 1:40 adrift.
Despres has moved from the all-conquering KTM which has won the past 12 events to Yamaha and says he is happy with his bike.
There are four brands in the top four with Frenchman Alain Duclos on a Sherco in fourth.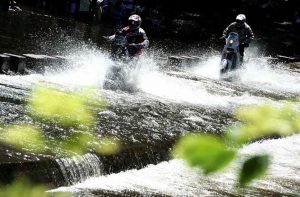 Australia's top hope, Australasian Safari winner Ben Grabham, started off in 32nd place and pushed his KTM to a respectable 11th and 4:50 behind after the first stage. "I'm happy with this as it gves me a better starting position tomorrow and I'm up against the faster riders," he says.
All five other Aussie entrants finished the first stage with Shane Niener on a Yamaha in 44th; Troy O'Connor, KTM, 46th; Allan Roberts, KTM, 90th; Clayton Jacobsen, KTM, 135th; and Mark Davidson, KTM 143rd.
Riders started at 4.20am and had a four-hour, 405km liaison to get to the first 180km special stage with a 234km ride to the overnight bivouac.
The rally has started in Argentina and this year includes Bolivia as well as returning to Chile.