Waterproof and Comfy Touring Boots
The Dainese Fulcrum boots are made from soft, broken-in leather that is very comfortable.
These are touring boots offering CE level protection and a Gore-Tex waterproof lining.
Dainese has the Fulcrum boots listed in the "winter" category, but the Gore-Tex breathable liner works in hot weather also.
Also, the "Skywalk" sole has a lot of grip and good flexibility
The boots are also certified to the EN 13634 2010 Standard, "requisites required of safety footwear for professional motorcycle riders."
A good pair of boots can be hard to find. It can be even harder to find a good pair of motorcycle boots.
They come in a very wide array of styles, shapes, and purposes, so what's good for one rider can easily be useless to another.
To reduce the confusion early on, I'm going to make it clear this review is about a tall street boot designed for touring.
This description should help narrow the focus of any comparisons, as there will undoubtedly be some.
In my time riding motorcycles, I've worn short boots, tall boots, and even a pair of riding "shoes".
All of them have their benefits and some liabilities.
I've decided that I prefer the tall boot style for street riding now, compared to the shorter boots I've had in the past. Protection is the key factor in this decision.
If you are thinking protection is good but that tall boots can be uncomfortable, that can be true, especially when off the bike and walking around. A tall boot can make it difficult to walk without some extra effort involved in moving the ankle.
Also, tall boots — especially the waterproof variety — can become warm in hot weather. Motorcycle-specific boots can also have other aspects that can decrease comfort, due to their nature of being protective equipment.
So keeping all the above in mind, I'd say finding a pair of waterproof, tall, protective and comfortable motorcycle boots can be a daunting task. Turns out though that it is not impossible. Read on to see if we have a winner on our hands (feet?) in this review.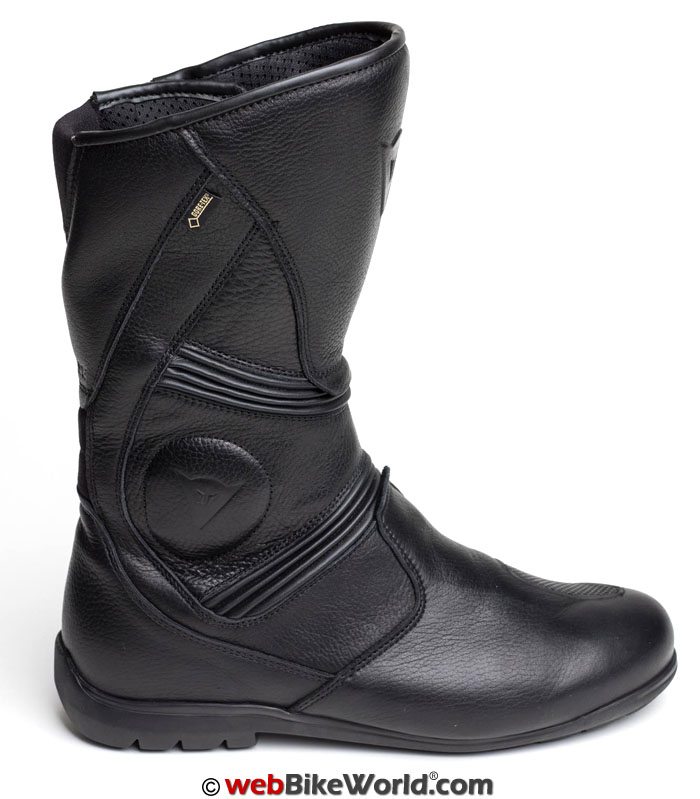 The Dainese Fulcrum C2 Gore-Tex boots look bit different from the usual motorcycle touring boot. Sure, they are all leather, black and with a zippered closure, but the overall design echoes the shape of a sport boot.
The upper has a wide opening that "leans" forward, leaving space for pant legs to be tucked inside if so desired. It also works well for sport and sport-touring machines that may have more cramped distance between the seat and foot pegs.
Branding is very subdued, with the Dainese delta-shaped logo embossed into the leather in front of the shin and on the anterior area of the ankle. On the back, above the Achilles tendon, is a small embossed Dainese text logo which can be seen on close inspection (I missed it initially).
The Fulcrum boots are tall, measuring 12 inches (30.5 cm) from the bottom of the sole to the top of the opening panel on the side.
On the interior, the height from the insole to the same location is 10.5 inches (26.5 cm), but the gusseted liner only comes up to 7.25 inches (18.5 cm). This allows for good flexibility towards the top but does reduce the actual height of the Gore-Tex waterproofing on the boots.
Visibility is not what I would call bright, with only a small reflective patch near the top of the back of each boot. I'm not sure outstanding visibility is a real priority on boots however, as the boots aren't always that visible under pant legs.
But when a design accommodates an "in the boot" pants option, it might be nice to have a little more reflective "pop" for being seen on the road.
Above the toe box is a rubber-like shifter pad on both left and right boots. I assume this is for appearance or symmetry's sake, but if you happen to own a classic right side shift bike, you're covered.
Construction
The Dainese Fulcrum boots are all leather, made from cowhide that is very soft right out of the box. They feel practically broken in the first time they are worn, the leather is that pliable.
At first glance the boots appear relatively simple in design, but there is actually a lot going on when you take a closer look. For example, I counted at least nine separate panels that form the upper portion of the boot (everything above the sole).
All of this leather feels nice and thick (no spec is given) and this thickness, combined with the soft feel of the leather, really gives these boots a quality feel.
Two accordion-style stretch panels are present at the front of each boot, with one running from the top of the foot towards the heel and the other above the ankle running straight towards the back. Both panels only continue about halfway around the boot.
Complementing the stretch panel at the front is a padded polyester patch of material at the rear.
This panel sits at the junction of four leather panels at the rear behind the Achilles tendon and provides point of "scrunch" when flexing the foot downward.
A similar patch of material is present straight above at the opening of the boot to offer some padding when flexing the foot.
Diving inside the boots, the opening at the top is 75 to 100 mm (3 to 3.5 inches) and lined with a polyester mesh. The height varies from shorter at the rear to the highest at the front.
Proceeding further inside, the lining changes to the waterproof liner with the Gore-Tex membrane. The liner is gusseted under the zipper which tops out at the height of the Gore-Tex.
The zipper is from Opti, a brand that has been under the famous Coats Company since 1989. It is very sturdy and smooth requiring a deliberate pull to fasten.
Once fastened, a large leather flap covers the zipper closure and fastens with a generous amount of hook-and-loop.
When I get to work and change shoes, everyone around knows I just peeled open this flap, it's that loud. It will not come undone by accident though!
Underpinning the entire works is a Skywalk sole. This is the same type of sole on the Dainese Long Range C2 boots I reviewed back in August of 2014. These soles have excellent grip and offers good flexibility at the front of the foot.
The middle feels very stiff suggesting there is a shank in the sole.
Strength in this area is of great benefit to motorcycle riders as it helps reduce fatigue from putting weight on a narrow peg for long periods of time. .

---
Where to Buy Dainese Fulcrum C2 Gore-Tex Boots
Check Reviews & Prices on Amazon
Check Reviews & Prices On RevZilla
Also: Leather Motorcycle Boots, Touring Motorcycle Boots, Women's Motorcycle Boots
---
CE Rating
The Dainese Fulcrum boots are certified to the CE EN 13634/2010 standard.
Paraphrasing, the EN 13634 Standard specifies strict testing by accredited institutes that assesses compliance with chemical (the pH of the upper) and mechanical (the upper's resistance to wear, tear, and shear and the resistance of the sole to detachment) requisites required of safety footwear for professional motorcycle riders.
For more information regarding CE Certification please check out our article CE "Certified" vs. "Approved"? There Is a Difference.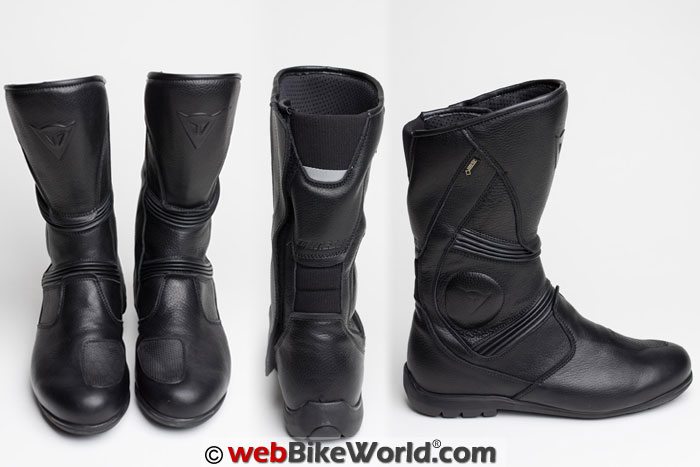 Protective Features
CE certification is a good thing, but it doesn't specifically call out particular protective features. Starting from the ground up, the grippy Skywalk sole has a strong shank in the center. I cannot say what material it's made from, but trying to flex the sole, at least by hand, is very difficult.
Not only does this reduce fatigue as mentioned earlier but adds protection from damaging "flex" in a crash.
Moving up to the ankle, semi-rigid nylon inserts are present protecting both the lateral and media malleolus (or ankle bone). The lateral location is easy to spot behind a circular stitching in the leather.
The medial one is located under the loop portion of the hook-and-loop fastener at the boot opening.
Up in front of the shin is a thermoformed insert (plastic) underneath the leather to add some extra impact resistance. I don't doubt that it is an improvement over just the leather, but something a little thicker/stronger in this position would be a little more to my liking.
This might be one place where protection gave in a bit to comfort.
Something that has been missing from a lot of boots I have seen recently is a steel or plastic cup in the toe box area as well as in the heel. On the Fulcrum boots there is reinforcement of some kind and it feels similar to the same protector in the shin area.
Like the shin protector this could be a little stiffer or thicker, but at least something was placed in these areas.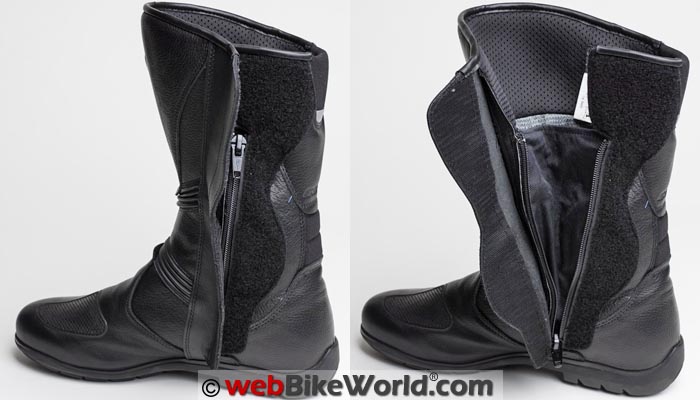 Fit and Comfort
This is the second pair of Dainese boots I have reviewed and so far their sizing seems very accurate. The size 44 boots shown here also have "US 11" printed inside and I would agree. I'm just over 10.5 in US sized shoes and between B and C in width.
The Dainese Fulcrum boots feel a little looser over the top of the foot than the Dainese Long Range boots but this could also be due to the softer and more flexible cowhide on the Fulcrum boots.
The Fulcrum C2 Gore-Tex boots are about the most comfortable I've worn over the years, second only to my old favorites, the discontinued Alpinestars Recon boots (review).
The Fulcrum boots flex in the right place in the sole, which makes getting around off of the bike a breeze. The large opening keeps the boot from having to flex too much and rub against the shin when walking.
When riding, the soles offer enough cushioning to reduce vibes from the engine but stiff enough to let me ride for hours without thinking about my feet.
Likewise, despite being waterproof, the Fulcrum boots don't get stuffy and steamy in hot weather — and I've ridden in hot Alabama sunshine on a 95+ degree (F) day all the way to Nashville.
You'll pay for that Gore-Tex label, but that waterproof-yet-breathable feature really works.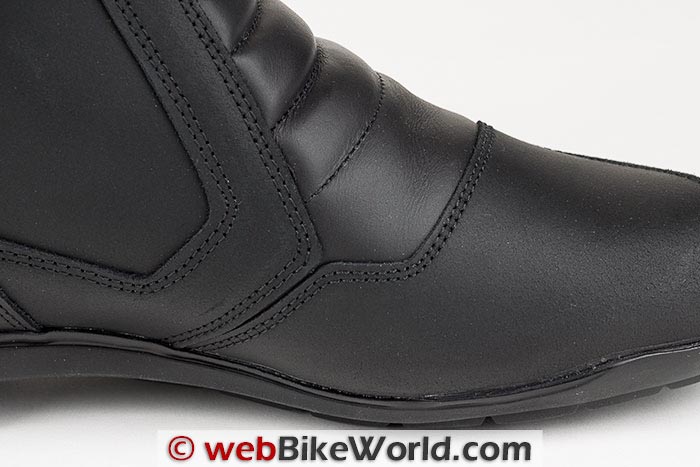 ---
Where to Buy Dainese Fulcrum C2 Gore-Tex Boots
Check Reviews & Prices on Amazon
Check Reviews & Prices On RevZilla
Also: Leather Motorcycle Boots, Touring Motorcycle Boots, Women's Motorcycle Boots
---
The Dainese D-WP Waterproof Breathable Membrane
The Dainese Fulcrum boots are very similar in design and purpose to the Dainese Long Range C2 boots I reviewed previously. However, the Fulcrum boots have the genuine Gore-Tex membrane, technology and guarantee, while the Long Range boots use a Dainese facsimile.
The Fulcrum boots are marketed as waterproof and that Gore-Tex portion of the name should offer good odds that these boots will indeed be waterproof.
However, "should" and "are" are sometimes two different things as far as waterproof is concerned when doing these boot and glove reviews, as every long-time webBikeWorld reader knows.
Would the Fulcrum boots hold up "under water" as well as the Long Range boots? It was time for the "Bucket Test"!
The webBikeWorld Bucket Test is a simple and straightforward affair and it is conducted on boots and gloves when testing for waterproofness.
The gear in question is placed on the hands or feet and then they are immersed in a bucket of water for five minutes. Any water gets in during that time and they fail.
In the case of the Fulcrum boots, I used a deep sink, so no bucket, but water is still water, right?
I also switched it up by placing my hands in the boots instead of my feet. This actually makes it easier to tell the difference between just cool material versus actual water inside.
The verdict? A resounding pass!
Five minutes underwater up to the top of the liner revealed no leaks. What's more, this wasn't just when they were new out of the box.
Out of curiosity I repeated this test in December of 2015 and they passed again. I had been wearing these since May of 2015 and put thousands miles of riding on them!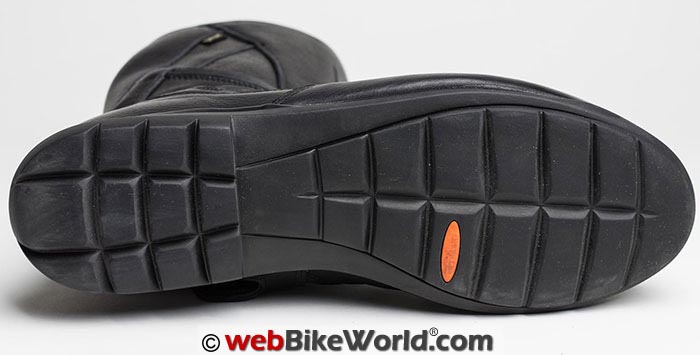 Conclusion
As stated above, I have been riding in these boots for more than 6 months at the time of this review, so this is more than just a review; it can be considered a long-term report as well.
During the time I have been wearing the Fulcrum boots they have never put a bad foot forward (been waiting to use that one!).
I have ridden on 200 mile trips in hot summer sun as well as Interstate blasts in heavy downpours.
Also, my Triumph Sprint 1050 blasts very hot air at the rider's left foot. I'm holding one of the boots in my hand right now while I write this and besides the wear on the sole, which is moderate, I can't really tell they've been worn that much.
The Fulcrum C2 Gore-Tex boots are bit pricey at $299.95 but considering the build quality, comfort, and protective features, the cost doesn't seem all that bad.
If you have a good shoe repair service near you, they can likely replace the soles when needed. Or try Factory Resole; they specialize in repairing Sidi and other motorcycle boot brands. This can extend the useful life of these boots to a point where they end up being quite the bargain.
I plan on keeping these boots long enough to see how the sole replacement goes down the road and hopefully longer than that.
I feel comfortable highly recommending the Fulcrum C2 Gore-Tex boots for anyone looking for a pair of tall touring boots that are ready for the long haul in rain or shine.
w

BW

 Review: Dainese Fulcrum C2 Boots
Manufacturer: Dainese
List Price (2016): $299.95
Colors: Black
Made In: Romania
Sizes: 36-50 Euro
Review Date: February 2016
Note: Item provided by a retailer, distributor or manufacturer with these Terms and Conditions.
Note:
 For informational use only. All material and photographs are Copyright © webWorld International, LLC since 2000. All rights reserved. See the webBikeWorld® 
Site Info page
. Product specifications, features and details may change or differ from our descriptions. Always check before purchasing. Read the
Terms and Conditions
!
---
Where to Buy Dainese Fulcrum C2 Gore-Tex Boots
Check Reviews & Prices on Amazon
Check Reviews & Prices On RevZilla
Also: Leather Motorcycle Boots, Touring Motorcycle Boots, Women's Motorcycle Boots
---
Owner Comments and Feedback
---
From "D" (April 2016): "I purchased a pair of these boots back in July 2014 from RevZilla (they give me the VIP treatment every time I mention you guys).
I was in the market for a pair and decided I was not going to skimp on quality. The sales person recommended three different boots that were waterproof, durable, and comfortable.
He mentioned this one as the most comfortable of the three, but did not have the same level of protection as the others.
I'd purchased boots with good protection before, but (they) sat in the closet because they were not comfortable. I was not about to make that mistake again.
These boots have been great! I commute 15K miles per year in sunny California rain or shine. These boots do not disappoint. My feet stay dry in winter and cool in summer. I've put more miles on these than all my previous boots combined.
After reading this review, I'll likely replace the soles when they wear out, something I had not considered. Thanks…"
---
From "C.J." (February 2016): "Great review and spot on. Like you I bought a pair of these about six months agar and have put about 3,000 miles in mostly fair to hot weather, with a few rain days thrown in.
They are comfortable both on and off the bike, the rubber sole does seem to isolate vibration a bit from the bike, and the are comfortable to walk in.
Sizing is spot on, and the soles, after six months, show no wear whatsoever. I think they skimped a tad on the shin protection, but thankfully I have not had a chance to test that out.
I really love their performance in hot weather, my feet tend to sweat a lot but I find with a good pair of socks (I like Smartwool) my feet do not get funky.
I only have two nits to pick with the boot, which I feel is OK given their price. Some sort of cinch on the instep would have been nice, since for me this area tends to be a tiny bit loose.
Secondly, the zipper on my right boot occasionally kinks when I zip it up, I can always clear the kink but I am keeping an eye on it. Keep up the good work."
Other WebBikeWorld Boot Posts