Dainese D1 Kevlar Jeans Review
The Dainese D1 Kevlar jeans feature a heavyweight blend of denim with Kevlar fibers incorporated into the weave.
Additional abrasion protection is provided in the form of "Kevlar Jersey" knitted fabric in the crotch and hips.
The D1 Kevlar jeans have a lot of style and the cut is shaded towards the "skinny jeans" type currently in vogue.
In addition to the Kevlar, the knees have EC Level 1 (1997) padding.
This is Part 5 of our 2012 "Summer Style Series", featuring AGV helmets and Dainese outfits for stylish hot-weather motorcycling.
The Dainese "Shotgun" jacket (review) and Dainese Aspide jacket (review) are both a good match with the new Dainese D1 Kevlar jeans, along with the Dainese Asphalt boots and Druids gloves; both of those reviews will be published next.
Dainese currently has 12 different types of motorcycle jeans in their 2012 lineup; enough choices for everyone, to be sure.
The D1 Kevlar jeans are "top of the line" and some might argue that the Dainese Drake Air Tex jeans, with mesh Cordura fabric, would be better suited for a hot-weather riding outfit. But the Drake jeans look a bit plain compared to the D1 Kevlar jeans, and the focus on this series is style.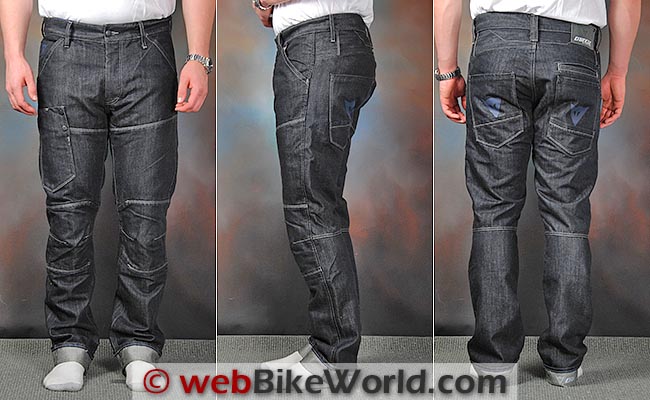 ---
Where to Buy Dainese D1 Kevlar Jeans
Check Reviews & Prices on Amazon
Check Reviews & Prices On RevZilla
Also Shop for: Motorcycle Jackets, Motorcycle Gloves, Motorcycle Boots, Motorcycle Pants
---
Dainese D1 Kevlar Jeans Details
Speaking of style, the D1 Kevlar jeans have plenty of it — make no mistake about that. In fact, there may be just a bit too much here for some.
I'm a fairly conservative type when it comes to clothing, so I wasn't sure at first whether I'd take to the D1 jeans sense of fashion. But when I put them on, discovered the nice fit and showed them to the better half, she thought they looked great. Curiously enough, so have several other women friends who have seen them.
So let that be a lesson, men (and women too!): a little style in your life can perk up the interest of the opposite sex! But we're also all about safe riding, and the D1 Kevlar jeans seem to have that covered as well.
But if you're not sure if the D1 jeans will work for you, don't worry — Dainese has a style for any taste. Of the dozen pairs of motorcycle jeans in the 2012 Dainese collection, two have Kevlar woven into the denim for added protection. They are the D1 Kevlar jeans shown here, with a list price of $249.95 and the D6 Kevlar jeans at $229.95.
I haven't seen the D6 jeans, but the photos and information indicate that they have the same Kevlar weave fabric found in the D1 jeans. The D6 jeans have the traditional Levi's jeans style, where the D1 Kevlar jeans have what appears to me to be more of a European jeans styling.
In addition to the Kevlar jeans, they also have fabrics ranging from regular ol' denim to Cordura, in a wide variety of styles and shapes. Bottom line? If you don't like the D1 Kevlar jeans, there are plenty of others to choose from.
One thing's for sure: after pairing the D1 jeans with the Dainese Aspide and Air Frame jackets as part of this Summer Style Series, I very much started to appreciate both the fit and the look of these pants.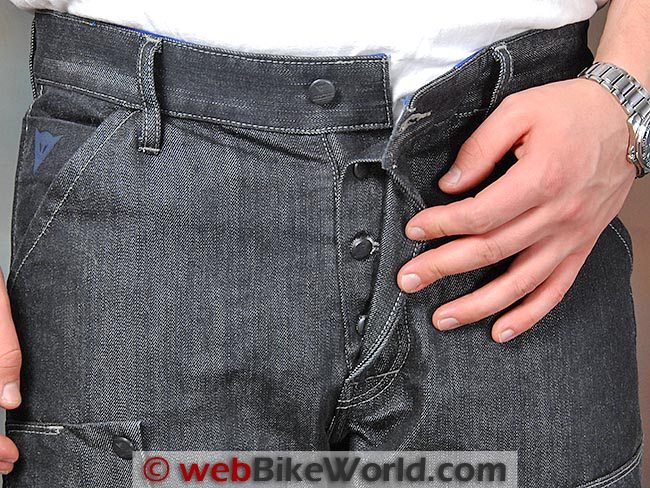 Fabric and Construction
The denim fabric with its Kevlar weave in the D1 jeans feels very heavy-duty; more so than any other motorcycle jeans we have reviewed. These are not your basic Levi Strauss jeans, and the fabric is also thicker or more substantial than brands like, say, the Draggin' Jeans (review) we have also reviewed.
The D1 jeans include protective sections made from something called "Kevlar Jersey" fabric, which is attached in sections to the inside at the crotch and in a narrow section at each hip (10 cm wide and 30 cm long). The Kevlar Jersey fabric has a soft, stretchy feel; rather similar to the cloth used for a sweatshirt.
I'm not sure why this abrasion-resistant material would be placed in the crotch, rather than on the knees or backside, but I suppose the Kevlar fibers woven into the overall body of the jeans provide the abrasion protection in those areas.
The special denim Kevlar weave used for the overall construction of the D1 jeans also has a soft feel, with a very nice high-end finish and appearance. The fabric makes the D1 jeans feel instantly comfortable. And by the way, Kevlar stitches are also used throughout — something else that adds to the cost but that you probably won't find in those other mass-market brands of jeans.
These are very nicely made pants, made with high levels of quality. They have a combination of double stitching, hidden stitches and rolled seams, even at the pockets. Inside the jeans, the seams are either double-stitched or made stronger with a folded-over inner section that is also hemmed with a separate light blue fabric.
Metal snaps are used throughout, including in the fly. The overall construction and detailing is superb and surely is the reason why the jeans cost more than average, but it's all very high-end work, so that's what you're paying for.
I think the features add to the overall style; everything from the sheen of the denim to the rich-looking color to the stitching and construction tell you these are decidedly not the average, everyday jeans of the proletariat.
Air Flow Notes
The tight and "heavy duty" weave of the D1 Kevlar jeans means that these pants do not flow as much air as your typical street jeans…but then again, the D1 jeans certainly have way more protection than you'll ever find in a pair of light, baggy cotton street jeans anyway.
---
Where to Buy Dainese D1 Kevlar Jeans
Check Reviews & Prices on Amazon
Check Reviews & Prices On RevZilla
Also Shop for: Motorcycle Jackets, Motorcycle Gloves, Motorcycle Boots, Motorcycle Pants
---
D1 Kevlar Jeans Styling
Some of the details that separate the D1 jeans from the other models in the Dainese 2012 lineup include the button fly, the extra stitching around the rear pockets, the Dainese fox/devil head logo in reflective material on the pocket and the extra sections of fabric with contrasting stitching.
And, of course, don't forget the most controversial feature, the pocket on the right front thigh.
It has an irregular shape — long and narrow — running about 12 cm across by 20 cm long. It fits a cell phone (mine anyway) or, I suppose, a shiv (just kidding, of course!). The thigh pocket is fully lined and has two metal snaps on the upper left-hand corner; yet another styling feature that adds some spice.
I could probably do without the pocket, but hey — then they wouldn't be the D1 jeans, right? If you want basically the same thing but with more traditional jeans styling, simply check the D6 box instead…and save yourself 20 bucks besides.
Me? I've come to like the D1 styling and I also like their "skinny jeans" fit. They're not as narrow as some of the painted-on tights of late, but the D1 jeans are definitely more tapered than yesterday's baggy jeans.
Actually, I've been buying narrower pants anyway lately, having tired of the baggy look. And the narrower profile also helps keep the jeans closer to the bod during a fall — perhaps part of the plan. After all, these are motorcycle jeans, right? Although the styling is nice enough that chances are no one will know.
Pockets, Vents and Zippers
In addition to the front thigh pocket, the D1 Kevlar jeans have the standard selection of 4.5 jeans pockets: two in front, two patch pockets in the rear and the half-pocket, for loose change, in the front right.
But wait — there's more! As an extra bonus, there's a big, wide, deep (18 cm x 25 cm) extra pocket above the right rear patch pocket. This one is not a patch type but has a reinforced stitch slit that parallels the top of the standard rear pocket.
So all told, there's actually plenty of storage in the D1 jeans, although the pockets do not have any type of hook-and-loop or other closure system, the likes of which would probably seem goofy anyway on a pair of jeans.
The jeans also do not have a zipper of any type, instead relying on four metal buttons in the fly. Once the button holes are used a few times, they become broken-in, so they're not really an issue. Again, some will like it; others will not, but that's what good styling is all about. If you make it too tame, then it will look bland.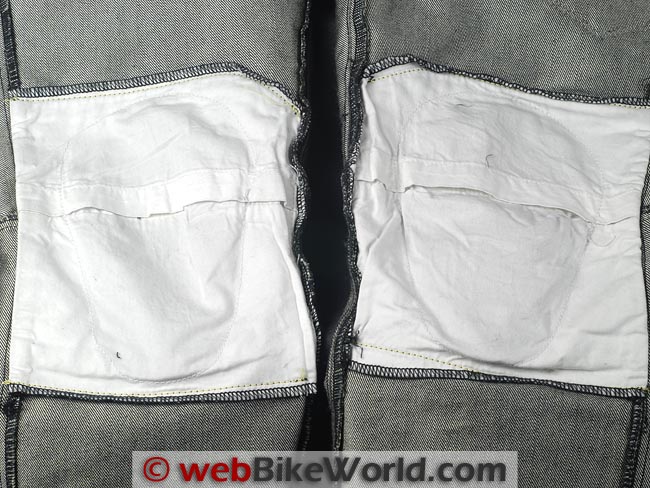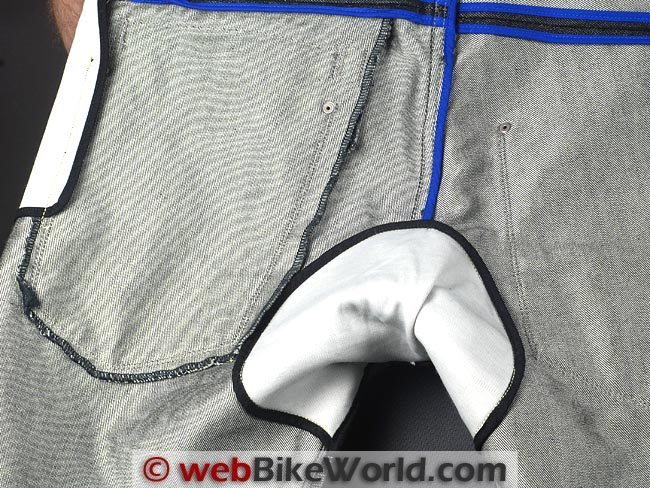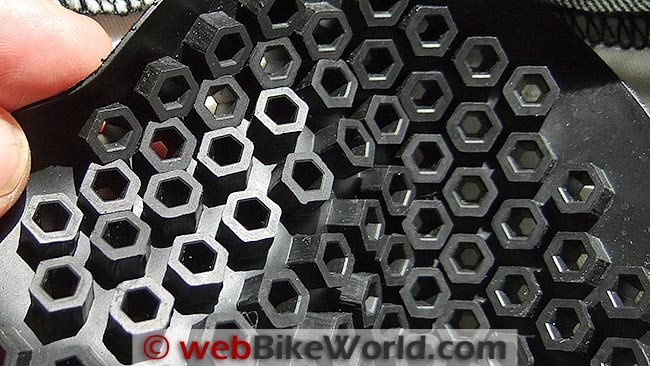 Armor and Padding
Other than the strips of Kevlar Jersey material in the hips and crotch (see the photos in the Slide Show below), the D1 jeans have thin sections of a rubbery type of padding that Dainese calls "Pro Shape soft protectors". It's supposed to meet the CE Level 1 standard of 1997.
The stuff is so thin, I didn't even notice it was there, thinking instead that the pockets inside the knees were for some type of optional armor. I'm not sure if Dainese or anyone else makes a knee protector that would fit in the pocket, and the Pro Shape padding offers minimal protection, although it is nearly unnoticeable, which I suppose is a styling advantage.
Armor in jeans is pretty much a paradox anyway, as most jeans fit very loose, so the armor has little chance of staying in place. I almost always remove the armor from any type of motorcycle pants anyway, because it rarely fits me correctly.
I prefer to wear the Bohn "Cool Air" body armor (review) instead, which is armor built into underwear. I've been wearing those for years, under jeans, textile pants and leathers. In fact, one of these days, we have to do an updated review and combine the Cool Air armored pants with a Bohn armored shell. The Cool Air undies are a snug fit under the D1 jeans; all the better.
As always, there's the safety and protection compromise to consider when wearing jeans. If you want the ultimate in protection, Dainese will be happy to sell you a one-piece leather race suit or a pair of leather pants. But jeans sure come in handy when you're riding to the store, down to the local pizza shop or those many other places where a one-piece leather race suit just wouldn't look quite right.
---
Where to Buy Dainese D1 Kevlar Jeans
Check Reviews & Prices on Amazon
Check Reviews & Prices On RevZilla
Also Shop for: Motorcycle Jackets, Motorcycle Gloves, Motorcycle Boots, Motorcycle Pants
---
D1 Kevlar Jeans Sizing
The D1 Kevlar jeans are available in U.S. sizing, ranging from 28 to 44 waist (44 to 64 Euro sizing). Dainese does not list a leg length for each size, but the legs are proportional on this pair, which is a U.S. 36 waist.
The legs measure about 34.5″ on the inseam, which is about correct for this waist size and allows more than enough length to accommodate the sitting position on a motorcycle. Dainese press photos show the leg cuffs folded up, '50's style, and there's a reflective "Dainese" text logo on the inside of the bottom of the cuff that is supposed to show when the cuffs are turned up. The cuffs can also be tailored by the owner if necessary.
The pants have a roomy fit up top, and although I called them "skinny" jeans, they're just a slimmer fit than the typical baggy construction. So, based on this one example, it appears that Dainese has taken into account a North American body shape. In fact, I probably could have taken a size smaller for an even closer fit.
The model shown in the photos usually takes a size XL jacket and he's about 5'10", which will hopefully give you some idea of the fit.

Conclusion: On the Road With the Dainese D1 Kevlar Jeans
I've come to appreciate the styling of the D1 Kevlar jeans and they definitely look good with either of the Dainese jackets reviewed as part of this series.
The overall construction, fit and feel of the material is also a definite step above those "other" brands of jeans. I'd like to see an additional Kevlar section in the seat of the pants and perhaps the option for larger armor in the knees and padding in the hips, although I'm not sure how that might affect the look.
But overall, if I'm wearing jeans, I'd rather wear the D1 than any of the other lightweight cotton jeans currently hanging in my closet. It's not easy to find true Kevlar protection and Kevlar stitching combined with style and comfort, but the D1 jeans have it.
More wBW Motorcycle Jeans Reviews  |  Motorcycle Clothing Reviews
w

BW

 Review: Dainese D1 Kevlar Jeans
List Price (2012): $249.95
Sizes: 28-44 US (44 to 64 Euro)
Note:
 For informational use only. All material and photographs are Copyright © webWorld International, LLC since 2000. All rights reserved. See the webBikeWorld® 
Site Info page
. Product specifications, features and details may change or differ from our descriptions. Always check before purchasing. Read the
Terms and Conditions
!
---
Where to Buy Dainese D1 Kevlar Jeans
Check Reviews & Prices on Amazon
Check Reviews & Prices On RevZilla
Also Shop for: Motorcycle Jackets, Motorcycle Gloves, Motorcycle Boots, Motorcycle Pants
---
Owner Comments and Feedback
---
From "B.L." (June 2012): "Have you ever considered an abrasion test for the armored clothing products you review? I found an article, posted on the Internet, several years ago, where the author had attached different materials to the bottom of a concrete slab. He then pulled the slab behind a pickup truck, to determine how long the materials could withstand the abrasion, before failing.
Not surprisingly, leather lasted far longer than any other material tested: cotton denim, Cordura Nylon, Kevlar fabrics, thinner leathers, and other materials. He listed their abrasion resistances in seconds, with denim cotton lasting less than one second before wearing through, as I recall.
While his test was less than scientific, it was very good at illustrating how effective the various materials were at resisting abrasion, compared to racing leathers, the de facto standard. Any such test would be open to interpretation, but it would clearly illustrate how the various items of protective gear, stacked up against a known standard: racing leathers, of an accepted thickness, and quality.
A simple approach would be to use a belt sander, with a relatively smooth grit, say 400, or even 200. As long as the belt grit remains the same, the test results would be valid. Use a standardized weight, say a concrete block, with each material (sample size can be a 4″ square, as it won't require much to determine its abrasion resistance).
By examining how long each could withstand the abrasion, compared to the racing standard, leather suit, we would have a realistic understanding of just how protective a given item actually is, in the real world of low-siding on the pavement. We would not need fractions of a second (thick, racing leather lasts quite a while…), and when the material wears through, the belt would likely change color as it chewed off the material of the weight, itself, so timing the wear-through should be quite easy.
Any type of abrasion resistance test would be better than none. Claims as to how resistant a particular material is, should be easy to determine, relative to a known standard, of thick racing leathers. This would demonstrate just how effective a given product will be, in the real world.
I have a vested interest in this, as I survived a 40 MPH low-side, last Fall, on a tar roadway. My armored, Cordura jacket saved me from road rash, and it actually suffered little damage in the ~40 foot slide I took; my leather chaps also protected me surprisingly well, with very minor damage to them (my only injury was a small bruise on the back of one hand).
My son, and passenger, had on a similar, armored jacket: it protected him from more serious injuries (a broken elbow likely would have occurred without the jacket armor pad, along with severe road rash on said arm), but he did suffer some road rash on his thighs, as he was only wearing denim jeans on his lower body. Thank you for considering my suggestion."
Editor's Reply: I've seen those comparisons also, in fact, the local BMW dealer used to have an official BMW comparison showing abrasion tests of various materials.
I guess I figured it's pretty much common knowledge that there is a hierarchy of protection and jeans are at the bottom of the list, Kevlar or no. I almost never wear jeans to ride, preferring instead leather or high-quality textile, with the Bohn armored underwear underneath.
Our article wasn't meant to imply that these jeans were as protective as other gear, just that some people wear jeans so I suppose that Kevlar-based jeans are better than cotton.
Evaluating the effectiveness of abrasion resistance is actually quite involved, with issues including initial impact and burst strength testing. There's a short video in our Clover Tekno jacket reviewillustrating this, with much more info on this topic.
This type of testing is beyond the scope of what we can do and way beyond the scope of our reviews. Also, I'm afraid publishing the results of an incomplete and unscientific test that doesn't follow the EC and other clothing safety standards might end up being misleading.
Other WebBikeWorld Motorcycle Pants Reviews
wBW Motorcycle Pants Info